Here's our pick of the top 50 tried n' true road trip tips, culled from families who've logged enough road miles to circumnavigate the globe.  Whether you're driving to the local mall or across the sands to Timbuktu, there's bound to be a tip for soothing the kids that you haven't thought of!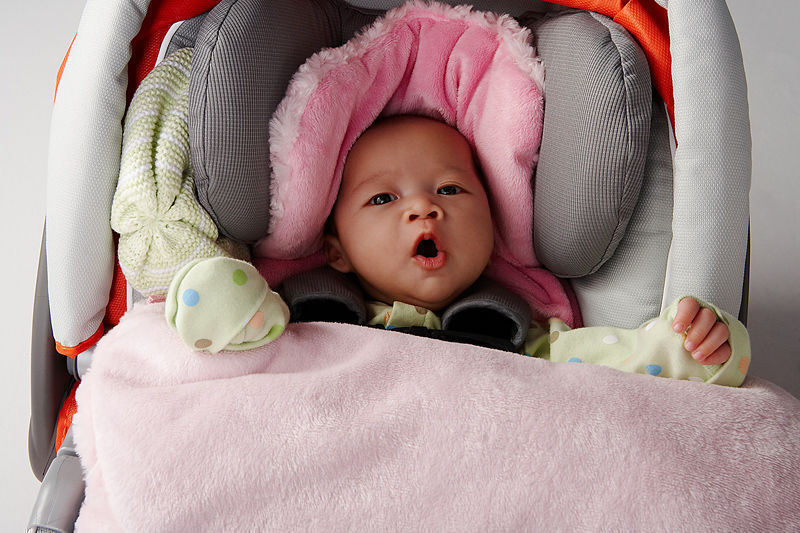 Prepare the Car & Family Before Departure
1.   Make sure your vehicle or rental car gets a thorough pre-journey inspection.
2.   Pack a spare tire and repair kit, LED flashlight, candles, safety matches, a waterproof tarp, blankets, and a gallon of water in case of emergencies.
3.   Copy and carry all drivers' licenses, registration, insurance policy papers and car keys, as well as pet health forms and kids' photo IDs.
4.   If you're renting a car, don't pull out of the lot until you've checked the owner's manual or online link, spare tire, tools, tuner/CD player, headlights, windshield wipers, A/C, GPS and obtained a 24/7 contact number.
5.  Visit NHTSA Parents & Caregivers tips for the latest safety information and best practices on keeping kids safe in the car on highway drives.
6.  Contact the local tourist information office or your automobile club for free maps and destination information. Use www.myfamilytravels.com and other Internet resources to find local festivals and special events en route.
7.  Ask kids 3+ to help with trip planning by sharing destination brochures or photos from your iPad with them.
8.  Select one activity per day to please each child, note hours of operation, then plan ahead. This is especially important as states reopen in phases after the coronavirus lockdowns.
9.  Long drives with infants are easiest on the whole family if you stick to flat, well-marked, well-lit highways, where the driver can breathe a little easier.
10.  Review your route and explain if there will be stressful driving zones ahead. Devise a signal in advance so children will know immediately when you need tranquility to navigate tough intersections or narrow winding roads. Try "heads up!" instead of "shut up!"
11. When the kids learn to appreciate scenery, call 800/4-BYWAYS or visit National Scenic Byways for a list of federally-designated National Scenic Byways.
12. Set realistic driving goals; end each day at a motel or hotel with pool or a playground/playroom for off-road fun.
13. Make a route map for the backseat: photocopy an enlargement, cut it into one-day-drive sheets, cover with clear contact paper or have your copy shop laminate it, and let kids 4+ discover on their own, "Are we there yet?"
Safety First on any Road Trip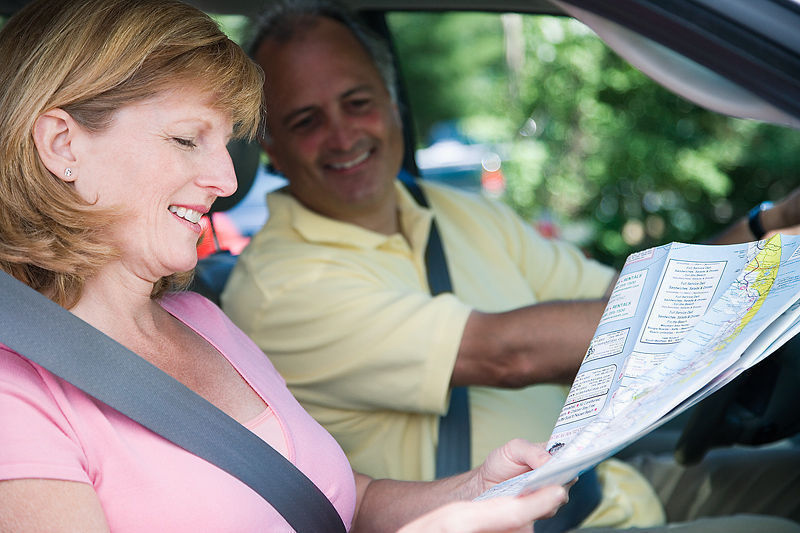 14. Never let children under 11 ride in the front seat of a car equipped with passenger-side air bags.
15. Lead by example; studies show only 24% of passengers under 14 wear a seat belt when the driver doesn't.
16. Learn how to properly use and install your child safety seat to maximize its effectiveness. Here's a good car seat installation guide.
17. Children between 40-80 lbs., if not in a car seat, should have a booster seat to elevate them for proper seat belt use. (This helps prevent motion sickness, too!)
18. Shell, Allstate Insurance, AAA, Hertz and many other vendors offer free carseat and car safety information for all ages. Read it.
Backseat Essentials for Every Journey
19. Keep a trash bag and some zip-loc bags in the car; the former for car sickness and garbage, the latter for preserving toys, souvenirs and creating new snack packs.
20.  Keep a small First Aid kit, tissues, extra facemasks, gloves and wipes in the glove compartment. Spare toilet paper, hand sanitizer and paper towels can be a life-saver in funky public restrooms.
21. Provide rolls of masking tape or painter's paper tape so siblings can stake out their backseat and hotel room territory.
22.  Print out Family Travel Forum's How-To Pamphlet of the most popular, classic car games so you can all play.
23. Keep a booklight handy so children can read or play after dark, along with spare batteries and an overnight bag; all the other luggage gets buried so you don't have to reload the trunk or roof rack after every stop.
Scheduling Your Days on Long Leg Road Trips
24. Plan to begin long car drives after a good night's sleep and breakfast. Some parents swear by The Early Start; in our experience, this only works if you load the little ones into the car without waking them. Otherwise, throwing off children's sleep schedules is sure to backfire!
25. Imitate routines from home. If you eat lunch at the customary time, your child is much more likely to take her usual nap.
26. Plan your stops: as often as needed to nurse; every 3 hours to check diapers (overnight diapers help); every 2 hours to stretch.
27. During night drives, simulate bedtime. After supper, change your child into sleepwear (at least, slipper socks and a blanket) and share a story or audio book until she falls asleep. Don't make changes to the temperature, velocity, sound level or her car seat until she has settled into a deeper sleep (usually 20-30 minutes.)
28. Long periods of confinement and constant car motion will make most under-3s quite sleepy. Be prepared for restless babies at night!
The Snacking Super Highway
29. Have beverages readily available but don't let infants drink too much at once. OJ makes many little ones carsick.
30. Bring plenty of dry snacks and finger foods: rice crackers, pretzels, bagels, cheese slices, dried fruit, lunch meat 'roll-ups'.
31. Have a folding nylon cooler and compact knife/fork/spoon sets ready so each passenger can have a movable feast. Buy enough perishables for one day only — it's impossible to keep things cold overnight.
32. Take meal breaks in small towns, so the kids can enjoy a playground or local park if they're open.
Entertaining Kids on Road Trips
33. Keep baby amused with plastic mirrors, cloth books, jangly keys, and some soft cuddlies. Toy bars connected to her waist guard on the car seat really make time fly. Consider bringing a second toy bar for her car seat to distract her on the ride home.
34. Bring favorite music for little ones, with a lyric sheet so you can sing along. Amazon.com and iTunes have many suggestions.
35. Bring story tapes or audio books or podcasts. Classic children's literature read by professional actors is available at the local library.
36. Plan some games for the over-3s: a Highway Hunt for objects you've pre-marked on index cards or printed out from clip art; a poetry contest with words from billboards; a raindrop race to see which drop on which window falls fastest; or maybe a spot-the-colors contest with pre-readers. The variety of age-old games is endless; draw on your memory or on dozens of game books (Rand McNally's are excellent) to create more.
37. Keep some tricks up your sleeve: cool placemats, colored Band-Aids, stickers, crayon sets, and fast-food packaging provide instant distraction when you really need it.
Favorite Toys for Long Trips
38. Hands-on toys and art projects will keep kids 3+ amused, though you may lose a lot of parts. (Learning Curve offers free replacement of lost parts on most toys.)
39. For toddlers, consider Crayola's almost mess-free, washable markers and coated paper. Auto Bingo, widely available in toy stores, is our favorite for pre-readers.
40. Felt Tales and other great family-tested travel toys and games are available from Amazon.com
.
41. Kids 4-8 like Magnadoodle and Etch-a-Sketch. Wonderboard makes magnetic game pieces and abstract shapes that stick on their own metal board.
42. The "Loom Loop Book" and other interactive crafts guides from Klutz provide hours of fun for kids 8+; Brain Quest card games keep kids 6+ entertained.
43. Ask older children to pack their own sound systems, a headset and music. Would they like to create a Spotify list of their favorite music, program your iPad or a phone for everyone to share on the road?
44. Showing a movie on a portable DVD player, laptop or iPad is an expensive but unbeatable way to entertain kids.
Behavior Modification: Road Trip Etiquette
45. Keep the mood light; stop bad moments quickly before they become blow-outs.
46. Distract babies by suspending a clothesline or string with clips, hung with soft toys and baby pictures, behind the driver's seat.
47. Make a grab bag of small wrapped toys. Let kids select one when squabbles and complaints begin; hand out treats in stages.
48. When transporting several kids, move the car seat or change seating at regular intervals. At rest-stops, our family enjoys Musical Seats: we all get out, blast the radio, run around the car until the song stops, then grab the nearest available seat. If the minors end up in the driver's seat, joke's on you! (Kids love that.)
49. Reward patience and good behavior. Some parents dole out one quarter to children 5+ for each successful driving period. Some try the reverse; they start with a quarter roll and deduct one for each squabble.
50. Start a Trip Log. Pick up souvenir ticket stubs, menus, autographs, dried leaves or brochures and have your journal keeper note each day's special stops. Working with your hands instead of making digital albums is incredibly rewarding. Let little ones use a Polaroid Snap or Fujifilm Instax Mini 9 instant camera which dispenses print photos as you shoot. After all, this trip is bound to be unforgettable.
These trusted tips, compiled by FTF's staff and members, are updated regularly to make road trips — a family rite of passage — easier for the next generation of Tiny Travelers and their adults.
And with any luck, you can avoid the "Are We There Yets?"
Dear Reader: This page may contain affiliate links which may earn a commission if you click through and make a purchase. Our independent journalism is not influenced by any advertiser or commercial initiative unless it is clearly marked as sponsored content. As travel products change, please be sure to reconfirm all details and stay up to date with current events to ensure a safe and successful trip.
---