Kids can become pretty restless while cooped up in the backseat, but our favorite family car games are guaranteed to prevent that. That's why Family Travel Forum recommends handy word, geography, spelling and other participatory travel games to keep traveling children — and their adults — content during a road trip.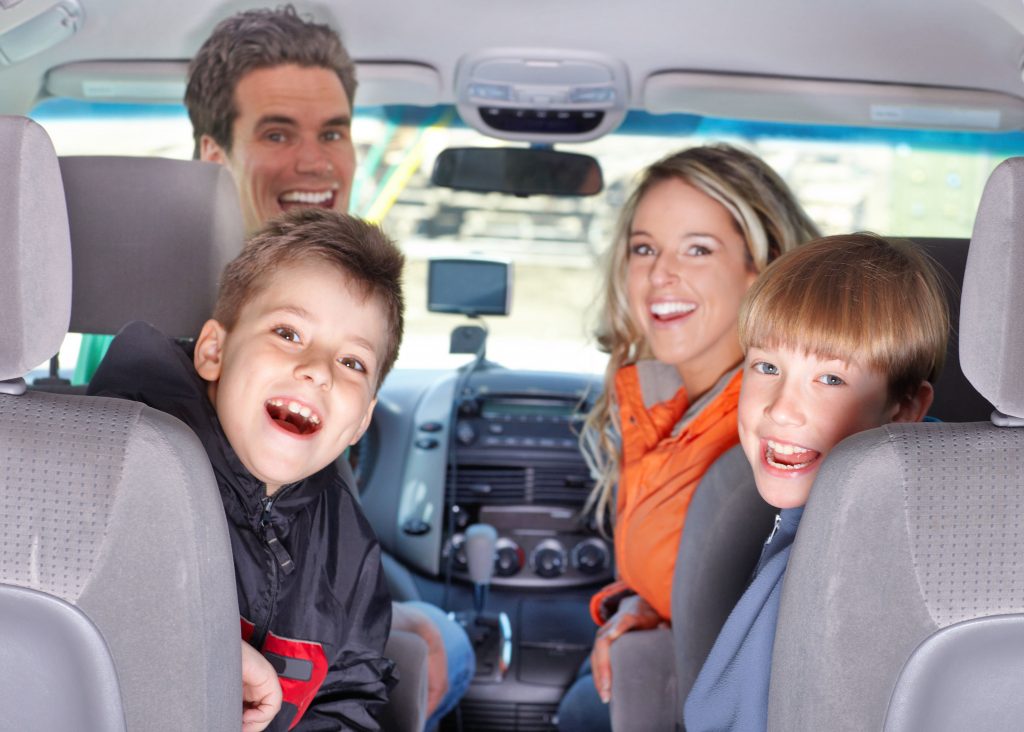 And while many electronic devices are effective in keeping the peace, sometimes they cause a severe lack of communication. One kid is engrossed in a movie with headphones on, while the other rocks out to Spotify and parents sit up front listening to traffic updates on the radio. 
Circumstances like that eliminate the option of family bonding, which, for most family vacationers, is one of the main reasons for hitting the road in the first place.
So for your next road trip, don't bother packing the toys and games that the kids request, just print this article. Below Family Travel Forum explains the rules to some of the most creative, interactive and fun backseat car games that the entire family can play… together!
Download a printable brochure of FTF's Most Popular Backseat Car Games and keep it in the glove compartment at all times!
Favorite Car Games: License Plates
The great thing about the open road is that everyone is from somewhere different and the best way to keep track of each car's origins is through its license plate. At the start of your road trip, put one child in charge of the master list that includes all the license plates. Then as you travel to your destination, make sure the entire family screams out the various license plates they see along the way.
The goal is to cross off each state/territory/province off the list. Remember it will be easy to spot the plates from the area you are traveling, but good luck finding Puerto Rico or Hawaii! Once, while traveling from New York City to Montreal, Canada, my family managed to see a plate for Guam!
Here's a printable with all the license plates you're likely to spot in the US — remember that colors may change annually. Download a printable brochure of favroite backseat car games and play away.
Favorite Car Games: The ABC Game
For kids that have recently learned the alphabet or even for the older kids in the mood for some fun competition, this game works for car rides. Everyone gets a pen and paper. Then, be on the lookout for letters; you can find them anywhere signs, billboards, bumper stickers, etc. Once you spot a letter for the first time, jot it down on your list. The first person to cover from A to Z is victorious! Prizes can be distributed at mom's discretion.
Download a printable brochure of favorite backseat car games.
Favorite Car Games: The Story Game
Sometimes it is good to let the family's wacky imagination wander. With the Story Game one person starts off by saying the classic phrase, "Once upon a time…" From there, going around in a circle, each family member adds his or her own sentence to the story. With everyone throwing their two cents each story is a custom-creation and can include knights, aliens, submarines and other unique ramblings.
If you are playing with older children or teens, it might be fun to modify the game and add a memory element. With this change, each family member would only add one word to the story. The person who starts says, "Once." Then the following person must repeat "Once" and add "Upon." The third: "Once, Upon, A…" Thus each time one new word is added, the following individual must repeat the entire story. This uses up lots of memory and brain power and also makes the story even wackier. Sometimes the sentences won't make any sense at all!
And there are more car games below!
Ready to read on? More of our favorite car games follow. Before you designate your Official Score Keeper, don't forget to download a printable brochure of FTF's Most Popular Backseat Car Games with all the "official" rules.
Favorite Car Games: 20 Questions or Who/What Am I?
Everyone gets to play this game and there will be many rounds, as well. Have one child, maybe the youngest, go first and pick something- a person, place, thing. Then, each person in the car gets to ask yes or no questions to try and uncover the mystery. After each question is answered, the person who asked it gets to take a guess.
The first person to correctly solve the puzzle goes next. The limit is 20 questions and if no one can figure out what the thing is by then, the round is over; everyone has been stumped and that person gets to go again!
Favorite Car Games: I'm Going on a Picnic
Even if your family isn't actually going on a picnic, this is still a really fun game to play. A random family member gets to start: "I'm going on a picnic and I'm going to bring apples." Thereafter, each passenger takes a turn and says what they will be bringing on the picnic, but it must go in alphabetical order: "I'm going on a picnic and I'm going to bring apples… baseballs… cantaloupe… dinosaurs, etc."
To make the game more interesting, throw the memory element into the mix. Each person has to list all of the items that have been said previously before they add a new item to the list. If someone forgets or misses something, they are eliminated from the round. The game continues until there is only person left.
Secret Car Games: I Spy
This is a classic game that makes long periods of downtime fun, so we can bet that your kids have played it before. The basics are simple, have an adult start out: "I spy with my little eye, something that is…" and then fill in the color. Taking turns, each child has to guess to what the mystery object is.
Whoever is correct gets to be the spy during the next round. Instead of using colors, some kids might find it entertaining to switch it up and use letters instead: "I spy with my little eye, something that starts with the letter…" Both alternatives are fun!
Classic Car Games: Geography
This game is certainly not geared to younger children, as a knowledge of global country names is required. Have someone start by naming a country; it might be fun to name the one you are traveling in; for example, Canada. The next person has to name a country that starts with the last letter of the previous country. In this case, A; so Afghanistan would be a good answer. Then N, so your child might say Norway and so on…
The game continues until someone gets stumped or repeats a country that was already said. Families can broaden the rules as well to include other forms of geography such as cities, states, rivers and other bodies of water.
Car Games: The Name Game
This one is pretty easy: simply think of a name and then tell the group what letter it starts with and whether it is a boy's or girl's name. Then each passenger takes turns guessing what it can be. The person to guess correctly gets to think of the next name.
Car Games: Song Title Game
There are certain words that are frequently in song titles: baby, love, happy, heart and plenty of others. Have one person chose a word that is popular in song titles and have another person keep a list. Then everyone can go around and name songs with that word in the title. This game requires a group effort because the object is to get your list as long as possible.
Download a printable brochure of FTF's Most Popular Backseat Car Games here and keep it in the glove compartment at all times!
And safe there, safe home!
Photo courtesy of ANationofMoms.com
Dear Reader: This page may contain affiliate links which may earn a commission if you click through and make a purchase. Our independent journalism is not influenced by any advertiser or commercial initiative unless it is clearly marked as sponsored content. As travel products change, please be sure to reconfirm all details and stay up to date with current events to ensure a safe and successful trip.
---