Discover the unexpected on an Amarillo road trip. This northwest Texas town is, for many, just a pitstop where I-40 crosses the classic mother road, Route 66. Instead, devote a day or two to an Amarillo road trip and you'll find many surprising things to do in this quirky region.
Many road trippers start at the Route 66 Historic District, about a downtown mile of commercial businesses, sentimental shops and retro restaurants that weren't bull-dozed to make I-40. For us, Amarillo's real roadie attractions are Cadillac Ranch and other public artworks, and the delightful Jack Sisemore RV Museum, all monuments to the rule of auto.
Cadillac Ranch Raises Cadillacs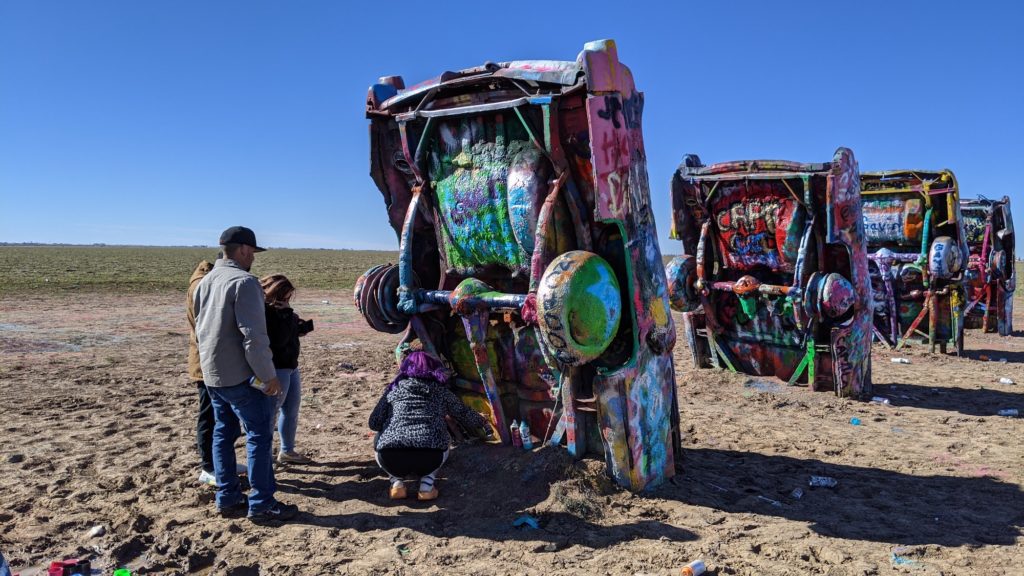 Cadillac Ranch has been an icon of roadside Americana since its installation in 1974. The work of artists Chip Lord, Hudson Marquez and Doug Michels of The Ant Farm architectural collective, this public sculpture comprises 10 Cadillacs which appear to have driven, nose first, into the soil. According to Wikipedia, the artists raised the funds to do it from Amarillo art patron Stanley Marsh 3, who owned the cattle ranch near Rte. 66 where they stand today. To celebrate the evolution of the Cadillac's tail fin from 1949- 1963, the upright cars were placed tails up at the same angle as the Pyramids of Egypt and left with their original painted finish.
An instant hit, Bruce Springsteen's 1980 song of the same name brought even more fame. Over time, as Cadillac Ranch rusted and faded, it became popular for sightseers to graffiti the cars themselves. Bring your Krylon cans to transform the Cadillacs. They've been painted all white for one commercial and all black for a music video, each time graffitied over by new visitors.
Join the army of local volunteers to keep this monument safe. Ant Farm founders have said they appreciate public interaction with the sculpture, but we were dismayed to see the byproduct of all that love. A once verdant pasture is now littered with spray paint cans crushed by tractors.
More Amarillo Artworks to Surprise You
Stanley Marsh 3 was a prolific philanthropist. In Bushland, ogle Floating Mesa, an earthwork optical illusion that, when the sun is right, makes it appear the verdant lid of the mesa is floating above the mound.
Send in your slogans to the Dynamite Museum, at one time the largest urban art project in the world. This Marsh project encouraged people to nominate signs for inclusion. The Amarillo tourist office notes that most of it remains in the Mariposa Eco-village area.
Sculptor Robert Smithson famously lost his life while scouting the earthwork Amarillo Ramp, which was completed by Nancy Holt and artists Tony Shafrazi and Richard Serra after his death. See what's left in ruins after years of steady erosion at Lake Tecovas; instructions here.
The city has inspired self-taught locals, too, including Lightnin' McDuff, who created Ozymandias on the Plains. Broken monumental legs, inspired by the Shelley poem about the ruins of a statue of Egyptian Pharaoh Ramesses II, rise above the plains. Notice if they're wearing white sports socks at your visit. If so, that's just graffiti.
Getting your RV Fix at the Jack Sisemore RV Museum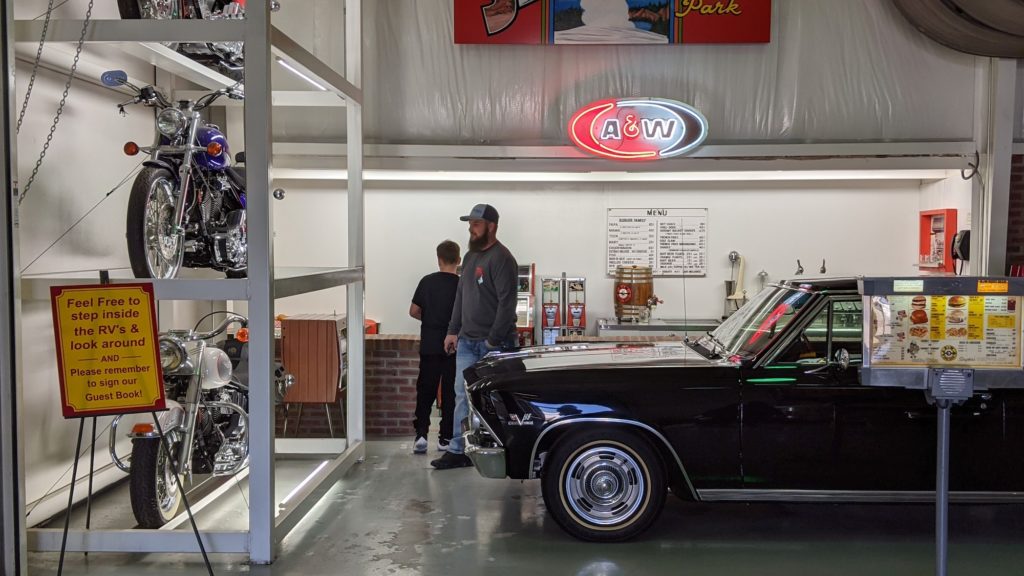 Our very favorite Amarillo road tripper attraction? No doubt: the RV Museum at Jack Sisemore Traveland. The Sisemore recreational vehicle sales and service shop is the oldest Winnebago dealer in the state.
Jack Sisemore, obviously a devoted fan of camping by car, built his collection of trailers, popup tents and motorhomes through hard work, lucky finds and carefully restored wrecks.
Admire one of most rare trailers, the 1936 Alma, a gently used baby blue trailer found in near perfect condition in a barn near the Alma Factory.
With the pandemic ushering in the golden age of RV travel, interest in these "safe" homes on wheels has grown exponentially, making this museum a must-see for anyone driving through town.
Love This Trafficking in Road Trip Nostalgia
The few Airstream trailers in Sisemore's collection draw the most attention, but for camping newbies there are lots of surprises and memorabilia.
We loved the tiny Tear Drop Kit trailer, an all-aluminum model from 1946. The early collapsible tents that campers once affixed to the bed of pickup trucks were surprisingly roomy.
Grandparents and kids into RVing have their own favorites. Step into and explore more than 20 units furnished with vintage board games and old Coke bottles, classic camp chairs and portable BBQs. Harley fans love the antique Harley bicycle and dozens of classic Harley-Davidson motorcycles.
The Wild West Side of Amarillo
Before cars there were horses, one way to road trip in Palo Duro Canyon. It's the site of one the major battles of the Red River War of 1874, when white settlers vanquished the last of the Native American tribes in the region. It's where Texas Longhorn cattle were first bred.
Palo Duro is a well-kept state park with several campgrounds, multi-colored buttes, cactus and tumbleweed; red sand hiking trails, equestrian trails and a scenic bike route on the south end of the park.
There's a small museum and overlook at the El Coronado Lodge, an historic adobe and stone lodge built by the Conservation Corps between 1933-1937. Check out the small exhibits about the evolution of these buttes and canyons from the Triassic Era. Learn about the Palo Duro Art School, a sleepaway program for young artists who tent camped on cliff ledges. Aspiring artists came to take classes and paint the striking scenery. Perhaps this legacy is what inspired Stanley Marsh 3 and those whose work he funded.
Road Tripping Palo Duro Canyon Your Way
It's easy to drive the park's loop road; entry is $16 per vehicle. Families with more time may want to explore the area by joining Jeep or horseback riding tours or trying the zip line outside the park's entry.
At our fall visit, the weather was sunny and warm but the many flash flood warnings and traveler alerts indicated how unpredictable it could be. In summer, stay for the evening show of "Texas Outdoor Musical" staged at the park's Pioneer Theatre. Our cousins loved the water screens, light effects and story of the Texas Panhandle in the 1800s.
Trip Planning Details for an Amarillo Road Trip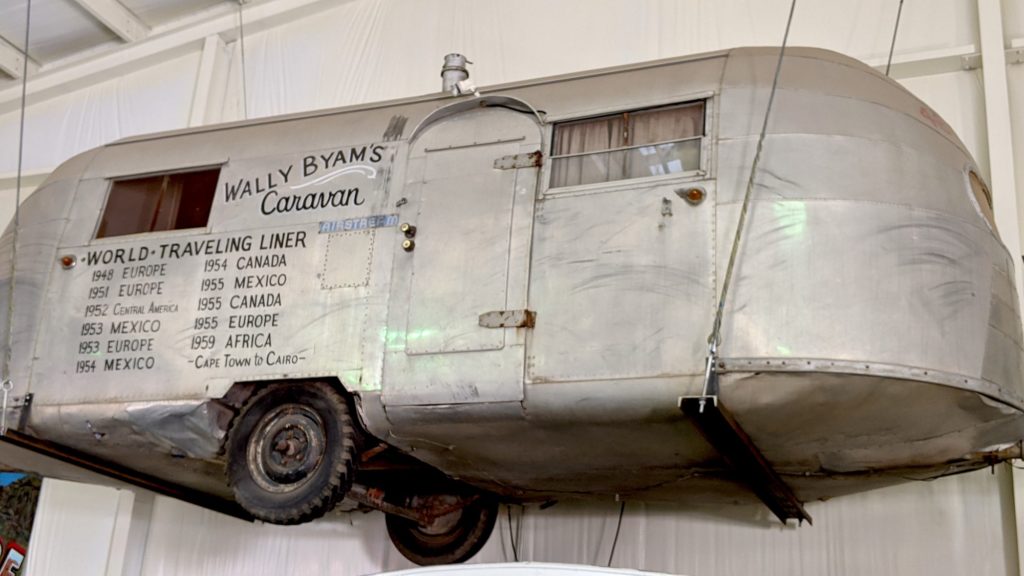 Spend a few days; the Amarillo tourism office can help you plan other activities and dining. Try any of the recommended Tex-Mex Mexican restaurants, from El Manantial to the branches of El Bracero to Jo Taco, where we got takeout.
The Fairfield Inn is one of the dozens of chain hotels and motels (many under $100 per night) lining the frontage road on both sides of I-40.
Then there's the Big Texan Hotel, a vintage choice with its Western town façade, plank wood walls and notable steakhouse with a campy Big Tex statue. Guests praise the Wild West ambiance, saloon doors leading to the bathroom and other kitschy décor. The reviews, however, are so uneven you may want to avoid it.
Dear Reader: This page may contain affiliate links which may earn a commission if you click through and make a purchase. Our independent journalism is not influenced by any advertiser or commercial initiative unless it is clearly marked as sponsored content. As travel products change, please be sure to reconfirm all details and stay up to date with current events to ensure a safe and successful trip.
---