Sharing eight little California road trips, wonderful overnights and easy escapes from the San Francisco Bay Area we've recently discovered.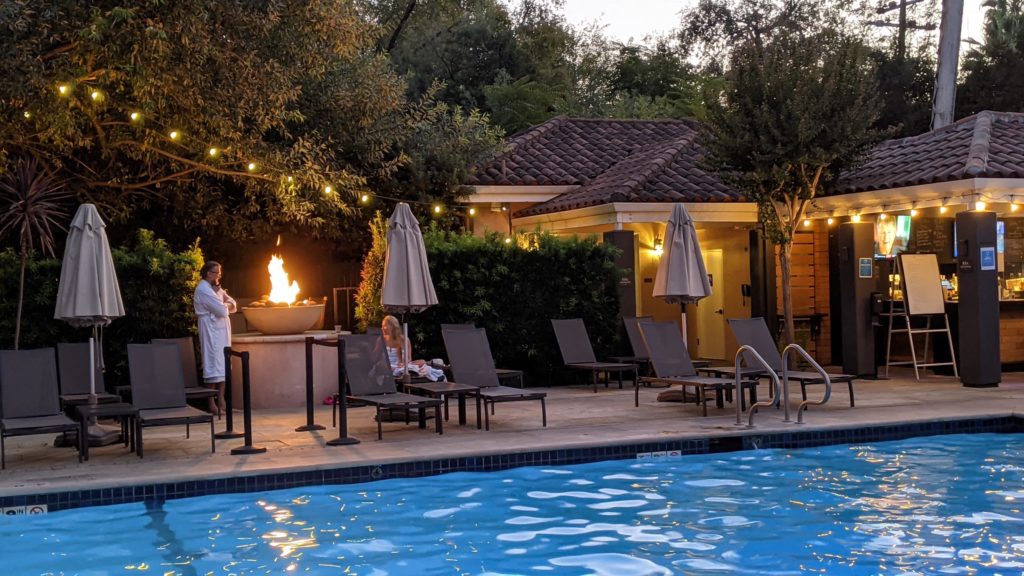 We are not locals. We don't claim to be experts or speak with authority. We did, however, enjoy every one of these excursions, had fun, learned something about California, ate well and slept in interesting places.
California Wanderings on our Family Road Trip 2020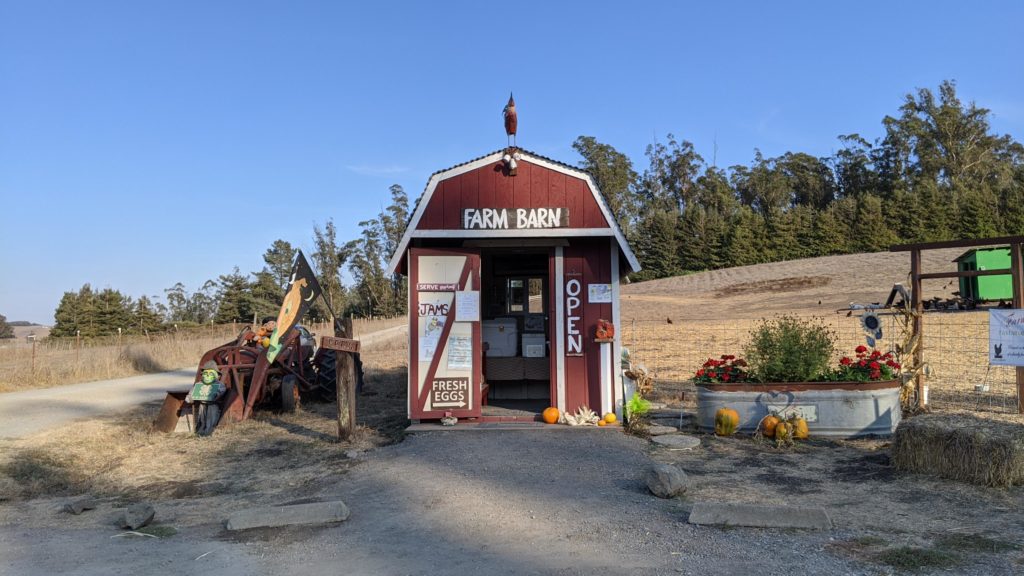 We had arrived in California in road trip mode. This state is incredibly diverse and filled with riches easily discovered by anyone with a car.
We are delighted to be able to pass along some favorite little road trips with hiking, biking and good eating details for others to enjoy.
A Sonoma Getaway with Big Kids in Tow
Of course, we went to Sonoma County to see the famous wine country. When we arrived in California, most of the county was closed due to COVID-19. Then, it was surrounded by fires. Finally, it was our time to visit and we invited our son and his girlfriend. We stayed at the beautiful Fairmont Sonoma Mission Inn as their guests.
Reminiscent of the classic Spanish Mission style, the resort dates to the 1920's when another hotel at these same local mineral springs was destroyed by fire. It actually has a fire tower built then, but it's now empty and houses a fun outdoor bar.
We all had beautiful hotel rooms with fireplaces and small balconies. Ours was a suite (privilege of age!) with a big jacuzzi tub in the center and a four-poster bed.
I was reviewing the Fairmont Sonoma Mission Inn as part of a roundup of WFH Resorts (Work from Home), places ideal to decamp for a while with your family (very comfortable rooms), recharge (wellness focus), work comfortably (fully wired) and learn – outdoors and safely – in a new environment.
To illustrate that very point, we joined a 3-mile dawn hike along the Overlook Trail so we could see the entire Sonoma Valley.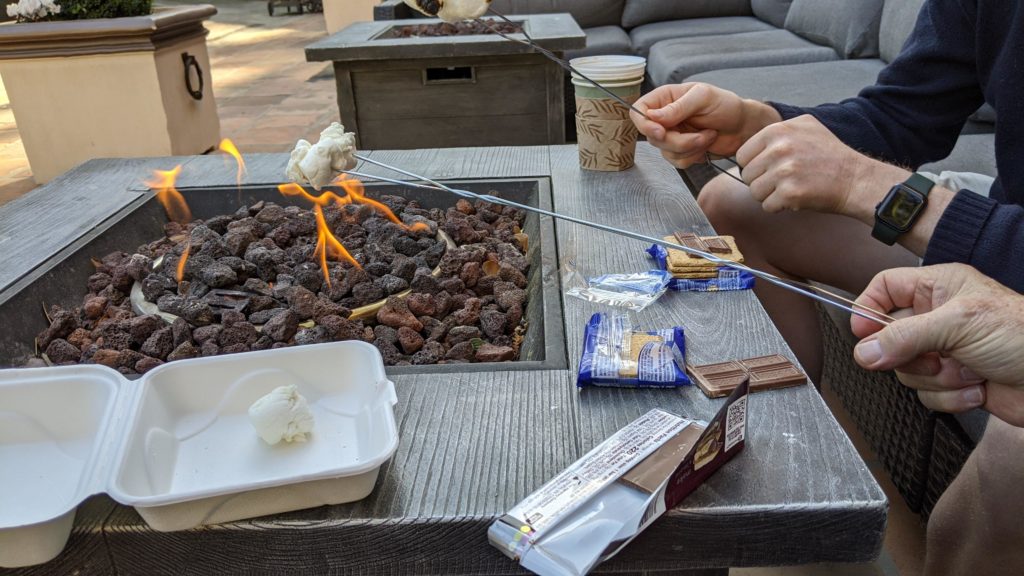 Our son was sitting out by a hotel fire pit when we returned. We grabbed coffee from the lobby and sat down with him to catch up. Suddenly, someone appeared with skewers, marshmallows, graham crackers and Hershey bars so we could roast s'mores.
What a wonderful moment, parents and son making s'mores like the old days, long long ago. Create a memory. That's what great hotels do.
Wine Tasting in the Age of COVID-19
Begin a Sonoma adventure at the Sunset Test Garden, an outdoor laboratory of plantings designed by Sunset magazine. Don't miss the cocktail garden where about two dozen herbs, spices, edible flowers and fruits grow, all to be mixed in, or infused with alcohol.
Signage explained how to use all the plantings and the local Prohibition Gin company had a popup booth giving away free samples of their spiked beverages.
We didn't stay long because we had a tasting scheduled at Gundlach Bundschu, one of the oldest wineries from the 1850's. It actually looks more like a farm — a pretty casual place. Now, however, all wineries require advance reservations and are strict about them because of COVID.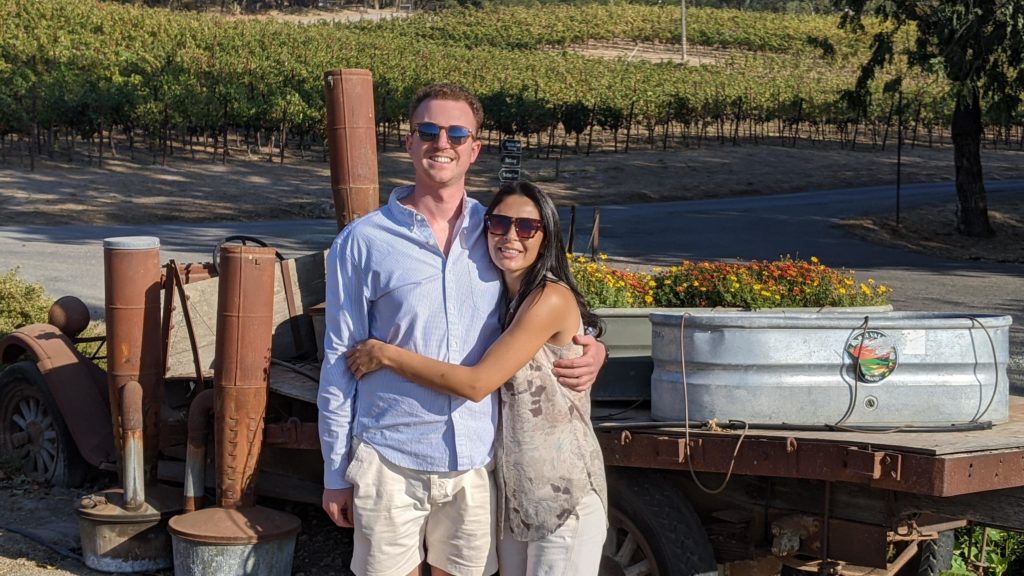 Here, instead of the usual snacks served to have with wine, they had a fridge full of charcuterie options that you could purchase separately and eat off paper plates.
We were all hungry, so we lowered our masks for goat cheese and truffle infused potato chips with a delicious Gewurztraminer. The four wine pours cost $20 and each sample was poured into one glass – no changing glasses, spitting out excess wine, etc. Those days are over.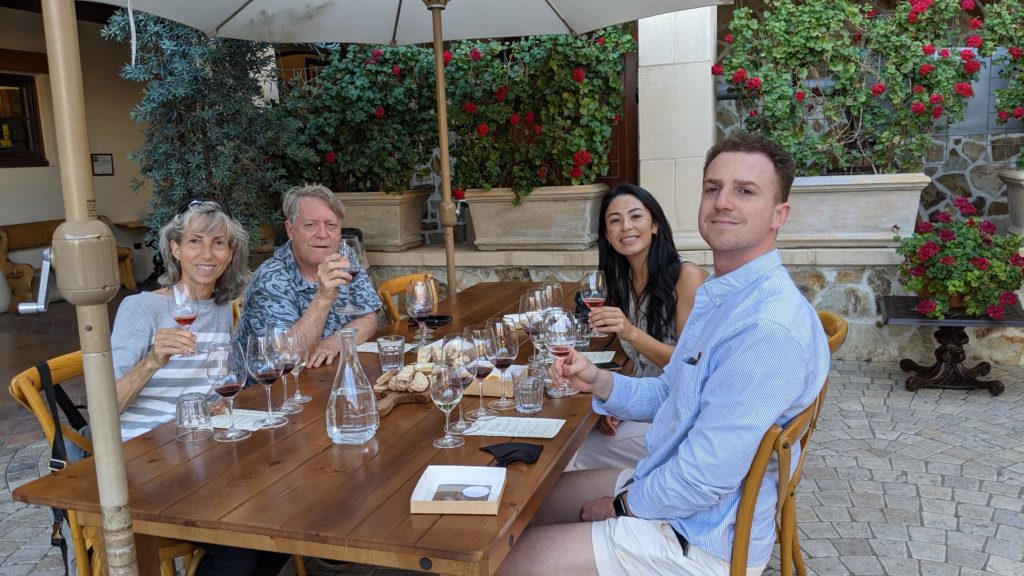 Next up was the Jacuzzi Family Vineyards, a lovely Tuscan style estate where our friends' son had gotten married. It was much more formal, excellent service and yes, five separate glasses, each a different size, depending on the wines we selected. Although they didn't have the hot tub our son was dreaming about, they did have excellent Italian wines so we bought a few bottles to bring home.
One Tasting Too Many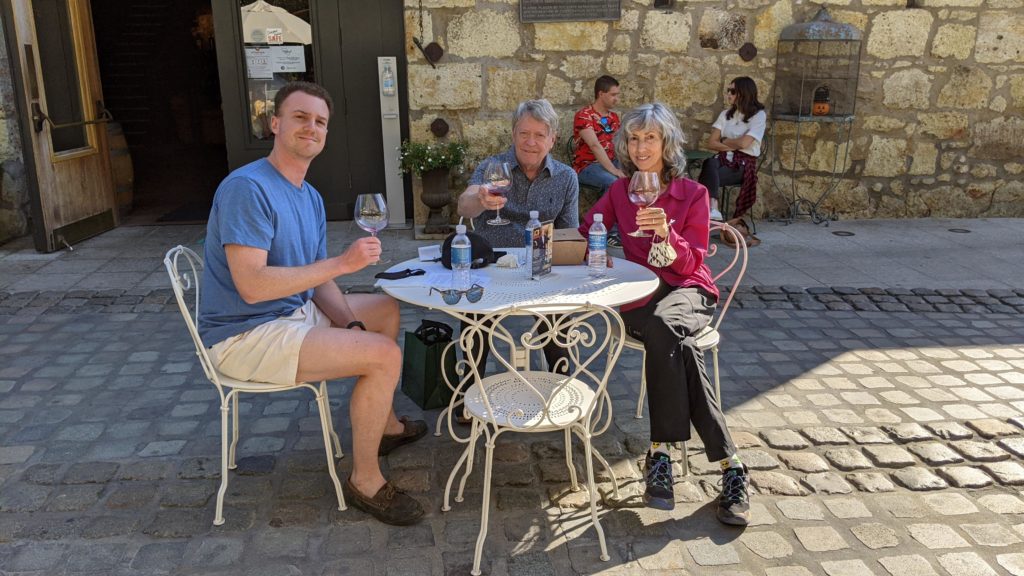 We tried one last vineyard before it was time to drive back to San Francisco. An oenophile friend (and FTF contributing editor) Laura Sutherland had recommended Buena Vista Winery, also a very old one but much more traditional than GunBun.
It was founded by a Hungarian count who emigrated to California with a bunch of French grapevines and soon married off two of his daughters to the local Mexican general. Because General Mariano Vallejo had successfully defended the Mexican state of California, he was given all the nearby land, plus thousands of acres of Napa Valley and all the way south to Vallejo. It was a clever match.
This winery has gorgeous old trees and gardens, and some of the stone buildings date back to the founding in 1850. We had ordered box lunches with our wine pairing, and my avocado grilled chicken salad with pears and blue cheese was very good. Good, but also $50 per person. Buena Vista Winery is large and very busy. It has a lovely patio but the service was not very attentive, drinking wine was not so great midday, we learned very little and thought it was very touristy. Will skip that one next time.
Hiking & Biking in Petaluma
Petaluma is just a bit north of San Francisco, and it's notable as the largest craft beer producing county in the country. That's saying a lot to beer drinkers and mountain bikers who live this town.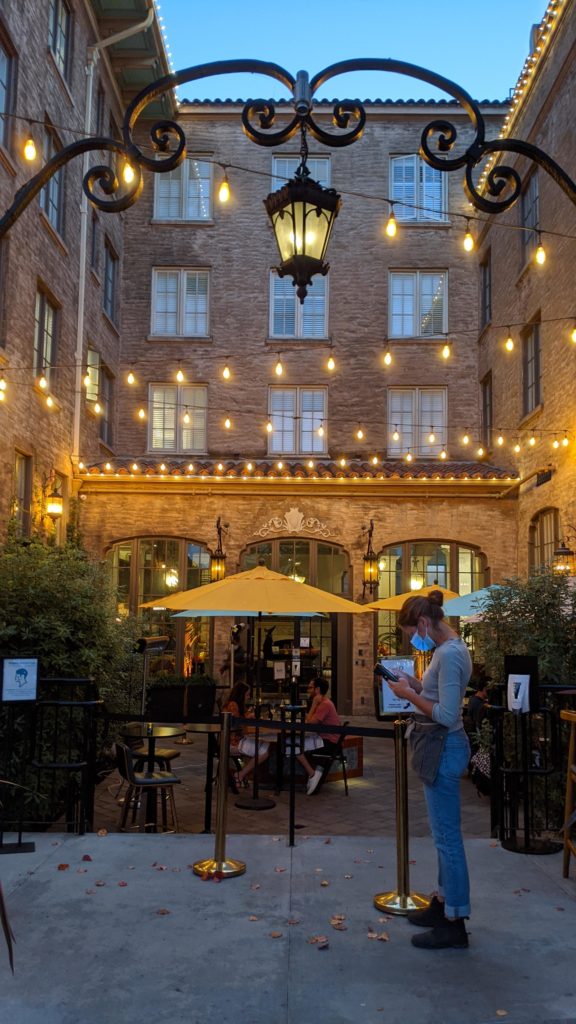 We liked our stay at the historic Hotel Petaluma, right off the Main Street. A very pretty place with exposed ceiling beams, stone floors, tilework and an eccentric wire cage elevator from ca. 1923. Book it because it's also very good value.
An overnight stay in Petaluma is enough time to get some bike riding along the arid hills and valleys. Our food stops included a savory vegetable pie in town before our ride and a stop at the Petaluma Creamery for ice cream during our ride. (And yes, a big wedge of their famous aged cheddar.) Dinner, a fine Indian meal at Ambrosia, was our first "ethnic" meal (other than Mexican) since we reached California.
Biking from Point Reyes Station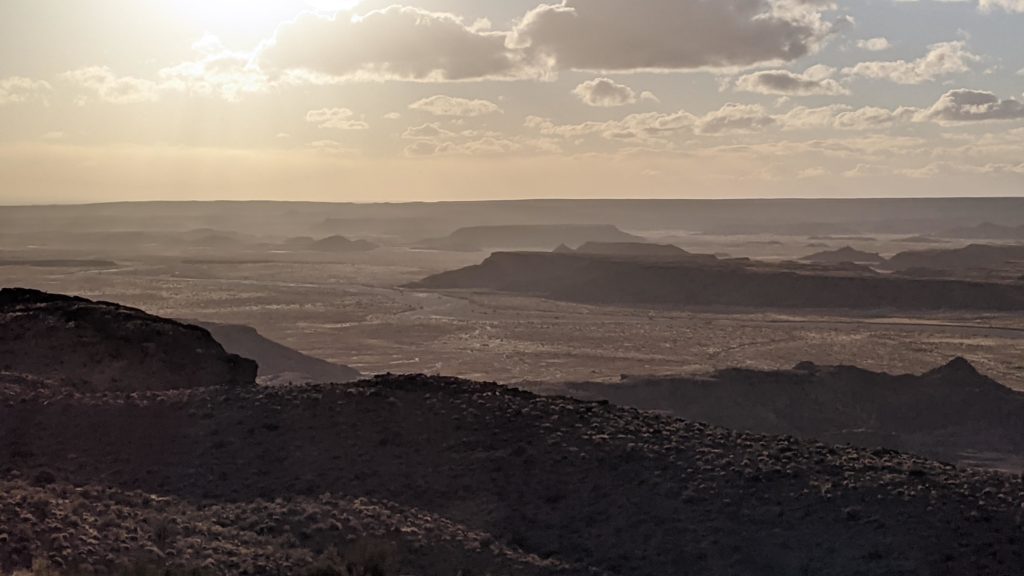 Point Reyes Station is the gateway to a gorgeous State Park on the Pacific, but most of the trails were closed due to fire. The rangers had the fire under control but were allowing the underbrush to burn for several weeks until the rainy season began. (They think that will make it safer next year.)
Fortunately, most of the land in this region is protected by the Marin Agricultural Land Trust. There are lots of beautiful farms in the region, selling unusual fruits and vegetables.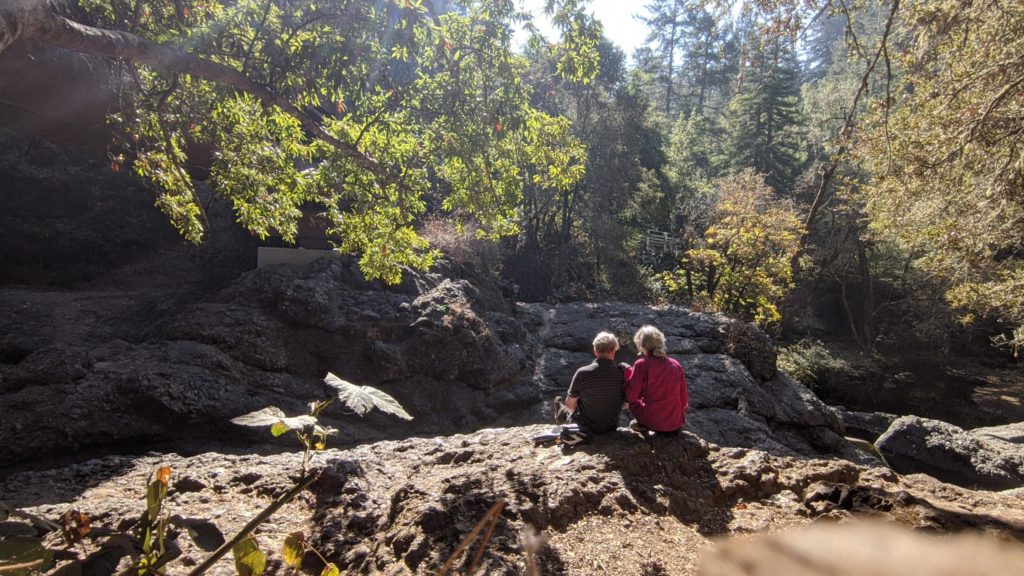 From Point Reyes Station, we were able to join the Marin Headlands Rail Trail though gorgeous redwood forests. Part of the trail ran through Samuel Taylor State Park, named for Mr. Taylor, who opened the first papermill in the forest by the river, now called Papermill Creek. Thanks to him, the San Francisco Chronicle was first printed. Today, you can see the remains of some of his paper mill equipment which was fun.
Mainly, it's a beautiful bike ride, quiet and shady. It's a great route with kids since it's flat, easy and full of historical markers to ignite conversations. Nice campgrounds for tents only available, too.
How to Mix Work and Fun California Style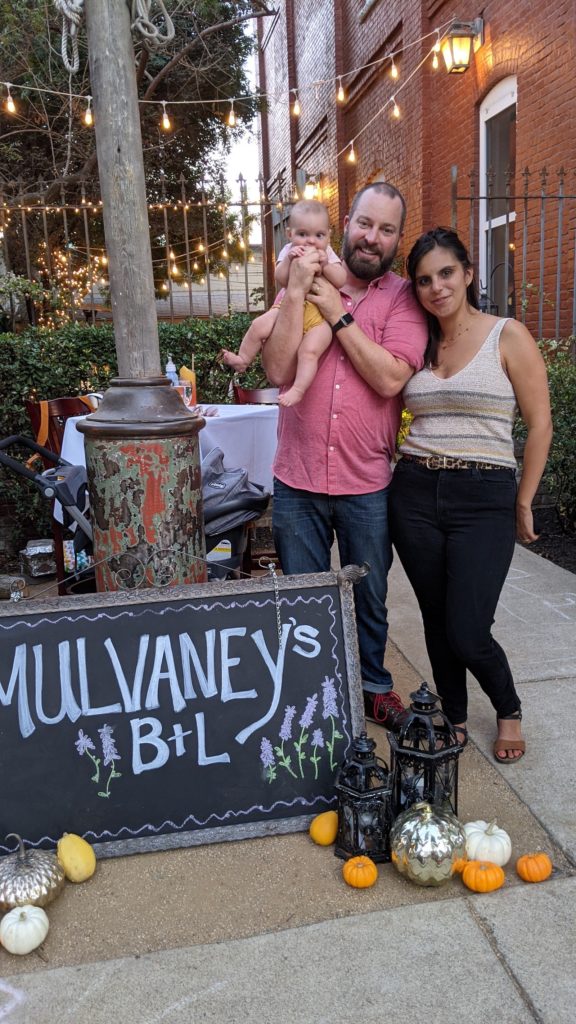 We are really getting into the swing of things with the California lifestyle. Since our overall road trip has been all about catching up with family and friends, events are often centered around eating and drinking.
That's one of the reasons we enjoyed two press trips during the month. Sacramento, the state capital, was a big surprise – quiet, beautifully landscaped, youthful and full of great restaurants. That pretty much sums up California, so we should not have been surprised. Read more about it in "A Sacramento Staycation Worth the Trip."
We also spent a few days in the Northlands, also known as Upstate CA, in the active and engaged town of Redding. Redding is about 220 miles north of San Francisco. In these pandemic days of little traffic and little speed enforcement, it takes about 3 hours.
This far north in California feels like Oregon and Washington state — very woodsy, mountainous, adventurous and a bit remote. There's a lot going on there, civic investment and population movement, that makes it a great destination for active families. Read more in "Next Stop: The Mountain Town of Redding."
Escape to Santa Cruz: Learning to Drink Responsibly
We spent a few idyllic days in Santa Cruz visiting long-time friends. Laura is a wonderful writer and host. Lance, her husband, is really fun and a stunning chef!
Dinner was exceptional. Lance invested in outdoor heaters and they set up a coffee table and outdoor sofas so two couples can sit six feet apart. Lance barbeques these elaborate tapas dinners using what he says are simple recipes.
Laura made her famous margaritas so we could raise a toast to life, using the Baer limes from her tree.
They took us to El Palomar, a favorite Mexican place in downtown Santa Cruz that began serving indoors at 25% capacity. We sat on their patio and sampled both grilled fish and fish tacos, which Lance explained always used breaded and fried fish to hang together in the taco shells.
For a county undergoing some of the strictest COVID-19 protocols in the U.S., the Santa Cruz downtown looks pretty good. Some shops are open. It's very well maintained. Although students at UC Santa Cruz are working remotely, many young people are wandering around town and there are always surfers hanging around.
On our Santa Cruz visit, we hiked a lot. Definitely hike Cliff Drive, the clifftop walk by the beach — the steep palisades provide stunning views of the sunset. Another good walk, especially with kids, is out to the Santa Cruz Pier where sea lions are barking constantly. It's best around dawn when the fishermen are loading into boats for the day and I think the sea lions know that they'll get the leftover bait at day's end. Don't miss the interesting markers about the marine science being done along the 1/2 mile-long pier and the discoveries being made there.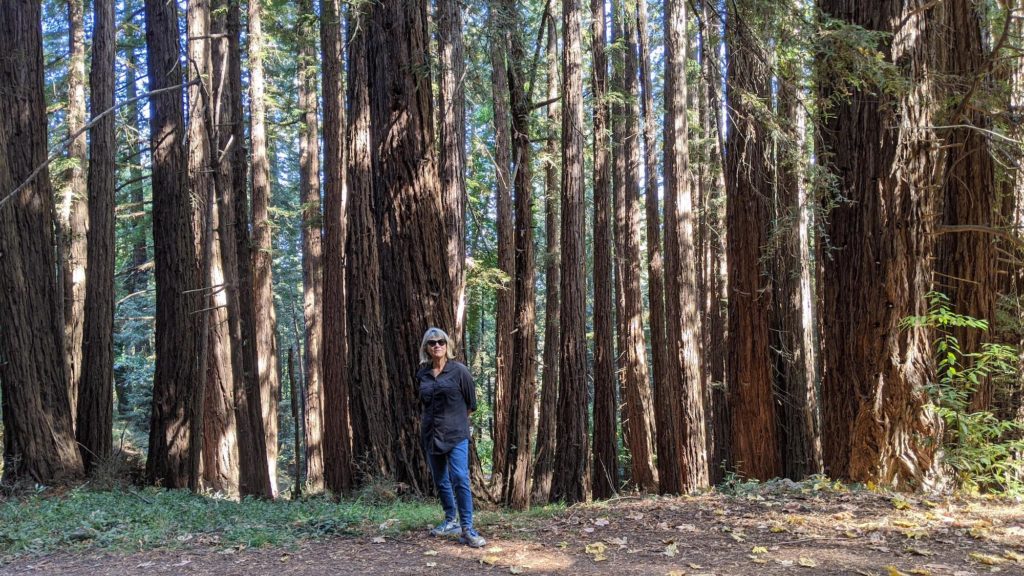 Another well known hike in this area has the crazy name of Pogonip Trail. There is lots of speculation about how that name came about. Pogonip is a lush unpaved, woodsy path with redwoods above and big yellow woolie caterpillars ambling around.
One breakfast was at Steamer Lane Supply, a ratty shack where you can buy surfing gear that has amazing breakfast burritos. Choices include Mexican flavors, handcut bacon and kimchee with eggs.
For our last meal, they chose a place that always has long lines and now moreso, due to their limited capacity outdoor seating. Called Bantam, this very casual place in and outside a warehouse attracts Californians who drive there the way the French drive all day for a Michelin restaurant.
Sound yummy? This escape was rounded off with a stay at The Dream Inn, a hotel founded by Jack O'Neill, the inventor of the wet suit and the "father of surfing" in Santa Cruz. It's cute in a retro 50s Beach style and over-priced because of its pedigree. However, it's the only hotel built right on the beach along the whole coast because it was the first, and the views are gorgeous.
Overall, we have had too much fun. It's hard to imagine this lifestyle is sustainable.
Los Angeles Is Constantly Changing
Being in Los Angeles was very nostalgic for us since we had both lived there at an earlier point in our lives. Our son's godparents live there, too, and a visit with them was one of the goals of our road trip.
For drivers, the San Francisco-Los Angeles corridor comprises most of the Highway 1 Pacific Coast Highway journey of legend.
In the pandemic era, one stays at hotels and dines outdoors to socialize. The first night we ate at the Toluca Lake Tennis & Fitness Club, opposite the Warner Bros. Studio in Burbank. The club, a holdover from 70s-era Hollywood, has been serving food to members outdoors on their tennis courts. We had wonderfully fresh salads and grilled fish, imagining all the movie stars besides Farrah Fawcett and Clint Eastwood who had played tennis on those courts before our meal.
We had booked a disappointing apartment on Booking.com in Hollywood, off Highland Blvd and a block from the Walk of Stars where celebrities have plaques embedded in the sidewalk. We were shocked that everything was closed; not only closed but boarded up after #BLM protests and in anticipation of the elections. COVID-19 has had a much higher infection rate in LA than in San Francisco. Yet, many fewer people were wearing masks on the street.
Ironically, this billboard is the most effective plea for mask wearing we have seen!
Downtown LA, east of the Disney concert Hall, was a total contrast to Hollywood. In what had been considered a decrepit wasteland of warehouses near the freeways, there are dozens of beautiful loft buildings and street art in a new neighborhood called the Arts District. There were many restaurants, lots of young people on the streets, everyone wearing masks. We had a lot of fun dining out and seeing how old buildings had been repurposed.
The San Diego County Sunshine Party
Don't miss the very different feel of San Diego county if you're this far south. It's an easy little California road trip with a lot of diversity.
One of the top activities is exploring Mission Bay, the manmade body of water that dominates the county. We set out on the 12-mile Mission Bay Bike Path which winds its way through the park and always features great views of the sea. It's an easy, breezy ride and fun. There are many places to park and join in walking, skating, biking or doing an outdoors kick-boxing class like the one we passed.
Our next stop was the famous Dog Beach in Del Mar. Famous to anyone who has seen the video of dogs learning how to surf there. Sadly, there were lots of dogs playing and lots of dogs swimming but only people learning how to surf.
Teen Central around Encinitas
We couldn't wait to visit our son's friend, Jacob, who lives in Encinitas, an affluent enclave north of San Diego. His two-bedroom apartment overlooks a pool. His surfboards are stacked on his balcony and his computer and giant Mac screen are set up in the otherwise spare bedroom.
His neighborhood, Leucadia, is young and energetic. The main street is easily walkable from his apartment; just like the beach it's two blocks away. There were lots of people out in masks, careful and distanced. Lots of restaurants with outdoor cafes and some limited indoor dining. Our stop, The Roxy, had a live band playing behind a Plexiglas shield and they were great. Selection of draft beers and burgers, kale salads and grilled fish. More shishito peppers and crisp-fried brussel sprouts – California's signature dishes.
One of the best hotel values is the Sheraton La Jolla Resort & Conference Center. It's a pleasant place with that vintage feel of very large rooms, a big deep pool and sun bathing deck with hot tub, and a bit of grandma decor. We loved the keycard-activated towel dispensers at the pool, which allocated towels by room number then charged you unless the towel was fed back into the machine after use. (New to us.)
It's annoying to pay $25 for self-parking in California when there are parking lots everywhere. Nonetheless, it's a very comfortable hotel, there are guest laundry rooms and the staff is very helpful. La Jolla itself is a posh small town with some charm, many good restaurants and a very pretty beach.
Joshua Tree National Park
For our last California excursion before heading eastward, we couldn't resist a stop at one of the state's beautiful national parks. Ron chose Joshua Tree.
Joshua trees are unusual cactus plants that have a very tall single 'trunk' then branch out in crazy ways, with a poofy leaf structure at the end of skinny branches. Many people think of them as Dr. Seuss trees, with good reason.
The park is filled with them, also with tons of visitors, as it's only 2.5 hours from Los Angeles and very close to Palm Springs. There's a great biking road there past all the stands of trees and the multi-colored rock formations, but the National Park Service ranger told us we'd be blown off our bikes by the strong cross winds.
So true! It was crazy windy, around 50 degrees with snow in the distant hills of Big Bear. But we really enjoyed our hike and, since everyone was in face masks, felt good about doing it despite the crowds.
Full Disclosure
We were based in San Francisco for five weeks during the fall of 2020 to spend time with our son who relocated from New York. The COVID-19 pandemic provided both health concerns and extra time, making a road trip inevitable and rewarding.
Read more about other stops on our three-month cross country family road trip from New York to San Francisco if you're planning your own.
Dear Reader: This page may contain affiliate links which may earn a commission if you click through and make a purchase. Our independent journalism is not influenced by any advertiser or commercial initiative unless it is clearly marked as sponsored content. As travel products change, please be sure to reconfirm all details and stay up to date with current events to ensure a safe and successful trip.
---