Redding, California, the center of outdoor recreation in the Northlands, is becoming the next stop for active families. Head upstate about 220 miles north of the Bay Area. This is the place to experience an affordable, rugged mountain town that's still unspoiled and very pet-friendly.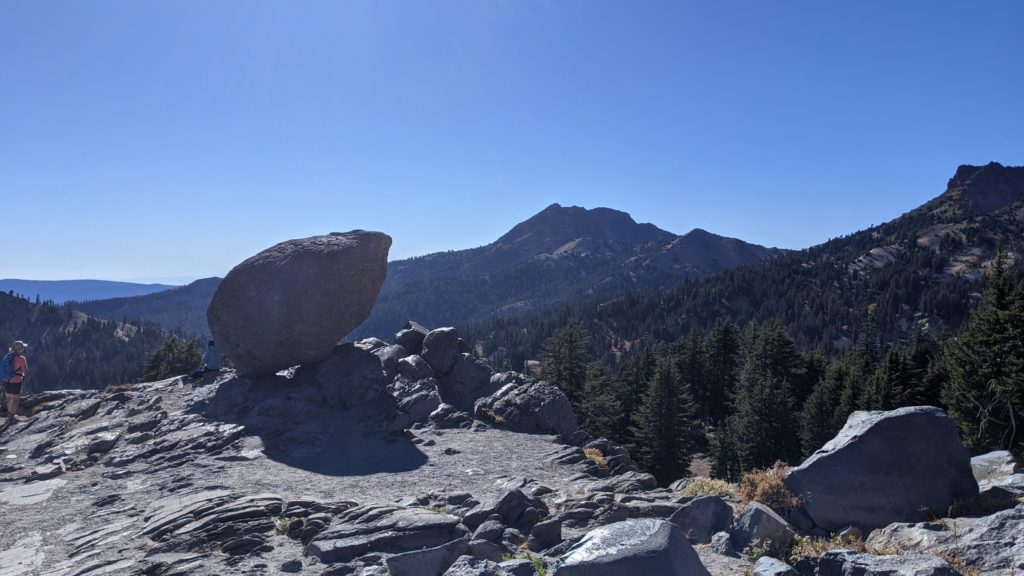 Some compare Redding to Moab, Utah – another young outdoors lifestyle town within reach of national parks and rugged mountain biking trails. Moab boasts the crowded Arches and Canyonlands National Parks nearby. Redding is a base for visiting the lesser-known Lassen Volcanic National Park, Mount Shasta and other natural wonders such as caves, towering redwoods, waterfalls and lakes.
How Redding Became the Center of Upstate CA
There are a few 19th-century brick buildings left in Redding to remind us the town was founded in 1872 by the railroad barons at the Central Pacific RR. They were excited to extend their line to the Gold Rush boomtown of Shasta in nearby Clear Creek. They figured people lured by the call, "Go West Young Man!" would skip the wagon train for an iron train.
Railroad engineers, however, declared Shasta was too steep and too dry. Instead, they recommended laying tracks through the next valley of Poverty Flats, which was quickly renamed Redding. A new wave of pioneers, young families looking for cheap land and a new life, are the latest wave of settlers.
The land boom accelerated during the pandemic when families began shifting to work-from-home lifestyles. Revitalization hit the old downtown, where pedestrian zones, bike paths, public transportation, new shops, parking and a 200-unit apartment complex have risen on Market Street.
Major Civic Achievements at Turtle Bay and Sundial Bridge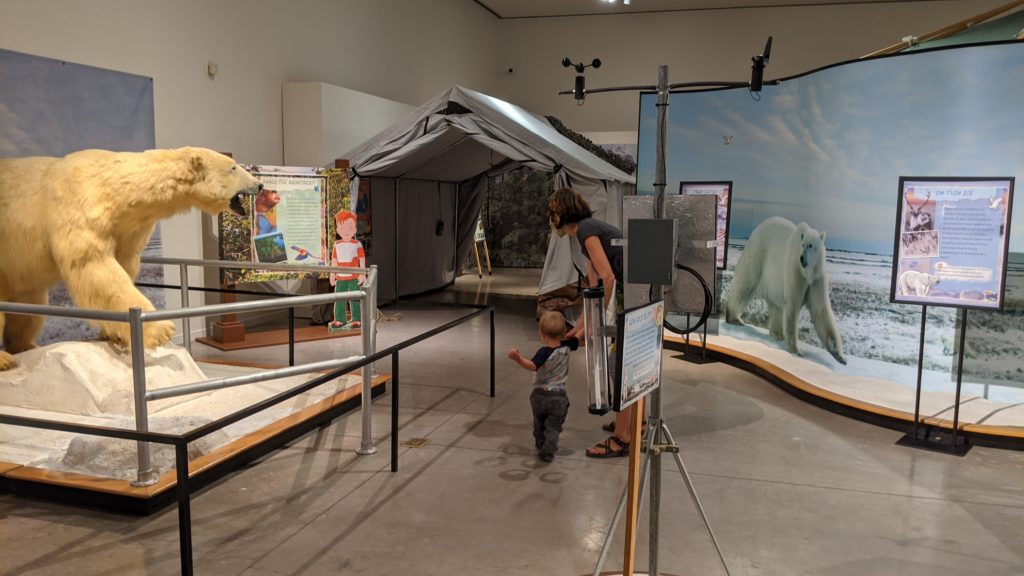 Turtle Bay Exploration Park is an exciting 300-acre development along the Sacramento River with great family facilities, many of them free. The wonderful natural science museum has interactive exhibits about the history of the Redding, California region and different eco-systems. Try on snowshoes in the Arctic exhibit and put on a scuba suit in the Oceans Room.
Scramble outside up the huge outdoor climbing area with treehouses and rock walls. There are bike paths, picnic areas, fishing spots, a botanical garden and a famous arboretum with a Garden of Lights holiday celebration. Learn about plants as well as the local logging industry.
To cross the Sacramento River from one part of Turtle Bay Park to another, there's a lighter-than-air glass and steel pedestrian bridge. Sundial Bridge was designed by Santiago Calatrava, the architect who did the Oculus in New York and many other buildings. Sundial literally "hangs" over the water without having any support from the riverbed, so as not to disturb this very lucrative salmon spawning area.
At night, changing lights illuminate the bridge's glass tile floor and cast shadows on the wooded banks below. It's a spooky but highly recommended excursion.
Redding, California: Gateway to Mount Shasta and Lake Shasta
The volcanic Mount Shasta, about an hour north, tops 14,000 feet. Its glacial slopes and ski and snowboard programs make Mt. Shasta Ski Park a popular ski resort for the drive-to community that stretches into southern Oregon. Try it this year. Visitors get a lift ticket refund within the first hour if you don't like the trail conditions. Mt. Shasta Ski Park is also offering a pro-rated season pass credit if they are not open at least 60 days this season.
Nearby, picturesque Lake Shasta, formed by damming several rivers in the 1950s, is perfect for boating in three seasons. It's also home to Holiday Harbor Marina with the largest houseboating community in the U.S. Please check the local conditions before you book as California water shortages have made some areas difficult to boat in.
Part of this manmade lake's beauty comes from the interplay of stark red shoreline, emerald water and forest and vibrant blue skies. That rim of arid wasteland appears when dam water is used to irrigate farmland in the Sacramento Valley. The water level drops so low that trees cannot live along the red clay shore.
Redding on the Water: Touring Shasta Caverns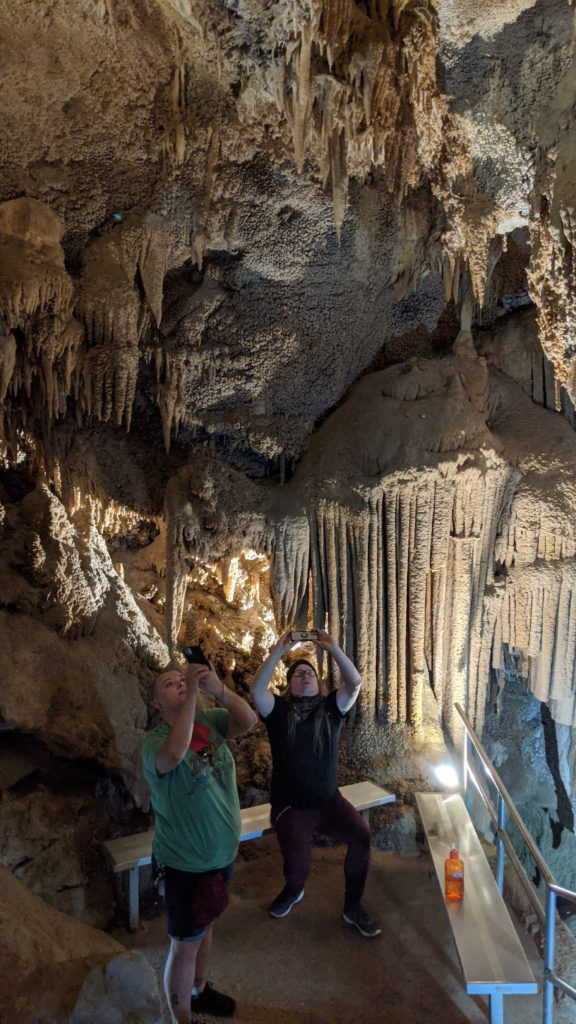 The Lake Shasta Caverns Tour – a must-do — has the homespun charm of a vintage attraction. First, board a pontoon boat for a cruise across Lake Shasta. During our brief ride, a guide regaled us with tall tales. On land, everyone boards school buses for the cliff-hanging drive to the summit. Finally, the whole family descends deep into the cave for a tour of the stalagmites and stalactites.
Although you're not seeing bright colors, the variety of rock formations is stunning. Pinky, our cave guide, gave an entertaining account of how the caves were discovered. A note: while the caverns are well lit and not claustrophobic, this is not a tour for the physically disabled. Many steps confront the explorer.
Redding: California's Natural Beauty
Easy access to mountain biking trails, watersports and expert hiking make Redding a great base for active families. There's more for the less active, too.
We made a 200-mile driving daytrip to see waterfalls, each different and rewarding in its own way. Have you thought about how different waterfalls can be? Some are noisy and impressive, others tranquil and burbling along. At each, we saw Indian families and East Asian couples taking selfies. Waterfalls are a big symbol in Bollywood movies because Hindus consider water holy, so any contact with it brings blessings.
That waterfall tour led to the most unassuming but notable roadside dive called Yaks on the 5. It's a wooden shack on a narrow strip of road running through the tiny mountain town of Dunsmuir, a hamlet cut in half by I-5.
Did you count the EV charging stations out back and wonder why this place gets Silicon Valley clientele? Yaks is famous; it's one of Yelp's Top 100 Restaurants in the U.S. and specializes in burgers. I had a Barbielicious with fried onion crisps, cheddar, chipotle mayo and their tangy BBQ sauce, served with garlic parmesan French fries. The only dessert they have, in addition to 20 rotating local craft beers, is cinnamon buns the kids will love.
Lassen Volcanic National Park and the Ring of Fire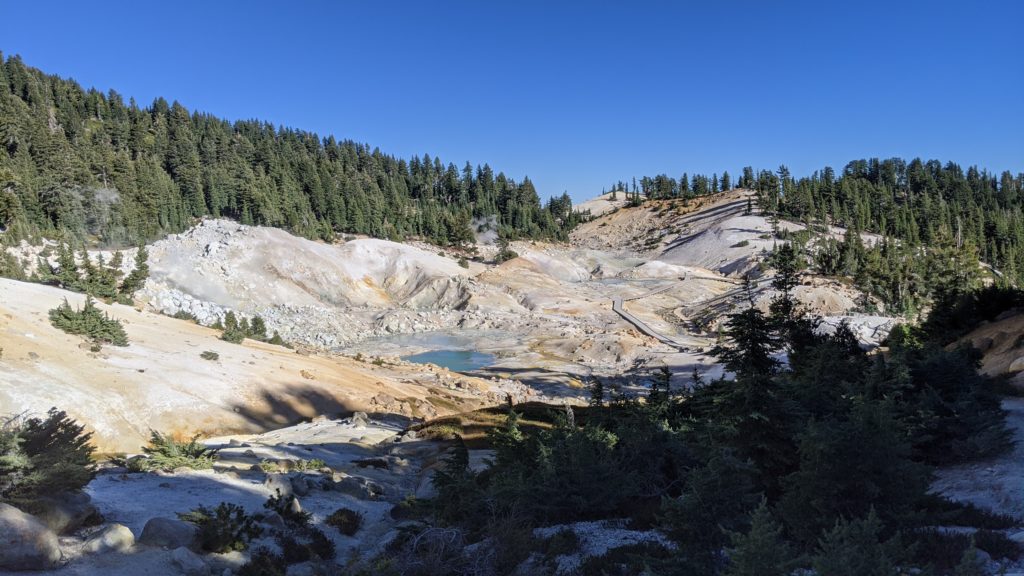 The highlight of any trip to Redding is Lassen Volcanic National Park, about 47 miles west of town. This national park is lesser known and less crowded than most.
Lassen was made a park in 1917 after a photographer published his photos of the eruption of Mount Lassen in 1915. The smoke from the crater was easily seen 50 miles away; huge boulders were tossed around for miles. The 50-mile highway from Reding to the north entrance is called Volcano Peak Scenic Byway and the one to the south side is Volcano Legacy Highway. Today, cows wander through fields pockmarked with big basalt and lava stones.
Mount Lassen, now sleeping, has snow on its summit most of the year and, above 7,500 feet in elevation, the park stays cool. Explore by driving the park's 30-miles of paved road. There are scenic vistas and geologic wonders like fields of pumice stone, glacial lakes, the Bumpass Hell fumaroles and bubbling smoke pots to visit. Hiking trails abound.
We stopped at several of the turnouts to read about the park's geology and trail heads. Save up a little bit of energy for the last trail to see the fumaroles and bubbling lava cauldrons.
Dining Well on California Sustainable Cuisine
We had some memorable meals in Redding. Mosaic, a pretty redwood and glass building surrounded by the Turtle Bay Park forest, is the place to sample local farm-to-fork favorites with exotic flavors. Brussel sprouts are fried to a crisp with a light sprinkle of lemon marmalade and spicy pecans. The kale salad has fresh blueberries plus thin slices of green apple and radish, a local fromage blanc, almonds and a blueberry vinaigrette dressing. The Ora King salmon, a very thick and tender Pacific salmon, is lightly grilled and served on a bed of pureed peas with a crazy looking collage of wild mushrooms around the sides.
Take a break at Taste and See, the pizza and ice cream parlor run by enthusiastic and friendly young people. Located in a Market Street minimall, you can't miss their catchy LOVE sign outside. Do try their house-baked large waffle cones and delicious mashup flavors. We sampled Mascarpone cream with apricots and candied walnuts plus another scoop of Blueberry Goat cheese; enough said.
There was a memorable breakfast at Corbett's with T.J., the local tourism official, who led us there for Lobster Benedict. Picture big chunks of lobster instead of a slice of ham and voila. The Hearth also serves robust breakfasts and fresh breads from a shop on the old town's Market Street. There's a food truck park that comes alive with flavors Friday nights in the newer part of Redding, too.
Planning your Redding, California Stay Upstate
There are many lodging choices, old and new, in Redding. We stayed at the Americana Modern Hotel, an adorable retro motel on Market Street between the Thunderbird and Stardust Motels. The young crowd toting Macbooks and mountain bikes appreciated the motel's hipster touches. Look for artisanal coffee and teas in the lobby, a laundry room to lounge in and a big eagle sculpture in the parking lot. There is a very stylish Sheraton Redding at the Sundial Bridge next to the Turtle Bay Exploration Park.
Redding is a California town that is very different from the state's famous cities. It is particularly well suited to the post-pandemic desire for fresh air, solitude and independent travel. Make it your next stop.
Dear Reader: This page may contain affiliate links which may earn a commission if you click through and make a purchase. Our independent journalism is not influenced by any advertiser or commercial initiative unless it is clearly marked as sponsored content. As travel products change, please be sure to reconfirm all details and stay up to date with current events to ensure a safe and successful trip.
---