The New York Tough Get Going should be the name of our cross-country road trip from New York to California. We are heading West to visit our son and stay awhile, then on to Texas to visit my husband's family, then to Florida to see my mom.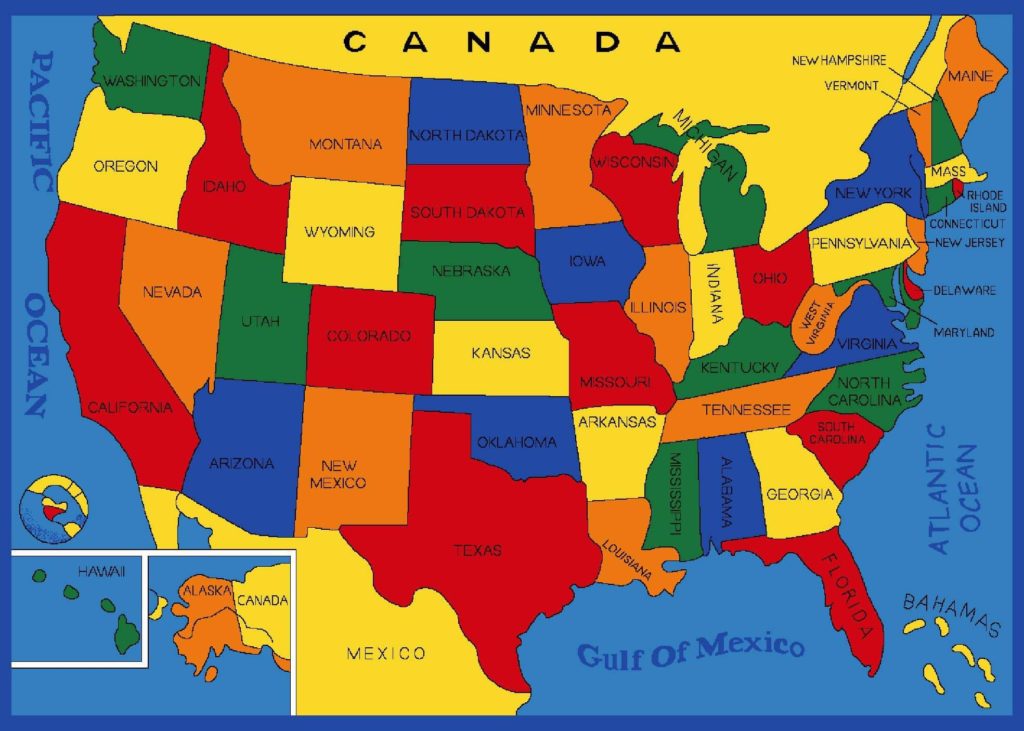 Our goal is to spend time paying calls on family and friends and bucket list places along the route.
Our friend, Ron Blumer, who suggested 30 years ago that I get into a new business called "The Internet" (he'd found a bookstore on his computer carrying every title imaginable and doing mail order), said, "Let me know if you're doing a blog…" So, for Ronnie, this is our story. Back to front or new to old, as blogs go…
Days 15-16: Nevada to the Pacific
Days 15-16 we traveled through Nevada to California, our final destination. The drive West from Salt Lake City is all about I-80, a dull and poorly paved interstate.
America is beautiful. Beauty lies in the enormous salt flats of the Great Salt Lake as they engulf the car. There's beauty in the scruffy high desert as you cross from Utah to Nevada, too, where suddenly rest stops are casinos and gas stations have slot machines.
From Salt Lake City, we drove 521 miles to Virginia City, a town I had heard of because of its annual Camel Races. Sadly, this year even the camels could not run due to county COVID laws. As we drive in, local protesters are demanding the recall of the Governor of Nevada for his strict methods to stop the spread. Yet, most people are in face masks… the loose, cowboy bandana type.
Road Tripping to Virginia City, Nevada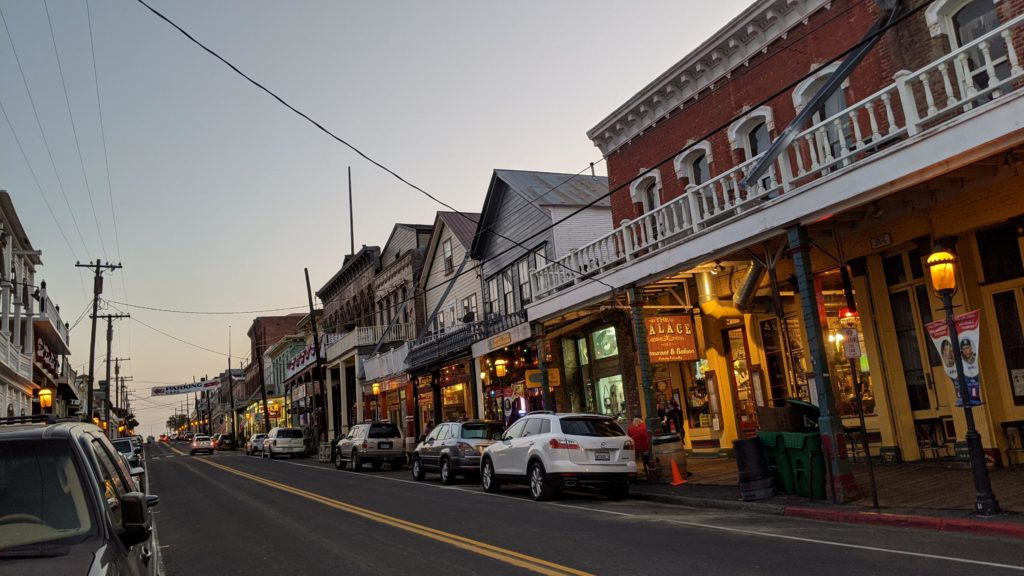 Virginia City, a gold mining town from the mid 1800s, is perfectly preserved. It looks much more real than a movie set and is quite lively. Saloons, stately homes and a steam railroad all function; there are real wooden sidewalks that look like railroad ties "nailed" down with dowels. (I had ever seen that before.)
The town is at an altitude of 6,209 feet in the Sierra Madres and, except for some smoke blowing around from the Napa Valley wildfires, the views were spectacular. In fact, Samuel Clemens got his first job on the town's newspaper here, became famous and continued writing and praising the scenery as Mark Twain. (His namesake museum is temporarily closed.)
We had fun strolling the main street, riding the historic train to the nearest gold mine site and looking at the fun antique stores. Toss in eating Mexican food at a restaurant serving at 25% capacity, then savoring homemade Moose Tracks Ice cream with nuts, caramel, marshmallow bits and chocolate sauce swirls.
Virginia City makes a fun weekend away and this tiny town was packed with travelers. It certainly feels safe. We heard they had stayed open all through the lockdown period and have not had one case of coronavirus.
Our baby blue motel, the Sugarloaf Mountain Motel, has 10 funky rooms and a store that sells liquor 24 hours a day. Ah, Nevada. Very nice owners, Candice and Charlie from San Jose, decided to raise their daughter in a vintage mountain town and support it with an innkeeper's lifestyle. They do a fine job.
Our Last Day: Cross Country Road Trip to the Pacific
From there, it was a driving tour circling scenic Lake Tahoe, starting with the Nevada sides and driving West to the California side. Here, we are posing with a very tall bear family made of 200,000 U.S. and Canadian pennies. The sculpture, "Ursa Mater," debuted at Burning Man a few years ago and was installed on the lakeshore as a public artwork by Tahoe City in 2019.
We had visited the area with Regan on ski trips to what's now called Palisades Tahoe but didn't realize the sparkling blue green Lake Tahoe was even more beautiful — and much more crowded — in summer.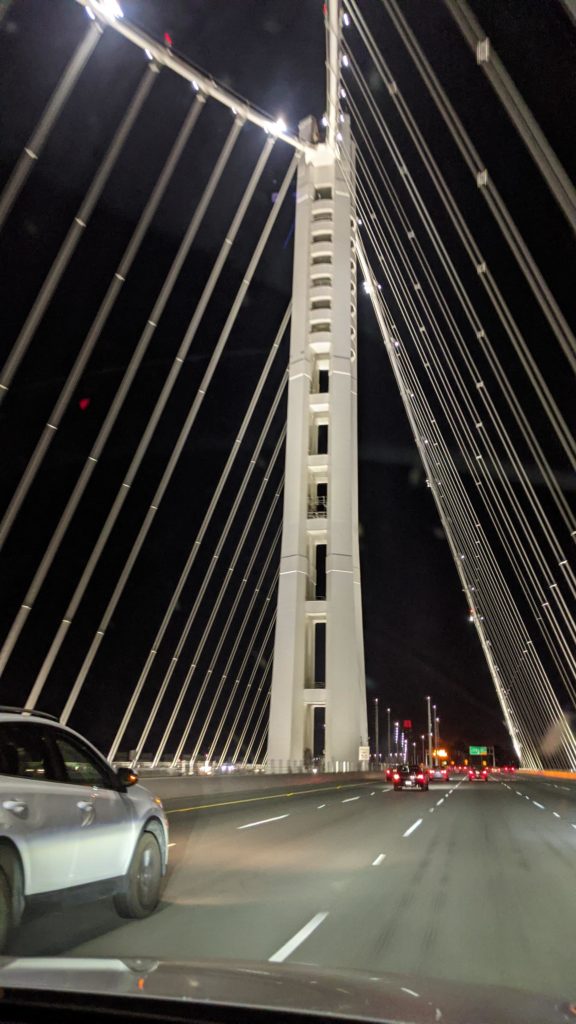 Then, a fun and tasty lakeview lunch at Rosie's and back to the car. More driving, just a couple of hours, to smoky San Francisco….
Woohoo!
We've done about 3,900 miles to get here. Wow. Time to put this blog to bed.
We will resume in November on our return odyssey home.
3 Days on a Utah Road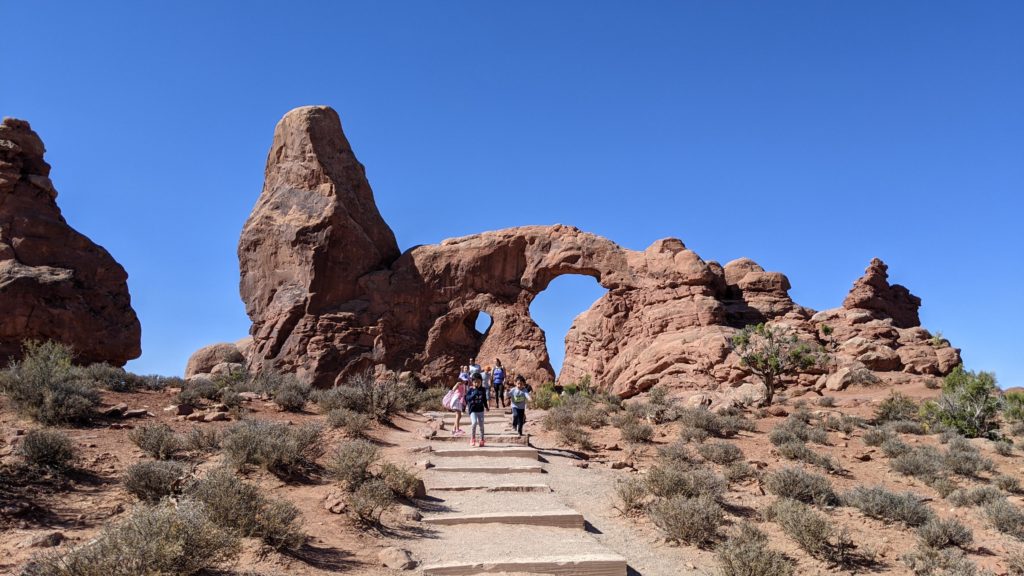 We've all been in Utah skiing its many great mountain resorts but this was our first warm weather visit. What a scenic state! Coming into Moab from the South, we had crossed through Four Corners and parts of southern Colorado that had many striking rock formations.
Handicap Accessible National Park
None of it compares to Arches National Park, home to more than 200 natural wonders eroded into the shape of arches — more than anywhere else on earth. The coolest thing about Arches is that it was designed to be seen from the road, so you literally don't have to leave your car. That makes it handicap accessible, and even parts of some trails are paved so they're handicap accessible.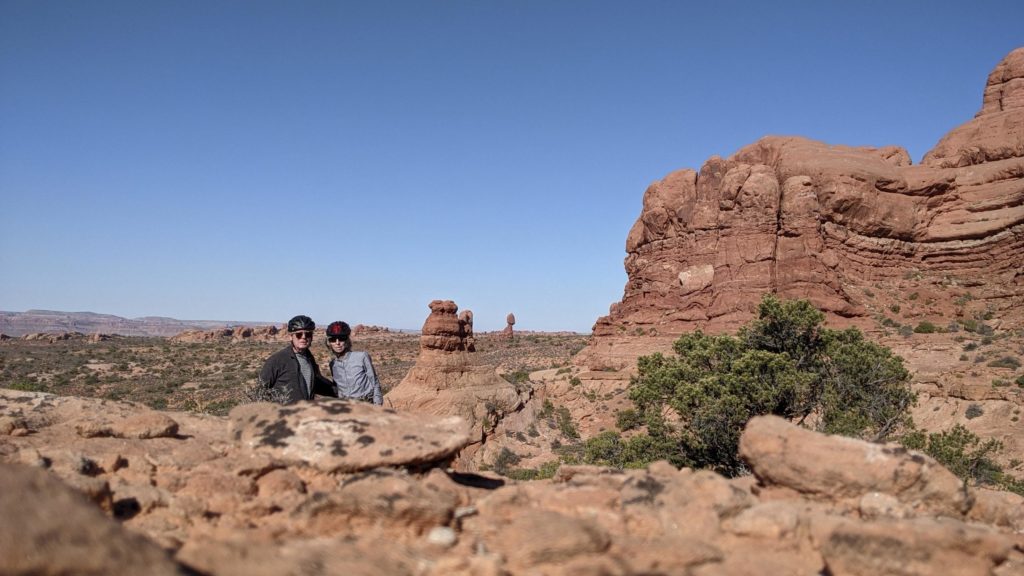 The 36-mile paved road through the park is popular with cyclists, though it takes a lot of muscle to cruise up and down the hills. The rest stops and overlooks are well worth stopping at. Signs talk about the geology, how the arches were formed by water erosion of limestone and what types of wildlife to watch for.
Why Jackass Joes?
Why did we stop at an alien beef jerky place to use the restroom? Location, Location, Location.
Like countless others, we left Arches very hungry and drove north from bustling Moab (home to lots of good restaurants) to I-80, heading for Salt Lake City. With no rest stops for 50 miles, Jackass Joe's has bought up the intersection and built the largest jerky store we've ever seen, with a gas station and market.
Seedy, funky fascinating all at once. The clerk told us Joe's friends had painted the place, then added all the alien figures and artwork. He said afterwards, business had really picked up! You can see why.
Then it was onto Murray, a neighborhood of Salt Lake City, where Ron's cousins live in a beautiful new home. They both work in the tech industry and their big house is set up with remote offices plus a separate guest apartment that we used.
It was great to catch up with family. We relaxed, sampled a bit of their lifestyle and did some chores. We shopped at our first mall in 7 months –everything was on sale and shops were very quiet. We got Kyle's bike chain repaired at the very cool Jerk's, then biked up part of Mill Creek Canyon (Salt Lake City has lots of great bike paths) to see the changing leaves.
We also got COVID tests so we could reduce our quarantine time in San Francisco. (Negative, woohoo!) Murray is a fun part of Salt Lake City and we loved being there. Lisa and Brad and their dog Ajax are super hosts!
Days 9-12 in Santa Fe, New Mexico
We are driving now on our cross-country road trip from the stunning Arches National Park in Moab, Utah to Salt Lake City, where we will spend 2 nights with Ron's cousins Lisa White and her husband Brad Kelly. Here's a sneak preview of Arches.
We started early in the morning chill to avoid the weekday crowds. This place is really popular because it's accessible by car and easy for handicap visitors to appreciate. We parked the car at one of the rest stops, then biked in. Great fun!
Recharge, Refuel! Back to Days 9-12 in Santa Fe.
Having done shorter road trips in the past, our family knows how important it is to stop at least once each week and spend two nights in the same place. That "weekend" so to speak, became the time to do laundry, homework and work, to shop for healthier foods to eat, replenish supplies, clean out the car and get some rest.
As it happened, after spending two tranquil nights recharging in Colorado Springs, we changed our route and headed due south to Santa Fe to see old friends. New Mexico is great for road trips and it was a great opportunity to catch up after countless Zoom dinners during the pandemic.
We rang the doorbell of their adobe palace in our face masks. As soon as we saw Jackie Frank and Paul Stapleton, we elbow bumped, then hugged. We knew they had been very careful about coronavirus hygiene in their home; they knew we had been, too. Hugging never felt so good.
For the next few days we lived their life very happily.
Santa Fe is normally bustling with tourists in Fall when the weather cools and hotel rates have dropped after the Santa Fe Opera season. Not now. With very strict anti-spread protocols in place, visitors from several surrounding states face 14-day quarantines. Locals, largely an older retiree population, are not going out much.
Many shops, like Todos Santos where Rick Phelps sells his work, briefly reopened and are closing for good.
We ate delicious locally sourced meals and took brief excursions. We hiked the Galisteo Basin, one of Jackie's favorite areas to walk. It has that arid Southwest look with lots of juniper bushes and soft sand trails so it was good hiking.
We also went horseback riding at Ghost Ranch, home to the painter Georgia O'Keefe and site of many of her most famous landscape paintings.
We had two guides in cowboy hats and boots — Daniel and Tolga — who tried hard to make us feel like John Wayne. They succeeded. The scenery is conducive to that, as you can see.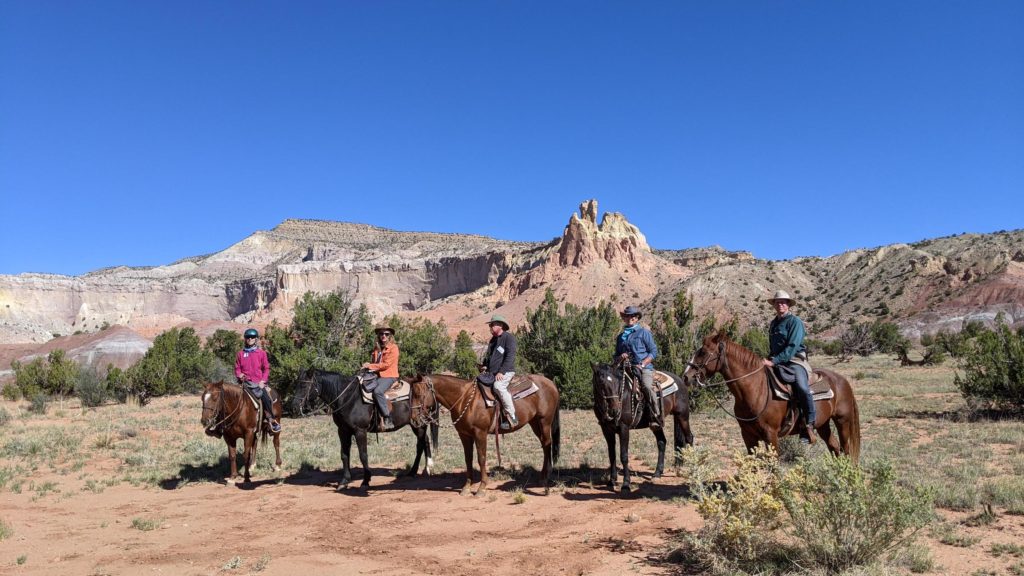 Jackie and Paul's fascinating friends from Nepal joined us for the day. Carroll Dunham and Tom Kelly run family-friendly tours on horseback in Mongolia (read more here.) They had moved to Santa Fe with their kids for the duration of the pandemic and had become part of a local COVID pod.
Instead of saying goodbye, we hope to meet Jackie and Paul again on our return journey at another wonder — the Grand Canyon.
North to Moab: 416 Miles of Cross Country Road Trip
Heading north on Highway 550 to Utah, we stopped at Angel Peak and tried to bike ride, but the earth was too dry and sandy for our bikes.
We stopped at Salmon Ruins, a Chaco pueblo with a tiny museum which is very interesting. Chaco Cultural Monument, both a national park and UNESCO World Heritage site with unique Chaco tribal pueblo dwellings, has closed its visitors center and museum so we had skipped it. We we were glad to get a taste of New Mexico's diverse Native American cultures at the tiny Salmon Ruins Museum.
Then it was a drive by Ship Rock, a famous and sacred Navajo symbol. All the tribal lands are closed due to a terrible Covid infection rate and you could not get any closer to this eerie rock formation than Highway 64.
Then more driving, more trucks, and up 491 North into Colorado. We stopped in funky Cortez for mediocre Mexican food. At around 9pm, we reached Moab, Utah, home to both Arches and Canyonlands national parks.
We checked into the hyper clean but drab Bowen Motel on the Main Street. It was $168 with tax because Moab is all around a pricey town. First stop, Spoke on Center, a bar and ice cream parlor where Ron could have a van-choc softserve with raspberry sauce. The best part was meeting Sarah, the scooper, who's a Yale sophomore. Her father refused to pay tuition for another semester of remote schooling in New Haven. So she's learning the restaurant trade in her hometown of Moab.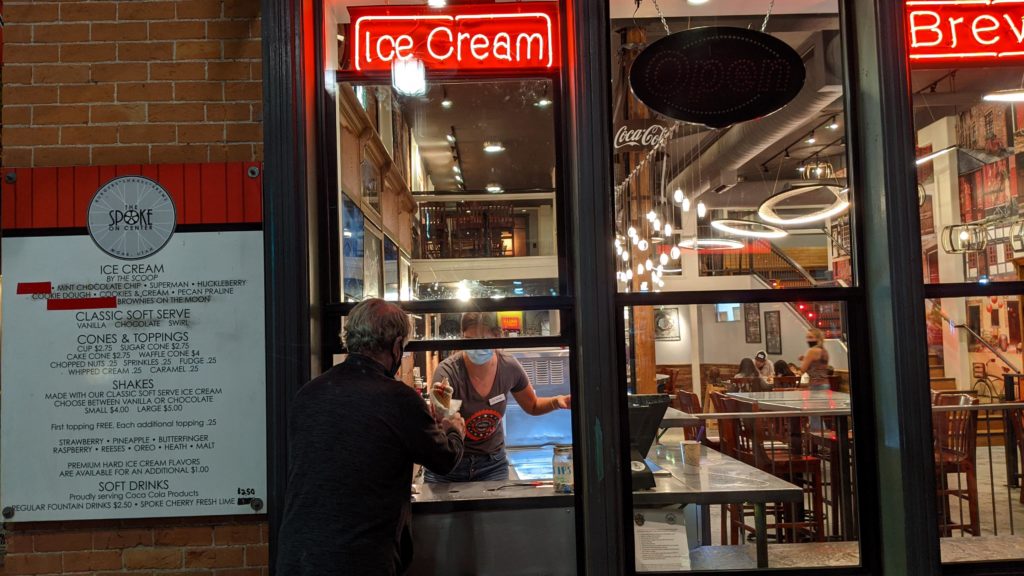 Off to bed, avoiding the busy Moab Main Street with its cowboy shops, saloons, t-shirt stores and souvenir places. Tomorrow, an early start for the park.
Day 7-9: Colorado Springs Weekend
From Goodlan, Kansas, it was a bunch of driving hours to Colorado. Driving, taking turns, then hours of more corn fields in eastern Colorado. The most distinguished stop off Route 24 is Limon and its best feature is the old cinema (hoping to reopeon soon).
They claim the John Wayne Society gave them permission to reproduce this image from a film shot near here.
In Colorado Springs, we met close friends Eileen Ogintz and Andy Yemma. She writes the syndicated column "Taking the Kids" and we partner on many family travel projects. This was our reunion after a brief cruise together last fall…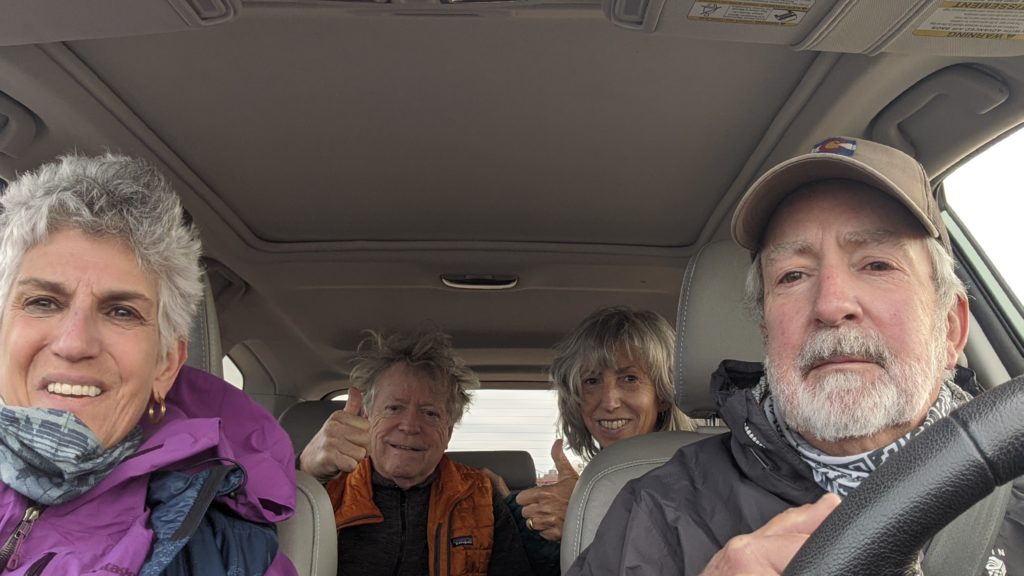 Thanks to the Lou Hammond PR firm and their luxury client, Garden of the Gods Resort and Club, we were both offered a discounted press rate to review the resort.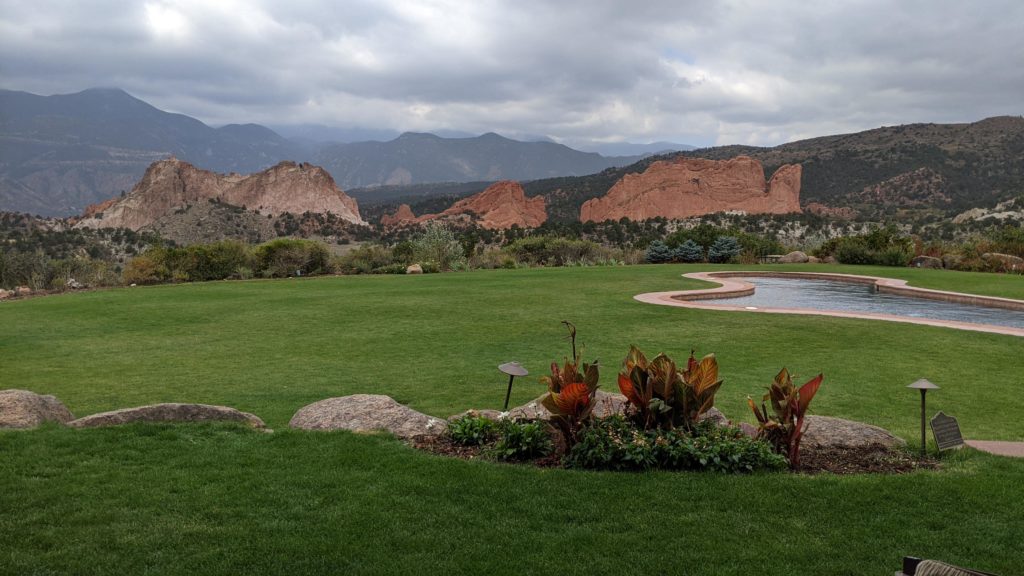 The GGClub was built as a private club by the Hill family in 1951 and it's expanded over the years into a gated community, 27 holes of golf, tennis, pools, a spa, fancy wellness/personal medical clinic and then a nice hotel with 1-3 bedroom private casitas or huge rooms in the lodge.
This is a look at our room and deck. Of course, you are paying for this extraordinary view but this is truly a pampering escape that delivers on its promise of renewal for all guests.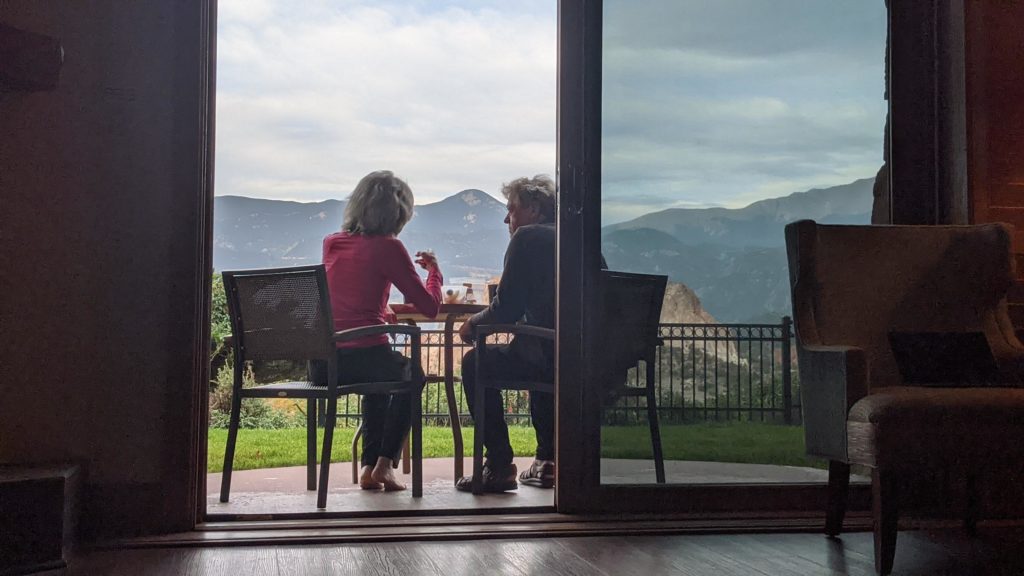 We spent the weekend relaxing, because we were at 5,200 feet in altitude in a very dry climate — ideal for doing our huge pile of hand laundry — but it was hard to catch our breath.
We did a great yoga class outside together. And loved swimming in their beautiful heated pool.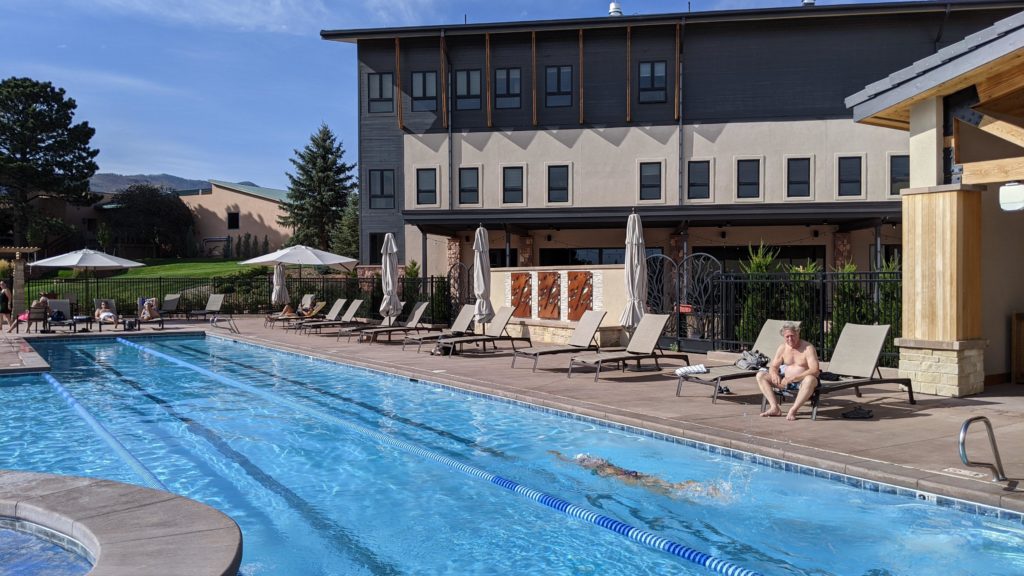 Colorado Springs has lots of great Tex Mex dining. Eileen and Andy showed us little former mining towns with Western Main streets, the Colorado College campus and Air Force Academy. Colorado Springs is home to the really well done U.S. Olympic and Paralympic Museum because this is where U.S. teams all train.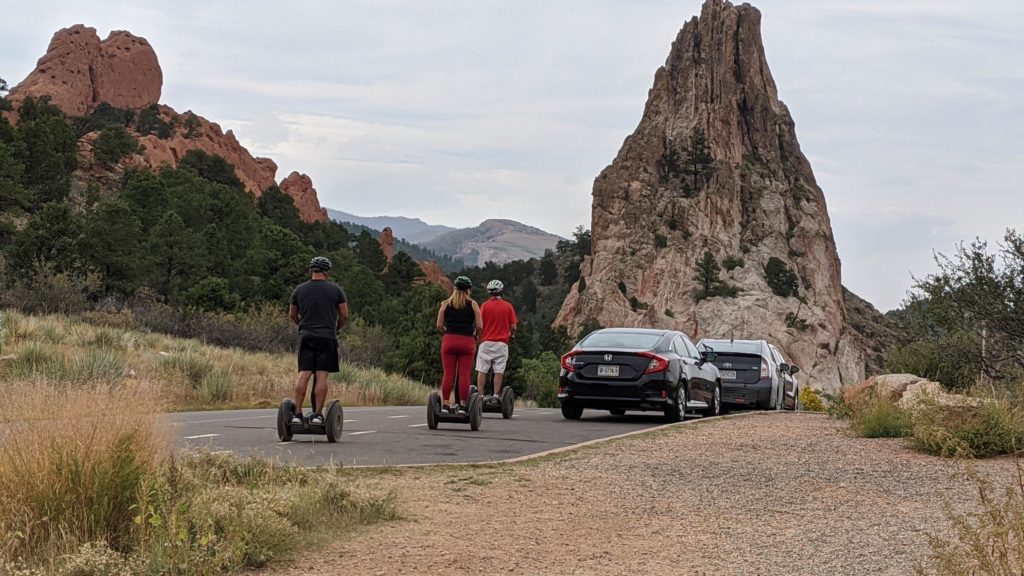 And more on Colorado in general: Everyone talking politics in what is now considered a "purple state" that could go either way in November….
There's a strict mask law in place and all indoor and outdoor dining is socially distanced, so their COVID rate remains very low. People are generally relaxed.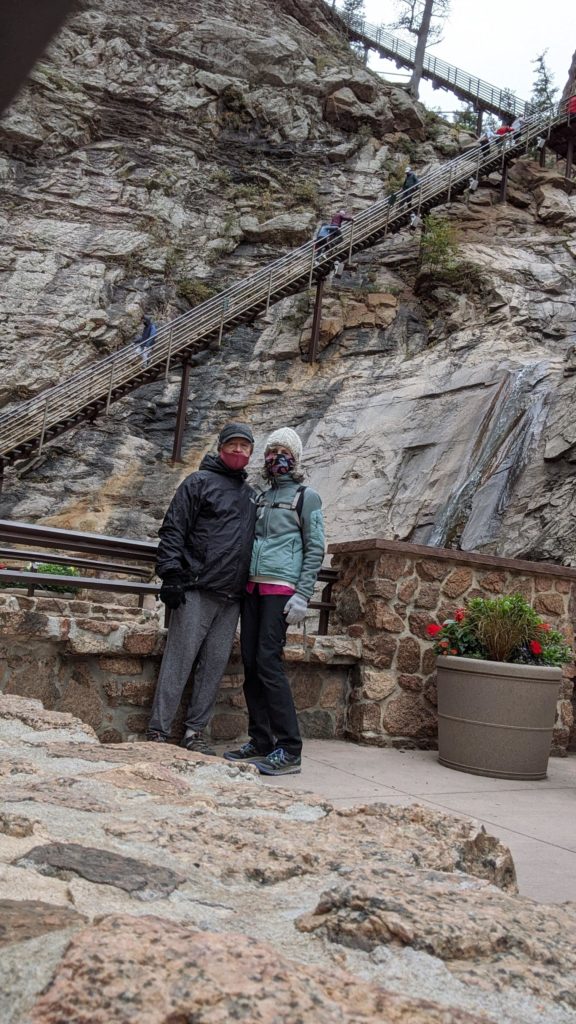 Yes, we hiked through a mile-long canyon (it is paved and handicap accessible) then climbed up to the top to see the famous Seven Falls, once called "the most beautiful mile in America." For us, the highlights are the natural wonders which have drawn tourists here since the early 1800s. And the weather, ranging from 37 degrees with 40mph winds to 80 degrees and sunny, to clouds of smoke blowing in from the California fires. We have worn all our clothes this weekend.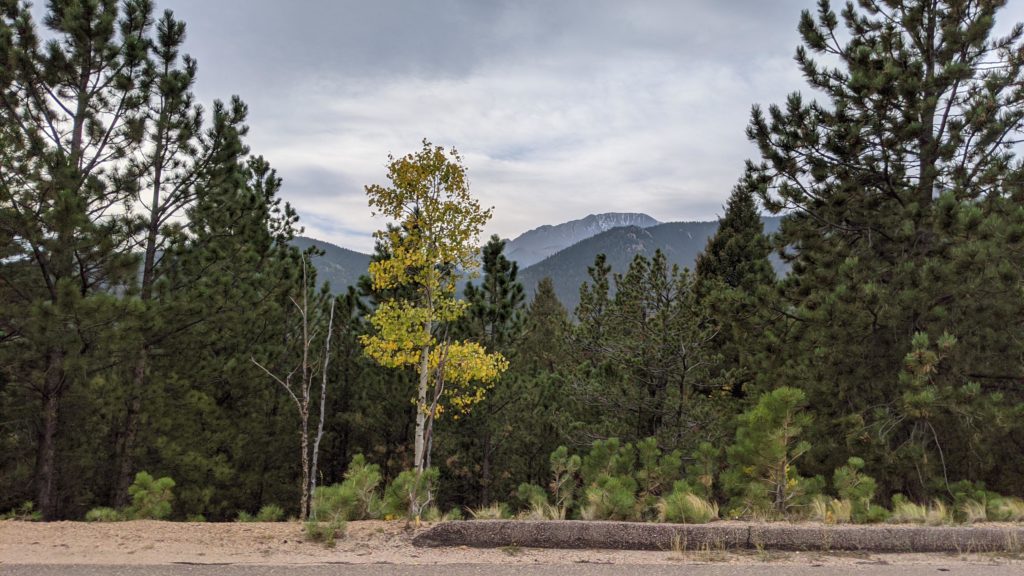 Tonight we will reach Santa Fe. This great town is a detour because our dear friends Jackie and Paul were supposed to meet us in Colorado for some 3 nights of Airstream glamping tonight. When Paul took sick, we changed our route to go see them at home and will stay in their lovely adobe palace.
Friends and family first on this trip. More to come.
Day 7: Kansas, Kansas, Kansas
It is becoming a cross country family road trip about Kansas. We loved our last visit to Kansas City, MO but didn't have time to stop on this road trip there, or in Kansas City, Kansas either.

Then drive, drive across Missouri. Drive through the night skies. Drive pastblinking red wind turbine lights. Past trucks. More Kansas.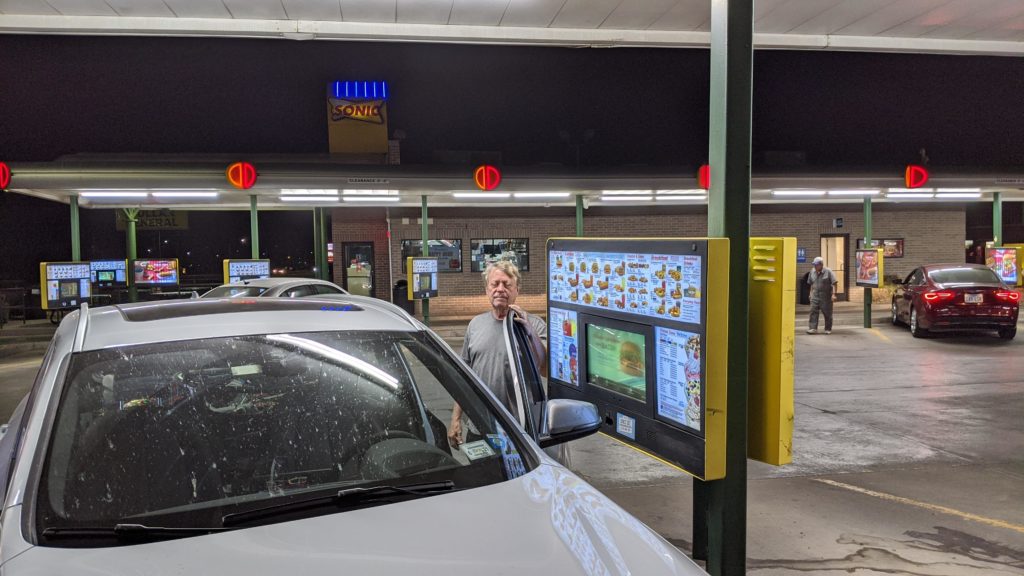 At last, about 10pm, we arrived at the Sonic Burger drive-in in Colby. The food was delicious and indigestible. Worst part: young carhop girl brought it to us without a mask, then leaned into Ron and said, "I don't like 'em and we don't have to wear 'em so I don't." Aargggh. First time we felt at risk on this adventure of potential exposure.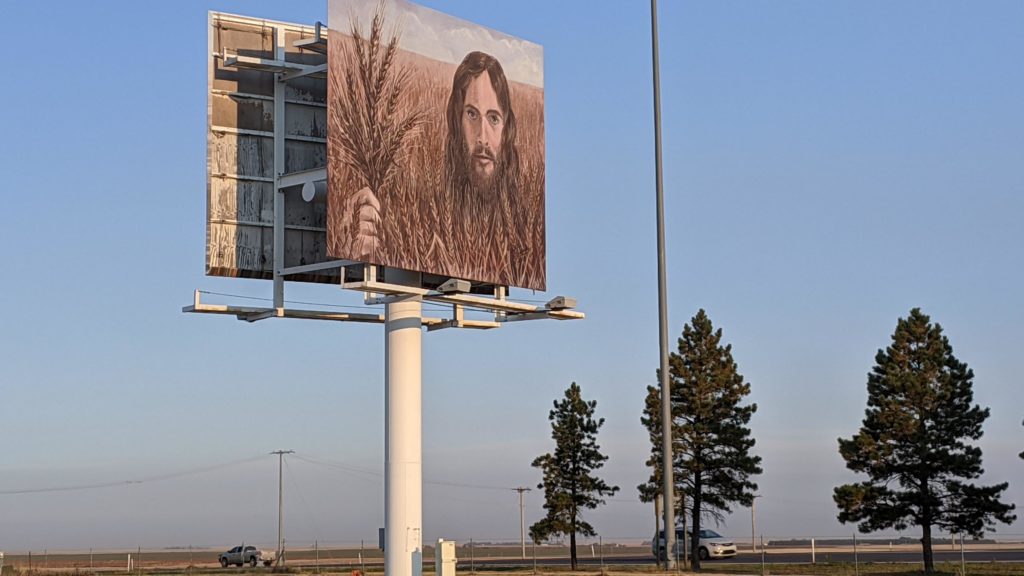 We had chosen Colby as the place to sleep because of the famous billboard, Wheat Jesus. I will pause to thank Google for always alerting us to these wonders when we google, "what's interesting about (this place)?"
And in Colby, Kansas, that town of few lodging choices, we picked a Super 8 that was well reviewed as "sparkling clean" with "blazing fast Internet." We agree with both those comments, good place to get horizontal. And we enjoyed meeting Eric, the desk clerk who put out their big buffet breakfast (yes, I thought the CDC had outlawed public buffets, too). This Super 8 served fresh u-cook waffles, hot biscuits n' gravy, fruit, cereals, yoghurt, toast and more; free with double double-bed rooms that start at $65 per night.
We enjoyed Kansas a lot, so much so that I will do a separate blog post about the state's charms along I-70. But, here's a quick peak at the 80-foot-tall Vincent Van Gogh "Three Sunflowers in a Vase" that towers over Goodland, Kansas. We stand next to the center post.
Day 6: Missouri, from Columbia to Kansas
We learned the Mississippi River had been the western U.S. border until the Louisiana Purchase in 1803. Then, after adding territory to the U.S. that ran all the way from Louisiana to Canada, it was Pres. Thomas Jefferson who hired Lewis & Clark to explore it.
It's Day 6. We biked 10 miles along the Katy Trail this morning. This trail is a converted rail track from the MKT Railroad (Missouri-Kansas-Texas) that runs 300 miles across Missouri. Many bikers we met were taking a week to bike the whole.thing, camping along the way.
At this very spot, Lewis & Clark had paused their expedition in June of 1804, right here below tall white bluffs that apparently still show remnants of Indian pictographs. It was very exciting…
Back in town.. I had met Jo Duncan, who does PR for Columbia, Missouri (along with many other Midwest clients) a few times before at travel conferences. Her wild enthusiasm for this college town was infectious, and I had always wanted to see it for myself.
We biked around this adorable college town, visiting U Missouri known as Mizzou (Go Tigers!), Columbia College and Stephens College, all pretty garden campuses with a laid back Midwest feel, full of students in face masks. Jo took us out to dinner at Sycamore, where the BLM protests were so loud, that we ate inside. (Masks, distancing, hand sanitizer, all good…). It was great to hear her news and know the travel industry is alive and getting well again.
From there, our cross country family road trip turned Westward to Kansas. With a stop for ice cream at Braun's, a Texas chain that Ron loves. For me , Cherry Bordeau Praline, one of a dozen amazing flavors.
Day 4-5: From Ohio to St. Louis
It is Day 5 but we did not have time to report on Day 3, which we spent zip lining over the Hocking River in Ohio. We were exhausted by day's end, having crossed 11 zip lines over 235 acres. But we did finish, as you can see from the diplomas our guides are waving! (I will post a movie of Ron doing it very gracefully when we have more WiFi!)
From there, it was a very nice dinner at the lovable Inn & Spa at Cedar Falls: scallops grilled in honey (Ron had salmon) with fresh string beans and mashed redskin potatoes — the potato being Ohio's big crop. The buckeye. Plus a luscious berry pie for dessert.
Yesterday, day 4, it was driving all day, about 380 miles of our family road trip, so we could cross the farmlands of Indiana and Illinois and get to Missouri. But we found a cool Ruby's Smokehouse BBQ for takeout and had yummy, pulled chicken sandwiches plus hush puppies plus sweet potato casserole and green beans with bacon, oh — and lemonade — in the car for lunch.
Yes, we had to pull over to clean the seats….
Overnight in Saint Louis. Cool town.
Cross country travels are good so far. We found The Last Hotel (real name) a very cool hotel in downtown St. Louis, a converted shoe factory that is very stylish. We had a much needed swim in their rooftop pool, but sadly, the bar was closed…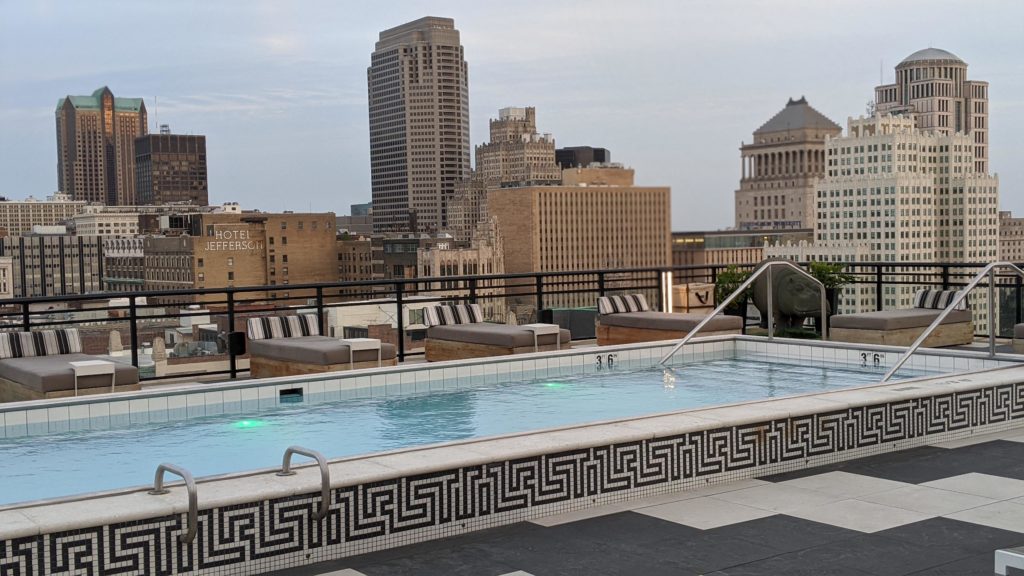 Now, day 5, we are leaving the St. Louis Gateway Arch behind, a beautiful Eero Saarinen project. Fascinating engineering — one of those moonshot projects where his design won a competition and no one could figure out if it could really be built.
It was completed in 1965 to mark the boundary, the Mississippi River, of the early United States and the start of the westward expansion. The very well done, brand new museum underground bleakly describes the genocide American settlers imposed on the Indians and Mexicans who were living in what they would soon call their "new" lands.
You can take a "tram" modeled after Ferris Wheels up 630 feet through the spindly legs inside, all the way past 1,096 steps, to the top for great views. Really fun. A highly recommended visit.
The setup of this national park is very socially distanced and careful. Here's a view from the top!!
Nice places every place we go. And people are very careful about hygiene and sanitation. Masks are everywhere…
Spending the night in Columbia, Missouri, a totally charming college town, on a mini press trip to see college life today…
Day 2-3: Hocking Hills, Ohio
We are on our 2nd night in a very posh 2-bedroom cabin in the woods, part of the Inn & Spa at Cedar Falls.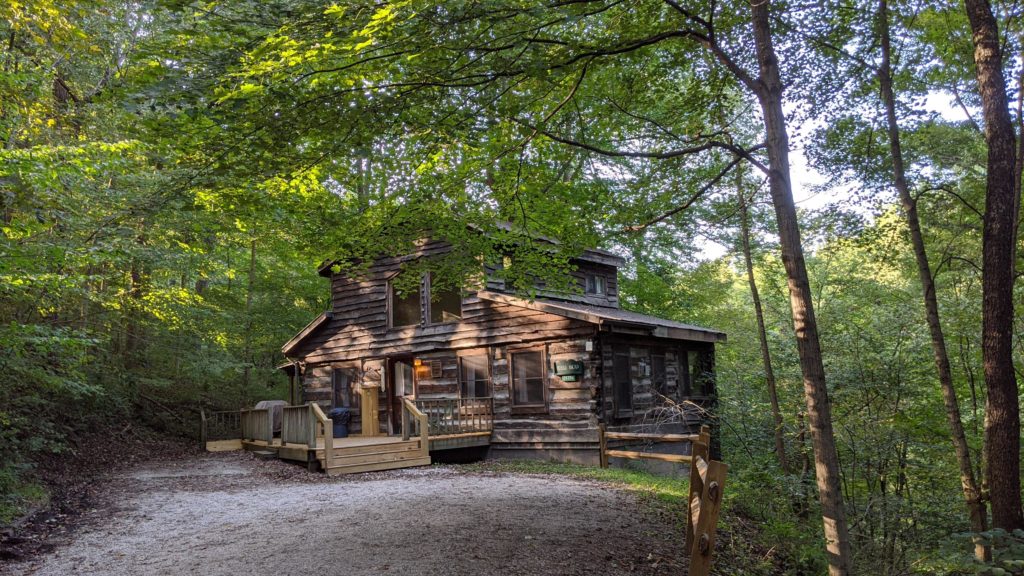 Tucked into the Hocking Hills State Park wonderland, we are surrounded by towering evergreens and stands of birch and sycamore.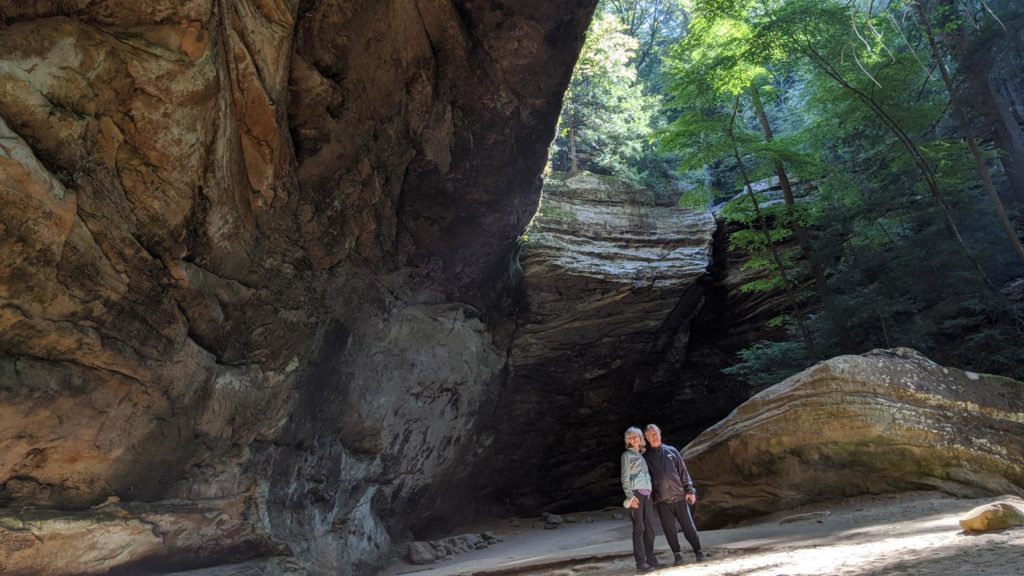 Everywhere are undulating sandstone cliff faces whose recesses and caves, carved by glaciers and water erosion, were occupied for centuries by Wyandot Indians.
Thanks to the hospitality of Weirick Communications and the Inn, we have hiked Hocking Hills State Park both days, enjoying the 1-3 mile trails that often start by going up to the cliff rims so you can look down the ornate valley walls, then descend into the river bottom.
Today, it was zip lining with Hocking Hills Canopy Tours through the dense canopy of trees overhead, from 50-foot tall platforms.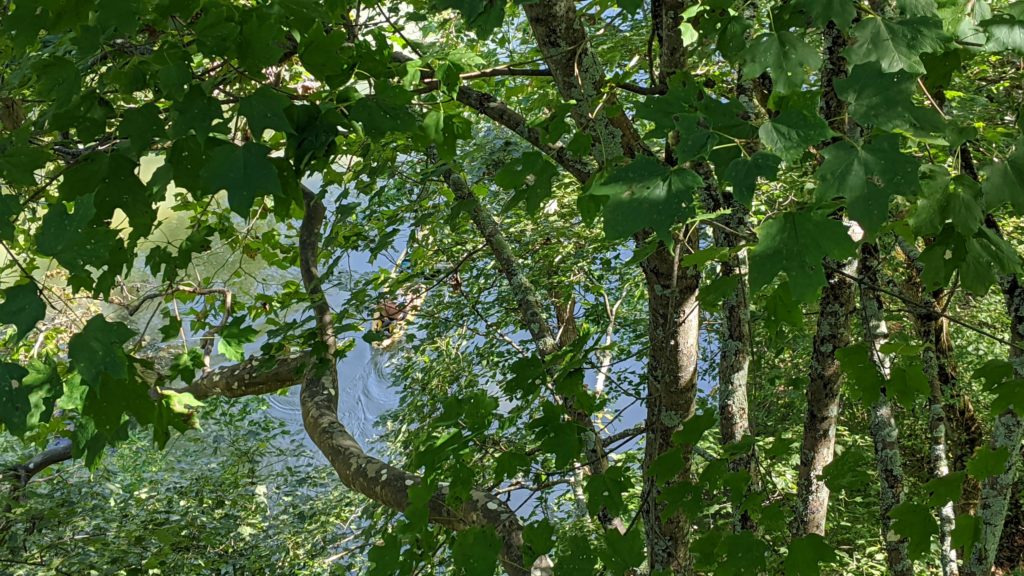 Great fun. Great instructor / guides / life support from Kyle and Emma. Life is good. Off to dinner at the Inn's award-winning restaurant… Sending out family and friends' emails but no cell service.
Day 1: New York to Pennsylvania
New car, BMW X1. Big decision for Ron and he is very pleased! All packed up with bikes inside!! We drove 10 minutes before we realized we needed a cup of tea and a B&W cookie to make it a real family cross-country road trip.
Finally hit the road. First fill up in Shippensburg, Pennsylvania
Ron is styling his new ride!!!
Very comfortable ?
We wanted to stop for lunch outdoors, since I-95 to I-81 to -70 was all interstate driving, horrible, with lots of trucks and everyone doing 80.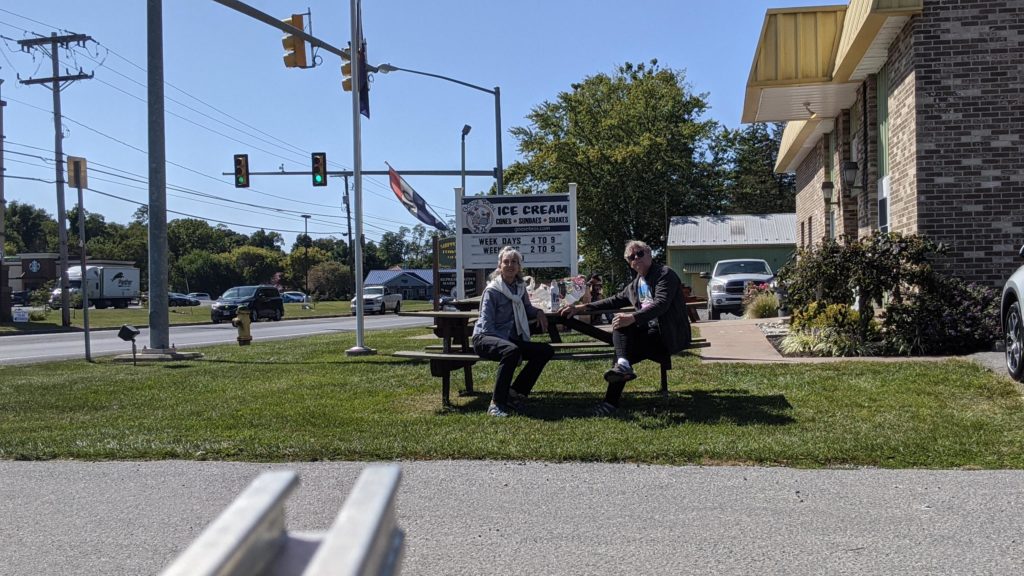 We have a great new app, TrailLink from the Rails to Trails Conservancy, which lists more than 40,000 miles of trails around the U.S. (our good hiker friends also recommend All Trails.) We searched it for bike trails in central Pennsylvania and found the Cumberland Valley Rail Trail, built on the old tracks of the Penn Central Railroad. It began in Shippensburg, Pennsylvania where we found an ice cream parlor — anyone who knows us knows that Ron will stop in at any ice cream parlor he sees to make sure they are making good flavors!
Then the Cumberland Valley Rail Trail. Wow! The 22-mile trail was very peaceful, flat and shady. All surrounded by corn fields, ratty looking stuff to me, but the locals called it "cow corn," I guess for feed. We met dog walkers, turkeys, goats that drifted into the path from neighboring farms, some equestrians who were testing out Amish horses who had been re-shoed from trotting along the roads so much.
The community raised money for a museum built into an old railroad boxcar and the video they had showed it being lovingly restored and towed into place by local craftsmen and construction workers. So much pride in this small town.
Then is was drive, drive, more drive to West Virginia. It's quite scenic along the highways, rolling hills, very wooded. Did you know West Virginia is the only state completely within the Appalachian Mountains? We didn't.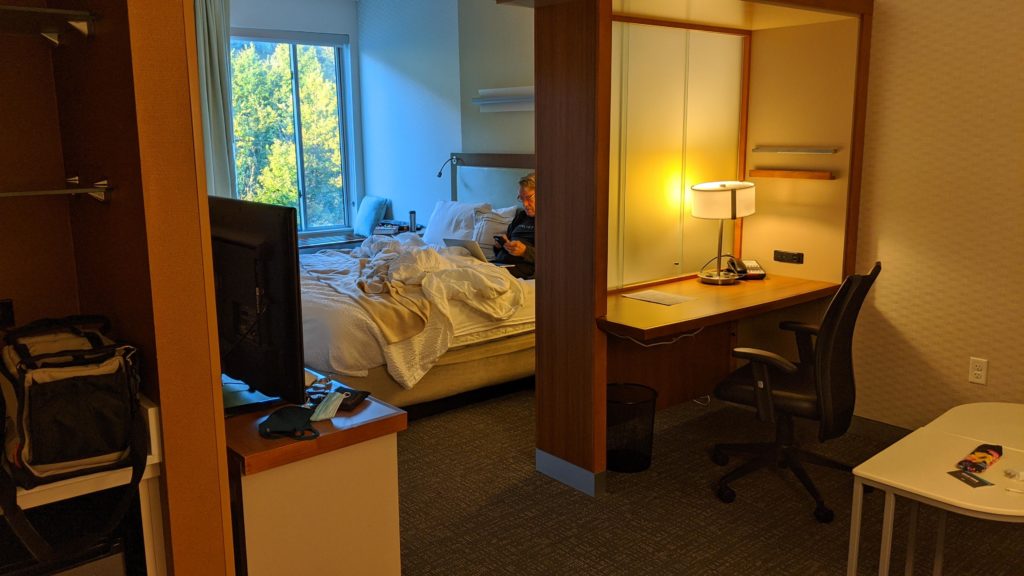 To bed, at last. (Scroll up for tomorrow.)
Dear Reader: This page may contain affiliate links which may earn a commission if you click through and make a purchase. Our independent journalism is not influenced by any advertiser or commercial initiative unless it is clearly marked as sponsored content. As travel products change, please be sure to reconfirm all details and stay up to date with current events to ensure a safe and successful trip.
---