Explore the byways and historic Camino Real on a New Mexico road trip and add unexpected pleasures to your Southwestern overland adventure.
The unique fusion of Native American, Hispanic and Anglo cultures makes an Albuquerque to Taos road trip particularly interesting. With 22 Native American tribes in the area, there are 19 pueblos (villages) to visit. Additionally, tour many of the numerous reservations with guides, take an arts and crafts workshop or plan to attend an authentic celebration. While some reservations and pueblos have remained closed during the Covid era, others are again welcoming visitors.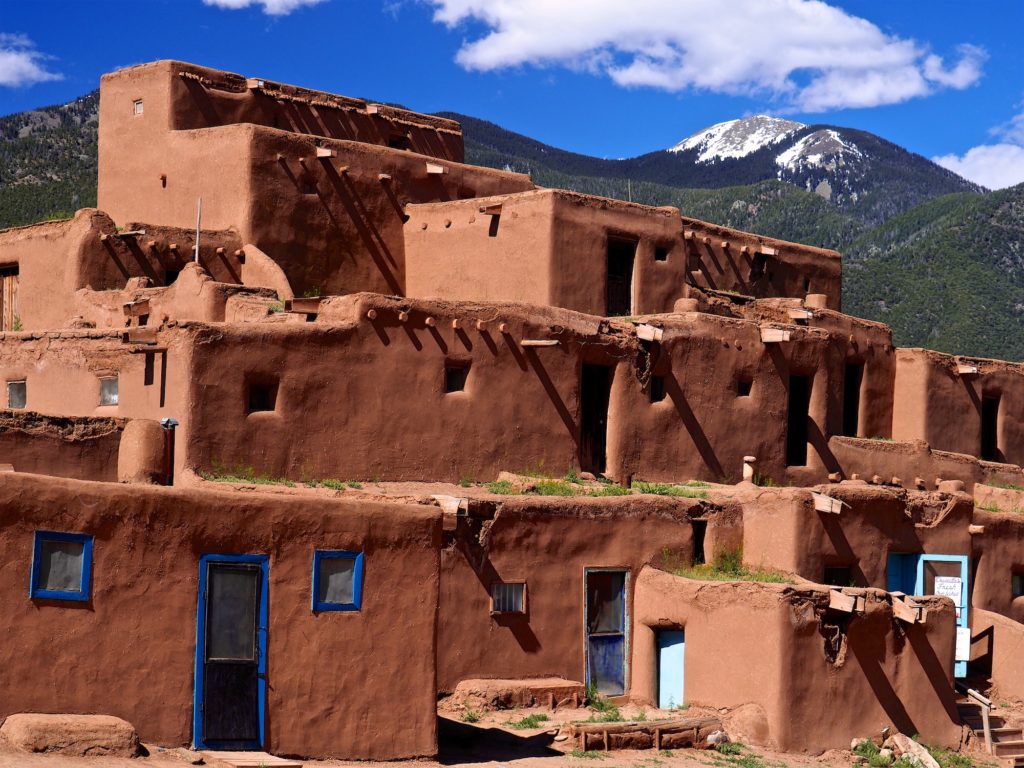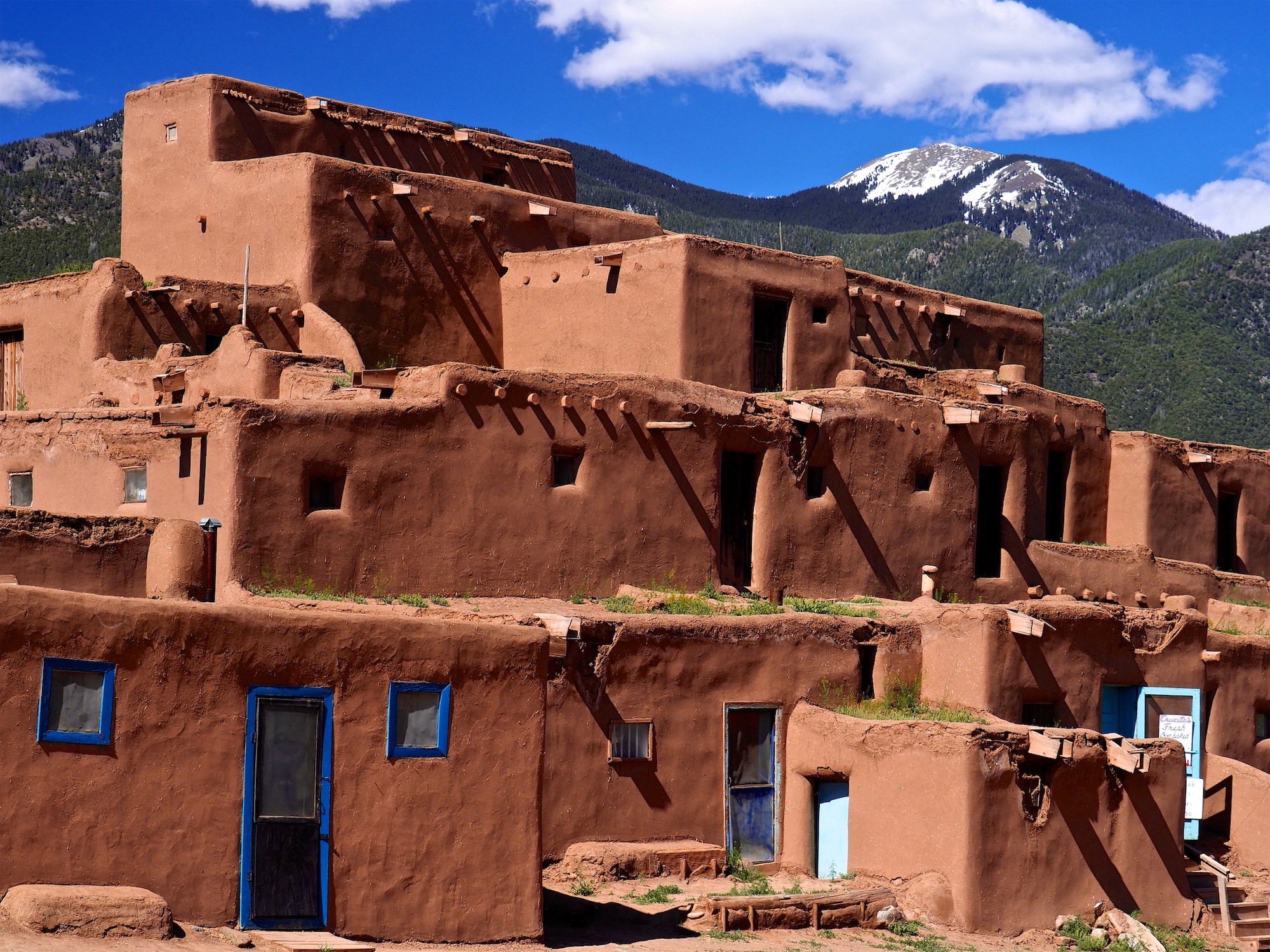 The first Spanish colonial settlement was founded in 1598 in what is now northern New Mexico. The Hispanic influence remains strong there today — you will see this in the layout of the cities and towns, in the flavors of the local cuisine, and in the various festivals and events. The Anglo influence is evident in the area's dude ranches, ghost towns and western shows.
While the drive from Albuquerque to Taos is a mere two-and-a-half hours, there is much to see in and around these cities. We think it's worth making a few detours and turning it into a week-long (at least!) family New Mexico road trip.
Suggested Weeklong New Mexico Road Trip Itinerary
There are so many possibilities for stops along the way or on a short detour, offering something for everyone to remember in nothern New Mexico.
Our suggested 7-day itinerary follows:
Day 1: Albuquerque
Day 2: Albuquerque to Acoma or Outdoors
Day 3: Albuquerque to Spaceport America
Day 4: Albuquerque to Santa Fe
Day 5: Santa Fe and the Arts or Outdoors
Day 6: Santa Fe to Taos
Day 7: Taos
Need a discount rental car for your New Mexico family vacation?
Day 1: Albuquerque Old Town on your New Mexico Road Trip
The largest city in New Mexico, Albuquerque is one of the most colorful in the United States, and a genuine representation of the "southwestern spirit." A multi-cultural metropolis of 560,000 people, Native American, European, and Hispanic influences are found in every corner of the city. For southwestern authenticity at its finest, explore Albuquerque by hopping aboard a trolley with ABQ Trolley Co, which offers an 85-minute city tour with a Burquee (Albuquerque local) as your guide. Note that during this period of halting tourism, they are operating only spring to fall.
Be sure to take a stroll through Old Town Albuquerque lined with mud and adobe buildings, a part of the city that has been the center of community life for over 300 years. Set aside a few hours for your family to explore this old part of town. There are several interesing shops, boutiques, churches, plazas and fabulous restaurants. Cocina Azul and La Guelaguetza are popular for Mexican fare. Monica's El Portal is a classic in the Old Town offering both Mexican and New Mexican cuisine.
Another must-see is The Indian Pueblo Cultural Center, a museum and cultural institution owned and operated by the 19 Native American pueblos of New Mexico. This one complex showcases the history, culture and accomplishments of indigenous peoples with displays, performances, demonstrations and workshops. They also operate a huge gift shop of jewelry, pottery, kachina dolls and other items certified authentic by the pueblos. Take a break from the exhibits and sample fry bread at the Indian Pueblo Kitchen to taste the Native culture.
If you're looking for an unusual stop, and it's not too late in the day, check out the American International Rattlesnake Museum, hosting the largest collection of different species of live rattlesnakes in the world. Hours may be limited so be sure to check their website.
Day 2: Albuquerque to Acoma – 62 miles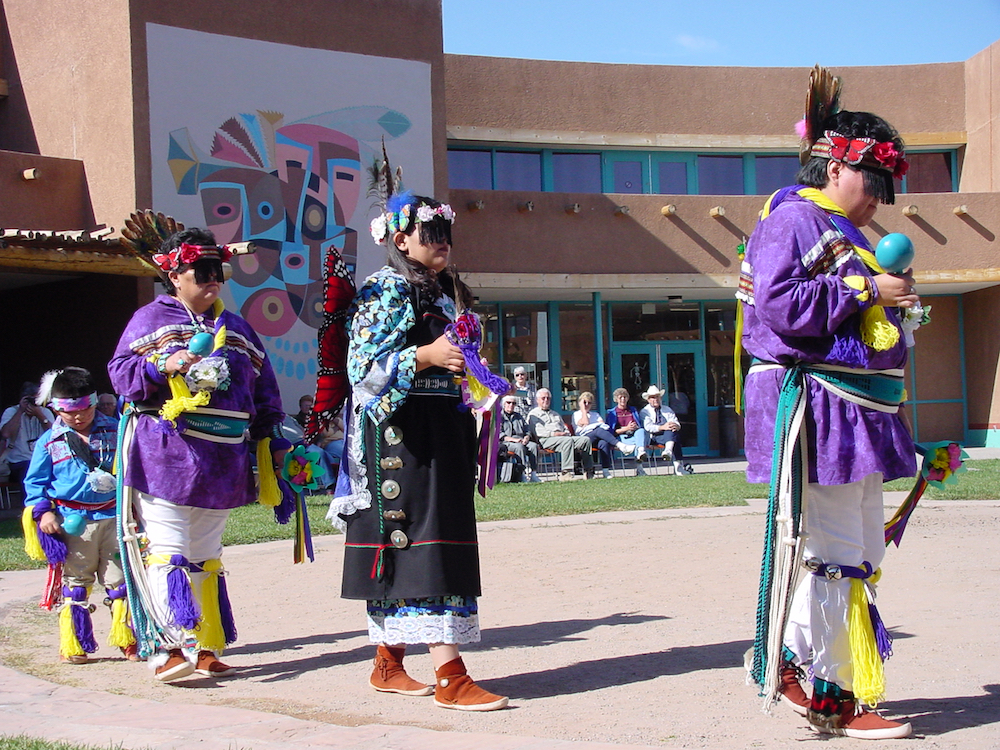 A very worthwhile side trip, when the elders decided it's safe enough to reopen, is to the ancient Acoma Pueblo. The breathtaking drive from modern Albuquerque starts on I-40 West for 50 miles, then turns onto NM-23 for 12 miles to "Sky City." This pueblo is so named because it is located 367 feet above the desert floor, or 7,000 feet above sea level on a sandstone mesa. After the hour-long drive as you approach the actual village, you understand how its location provided excellent defense against enemies. Archaeologists date the pueblo to 1150 AD as one of the oldest continuously-inhabited communities in the United States. When open, there are tours given by an Indian guide. You may not roam independently, but you will be guided through many interesting sights including multi-story adobe dwellings with mica windows, wood ladders leading into ceremonial areas called kivas, cisterns for collecting rainwater (there is no running water or electricity), and the Spanish Colonial San Esteban del Rey Mission, built between 1629 and 1640 to honor the pueblo's patron saint.
Day 2 Alternative: Albuquerque's Outdoor and Natural Wonders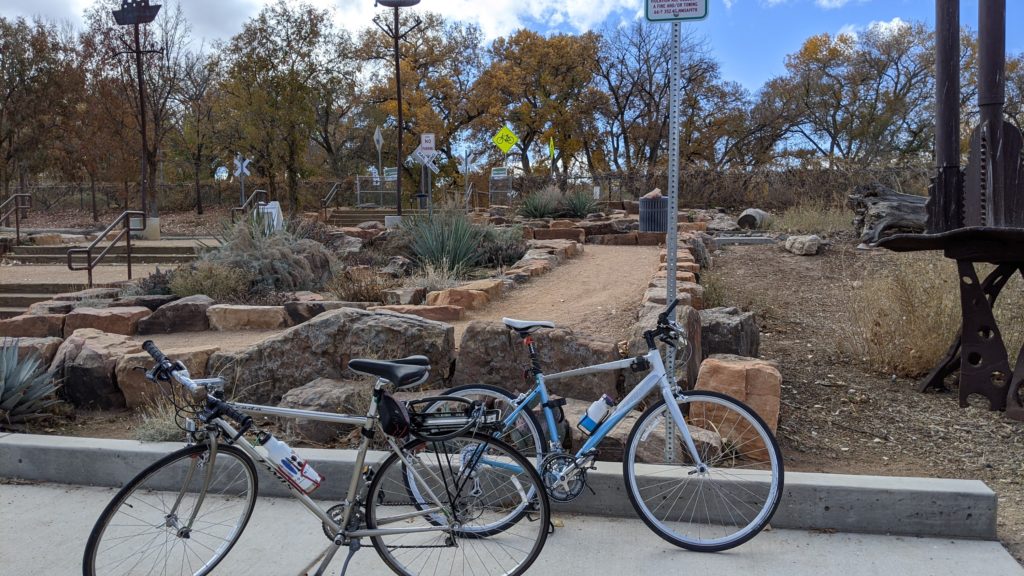 Located west of Albuquerque, the Petroglyph National Monument established by Congress in 1990, preserves an estimated 24,000 petroglyphs. These images have been scratched, pecked, or carved with stone tools into basaltic rock (remnants of volcanic action of 110,000 years ago.) Go and study the powerful cultural symbols that reflect the complex society and religion of the Pueblo Indians in this sacred place. Stop at the Visitor Center for orientation and information. The most popular spot for viewing is Boca Negra Canyon, where you will find a choice of three self-guided trails (5 to 40-minutes long) ranging from easy to moderately strenuous. Those with stronger legs and lungs can hike 1.5 miles through Piedras Marcadas Canyon or Rinconada Canyon, a 2.2-mile trek. Download the new Junior Ranger Activity Book for ages 6-13 (there's also a Seniors version) and earn a Junior Ranger badge and certificate on your visit.
For the best view of Albuquerque, Santa Fe and the environs, take a thrilling ride on Sandia Peak Tramway, the longest such ride in the US. At 10,400 feet, it is a 2.7-mile trip from the lower terminal, with a vertical rise of 3,819 feet. The 15-minute ride takes you from the desert to the mountainous terrain of the Cibola National Forest. Spanning New Mexico, Texas and Oklahoma, the forest boasts deer, bears, eagles, changing plant life and dramatic granite formations. At the summit (where there may be a 20º drop in temperature), the observation deck provides an 11,000-square-mile panoramic view. At present, the tram is only operating Thursday to Monday.
If you don't mind doing some driving, another way to view the stunning landscapes of the Southwest can be found by heading about an hour south of Albuquerque. The Bosque del Apache National Wildlife Refuge boasts a 12-mile auto road through the refuge along the Rio Grande that offers some spectacular views and opportunities to view wildlife. With the Chupadera Mountains to the west and the San Pascual Mountains to the east, the road winds through the marshes and fields of the refuge. From October to March, thousands of sandhill cranes and snow geese roost in the refuge. The annual November festival is spectacular because you can hop a tour bus or even view the massive flocks from the road. In San Antonio, don't miss the chance to try the famous Green Chili Cheeseburgers made with Hatch chilis — the Owl Bar, said to feature the actual bar from Conrad Hilton's first hotel, is the original middle-of-nowhere watering hole. Much less crowded and many say, serving much bigger and juicier burgers, is the Buckhorn Tavern, literally across the street.
Day 3: Albuquerque to Spaceport America, White Sands – 150 miles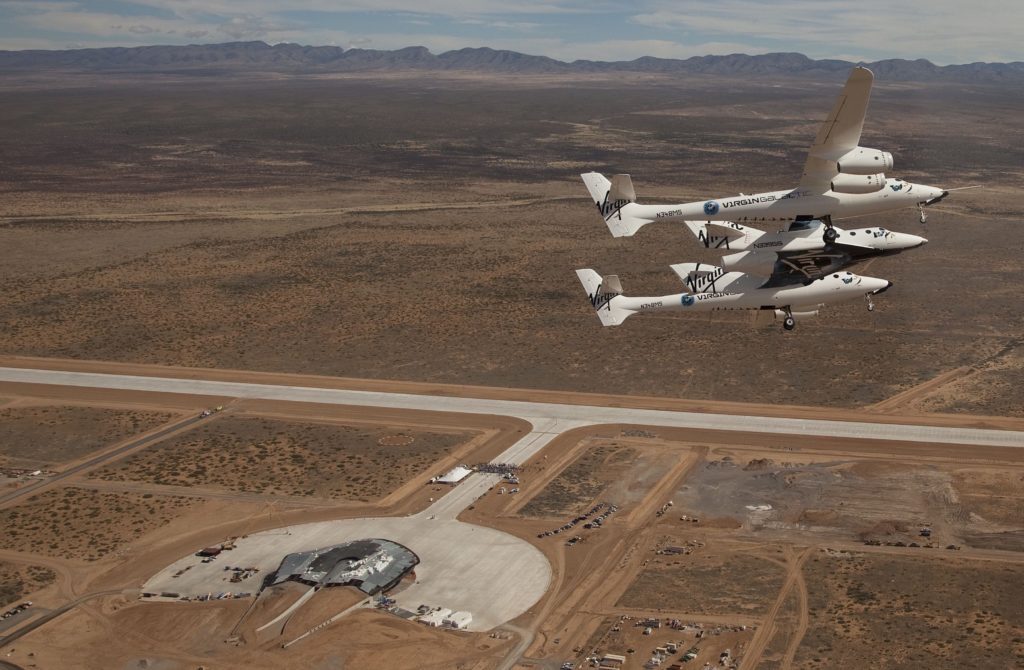 Spaceport America in the southern part of the state represents the future of air travel. The launch complex, situated on 18,000 acres adjacent to the U.S. Army White Sands Missile Range, has been providing commercial vertical launch services to Virgin Galactic and SpaceX since 2006, but can only be visited on an escorted tour. To protect the intellectual property of tenants, as well as prevent the spread of Covid-19, tours run by Final Frontier may be limited. Scheduled departures leave from Truth or Consequnces or Las Cruces. And if you can go, do!
Families with more time will want to stay overnight to visit Carlsbad Caverns, go caving and see the Brazilian Free-tailed bats take flight at night. They're in residence from April to late October and usually migrate south in winter. Reservations are now required for park entry. With older kids, don't miss a chance to try sledding at White Sands National Monument. The gift shop sells plastic saucers that zoom down the sand dunes.
Day 4: Albuquerque to Santa Fe – 64 miles
If you've returned to Albuquerque, depending on what time you begin your trek onwards towards Santa Fe, there are a few more (ok, maybe more than a few) places to visit. Explora, the Science Center and Children's Museum of Albuquerque offers creative, constantly changing and hands-on exhibits for the whole family to enjoy. Their exhibits are very engaging with a goal, as they say, to "nurture thoughtful activity." True.
The budding scientists in your group may enjoy a visit to the National Museum of Nuclear Science and History, one of many nuclear history sites on a New Mexico road trip. The indoor exhibits include explanations of the principles of atomic energy, full-scale models of "Fat Man" and "Little Boy" (the bombs dropped on Hiroshima and Nagasaki to end the war with the Japanese). Look for information on peaceful applications such as nuclear medicine. Little Albert's Lab is a hands-on exhibit that aims to help kids grasp the fundamentals of physics. Information on the political and social events which coincided with scientific advancements are presented. The museum's 9-acre Heritage Park features many military aircraft including B-52 and F-1015D bombers and a 280mm atomic cannon. Their size will evoke cries of "awesome" from the kids.
The Albuquerque Biological Park is an environmental museum with four neighboring attractions including the Albuquerque Aquarium, Botanic Garden, Rio Grande Zoo and Tingley Beach. While the zoo houses over 250 different animal species, Tingley Beach offers a fishing lake and a model boating pond and the four facilities offer fun for all.
The distance from Albuquerque to Santa Fe is a short hour-long drive along the scenic I-25 N. About 45 minutes into your drive, be sure to make a stop at the 300-year-old historic El Rancho de Los Golondrinas. Now a living history museum portraying life in Spanish colonial New Mexico, the ranch was historically a major stopping point along the Camino Real, the famous road from Mexico City to Santa Fe. Open to the public from June through October, it offers self-guided tours of the grounds off season. Be sure to check their website as the ranch hosts regular events including frontier days, harvest festivals and Mexican music and dance performances.
With adobe architecture and a high desert landscape, New Mexico's capital city Santa Fe is quite simply a place of natural beauty. Assuming you'll be arriving in Santa Fe later in the day, you may want to check out the city's central plaza, marked by a large park with plenty of spots to lounge, and surrounded by numerous shops, galleries and restaurants. Grab your first meal just east of the plaza at The Shed, offering traditional and rustic cuisine of Northern New Mexico.
Day 5: Santa Fe and the Arts on your New Mexico Road Trip
You can be overwhelmed by the number of interesting and exciting things to do in Santa Fe; it all comes down to how you would like to spend your day (or several days) in and around the city.
The extremely high concentration of galleries throughout the narrow back lanes makes Santa Fe a thriving center for multicultural arts.
Four terrific art collections, a cafe and the botanical garden are up on Museum Hill. Together, they present the art, history and culture of the Anglo, Native American and Hispanic Southwest. All the museums are worth a visit. Kids are usually most responsive to the International Folk Art Museum which houses hundreds of toys and dolls from around the world. Read more about all the arts venues in our story, A Santa Fe Escape.
A smaller gem is the Georgia O'Keeffe Museum, housing the works of a prolific artist who could be the state's official painter. Inside the museum, there is a short film on her life and influences and ongoing special exhibitions. Certainly, seeing the splendor of the Southwest, one can understand how she was inspired to create works of such beauty.
Kids say the Santa Fe Children's Museum is great. The Back Yard is a large outdoor garden packed with exhibits. There are interactive exhibits, an open art studio and more. Don't miss Wee Wednesday for stories, songs and games programmed for toddlers and their parents or caregivers.
Day 5 Alternative: Discoveries Outside of Santa Fe
A side trip north on Rte. 84 north and west on Rt. 502 for about 36 miles brings you to Los Alamos, the site of the top secret "Manhattan Project" of the early 1940s, and the Bradbury Science Museum that explores the subject of atomic energy. Many hands-on exhibits teach how atomic energy works and how scientists are using up-to-date technology in seeking solutions to energy problems. Visitors can also take a walking tour of the town of Los Alamos and acquaint themselves with the history of WWII's "Secret City."
Forty-six miles west of Santa Fe are remains of the Anasazi civilization, ancestors of the Pueblo Indians. The ruins of these "cave-dwellers" are located on the mesas and canyons of Bandelier National Monument. Home to approximately 500 Indians between 1100 and 1550, this site is fascinating to behold. Most travelers begin with an orientation at the Visitor's Center and then proceed on a 1½-mile trail to the principal ruins, which include spectacular panoramic views of the cliffs, several kivas, natural caves and cave rooms, and petroglyphs. A must-do is to climb 140 feet up piñon ladders to view an "apartment" of the prehistoric people. Choose between 70 additional miles of trails rated for a variety of abilities.
If you have the time, consider a trip on the Cumbres and Toltec Scenic Railroad. It is America's longest (64 miles) and highest (mountain passes up to 10,015 feet) narrow gauge steam railroad. Get a glimpse of history as you chug along amid dramatic, unspoiled scenery. Registered as a National Historic Railroad, several day-long itineraries alternate between Chama and Antonito, Colorado. A very different train ride runs from Santa Fe to Lamy on the Santa Fe Southern route. The new sightseeing train, Sky Railway, offers scenic vistas and comfortable seats. Rail fans will appreciate the tiny museum and gift shop in the Lamy Station.
Shoppers and history buffs should drive The Turquoise Trail, a 62-mile National Scenic Byway that follows the money through past gold and turquoise mining boom towns. Cerillos, with its Turquise Mining Museum and stylish Cerillos Station Mercantile is a frequent movie stand-in for classic Wild West Main Streets. Have lunch at Mine Shaft Tavern in Madrid, another cute community known for its Old Coal Town Museum.
For adventure seeking families, New Mexico True Adventures offers a true outdoor New Mexico experience from rafting to skiing and hiking. If you're there in winter, head up to Ski Santa Fe, the nearest local mountain, and enjoy the view from the slopes.
Day 6: Santa Fe to Taos – 70 miles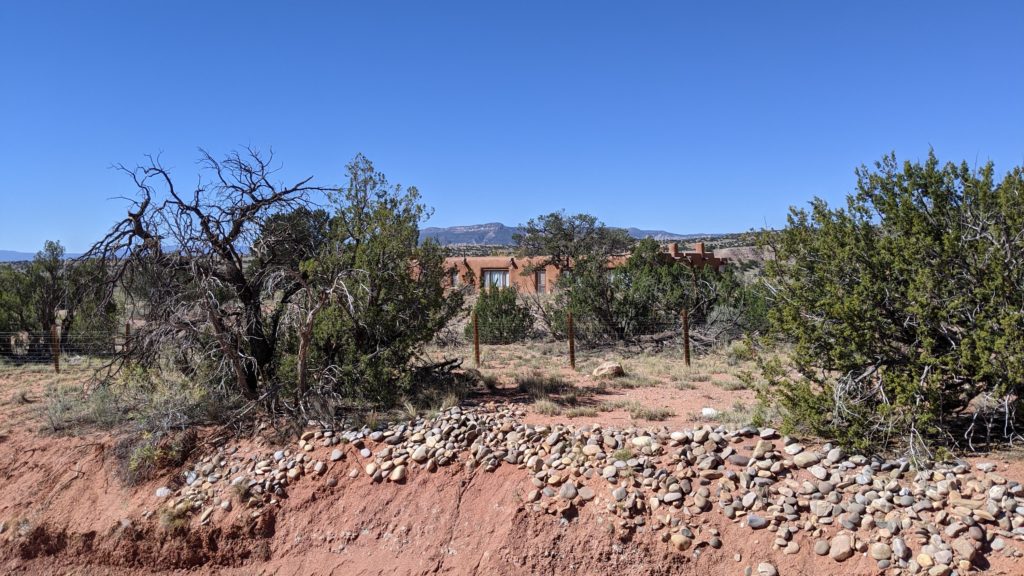 Before leaving town be sure to stop at the city's moving Farmers Market. Here you will find local farmers and craftspeople selling their finest goods and produce. Purchase everything from quality meats, dairy and eggs to homemade body care, CBD products, jellies and jams. Also sold are traditional dried fruits which are great for the kids on the road. And of course, you can't miss the local musicians who keep the shoppers happy with tunes that make the market alive.
Pick up 84 N out of Santa Fe and continue for an hour and a half before reaching Taos, an area offering a unique mix of past and present as it is comprised of three towns; Taos proper, Taos Pueblo and Ranchos de Taos.
Begin your time with a visit to Taos Pueblo, renowned as a UNESCO World Heritage Site and a National Historic Landmark. Although it's located just a mile north of Taos proper, it is an ancient village, approximately a thousand years old. As many as 150 people live in the pueblo full time, and it is the oldest continuously inhabited community in the United States. In efforts to preserve their language and culture, the Taos community is regarded as one of the most conservative pueblos in New Mexico. Normally, open to the public daily from 8am to 4:30pmthey are completely closed to the public.
For great food and great views, try the Lambert's of Taos restaurant, located between Taos proper and Taos Ski Valley. Lambert's is a bit formal and, in spring and summer, offers outdoor seating and live music, too. Doc Martin's is another option — a casual bar and eatery in downtown Taos known for its craft brews and locally sourced green chile burgers and enchiladas.
Day 7: Taos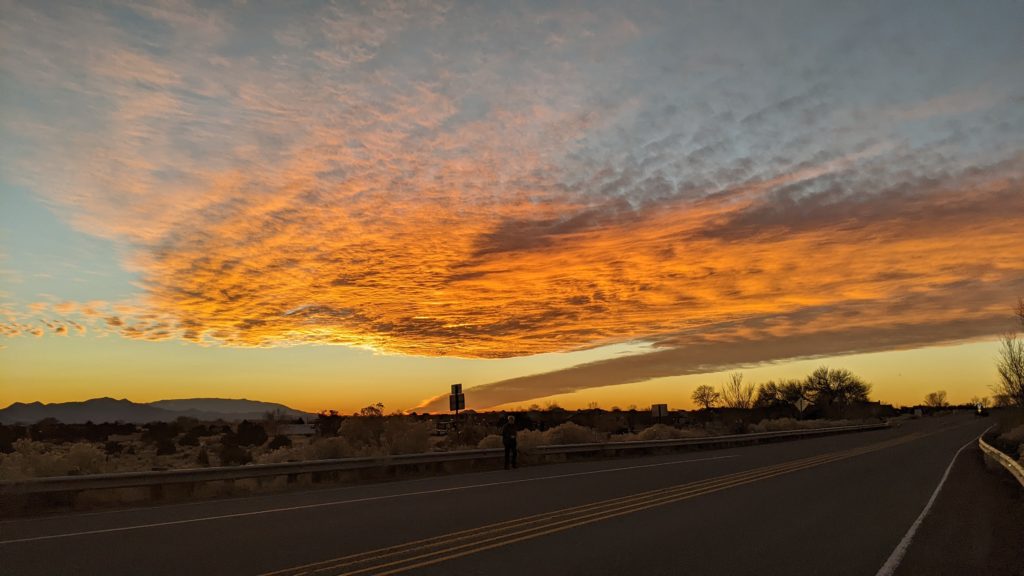 Spend the morning exploring the area around the central plaza, and with kids 12 and under be sure to visit Twirl which hosts children's crafts workshops, storytelling sessions and fieldtrips, many of which are free!
The area around Taos offers some of the most scenic rafting in the country. Sign up at Los Rios River Runners for half or full-day rafting excursions. Families can paddle along the famous Taos Box for 17 miles, surrounded by rugged cliffs and challenging rapids (kids ages 12 and up). Families with younger children should join a guide along the scenic Orilla Verde — either way, you'll get the best views of the area from a raft.
Before your trip comes to an end, take a drive over the Rio Grande Gorge Bridge, 10 miles northwest of Taos. It is the fifth highest bridge in the United States—quite a way to end your Southwestern experience.
At any of these stops, the New Mexico Tourist Office can help you find motels, hotels, quaint B&Bs, campgrounds — any place you'd like to stay.
Dear Reader: This page may contain affiliate links which may earn a commission if you click through and make a purchase. Our independent journalism is not influenced by any advertiser or commercial initiative unless it is clearly marked as sponsored content. As travel products change, please be sure to reconfirm all details and stay up to date with current events to ensure a safe and successful trip.
---