Four hundred years of history guarantee that Santa Fe with kids, — or without — is a fascinating destination. Architecture, shops, restaurants, and museums feature a sophisticated blend of Native American, Spanish, and Anglo cultures.
Many visitors are surprised to learn that Santa Fe is the capital of New Mexico because only some state capitals are as multicultural, colorful, and inclusive.
It's an easy place to bring children of any age. Santa Fe is full of visual clues that kids pick up on; it looks different than what most families are used to. Whether you drive there (check out our New Mexico road trip) or take Amtrak from Albuquerque, your first visual escape is the red and gold, arid and hilly landscape. Symmetrical adobe buildings ranging in color from mocha to rust blend effortlessly with scattered pines and tumbleweed.
Santa Fe is Fun in all Seasons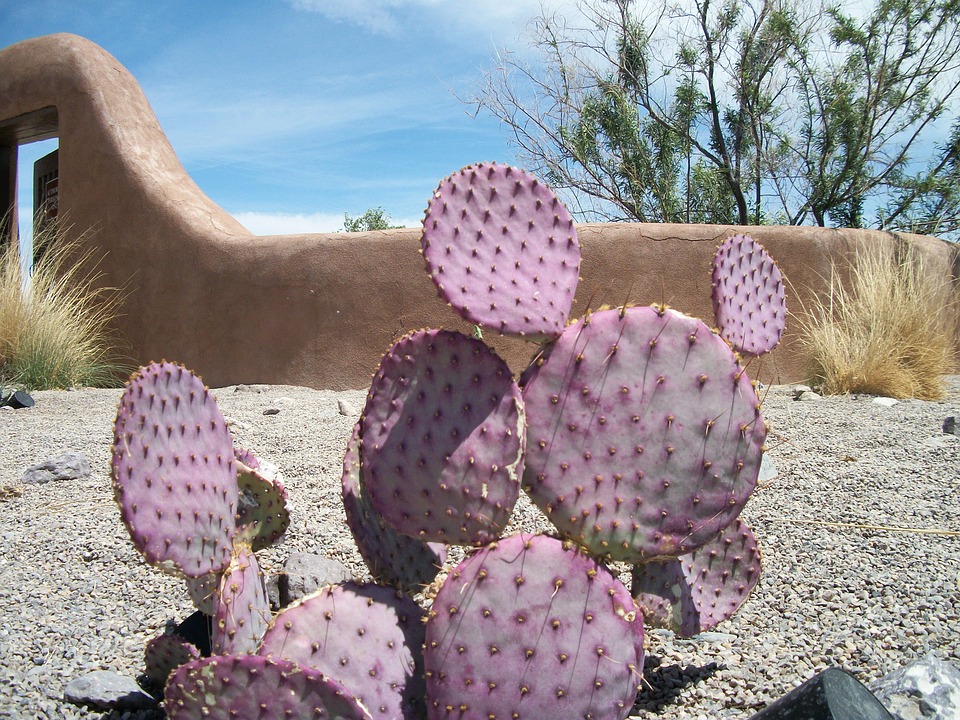 The skies are wide open. The light, attracting artists worldwide, changes from sunrise to sunset and dozens of times. Each season brings different accents of color to the landscape. Look for the yellow palo verde trees and prickly pear cactus flowers in spring, followed by cholla cactus' magenta blooms and chamisa's golden flowers in summer. (Beware the cholla, known as "jumping cholla" because their needles break loose easily and stick to prying hands!)
Depending on the amount of rainfall, red poppies and purple lupine help winter landscapes live up to the state's nickname, Land of Enchantment. Be on the lookout for the enchanting Sangre de Cristo Mountain peaks and ski areas. Throughout November to April, they're with a magical dusting of snow.
Truly any time of year, the town's diverse landscapes, colors, people and flavors make Sante Fe with kids an engaging escape.
Introducing the Myriad Cultures of Santa Fe
Santa Fe's narrow streets are a living museum of blended cultures. Start downtown in the main plaza at the Palace of the Governors. Built in 1610, it is the oldest public building in America constructed by European settlers and still in use. When it became the Museum of New Mexico in 1909, the long adobe palace was renovated using local building traditions, launching what would become Santa Fe's trademark Spanish-Pueblo Revival style. Visit the New Mexico History Museum for an illustrated history of developments.
Check out Santa Fe Plaza, a trading outpost for generations before the 1930s, when the New Mexico Association of Indian Affairs organized a weekly arts market. Today, under a shade-giving portal supported by wooden columns, there's a daily Native American Artisans Portal Market. More than 1,500 artists are authorized to sell arts, crafts and jewelry. Items are displayed on the ground, requiring passersby to lower themselves for a better look and interaction with the artists. If you're touring Santa Fe with kids, the visual feast is a perfect introduction to the region's Native cultures.
The Museum of Contemporary Native American Arts is just a two-minute walk away. Explore the modern art at the country's only museum devoted to the latest work of Native American artists. As a part of the Institute of American Indian Arts, an advanced fine arts academy teaching traditional and new forms of expression open to all people, the museum often features the work of current and recent students. Nearby, savor the Spanish Colonial style of the San Miguel Mission Church, the oldest in the US.
Museum-going with kids is easier when there's no pressure to stay a long time and get your money's worth. That's why families appreciate the New Mexico Culture Pass. It provides entry to 15 museums and historic monuments – several in Santa Fe — for just $30 per person.
Museum Hill, the Heart of Santa Fe With Kids
Santa Fe has several museums with kid-friendly displays. Four terrific collections, a good cafe with indoor and outdoor seating, and the Santa Fe Botanical Garden are up on Museum Hill. Together, they present the art, history and culture of the Anglo, Native American and Hispanic Southwest in many bite-size displays.
Perhaps the most child-oriented place is the Museum of International Folk Art. Ask about the museum's hands-on projects and activities that change seasonally, in addition to the book and toy lounge. All ages will be enthralled by the permanent exhibition entitled "Multiple Visions: A Common Bond." The art and artifacts on display are only a fraction of collector Alexander Girard's global treasure trove. Handmade toys from more than 100 countries are grouped together in realistic and often whimsical settings of daily life. The detail is remarkable.
The Wheelwright Museum of the American Indian features contemporary and traditional indigenous arts. This museum also has wonderful examples of adornment in the Center for the Study of Southwestern Jewelry. In contrast, the "Here, Now and Always" permanent exhibit at the Museum of Indian Arts & Culture focuses on the languages, history and cultures of the region's diverse Native Americans. This anthropological approach is supplemented with temporary shows about popular topics like photography and fashion.
The collection at the Museum of Spanish Colonial Art is just that; fine arts and crafts imported from Spain, Mexico or other outposts of the Spanish Empire as well as locally produced items for Spanish settlers. A visit here provides a rich look at how the early colonists in New Mexico lived in 1740. An old adobe building on the hill marking the Santa Fe Trail is home to the National Park Service's National Trails System.
Things To Do Celebrating Artist Georgia O'Keeffe
Be sure to check out the Georgia O'Keeffe Museum which celebrates the legacy of the American artist who is perhaps most closely associated with New Mexico. The permanent collection of more than 3,000 of her works invites discussion and interpretation. Kids will enjoy seeing the preserved snake embedded in glass in one of her bench seats and other reminders of O'Keeffe's preference for a desert lifestyle. The museum is small and very popular, so book ahead for timed entry tickets. Any visit to Santa Fe with kids requires a visit to the excellent gift shop about a block from the museum.
More of O'Keeffe's work can be found in the New Mexico Museum of Art, established in 1915 to celebrate the state's rich art heritage. Also a noted Pueblo Revival style adobe downtown, it has another campus in the round New Mexico State Capitol building.
The inspiration for O'Keeffe's work is visible everywhere, and families traveling with mountain bikes or eager hikers should hit a segment of the Santa Fe Rail Trail. To see even more, head northwest up Rte. 84 for about 50 miles. After an hour's drive among pink and red sandstone cliffs, arrive at Ghost Ranch in Abiquiu. Georgia O'Keeffe lived and worked on Ghost Ranch for more than 38 years until her death in 1986.
Horseback Landscape Tours of Ghost Ranch allow visitors to come face to face with what O'Keeffe saw and painted. The guides 'illustrate' your view with reproductions of her work, keeping the slow and easy ride lively for ages 8+. It's stunning to realize that this landscape – including distinctive hoodoos and gnarled juniper trees — is mostly unchanged since she immortalized it on canvas.
Contemporary Art Attractions in Santa Fe
Stroll the back lanes packed with galleries and boutiques that make Santa Fe a thriving center for multicultural arts. Did you realize Santa Fe was designated a UNESCO Creative City in 2005 for its exchange of goods and arts, and that one in 10 residents is said to be employed in the arts and culture industries?
Families should visit the Canyon Road area, an old neighborhood with about half the town's 250 galleries. These are typically small and feature art in their windows, so just a stroll can be fun for younger kids. Acosta Strong, Pottery of the Southwest and Prescott are among the many worth a visit.
Canyon Road is where locals go at Christmas Eve. That night only, the illuminated walkways and gallery patios are lit by farolitas (candles in waxed paper bags ) and luminarias (small fire pits), giving the whole street a warm and festive glow.
Opened in 1995 to showcase innovative art, SITE Santa Fe presents the work of lesser-known and renowned contemporary artists. A striking folded aluminum addition expanded their beer warehouse space a few years ago. In addition to hosting international biennials of contemporary art curated by visiting artists, SITE is also open for frequent live shows and special lectures. Free admission makes it a good choice for those with children.
Visiting Santa Fe With Kids Means Meow Wolf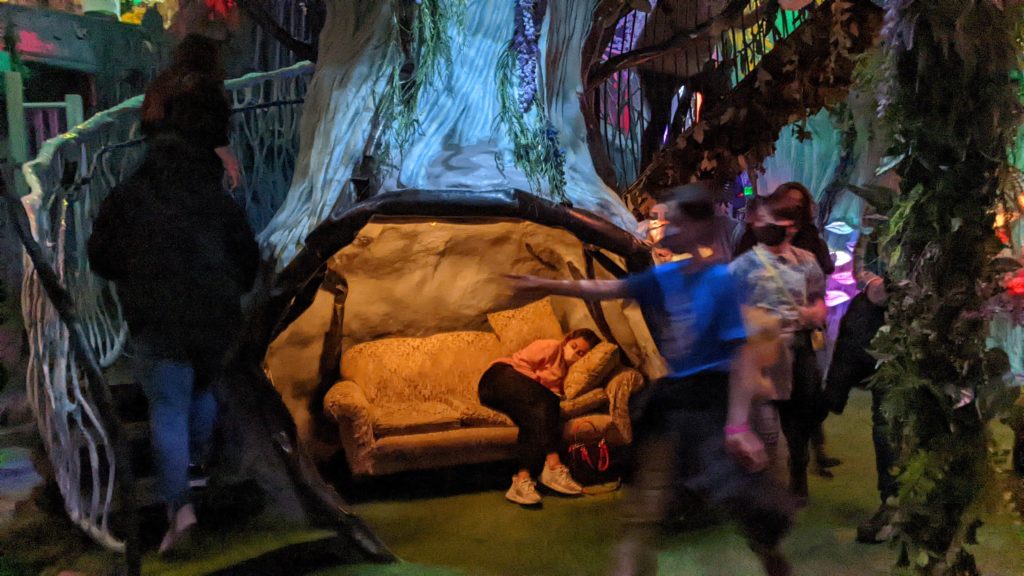 The most impressive and engaging venue for modern art, at least in young eyes, must be Meow Wolf. The creation of more than 500 local artists, it combines visual arts with place to create an immersive, indoor theme park-like environment. Enter a warehouse decorated as the Victorian "House of Eternal Return." Read up on the backstory so you can interact with the 70 rooms full of clues and plot points. Explore secret passages, tunnels, hidden stairs and false walls. Open refrigerators and circle trees to find magical worlds and hypnotic art environments.
This is a must-visit in Santa Fe because in 2021, Meow Wolf opened other interactive environments – very different ones – in Las Vegas and Denver. Don't be surprised if your teens ask to go two days in a row. You'll find Meow Wolf is always unexpected, since live bands may play at your visit or guests may interact with your group.
Santa Fe With Kids at Local Pueblos
Eight of the state's 23 pueblos or Indian nations are near Santa Fe. Being able to sample the tastes, dance, music and arts of any pueblo will be new to most kids. The organized Pueblo of Pojoaque, with its seasonal farmers market, crafts market, Poeh Cultural Center museum and shop is a good place to start.
Native American cuisine may be available during one of the pueblo feast or celebratory days. When the Covid pandemic abates enough for local pueblos to reopen, plan your visit. Typically at these events, women from the pueblo set up stands to serve fresh American fry bread (tasty folded pastry pockets), mutton stew and chile.
The La Cieneguilla Petroglyph site is a short hike off Airport Road (park about 3.3 miles west of Route NM 599 at the BLM sign.) In addition to fresh air and a chance to stretch legs, this site provides an up close look at early Native rock art.
Multi-Sensory Escapes in Santa Fe
Dining means a colorful combination of the many cultures which have influenced the look, feel and unique style of Santa Fe. All ages should sample some of the state's famous chiles – long green peppers that acquire a bit more heat when they ripen to bright red.
Favorite restaurants in this sophisticated foodie town include Lino's and Chile Line, known for its healthy and flavorful pizzas served in a casual atmosphere. Luminaria Restaurant and Patio features candlelight and wrought iron on a pretty outdoor terrace at the Inn and Spa at Loretto hotel, downtown.
The Blue Heron is a healthier take on New Mexico staples such as chile burgers served with bison. It is located at Ojo Santa Fe. This spa and massage retreat with outdoor thermal bathing is a popular day trip, so book your plunge pool before you book the restaurant. Similarly, Ten Thousand Waves is known for its fine, healthy Izanami Japanese restaurant and private hot mineral springs pools. (Book far enough ahead to plan wellness treatments here with your teens.)
For a very special occasion, Sazon is one of Santa Fe's most notable dining spots. The creation of Chef Fernando Olea from Mexico City, it serves excellent New World creations based on a variety of spices and mole sauces in a very elegant and art-filled space.
Trip Planning Tips for a Santa Fe with Kids Getaway
Part of Santa Fe's unique appeal is its dry, high-altitude climate. The town is about 7,000 feet above sea level. Which may give visitors a headache, nausea or cause breathlessness for the first few days. Locals suggest you drink a lot of water prior to arrival and stay hydrated during your visit. Clinical have shown that taking aspirin before arrival helps the body acclimate to low oxygen levels.
Santa Fe offers fabulous hotels and resorts for same-sex couples, as well as families with kids. Choose from a wide selection of options, varying in price and style. From the iconic La Posada de Santa Fe, renowned for its impressive art collection, to numerous Airbnbs across all neighborhoods. Stay within a half-hour drive of Santa Fe Square to avoid traffic congestion on main routes throughout the day.
The busiest tourist time of year is summer. When the Santa Fe Opera performs, and the famous Folk Art, Hispanic Art and Indian Art Markets take place. These events attract visitors and buyers from around the world and downtown becomes very crowded.
Other than summer – which also gets very hot — visiting Santa Fe with kids is easy. We guarantee a colorful, multicultural family escape where budget doesn't have to be an obstacle.
Need a selection of best price hotels? Check out Booking.com.
Tips and Recommendations for Things to Do in Santa Fe with Kids
Santa Fe Children's Museum: Take your children to the Santa Fe Children's Museum. They can engage in hands-on learning through interactive exhibits, science demonstrations, and outdoor play areas.
Georgia O'Keeffe Museum: Introduce your kids to the world of art at the Georgia O'Keeffe Museum. They can explore her iconic works and even participate in family-friendly art activities.
Outdoor Adventures: Enjoy the natural beauty of Santa Fe with family hikes! In the nearby Santa Fe National Forest or Bandelier National Monument. Remember to pack a picnic!
Santa Fe Railyard Park: Visit Santa Fe Railyard Park for a fun-filled day! Enjoy the playground, open spaces for picnics, and family-friendly events and markets.
Chocolate Making Workshops: Treat your little ones to a chocolate-making workshop at Kakawa Chocolate House. They'll love creating their sweet treats.
Indian Pueblo Cultural Center: Explore New Mexico's Native American culture through exhibits, dances, and pottery-making demonstrations.
Hot Air Balloon Rides: For older, adventurous kids, a hot air balloon ride offers breathtaking views of Santa Fe's stunning landscapes.
Explore the Plaza: Stroll around the historic Santa Fe Plaza, where you can find street performers, art galleries, and shops with unique southwestern treasures.
FAQs
Is Santa Fe a kid-friendly destination?
Yes, Santa Fe offers numerous family-friendly attractions and activities, making it a great destination for kids.
What is the best time to visit Santa Fe with kids?
Santa Fe's mild climate makes it a year-round destination. Summer and early fall are popular for outdoor activities, while winter offers a unique charm with holiday events.
Are there kid-friendly restaurants in Santa Fe?
Yes, Santa Fe has several family-friendly restaurants with kids' menus and welcoming atmospheres. Ask locals or check online reviews for recommendations.
Can I find accommodations suitable for families in Santa Fe?
Absolutely! Santa Fe offers a range of family-friendly accommodations, including hotels, resorts, and vacation rentals. Look for places with amenities like pools and play areas.
Are there any age restrictions for attractions in Santa Fe?
Attractions in Santa Fe cater to various age groups, so you'll find activities suitable for both young children and teenagers.
Are there any free or low-cost activities for kids in Santa Fe?
Yes, some attractions, like the Santa Fe Plaza and the Santa Fe Railyard Park, offer free admission. Additionally, some museums may have free or discounted entry for children on certain days.
Can I find babysitting services in Santa Fe if I want some adult time?
Yes, Santa Fe has babysitting services available. Many hotels and resorts offer childcare options for parents looking for some adult time.
Conclusion: Santa Fe with Kids – A Multicultural Family Adventure
Santa Fe, Where Cultures Collide, is a fantastic destination for families! With a history spanning centuries, the city showcases a unique blend of Native American, Spanish, and Anglo cultures in every corner.
Start your journey to Santa Fe with the stunning red and golden vistas of the New Mexican landscape. Whether by scenic road trip or Amtrak from Albuquerque, the beauty awaits. Each season brings its own vibrant palette of colors, from spring's blooming beauty to winter's snow-dusted peaks.
No matter the time of year, Santa Fe welcomes families with its diverse landscapes, captivating hues, friendly people, and delicious flavors. It's an inviting escape where endless discoveries await under the wide-open skies.
If this article helped you plan out the things to do in Santa Fe with kids, consider checking out these other articles below –
Join our vibrant community on social media! Whether you prefer scrolling through stunning visuals on Instagram, diving into a world of creativity and inspiration on Pinterest!, engaging in lively discussions on Facebook, staying updated with real-time news on Twitter, or exploring captivating videos on YouTube, there's something for everyone. 
Don't miss out – click those follow buttons, subscribe, and stay connected to be a part of our exciting journey!
Dear Reader: This page may contain affiliate links which may earn a commission if you click through and make a purchase. Our independent journalism is not influenced by any advertiser or commercial initiative unless it is clearly marked as sponsored content. As travel products change, please be sure to reconfirm all details and stay up to date with current events to ensure a safe and successful trip.
---