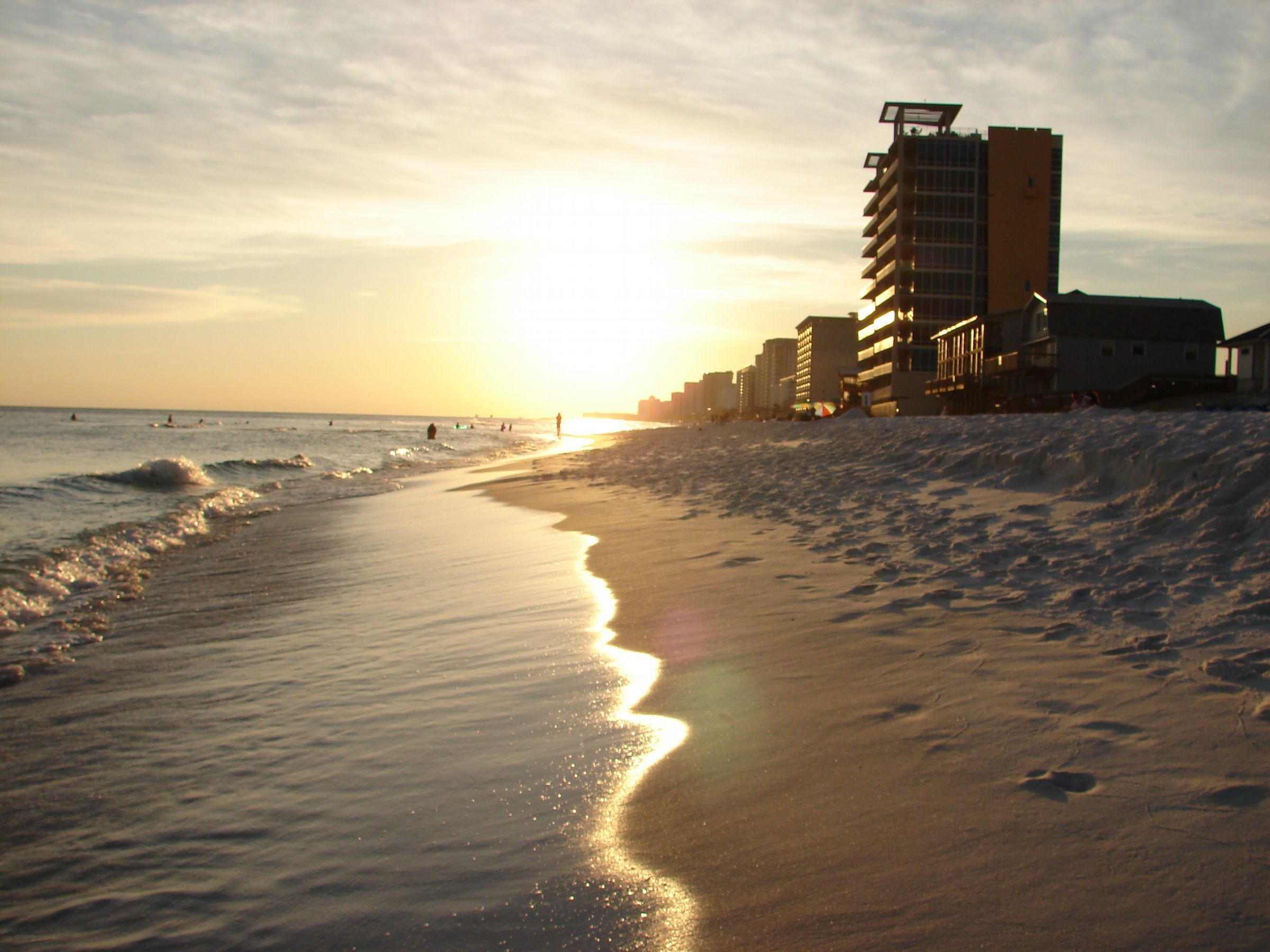 Known for its sugary white sandy beaches and turquoise waters, Panama City Beach has rapidly grown from a quiet beachside military town to spring break partyland and finally a family-friendly destination. You probably already knew Panama City Beach could keep the kids entertained with activities from go-karting to boogie boarding. But there are also has plenty of indoor options for rain days like Ripley's Believe Or Not, as well as holiday festivities. Panama City Beach has also been working hard to turn Thanksgiving, Christmas and New Years into family-friendly days with live entertainment, kid-friendly events, games and, during New Year's; a beach ball drop.
In addition to all of the organized fun, there's still the gorgeous, white sandy beaches. Despite the trending attractions like Gulf World Marine Park and Pier Park, this theme park style city is considered one of "America's Most Beautiful Beaches" by Conde Nast Traveler. Why such accolades for the beach? It's beautiful. According to the CVB website, "Panama City Beach's legendary pure white sand resulted from quartz crystals washing down from the Appalachian Mountains centuries ago. Along their journey, the crystals were bleached, ground, smoothed and polished until the surf of the Gulf of Mexico deposited these millions of grains of sand on the shoreline."
Weather in Panama City Beach
Planning your trip to Panama City Beach around the weather is a wise move, but shouldn't keep you from visiting even during cold months. Each season has its pros and cons with plenty of alternatives for fun beyond the beach. Here's what's going on that you won't want to miss.
The heat soars from June until September in Panama City Beach with temperatures hitting 90 degrees. The low is usually around 75 degrees; all beachfront properties are equipped with central air conditioning and most have their own pools.The beaches blister with heat and get crowded during summer, but summer also offers the best opportunity for watersports like paragliding.
In the winter, temperatures start dropping to the 70s in November, with December through February seeing highs of 65 and lows of 44. We found this to hold true during our trip over New Year's Eve, with temperatures ranging in the low 60s and mid 50s. The Gulf of Mexico was chilly, but still warm enough for quick dips when it wasn't windy and raining. If your kids are determined to dive in or go boogie boarding during Fall and winter, bring a wetsuit during colder months to combat outdoor chill. The mid 60-degree weather didn't slow our daughter down, but the rain and wind kept us indoors having fun on chilly days.
Spring brings some of the most temperate weather, but also sees an influx of spring breakers ready to have some fun. Personally, I would skip going to Panama City Beach in the spring with your family to avoid the "lively" college kids who drive in from local colleges and as far as Nashville and Atlanta. I much prefer the quieter months when families can spread out and enjoy a relaxing vacation full of beachside fun.
Fun Panama City Beach Activities for Little Ones & Big Ones
During summer months, set up the family alongside 27 miles of famous, pristine shoreline and let the vacation begin. My 7-month-old was more interested in eating fistfuls of beach than really playing in it, but dipping his toes into the water kept him fascinated while we tried to release the sandy bounty from his hand. Toddlers, babies and grown-ups alike need plenty of sunblock and shading gear like umbrellas and hats. Fortunately there's a beach supply store every few blocks along the strip, including the Alvin's Island chain. Just look for the giant shark mouth doubling as a front door to make your way into a megaplex of beach fun.
For an educational outdoor adventure, the hiking and biking trail at Camp Helen State Park brings families together with beautiful views of the Powell Lake and the "Old Florida" terrain. The path spans 2,000 feet and is constructed from environmentally sensitive materials, giving way to benches and covered shelter for breaks. Because the park is surrounded on three sides by water, it encompasses five different habitats, and many trails are marked by educational signs to provide guidance along the way.
It's still possible to get outdoors and have some fun even on a blustery, rainy day. At Gulf World Marine Park, professional divers flip and twirl in mid-air, finishing with an 80-foot high-dive while a magician amazes audiences with his interactive magic show. The park's Trainer for a Day program lets guests study dolphin behavior before stepping on stage to perform during the Dolphin Show.
Kids 7-years-old and up can continue to interact with animals at ZooWorld as a part of the Keeper for a Day program. Home to more than 250 animals and set in a seven-acre lush tropical landscape, ZooWorld promotes wildlife preservation through hands-on activities and personalized animal encounters. Children will enjoy the "Going Wild!" show where they can discover unique animal facts and pose for pictures with rare mammals, reptiles and exotic birds. Your kids may be too young to become trainers, but they will definitely love bottle feeding a tiger.
When your kids hit beach fatigue, take active children to Shipwreck Island Waterpark for a wonderland to splash, run and have fun in. Little kids have their own spot at Tadpole Hole full of slides, tubes and swings. Older visitors prefer the White Knuckle River, a 660-foot family tube ride, the Great Ship Wreck and the Zoom Flume. Save time waiting in line by purchasing advance tickets with the waterpark's online ticketing service.
My daughter was impressed by the spread at Coconut Creek Family Fun Park, home of two unique miniature golf courses with oversized animals. A life-sized elephant sprays mist and a giraffe looms over families of golfers. There's also a human Gran Maze spanning the length of a football field and modeled after South Pacific islands. Kids will journey through Fiji, Tahiti, Samoa and Bali before completing their journey.
Panama City Beach Indoor Fun
Whether you need a break from sun during summer or chilly afternoons in the winter, visit Ripley's Moving Theater to watch a 4-D movie and stop by the Ripley's Believe It or Not! Odditorium. The theater features motion, special effects and action-packed images where kids can feel like they're stepping into a movie themselves. Next, let the kids loose in the Marvelous Mirror Maze for a spirited game of laser tag. The Odditorium lives up to its name with over 400 exhibits like authentic shrunken heads, a real vampire killing kit and hands-on activities.
Just across the street lies the interactive WonderWorks. You'll know you've arrived — it's the only upside down house on the block. This four-story attraction features over 100 exhibits and challenges available to kids of all ages. Designated wonder zones include Natural Disasters, Physical Challenges, Light and Sound, Space Discovery, Imagination Lab and a Far Out Art Gallery. Despite the invitation for all ages, I personally wouldn't recommend it for kids 5-and under. Our daughter was too small for most of the activities she really wanted to do and it was organized chaos on New Year's Day.
Thanksgiving and Winter Holiday Fun in Panama City Beach
Families looking to escape all the Thanksgiving meal and shopping drama can head to Panama City Beach and eat at one of the many restaurants ranging from fine dining to hole in the wall fun. There are more options to choose from than you'll have time for, but no one should leave without a visit to one of the city's seafood restaurants. Sharky's Beach Front Restaurant and Tiki Bar blends just the right amount of fun, foodie inspired dishes and aesthetic value. Weather permitting, ask for a table outside for a view of the water. After trying a variety of dishes from local seafood to steaks, let the kids loose on the Pirate Ship Playground.
Sharky's also offers a traditional "Turkey at the Tiki" package with a buffet featuring traditional favorites like green bean casserole and turkey breasts along with crab legs, fried scallops and grilled mahi. The best part may be kids 4 and under eat free; perfect for picky eaters who will just push food around their plate until they can go play.
There's more to do in Panama City Beach during Thanksgiving than just eat. The beachside town started organizing family-friendly Christmas concerts, a tree lighting, and fireworks kicking off the Friday after Thanksgiving. If you're organizing a Christmas family reunion, or just want to cozy up with your own little clan, Panama City Beach delivers on beachfront condos, homes and hotels.
Pier Park is FUN all year round
Whether it's the 4th of July or New Year's Eve, the open-air Pier Park is the place to find year-round entertainment options, events, shopping and dining. During our visit over New Year's Eve, we headed to Miracle Strip at Pier Park featuring new and renovated rides from the original Miracle Strip Amusement Park. Much to the dismay of locals and tourists, it closed after 40 years of family fun but its spirit was revived at this new Miracle Strip. Rides include a retro carousel and Ferris Wheel, a modern Balloon Race and Red Baron rides, batting cages and ziplines.
For New Year's Eve, Pier Park features live music, kid's games and food before a beach ball drop at 8 p.m. Despite the rain, droves of families turned out and crowded around in anticipation of the big ball drop. My 4-year-old thought this was the most amazing thing she had ever witnessed (especially impressive since it was her 4th New Year's Eve and she is an old pro by now). Afterwards, the kids were satisfied and ready to head back to their homes, condos and hotels to curl up. For us, it was a rented movie from our condo's DVD kiosk and homemade popcorn. By the time our little ones were in bed, we had time to unwind before watching the New Year's Eve fireworks from our beachfront balcony.
Holiday Accommodations in Panama City Beach
What makes the holidays in Panama City Beach especially easy and magical is the wide variety of beachfront rentals. Our family stayed at the Tidewater Beach Condominium and scored a waterside condo. Ours was a spacious one-bedroom, but also had a a little nook with bunk beds and an additional private bathroom. Aside from our refusal to let her 7-month-old brother sleep up top, our daughter was delighted by her own special sleeping spot. There was also an additional pull-out couch which could sleep more family members. We had no trouble finding a spot for our travel crib in the living room, right off the kitchen stocked with pots, pans, cups and more.
The only amenity we would have needed was the beachfront balcony with two sliding doors and a patio set to sip coffee and have breakfast outdoors. Downstairs, the Waves Restaurant served up traditional breakfast right off the griddle for a satisfying start to the morning. An indoor pool and game room kept our daughter busy during the chillier parts of our stay. Despite explaining the odds of winning at those rigged claw machine games, she managed to win not one, not two, but three stuffed animals at the same time. (Apologies to the poor soul who probably spent $100 trying to win before she waltzed in.) There was also a quaint little library area with books, puzzles and a DVD machine to pick a range of movies including family-friendly titles. Our daughter loved picking out her "records" and putting them in the DVD machine upstairs for a movie at New Year's Eve.
Panama City Beach Trip Planning Details
Families can drive down and take advantage of lodging specials, kids-eat-free deals and lots of space to lounge around in at some of the beach's more than 300 condo communities. Here are few suggestions for fun-in-the-sun accommodations:
Tidewater Beach Resort resides on one of the area's largest beaches with 570 luxury, gulf-front units overlooking the Gulf of Mexico. Two lagoon pools, an indoor heated pool, fitness center with Roman spa, movie and media center and onsite restaurant keep guests relaxed.
Pinnacle Port Vacation Rentals welcomes young travelers with crafts on the pool deck. Spanning 26 acres, Pinnacle Port guests can use canoes or kayaks by day and take advantage of free Wi-Fi and DVD rentals at night.
The Seahaven Beach Resorts rental community offers three different lodging options: Origin at Seahaven (a condominium), Seahaven Beach and The Reef Hotels. It's well located near Pier Park, has a daily kids club on site, and shows outdoor movies by the pool. Their summer specials include "Kids Eat and Ride Free," which allows children 12 and under eat for free with a paid adult at nearby Sharky's Beachfront Restaurant and Tiki Bar. In addition, children 12 and under enjoy free wave runners and parasailing with each paid adult.
Blowin-N-The Wind Management boasts five different properties with accommodations ranging from multi-bedroom condominiums to three-bedroom cottages and more. Each property is said to include family-friendly amenities, such as boat docking areas, tennis and basketball courts, fitness centers, swimming pools, a putting green and more.
By The Sea Resorts welcomes guests to the Legacy, BeachBreak or Beachcomber Resorts, where there are Gulf-front suites and garden view rooms. Family specials often include pizza parties and free kids meals at the Barefoot Beach Club or nearby Calypso Beach Cafe.
The Sandpiper Beacon presents many family amenities and activities for its guests. Kids will love their indoor lazy river pool and slides, the outdoor and indoor pools and waterslides, six-hole minigolf course and Gulf-front playground. Accommodations range from condos with kitchens to hotel rooms and cottages. There's tropical Polynesian entertainment throughout the summer; the sound of the drum beat while the conch shell is blowing begins the journey of song and dance with hula dancers and the exciting Samoan Fire Knife Dance. Note that in spring, you may find the college crowd a bit too loud for your family.
For more information, check out the official Web site of the Panama City Beach Convention and Visitors Bureau for more information and lodging ideas.
Dear Reader: This page may contain affiliate links which may earn a commission if you click through and make a purchase. Our independent journalism is not influenced by any advertiser or commercial initiative unless it is clearly marked as sponsored content. As travel products change, please be sure to reconfirm all details and stay up to date with current events to ensure a safe and successful trip.
---