Greece is one of the world's best multigenerational destinations, and a Greek island cruise is one of the best ways to appreciate it. Activities at each port of call range from beaches to shopping, historic sites, and museums that entertain mixed ages and interests. Let Celestyal Cruises do the planning, book expert tour guides, get you there — and back on board — and it's one of the easiest and richest vacations ever.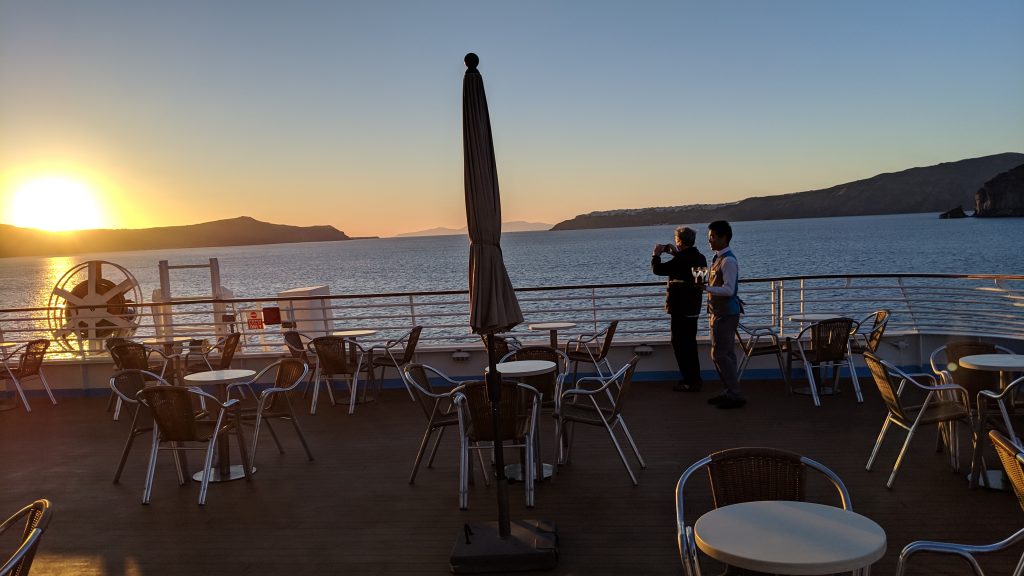 This year Celestyal Cruises' two ships will begin their Greek Islands cruises in late May from Piraeus, the port of Athens.
Celestyal will still recommend that all guests departing from any port get tested for COVID-19 at their own convenience before traveling, just to make sure your journey is pleasant and enjoyable. Just a friendly note, the test results won't be mandatory for boarding the ship.
If you do a Greek Islands cruise with a Greece-based cruise company like Celestyal Cruises, you get more perks: never having to pack and unpack, no rushing for ferries, stunning scenery en route, onboard activities with a Greek cultural flair, bountiful fresh food, learning opportunities and kindness at every turn…
What more would a multigenerational family vacation require?
Kindness of Strangers and Crew
In full disclosure, we are not frequent cruisers and care more about where we dock than the ship we're on. An eight-day sailing over Greek Easter on a medium-sized Greek ship with ample facilities but no fancy casinos or art auctions sounded ideal.
The easy sailing, relaxed pace, and warm vibes onboard a Celestyal cruise were infectious. Each day, we met more fellow passengers who were repeat customers. We were also surprised by how many passengers and crew remembered each other from past voyages.
At the farewell cocktail party, the remarkable Animation Director and emcee Danny said our Greek Islands cruise comprised 650 passengers from 32 countries. The crew, he added, represented 30 countries as well. Danny, who is from Romania and speaks eight languages, had finished every announcement that week with the phrase "Life is beautiful." And on a Celestyal cruise, it is.
Learn from Fellow Passengers on a Greek Islands Cruise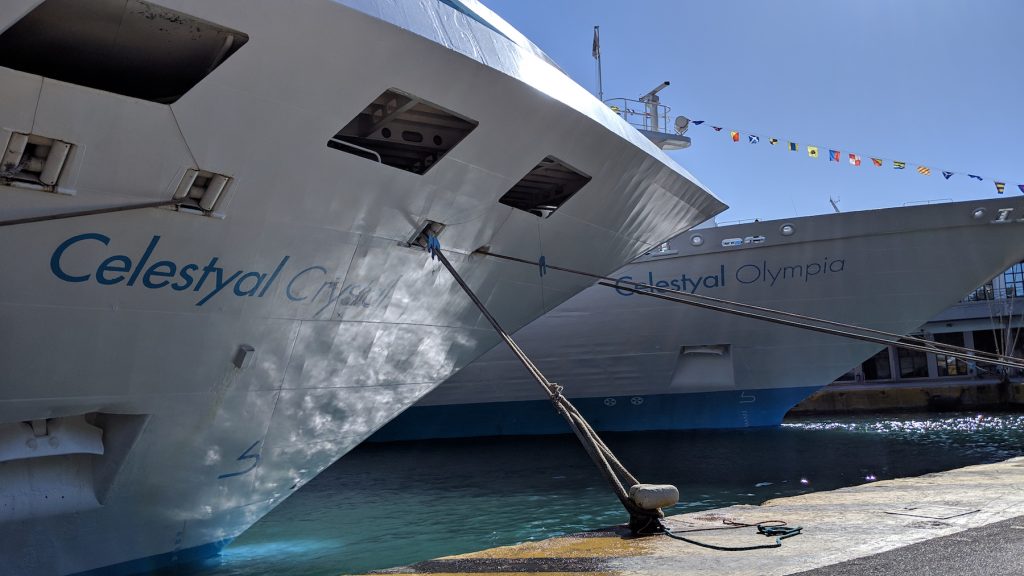 Celestyal life at sea is breezily educational. We sampled different olive oils with Teresa during a Greek cooking demonstration and practiced Yiasou during a Basic Greek language seminar. Chefs on the buffet line explained local ingredients and how spinach pies were baked. Fellow passengers shared archeological factoids and bits of mythology on shore excursions.
Seeing the Best of Greece from a Greek Islands Cruise
The Celestyal "Idyllic Aegean" itinerary showed off some of the best scenery in Greece if you like hills brushed with wildflowers and whitewashed homes accented by turquoise shutters and hanging geraniums. With a full day on Mykonos and two days on Santorini, there were plenty of beautiful sunsets in addition to beaches, historic sites, and chic boutiques.
Three shore excursions come with a Celestyal cruise package – a big savings. The complimentary half-day excursions on our cruise included the Minoan Palace of Knossos on Crete, the magnificent remains of Ephesus near the port of Kusadasi in Turkey, and a walk through the village of Oia on Santorini.
Wonderful Days at Sea and on Land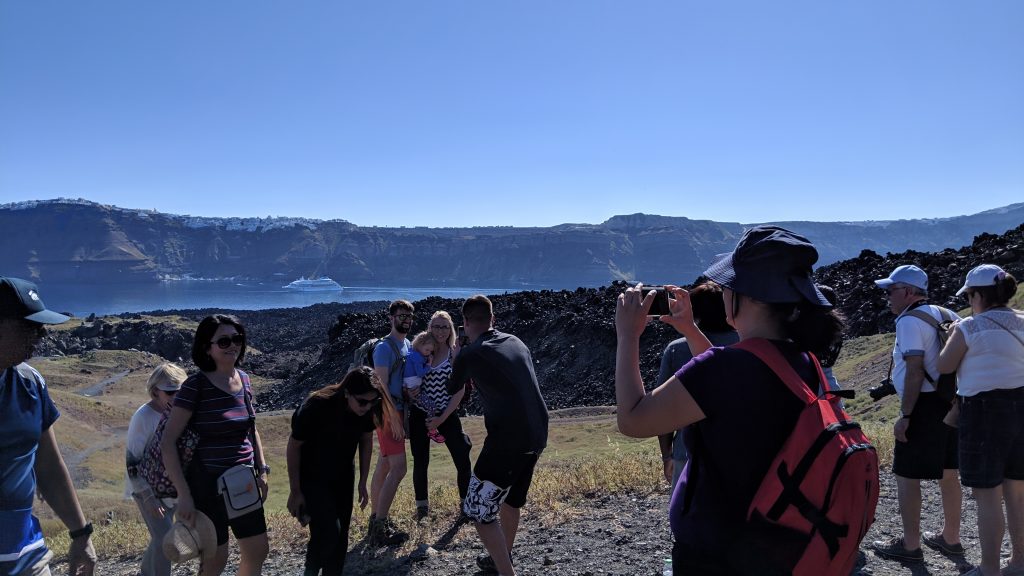 We booked other shore excursions so that each day had a structure: breakfast, shore excursion, lunch on shore, afternoon yoga with Waka on the ship, dinner, and then another fun musical show. With two days on Santorini, we had time to see the excellent new Museum of Prehistoric Thera and take a boat excursion to hike the geopark on Nea Kameni, a smoldering volcano on an island in the caldera.
On Mykonos, we visited the fascinating archeological site of Delos, once the center of the ancient world. Milos' excursion includes a hike in the woods where the Venus de Milo, now starring at the Louvre, was in the dirt, bought by Napoleon's troops, and shipped to France.
Most shore excursions departed early to avoid the crowds on the very busy Greek Islands. Throughout, excellent guides kept everyone inspired with stories from history and mythology; some days with headsets, others without.
Sleeping Quarters on a Greek Islands Cruise
Celestyal Crystal's 724 cabins are compact yet comfortable, with good firm beds, but only nine have balconies. Suites have two beds and a small sofa and seating area. Families will appreciate that some inside cabins have two upper bunks, a sofabed, and sleep five.
We found the small bathrooms had strong showers with plentiful hot water and herbal Greek toiletries, linens changes twice daily, and cabin stewards were expert towel sculptors.
Evening Entertainment on Land and Sea
We had dinner ashore a few nights but always returned for the evening shows put on by Cirque Fantastic. This troupe of Cuban musicians, singers, and dancers are skillful gymnasts, ballerinas, and break dancers.
They did two shows nightly, switching languages and styles from a Cuban repertoire a la Buene Vista Social Club to a "Mamma Mia" Night to an international cabaret. The shows are perfect for kids, too, with humor, imaginative sets, fun costumes and lots of talent.
Additionally, there are several small outdoor and indoor bars around the ship, a piano lounge, live music each afternoon by the pool and many other comfortable venues for a glass of Greek wine or one of the mixologist cocktails available for a premium.
Celestyal Dining Options: Greek Cuisine and More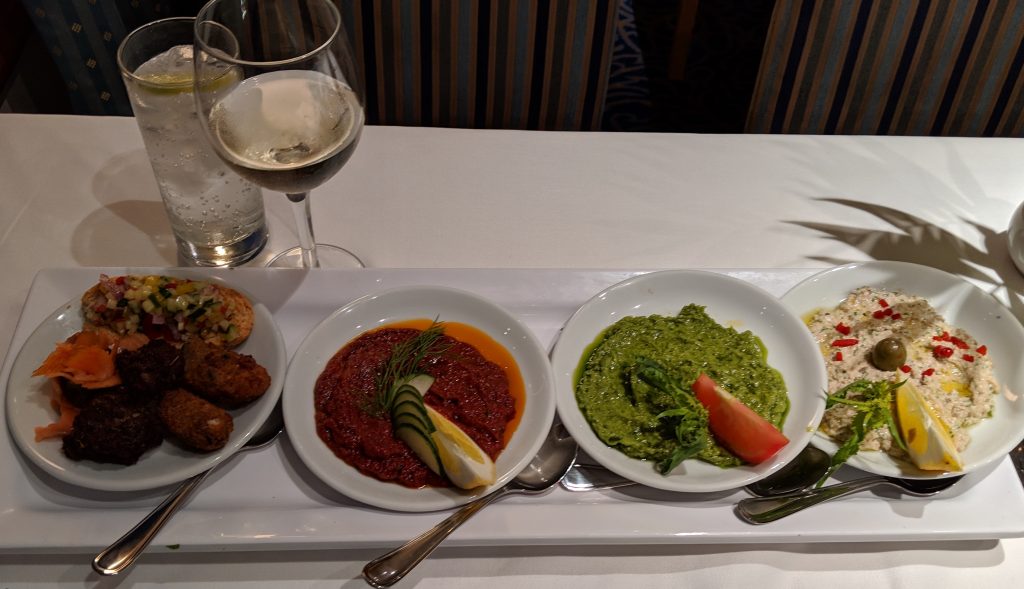 "We are not fancy people and it's not fancy food," declared Diane from Mobile, Alabama, as we dined with her and three couples. The gregarious group was delighted to be taking a Greek islands cruise after their first cruise together to Cuba. They weren't worried about their meals.
Neither were we. Some people we met complained about the need for more variety in the entrees presented. Others thought it was wonderful. For our family, having Greek yogurt, fresh fruit, bread, and pastries each morning. Plus, Greek specialties and salad makings at dinner, was more than enough.
The exception to the "fancy" comment was the two nights we splurged on the excellent premium restaurant Fish Taverna. Think Instagrammable appetizers, an amuse bouche, freshly caught fish delicately prepared. With staff, attentive service, and a romantic ambiance that are all first-rate. It was well worth the 36.95 euro upcharge for a "night on the town". Better than any meal we ate on land.
Casual Greek Islands Cruise Style will Please All Ages
The Leda Buffet on Deck 9 does serve several hot entrees, from eggs to pancakes, sirloin to grilled fish, plus a variety of vegetables. Greek wines were served free of charge with every meal on this very Greek Islands cruise. There were always kid-friendly options and various entrees to please the many nationalities on board.
Special dining events, such as the fun American Barbecue night when chefs manned a series of grills. Around the pool grill, chicken, steak, sausages, and corn are added to the variety of tastes.
Another plus for multigenerational families: Celestyal ships do not have formal dinner seatings. However, securing a table at the popular Amalthia restaurant, where most guests dined nightly, required some advance planning. While the restaurant's sit-down table service was excellent, we found the multi-course meal a little too "fancy." Most nights, we got our meal from the buffet and ate outside on the deck.
A Celestyal Greek islands cruise delivered on our idea of an idyllic vacation.
Tips and Recommendations for the Celestyal Cruise to the Greek Islands
Book Early: Greek Island cruises with Celestyal are popular. So, booking your cruise well in advance is advisable, especially if you have specific travel dates in mind.
Pack Smart: Given the sunny Mediterranean climate, pack lightweight clothing. Also, comfortable shoes for shore excursions and swimwear. Don't forget sunscreen, sunglasses, and a hat to protect yourself from the sun.
Excursion Planning: Research the ports of call and shore excursions offered by Celestyal Cruises. Consider booking excursions in advance to secure your spot and make the most of your time ashore.
Local Currency: While most places accept credit cards, having local currency (Euros) for small purchases and tipping can be convenient.
Travel Insurance: Consider purchasing travel insurance that covers unexpected events, trip cancellations, and medical emergencies during your cruise.
Dining Reservations: Make dining reservations at the specialty restaurants on the cruise ship, if available. These restaurants often require reservations and can offer a unique dining experience.
Stay Hydrated: The Mediterranean sun can be intense, so drink plenty of water throughout your journey.
WiFi and Connectivity: While onboard, check the availability of WiFi packages if you need to stay connected. However, consider embracing the opportunity to disconnect and enjoy the beauty of the Greek Islands.
FAQs (Frequently Asked Questions) for the Celestyal Cruise to the Greek Islands
Which Greek Islands are typically included in the Celestyal Cruise itinerary?
Celestyal Cruises offer various itineraries, but popular Greek Islands often included are Santorini, Mykonos, Crete, Rhodes, and Patmos, among others.
Is the cruise all-inclusive?
Celestyal Cruises offer different packages, including all-inclusive options. Check your specific cruise package to see what is included, such as meals, drinks, and excursions.
What is the best time to take a Celestyal Cruise to the Greek Islands?
The Mediterranean cruise season typically runs from spring to fall. The best time depends on your preferences – spring and fall offer pleasant weather with fewer crowds, while summer is the peak season with warmer temperatures.
Are shore excursions included in the cruise price?
Some shore excursions may be included in the cruise package, but others may come at an additional cost. Review your cruise details to see which excursions are included and plan accordingly.
Do I need a visa for the Greek Islands cruise?
The visa requirements depend on your nationality and the ports of call. Check with the cruise line and the Greek Embassy or Consulate to determine if you need a visa for your specific itinerary.
Is there entertainment and activities on the cruise ship?
Yes, Celestyal Cruises offer a range of onboard entertainment and activities, including live performances, cultural events, and recreational facilities like pools and fitness centers.
Can I bring children on a Celestyal Cruise to the Greek Islands?
Celestyal Cruises is family-friendly, and children are welcome onboard. They offer various activities and facilities suitable for families.
What should I wear for formal nights or dinners on the cruise?
Celestyal Cruises generally have casual dress codes for most evenings. However, for formal nights or specialty restaurants, smart-casual or semi-formal attire is recommended.
Is gratuity included in the cruise price?
Gratuities are often not included in the cruise fare. It's customary to tip the cruise staff for their service, and the cruise line may provide guidelines for tipping.
If this made you want to try out Celestyal Cruise, consider checking out these other articles below –
Join our vibrant community on social media! Whether you prefer scrolling through stunning visuals on Instagram, diving into a world of creativity and inspiration on Pinterest!, engaging in lively discussions on Facebook, staying updated with real-time news on Twitter, or exploring captivating videos on YouTube, there's something for everyone. 
Don't miss out – click those follow buttons, subscribe, and stay connected to be a part of our exciting journey!
Dear Reader: This page may contain affiliate links which may earn a commission if you click through and make a purchase. Our independent journalism is not influenced by any advertiser or commercial initiative unless it is clearly marked as sponsored content. As travel products change, please be sure to reconfirm all details and stay up to date with current events to ensure a safe and successful trip.
---