"So well run," says the London couple celebrating their 30th anniversary aboard our Ambassador Halong Bay cruise. The family of 14 dining nearby – reuniting from Atlanta, San Diego and Ho Chi Minh City (the former Saigon) — joyfully proclaim the food, "Delicious!" Brothers from Melbourne praise the friendly young staff and "excellent service."
Cruising Vietnam's Halong Bay in the Gulf of Tonkin is a bucket list adventure for travelers from around the world. Picture yourselves superimposed on an Asian landscape painting – the backdrop of emerald green water and mist-shrouded mountains is epic.
Why Halong Bay Is a Must-See Destination
Halong Bay is one of the world's best examples of limestone eroded by the sea and wet tropical climate. Pillars, towers, cones and cave shaped karst formations blanketed in green jut from crystal-clear waters. These unusual formations earned it a UNESCO World Heritage designation in 1992.
Located in the north of Vietnam in the Gulf of Tonkin, the 43,400-hectare (167 square-miles) geological and biological wonder comprises 1,600 islands and islets. Travelers from around the world come to take selfies in the Instagrammable landscape that attracts thousands of honeymooners annually. Some visitors look for the location of the tragically romantic, Oscar-winning 1992 film starring Catherine Deneuve, "Indochine." Others seek out clues to Peter Jackon's action-packed, blockbuster "King Kong: Skull Island" (2017).
Ambassador Cruises runs two of the very few five-star cruise ships plying Halong Bay. Mulitgenerational families and all ages will appreciate itineraries that spend one, two or three relaxing days at sea.
Day Tripping Halong Bay on a 1 Day Cruise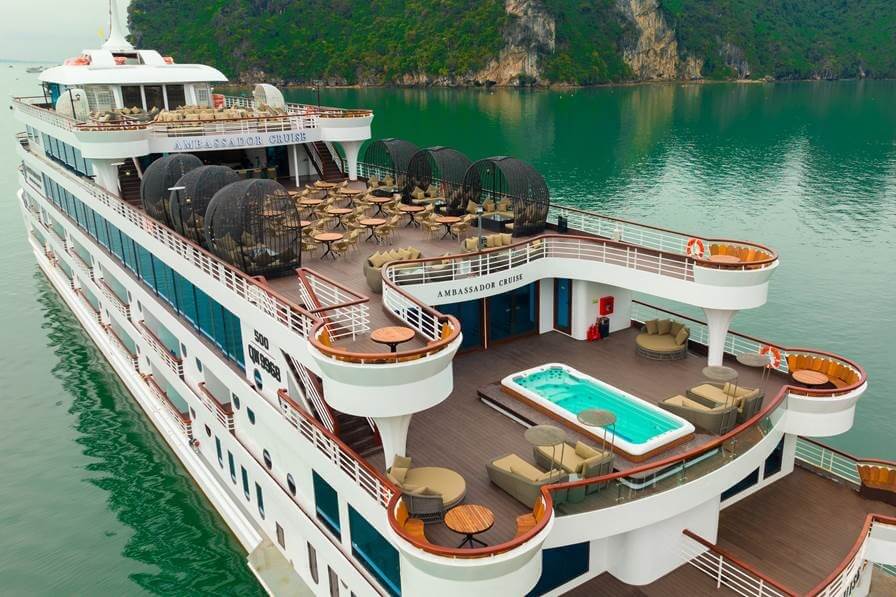 A cruise on Halong Bay is the perfect way to sample Vietnam's most famous national heritage site. The 165-km (102 miles) drive east from Hanoi to Ha Long takes about 2.5 hours thanks to a highway completed in 2018. It's possible to make the journey as one very long day trip.
But spending just a day cruising Halong Bay is simply not enough. True, the new Ambassador Cruise II (built 2021) provides a fine day cruise option for up to 500 guests. Ship geeks will appreciate the workmanship of the 500-ton steel craft. Five decks and a basement measure 90 meters long, 16 meters wide and 19 meters high.
Larger than its many competitors, Ambassador II's sleek design and onboard amenities appeal to those looking for a more upscale experience. The ship's size appeals to those afraid of getting seasick on the calm bay. The mobility-impaired have an elevator. Selfie-takers will love the over-water glass bridge jutting 20 feet out from the bow. Guests enjoy soaking in the large jacuzzi as the boat sails past karst obelisks. Be sure to leave plenty of time to indulge in fine dining at two restaurants and two bars, one with live music.
Day-trippers sail by Ho Dong Tien Cave, Trong Cave, Me Cung Cave and the Cua Van Floating Village. The only stop at Titov Island is reached by tender. Go for a swim or ascend hundreds of steps for the best views overlooking the bay.
Onboard an Overnight Ambassador Halong Bay Cruise Ship
We traveled as guests of Ambassador Cruise Lines. Given our limited schedule, we opted for a one-night cruise aboard the smaller Ambassador Cruise I. Its ideal size — 120 beds in 46 cabins — guaranteed plenty of distractions for families but never a wait for meals or activities.
Cabins of dark teak wood are very spacious. Deluxe ones have a comfortable seating area, large closets, a grand bathroom and a stock of bottled water in glass bottles. Picture windows and comfortable balconies provide endless views of Halong Bay – just what we came for.
However, that view can be compromised. Environmental concerns are very real. Rain and wind can drive plastic and other debris out into the bay from shoreline villages – a very dismaying sight. Thousands of cruise ships and fishing vessels do their part in tossing litter overboard as well. Single use plastics are banned on the bay and Ambassador refills your waterbottle at meals. But there is much more to be done.
Ambassador Cruise's Attention to Detail
Attention to detail makes every Ambassador Halong Bay cruise a classy experience. Passengers crossed the gangway under a hand-tossed cascade of rose petals. In the Piano Lounge, Jason Le, the activity director, greeted us in fluent English as well as Vietnamese and put everybody at ease.
Our luggage and the day's schedule waited in our cabin. At the elaborate seafood lunch buffet, a crew member asked about food restrictions. She noted my allergy to coriander, often served raw to garnish Vietnamese dishes, and brought me special portions, when needed, of each dish.
The always attentive service guaranteed that tenders were ready for excursions with a life jacket at every seat. A chilled washcloth and a glass of ginger tea with lemongrass greeted us as we reboarded the ship.
Why Choose a One-Night Halong Bay Cruise
Ambassador I sails one- and two-night itineraries. The one-night cruise includes optional excursions to visit a pearl farm (and shop for jewelry, of course.) Alternatively, take two-person kayaks out on the calm bay to explore the shoreline.
Later, the ship calls at Titov Island, named for a cosmonaut who dedicated the touristic development with then-President Ho Chi Minh. We found Asian guests like to swim at the crowded sand beach while Westerners hiked up to a temple for panoramic vistas of the bay.
Staying overnight means that after your excursion, you can lounge on the ship's sun deck, enjoy happy hour, take a cooking class or just nap.
The favorite excursion on any Ambassador Halong Bay cruise is to Sun Sat Cave. Steps to access the entry make it unsuitable for the mobility impaired. But if you're unsure whether it's worth the climb, trust us — the enormous geological wonder constantly surprises. Explore each turn to find new twists, tunnels, caverns and spooky vistas.
Why Choose a Two-Night Halong Bay Cruise
Families who stay an extra day sail a different itinerary, deeper into the Bay. They see more sights and explore other caves. Most important, the ship sails farther away from the many other tourist cruise ships plying Halong Bay.
Multigenerational families appreciate the extra time for more activities together. Try squid fishing after sundown. Kayak the bay and visit a local fishing village with your guide. Enjoy the spa treatment or Vietnamese massage we were too busy to try. Children of all ages appreciate the rare chance to chill out and reconnect with family, WiFi-free, for another 24 hours.
Many just relax. We noted more than a few dads who got onboard, took a long nap and awoke only to eat and disembark. (Luckily, they woke up to eat.)
Dining is a Fine Art on this Ambassador Cruise
Ambassador Cruise launched its first vessel in 2018 with a dinner catered by a Michelin-starred chef. They have kept an elevated approach to dining ever since, serving delicious, healthy and varied cuisine included in rates. The friendly staff ask about and respect religious and/or vegetarian preferences among the international crowd.
Passengers are greeted with a breakfast buffet of Western and Asian foods, ranging from congee rice porridge to steamed buns and fresh pastries.
Don't miss the lunch buffets designed for seafood lovers. Sample crispy prawn, grilled oysters, squid salad and green mussels in the Vietnamese style, or more Continental fare such as grilled sea bass.
Dinner is more formal, dare we say romantic, with an a la carte menu. This is the time to watch and marvel at the multigenerational families gathered at large tables. Wine, cocktails and beverages are available for a fee.
Savor the Journey to The Ambassador Halong Bay Cruise
Getting to Halong Bay on their luxury transport is part of the fun for families. A comfortable, air-conditioned shuttle is included in all rates. These black and gold minibuses whisk guests straight from their hotel to the port of Ha Long through Hanoi's Old Quarter and the New City. The landscape suddenly turns rural, revealing Vietnam's lush rice paddies.
When the view wears thin, restless kids can log on to WiFi and distract themselves. The two rest stops, huge and spotlessly clean, feature snack, lunch and coffee stalls. Vast supermarkets are cultural attractions packed with fresh and dried fruit, biscuits, chocolates and savory chips in unimagined flavors. Packaged foods, most produced for export, are all safe to eat.
On arrival in Ha Long, check your luggage, get stateroom keys and take a closer look at the port. Condos are popping up along the shoreline as weekend homes for Hanoi's affluent families and foreign investors.
Just like the elegant Ambassador Halong Bay cruises, the sleek transport, sophisticated highways and contemporary real estate are all signs of Vietnam's rapid transition into an international destination.
Trip Planning Details for an Ambassador Halong Bay Cruise Vacation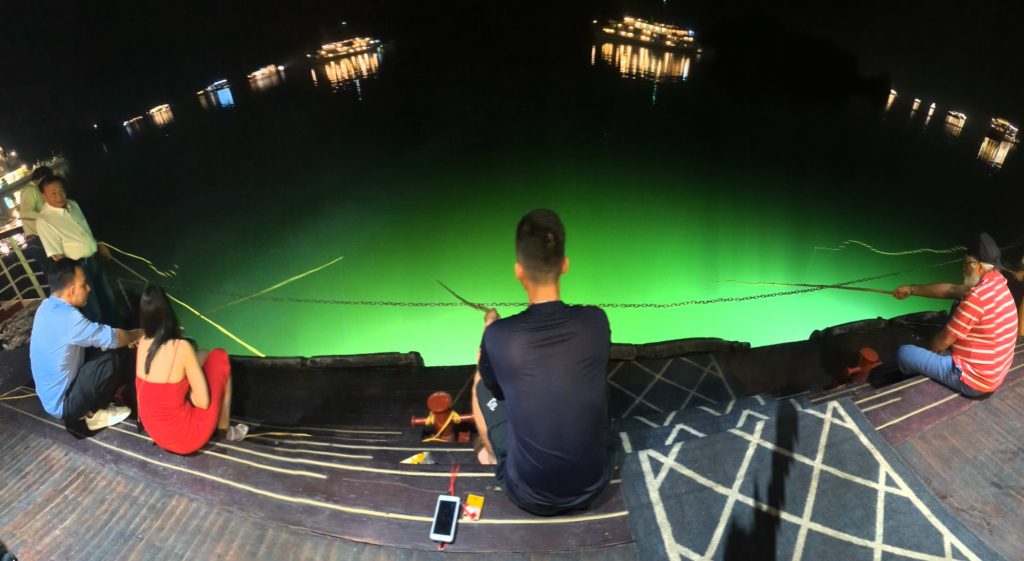 Any hotel concierge or travel agent can arrange your Ambassador Halong Bay Cruise. Or, you can book it yourself at their website. Their multilingual agents are helpful and can be reached at [email protected] or by phone at +84 1900 3045 from within Vietnam.
Rates vary according to the duration of your cruise and size of your party. Several packages with spa, flightseeing and other add-ons are available on the website. For basic rates, the Ambassador Cruise II is priced from US$92 per person. Overnight Ambassador Halong Bay on Ambassador Cruise I start at US$180 per person in a double room; kids pay about US$80 depending on the age.
Advance booking, especially during weekends and school holiday periods, is strongly advised.
Dear Reader: This page may contain affiliate links which may earn a commission if you click through and make a purchase. Our independent journalism is not influenced by any advertiser or commercial initiative unless it is clearly marked as sponsored content. As travel products change, please be sure to reconfirm all details and stay up to date with current events to ensure a safe and successful trip.
---