The Jumbotron was bellowing "T -6, 5, 4…" when suddenly the sky ahead burst into flames. We were on the shore of Banana Creek, about 4 miles from Cape Canaveral's Launchpad 39A. The inferno was the SpaceX Falcon 9 rocket launching a Crew Dragon spacecraft to the International Space Station.
"Watch, don't listen," came from our NASA host.
The livestream from SpaceX Mission Control in Hawthorne, California, was 3 seconds behind reality at the Kennedy Space Center (KSC) viewing event in Florida. And, our host warned, the tremendous roar of the rocket's liftoff would be another 4 seconds behind that blinding sight.
We were mesmerized and that was two years ago. Think how much progress has been made since 2019.
We have joined the whole world going crazy about Mars. Did you catch the United Launch Alliance Atlas V rocket propel the Perseverance Rover to Mars on July 30, 2020? Did you hold your breath as Perseverance touched down in Mars' Jezero Crater on Feb. 18, 2021?
If your family is into outer space, follow the entire mission. Ingenuity, the tiny drone-like helicopter transported aboard Perseverence, is making brief reconnaisance flights above the Martian surface. This NASA mission stars in its own streaming TV show on the NASA website.
It's time to watch some rocket launches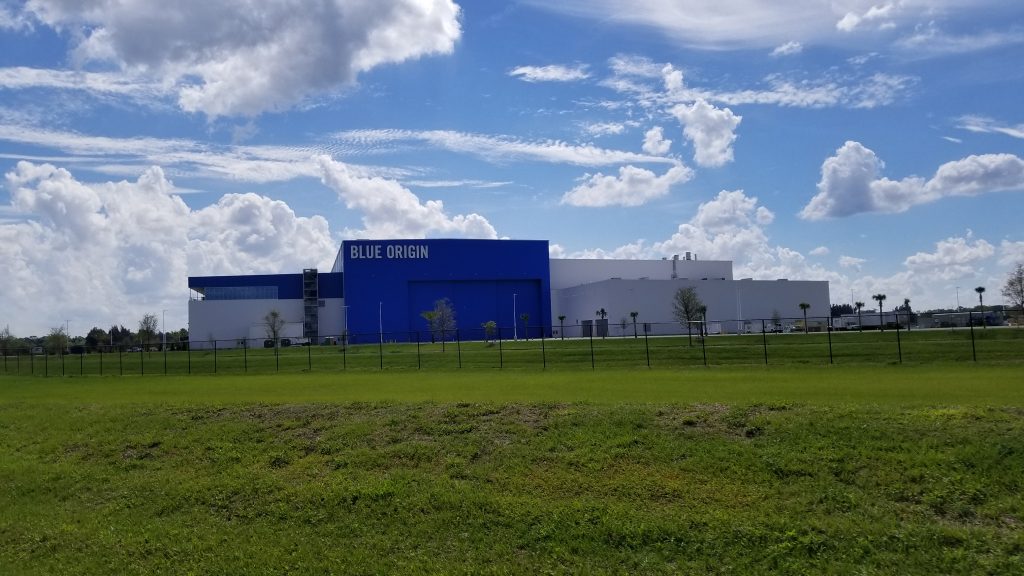 While eyes were focused on Mars, however, NASA had taken on commercial partners like SpaceX (of Elon Musk fame) and Blue Origin (of Jeff Bezos fame.) Launch frequency has increased because private companies and government missions are both doing rocket launches from various sites. Take advantage of more opportunities than ever to see rocket launches at Cape Canaveral and Vandenberg Air Force Base in California.
Spaceport America, New Mexico, is the country's first airport for commercial passenger spacecraft. Head to Truth or Consequences or Las Cruces to watch as manned, sub-orbital Virgin Galactic flights aboard the spaceship Unity take off starting in early 2022.
With a new generation of rockets using powerful super fuels, of course, space buffs don't need to buy tickets to most viewing events. You can pull up a lawn chair and watch spectacular live launches from miles away.
It just takes planning, timing and luck as – no matter how far in advance you plan – a scheduled launch window may close without a rocket going up. The risk of a scrub is part of the thrill.
Kennedy Space Center Visitor Center, Florida
Seeing rocket launches is most likely to happen at the at Kennedy Space Center (KSC), the launch site for more than 30 NASA and U.S. Air Force missions annually. Because a live launch is so thrilling, we found having expert guidance — as we did at KSC — made it even more engaging for all ages.
Fortunately, go or no-go, the KSC Visitors Center is a fascinating introduction to outer space, where man has been and hopes to go. Put it on your bucket list and plan your visit around a launch.
Why a rocket launch and why now?
KSC provides context to understand the enormity of any space effort. It was July 20, 1969 when Apollo 11 astronaut Armstrong descended the steps of a lunar probe, set his boot upon the moon's surface and announced, "That's one small step for man, one giant leap for mankind."
During the seven years spent growing the Apollo program, more than 400,000 people worked full time to put a man on the moon because then-president John F. Kennedy declared it would be so.
And more than 50 years on, a "moonshot" is still a big deal, at KSC. Look at the impact it had around the world, from products to imagination as featured in top 50 ways to commemorate the moon landing.
The Apollo / Saturn V Apollo Center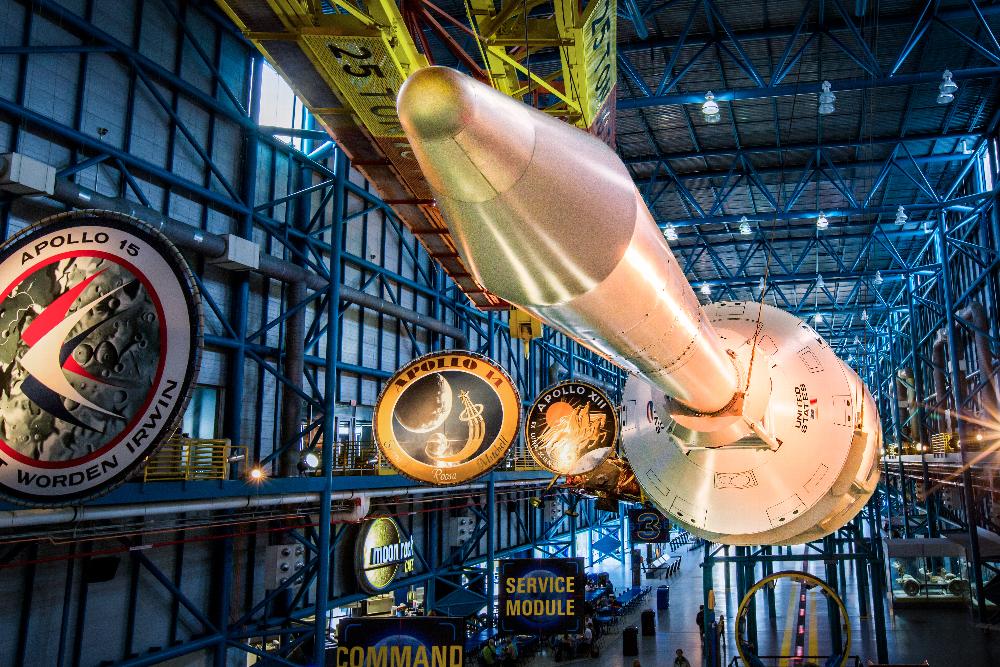 Please, start your visit to KSC first thing in the morning with the bus tour which has reopened with local safety protocols. Your guide will point out the launchpads, Mission Control building, working NASA facilities and commercial operators such as SpaceX, Boeing and Blue Origin.
The tour is the only way to see the huge VAB, Vehicle Assembly Building – so large that clouds form inside when it's raining. In the imposing Apollo/Saturn V Center hangar, understand the impact the moon landing had on our world and world view. The enormous Saturn V rocket that made space exploration possible hangs above memorabilia of all Apollo missions including Apollo 11.
Kids love this place even without a rocket launch
At KSC, the multimedia displays make the history of space exploration accessible to kids and their grown-ups. Though some facilities have yet to reopen to curb the spread of coronavirus, you may just have to go back to try all the fun activities.
Expect guided tours, options to try flight simulators and educational activities all around the facility; some for additional fees. If you're a kid, KSC also runs Space Camps and regular sleepovers, when ages 7 to 14 can choose between sleeping under the Space Shuttle Atlantis or the Apollo/Saturn V rocket.
Ogle rockets and debrief astronauts at KSC
Admire the KSC wing, Heroes and Legends, which introduces visitors to astronauts who made the early space missions possible.
Pause at the Rocket Garden to see several different rockets that propelled people and cargo into space. Stand in the shadows of a Mercury-Redstone, Gemini-Titan and Saturn IB rocket among others. Frequent tours add context to each spent rocket. Just this month, a United Launch Alliance (ULA) Delta II rocket joined the impressive display. Between 1989-2009, the Delta II successfully deployed four dozen spacecraft to assemble and maintain an entire fleet of GPS satellites, launching from both KSC and California's Vandenberg Air Force Base. The GPS network made possible by the Delta II revolutionized modern navigation on Earth.
Why not have Lunch with an Astronaut (separate admission)? On our visit, the unflappable Astronaut Winston Scott, who had flown two missions on the Space Shuttle after retiring as an Air Force test pilot, did the Q&A with diners. Ever wondered, like a little boy at our table did, how you make a poop without gravity? Scott's candor and humor, both personally and in his professional stories, was a highlight of the visit. The buffet lunch was pretty good, too.
Feel the rocket's red glare
Another high point is the KSC Shuttle Launch Experience. This simulator attraction in the Atlantis Space Shuttle wing was developed to help astronauts train for the physical stresses of sitting atop a rocket launch.
Pry yourself out of your harness when it's over and you'll understand where that expression having your stomach in your throat comes from…. Within the enormous orange Space Shuttle Atlantis building, visitors can see Atlantis suspended from the ceiling, so close that you can't get it all in on one photo even in panorama mode.
Mars and what's next in space?
See a Boeing Starliner and a SpaceX Crew Dragon spacecraft. These are just two examples of how the commercial space industry has begun to transport astronauts and payloads to the International Space Station (ISS). That's the kind of spacecraft your kids will travel in.
Then, there's Mars, the new frontier for exploration. The red planet is much farther away than the Moon or the ISS. Yet KSC has fascinating exhibits about Mars already. A Mars Rover and several exhibits about Mars at KSC focus visitors' attention on the direction that most interests NASA – Mars.
Don't miss learning more about Space
The space industry operates in strange and mysterious ways, and a Kennedy Space Center viewing event is guaranteed to give you a taste.
As mentioned, Vandenberg Air Force Base in Lompoc, California, is also a spaceport and rocket testing range. Just watch a launch to appreciate how rockets can fall into the sea in case of a failed liftoff. There are few public tours of its facility or the cool-sounding Space and Missile Heritage Center, but locals say it's possible catch a rocket launch from a distance.
Spaceport America tours are organized by the tourism department for Las Cruces, a city about 50 miles from El Paso, Texas. It's the closest urban center to Spaceport America, although tours are sometimes offered from tiny Truth or Consequences. Head to New Mexico to check out past alien landings and other space-related sights.
Dear Reader: This page may contain affiliate links which may earn a commission if you click through and make a purchase. Our independent journalism is not influenced by any advertiser or commercial initiative unless it is clearly marked as sponsored content. As travel products change, please be sure to reconfirm all details and stay up to date with current events to ensure a safe and successful trip.
---