July 20, 2019 marks the 50th anniversary of the Apollo 11 moon landing when Commander Neil Armstrong took his "first step for man, giant leap for mankind." It was a huge achievement for 1969 – meeting President Kennedy's deadline to reach the moon and besting the Russians – and an upnote in a country roiled by political assassinations, anti-war protests, the Hippie movement and changing values.
The moon landing's 50th anniversary is generating tremendous interest and anticipation for what's next in space exploration. In addition to the special exhibits at museums and space facilities around the world, those at home can recognize the milestone.
So whether you're ready to blast off or settle in, here's our guide to the top 50 ways to commemorate that giant leap for eternity.
The Top Space Resources
Follow NASA Guidance
Charged once again with returning to the moon by President Trump, NASA has lots to celebrate looking back and looking ahead. Their database of 50th anniversary events is constantly being updated so check back often.
Enjoy Kennedy Space Center Events
KSC, the Visitors Center for NASA facilities at Cape Canaveral, Florida, trains guests all year long with STEM programs, fascinating exhibits, astronaut meet n' greets and out of this world adventure. This July will sell out; Apollo 11 took off for the moon aboard a Saturn V rocket from KSC's Launchpad 39A on July 16, 1969.
Catch a Smithsonian Event Near You
The Smithsonian National Air & Space Museum and Smithsonian affiliates around the country are holding special museum shows, workshops and more to commemorate the anniversary.
Pilot the Interstellar Road Trip in Ohio
Given the state's long aviation history, number of homegrown astronauts and other extraterrestrial coincidences, Tourism Ohio has developed "To the Moon and Back," a fun driving route with eight major lunar-themed stops across 546 miles of this friendly state.
Tour a Rocket Base in California
Vandenberg Air Force Base is, some say, the West Coast version of Cape Canaveral, a spaceport and test range where rockets can fall into the sea in case of a failed liftoff. Located about 10 miles northwest of Lompoc, this working military base is tough to see, with monthly driving tours of the base and only four tours annually of the Space and Missile Heritage Center, a museum at the historic Space Launch Complex-10. But you may catch a liftoff from a distance!
Universal Exhibits and Quirky Staycations
Meet the Father of Rocketry and the Air Force in Dayton
Ohio's National Museum of the United States Air Force displays hundreds of remarkable aircraft plus the fascinating story of Dr. Robert H. Goddard, considered the father of the U.S. space program. In 1914, he received a U.S. patent for a multi-stage rocket and by 1926, had tested the first liquid propellent fueled rocket, the precursor to Saturn V.
Moonboots in Gold and Silver
Remember when moonboots with those marshmallow-y white bottoms were all the rage? Get your own stamped in gold or silver, in several denominations, with the U.S. Mint release of its Apollo 11 50th Anniversary Commemorative Coins.
The Museum of Flight Moons Seattle
From March 16-Sept. 2, this museum, a Smithsonian affiliate, will showcase Destination Moon,a traveling show with rare artifacts on loan from the National Air & Space Museum in the other Washington — D.C.
Land at Jeppesen Terminal Denver Airport
The soaring white terminal ceiling that resembles snow-capped mountains is a tensile membrane spun off from fabric developed to protect Apollo astronauts. Birdair Inc. commercialized the use of the fireproof, lightweight and super strong spacesuit fabric – a fiberglass blend coated in Teflon, now used in more than 900 stadiums, malls and other structures around the world.
Stargaze at the Cincinnati Observatory
Getting up close to a telescope is a rare treat and handling a mahogany and brass one dating to 1843 will make you fall in love with space. Take advantage of both hands-on telescopes at this captivating astronomy center, which is holding two special events July 20 – a daylong family program and an adult after-hours party, both focused on rockets.
Apollo 10 and Pop Culture in Alameda, California
May 4, a panel from the USS Hornet- Sea, Air & Space Museum (site of the event) and the Charles Schulz Museum and Research Center will explore how Charlie Brown and Snoopy came to be semi-official mascots for the Apollo 10 mission. For real.
Build + Test Your Rocket
Home to NASA's Marshall Space Flight Center where the Saturn V rocket was built, Huntsville, Alabama's U.S. Space and Rocket Centeris encouraging space enthusiasts around the world to build their own rockets for a global launch. Register now and they will send you instructions and tips; then on July 16 launch your own, take pictures and tag them with#GlobalRocketlaunch to be counted in the mission.
Explore the Legacy in Daytona Beach
May 18-July 28, theMuseum of Arts and Sciencesin Florida will exhibit "To Choose Our Destiny: The Lasting Legacy of the Apollo 11 Moon Landing." June 14-15: "First Man" shows in their Planetarium.
Have a Glass of Tap Water
Water purifying technology used on the Apollo spacecraft is still used to kill bacteria, viruses and algae in community water supply systems and cooling towers.
Apollo Speaker Series in Los Angeles County
June 2, 10 a.m. and other dates, all free, hear from the people who made Apollo 11 happen. Moderator Gerald A. Blackburn, former Boeing Project Manager and 40-year aerospace industry veteran, talks to Apollo era guests at Columbia Memorial Space Center, Downey, California.
To the Moon and Back from New York
Designed by digital visualization specialist Carter Emmart, the always cool American Museum of Natural History's "To the Moon and Back" planetarium show uses the latest data and satellite imagery to see Apollo 11's historic landing site, project the future on the lunar surface and much more. On July 20, their daylong celebration of space exploration includes family-friendly presentations, performances, and hands-on activities about the wonders of the Moon, Mars, and beyond as part of the museum's own 150th anniversary celebration.
Moon Landing in Context in Massachusetts
All year, the McAuliffe Center for Integrated Science Learning is working with Framingham State University to feature its "Moon Landing in Context Project" with special exhibits and talks, all free of charge, about space and the 60s.
Test Handprints at Space Walk of Fame in Titusville
The American Space Museum and Space Walk of Fame just outside Cape Canaveral is a mecca for those interested in the unheralded workers of the space industry – that team of 400,000 who worked 7 years to put Apollo 11 on the moon. At the nearby Walk of Fame, you can fit into the handprints of the program's public face – the astronauts we remember.
UFO Festival Roswell in New Mexico
July 5-7 marks the annual UFO Festival in the small town of Roswell, where aliens reportedly crash-landed in 1947. While that incident still remains shrouded in mystery, it's a fun and campy celebration of all things science, space and S.T.E.A.M. (STEM plus Art)
Watch "Apollo 11" or Other Space Docs
The documentary "Apollo 11" (opening in theaters nationwide in July) was compiled by director Todd Douglas Miller from rare original footage of the mission. It's a compelling portrait of the NASA team who made the moon landing possible and a real cliff-hanger. The link reviews other exceptional space documentaries.
Apollo's Muse: Moon as Art
July 3-Sept. 22, New York's Metropolitan Museum of Art explores visual representations of the moon from the dawn of photography through the present, alongside related artwork and image-capturing instruments.
Apollopalooza 2019 in Denver
July 13-20, catch air at Wings Over the Rockies Air and Space Museum in Colorado, as the region celebrates the moon landing and future of space exploration. Meet astronauts, notables from the space industry and the team from Spaceport, plus catch a week of educational activities.
Meet a Mission Controller in Houston
Take a tram tour at Space Center Houston, the public-facing part of NASA Johnson Space Center, to see the Historic Mission Operations Control Center, now a national landmark, that guided Apollo 11. In addition to great daily programming, July 16-24 marks the commemorative celebrations. The big wow: on July 19, the legendary Gene Krantz will talk about his experiences in Mission Control during the Apollo 11 flight.
Support the ANGLeS Challenge
July 15–20 is the final week of the Apollo Next Giant Leap Student (ANGLeS) Challenge which has given students the chance to recreate the landing using drones and robots. Find out who's winning a trip to a NASA center by attending an event at one of the contest's 16 regional hubs in the U.S.
Pilot a Lunar Module in Columbus
Space is just a tiny step outside the Planetarium in the vast playground that is the Center of Science and Industry, or COSI, in Ohio. Find out how an astronaut pees and pilot your own lunar landing module — and even a Mars Rover – from the comfort of an armchair.
Lunar Pub Crawl in Downey, California
Wear your best 60s garb July 18 to join a tour of the watering holes popular with engineers working on the Apollo capsules. Note that each stop will have a bona fide Apollo space program veteran for a Q&A.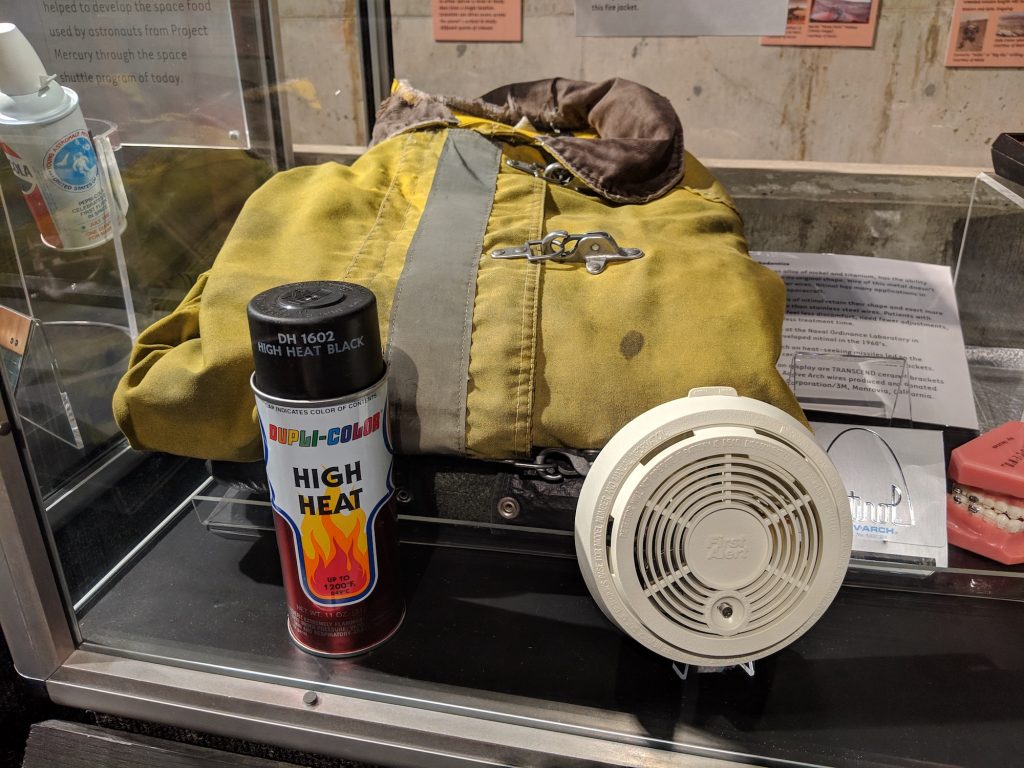 Keep your Beer Cold
The technique of vacuum metallizing (Physical Vapor Deposition) – depositing a thin coat of evaporated metal on other surfaces – was developed to form a radiant barrier for temperature control in Apollo space suits. The technology has been commercialized for beer coolers, metallic food packaging, outerwear, reflective blankets and more.
Look at a Moon Light in France
Nearly 23 feet in diameter, "Museum of the Moon" by U.K. artist Luke Jerram will be installed in Lille, France to commemorate the 50th anniversary of the lunar landing. An internally lit sphere, it's covered by detailed NASA imagery of the moon's surface at an approximate scale of 1:500,000 and is designed as a backdrop for performing artists.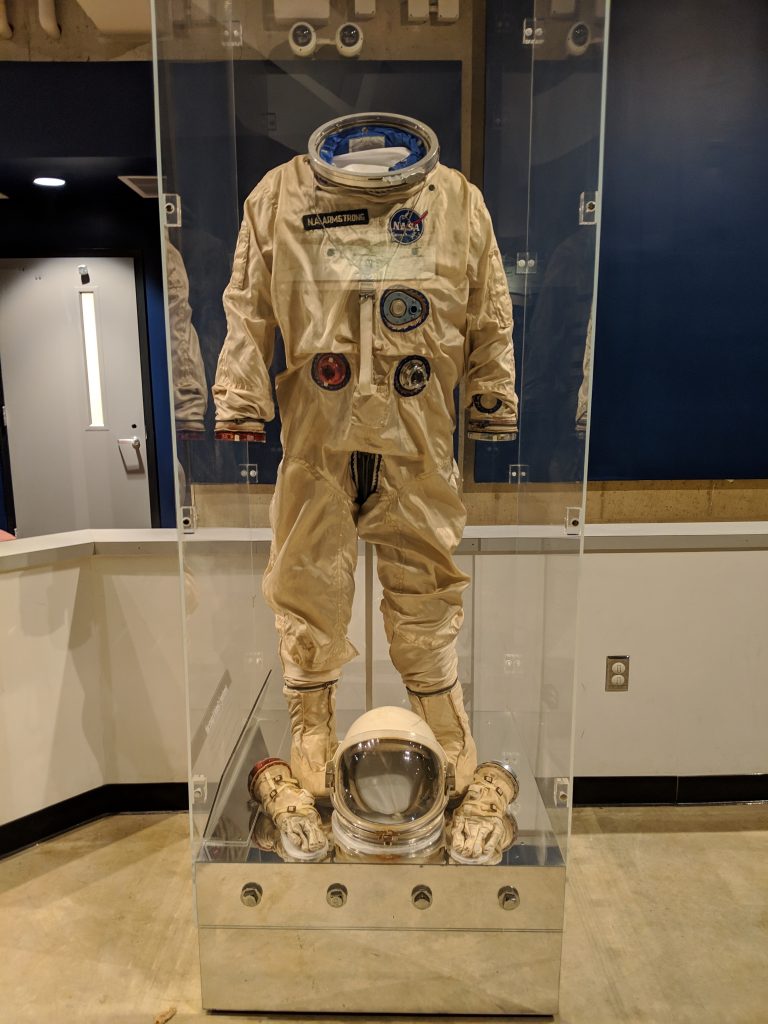 Summer Moon Festival in Wapakoneta, Ohio
July 19-21, daily from 9 a.m.-5 p.m., the annual Summer Moon Festival hosted at the Armstrong Air & Space Museum, will include NASA-supported museum exhibits, demonstrations and activities about historic and future lunar exploration. Catch the Run to the Moon Races, family activities and visiting astronauts as you tour Neil Armstrong's hometown.
Biological Research in New Mexico
The New Mexico Museum of Space History in Alamogordo features interpretive exhibits about the history of space, especially as it relates to New Mexico. Outdoors, visitors can see a number of rockets plus a Daisy Track, an air-powered sled-track used for Apollo to study the effects of acceleration, deceleration, and impact on the human body and equipment.
One Giant Leap in North Carolina
Commemorate the 50th Anniversary throughout North Carolina with the state's yearlong programming, "Lift Off NC: Apollo + Beyond." In addition to arts and science programs, lectures and family events, there's a focus on minorities who made the exploration of space possible.
Landing on the Lawn in Kansas
July 18 is just one of the days that theCosmospherein Hutchinson celebrates space, as they often do over coffee and pastries. The special July 20 evening event, held at the nearby Hutchinson Community College lawn, features a puppet show, rocket demonstrations, planet viewing and "In the Shadow of the Moon," a documentary projected on a large outdoor screen.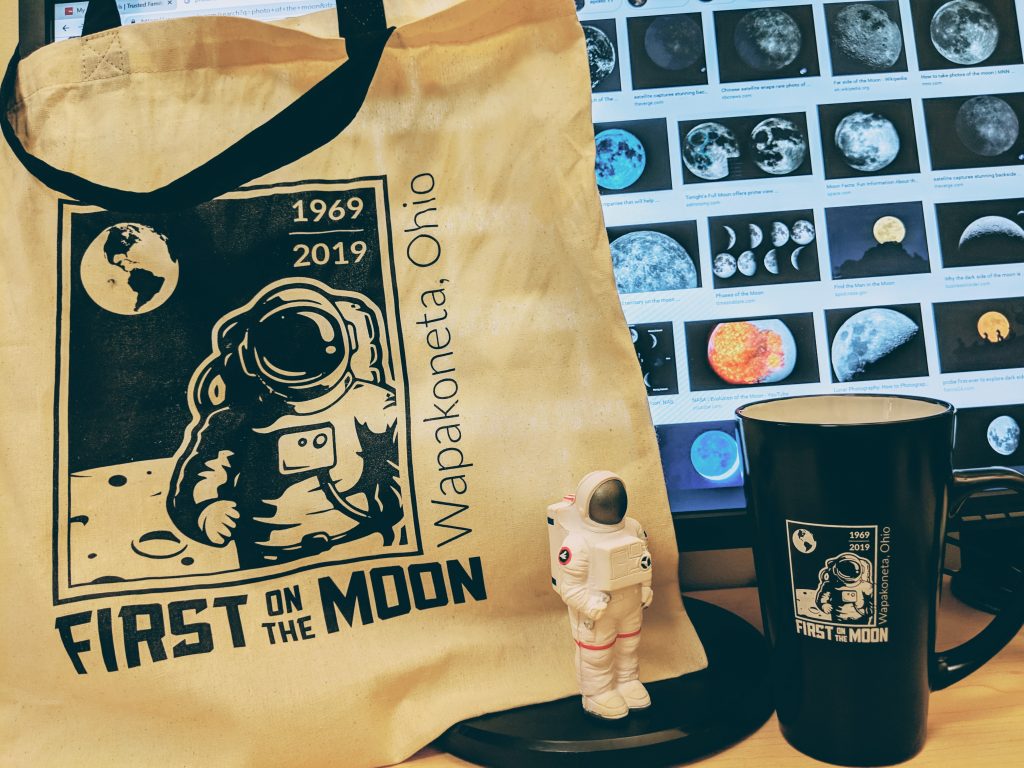 First on the Moon Memorabilia
There's lots of cool space gear and many amazing museum gift shops, but nothing can compete with your very own "First on the Moon" souvenirs from Wapakoneta, Ohio. The whole town is theme-obsessed: think lunar pizzas, moon-shaped chocolates, gravity-defying cocktails and more.
Up close to an Apollo 12 Command Module in Virginia
The Virginia Air & Space Center (VASC) is the official visitor center for NASA Langley Research Center. In addition to the Command Module that went to the moon, you can see a real Mars meteorite and a Lunar Excursion Module Simulator (LEMS) used in training the Apollo team.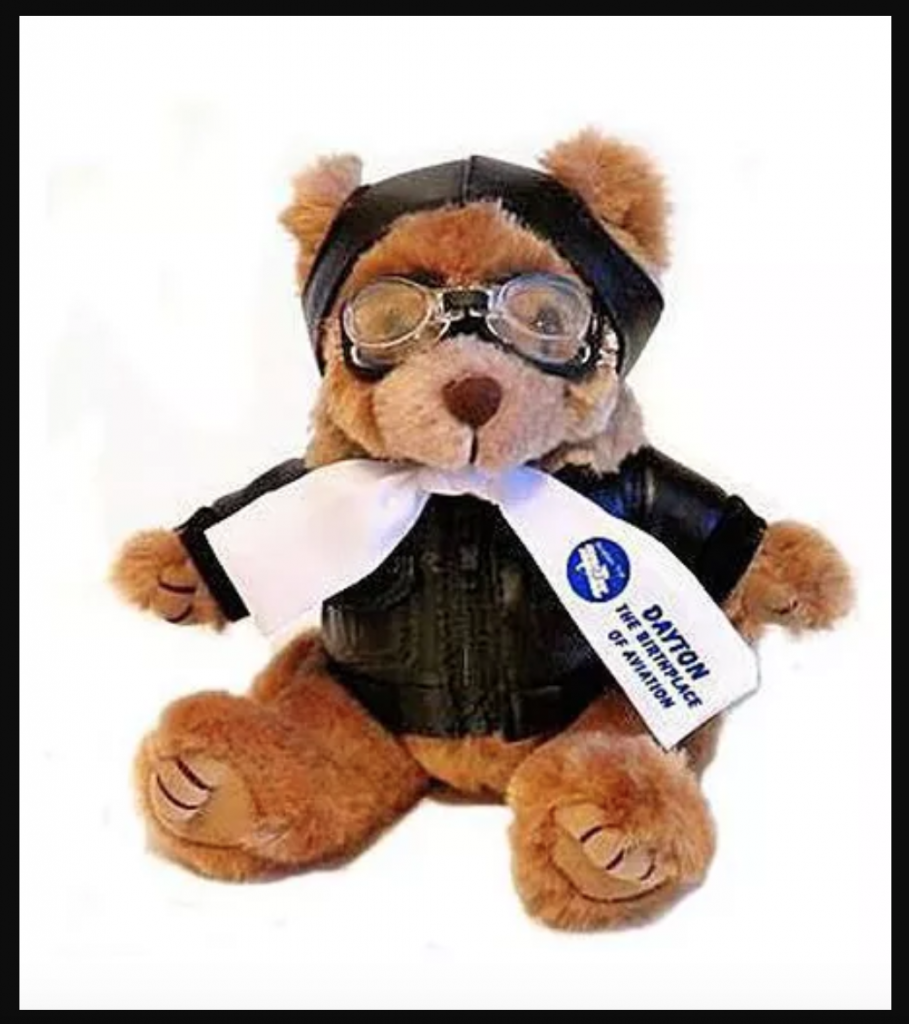 Touch down on Dayton's Aviation Trail
Dayton, home to the Wright Brothers and many other aviation firsts, has charted a fascinating 17-site Aviation Trail that covers the landmarks. Follow the trail and get your passport stamped in order to win your own keepsake teddy, Wilbear Wright!
Catch a Space Lecture in Maryland
The Goddard Visitor Center is the public's view of research being done at the Goddard Space Flight Center. Free lectures and events focus on Earth science, astrophysics, heliophysics, planetary science, engineering and more at their center located just 30 minutes from D.C., Baltimore and Annapolis.
Examine Propulsion in Pasadena
Get up close to NASA's cutting-edge work at Jet Propulsion Lab (JPL) at the California Institute of Technology. See the multimedia "Journey to the Planets and Beyond" and visit the von Karman Visitor Center, the Space Flight Operations Facility, and the Spacecraft Assembly Facility.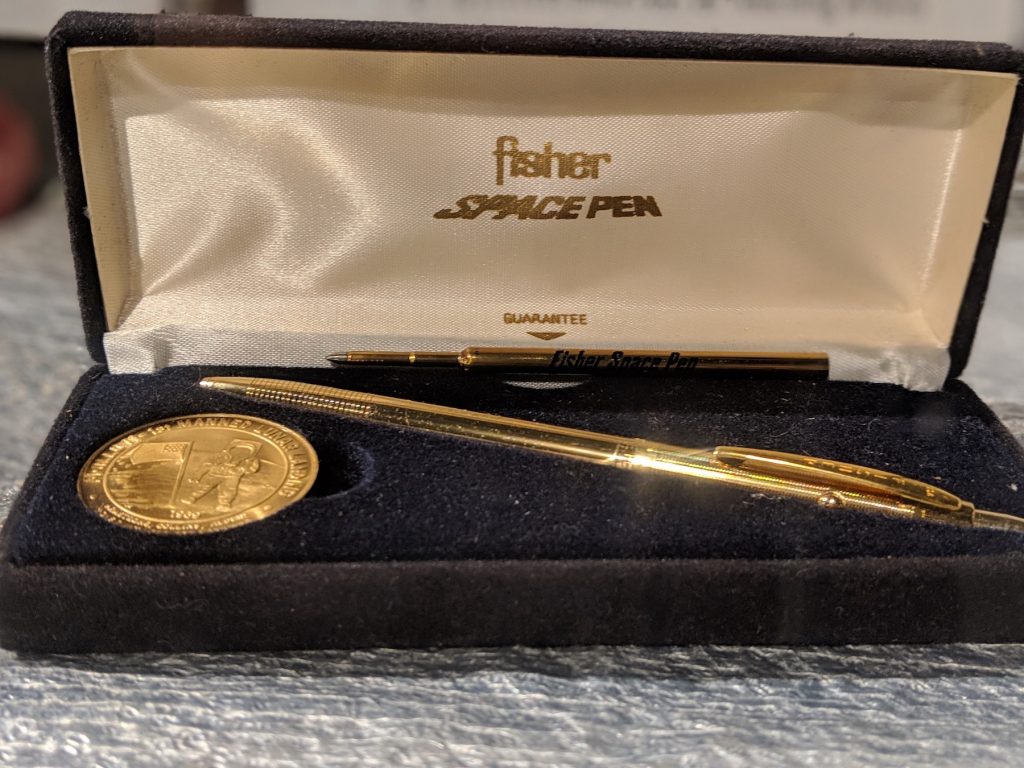 Find your old Space Pen
When Fisher Price first sold their Space Pen to the public in 1986, it became the thing to own. Developed for Apollo by Mr. Fisher himself, it has a pressurized cartridge and rubberlike thixotropic ink so it can be used in gravity-free and adverse environments, underwater and in temperatures as low as -50F. Fisher Price has a new special exhibit about them in KSC's renovated Apollo/Saturn V Center and, of course, they are still widely sold.
Test Yourself at the Space Gallery in Cincinnati
Fall 2019 marks the opening of the Space Gallery at Cincinnati Museum Center at Union Terminal where you can see a moon rock, memorabilia from Ohio astronauts such as John Glenn and Neil Armstrong, and a cool 360° theater experience. We've just learned that from Sept. 28, 2019 to Feb. 17, 2020, the Smithsonian's traveling "Destination Moon: The Apollo 11 Mission" will move there from Seattle and thereafter, Cincinnati will be the new home of the Apollo 11 command module.
Go from L.A. to the Moon
On Sept. 22, a panel of former aerospace professionals from the Apollo era who designed and built the spacecraft will discuss their technical achievements at the Columbia Memorial Space Center, Downey, CA.
Drill a Hole
Cordless power tools were developed for the Apollo program so that astronauts would have re-chargeable tools to do repairs in space.
Be the Astronaut in Reno, Nevada
Using innovative video game technology, NASA data and immersive simulators, visitors to the National Automobile Museum's special exhibit "Be an Astronaut" travel past classic Corvettes and Harleys to infinity and beyond. From expert assistance on each screen, you'll learn the skills to fly a spaceship, pilot a lander and drive a surface rover.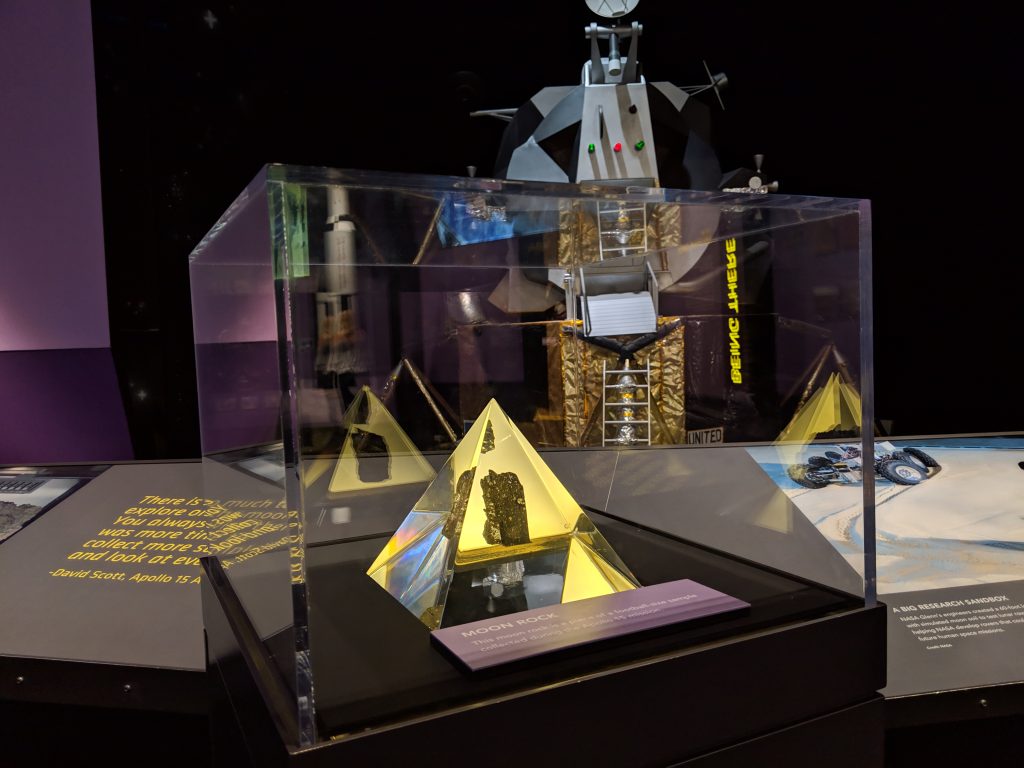 Immerse yourself at the NASA/Glenn Visitor Center, Cleveland
This treasure trove of interactive space exhibits at the fabulous Great Lakes Science Center features an Apollo Command Module and so much more. Go deeper with the NASA app "Mission to STEM" which can be downloaded or used on a loaner iPad.
Watch "Apollo's Daring Mission"
PBS members can watch the 2018 PBS documentary "Apollo's Daring Mission" about the Apollo 8 mission – a critical step before Apollo 11 – flown by Frank Borman, Jim Lovell and Bill Anders.
Feeling too feverish for a trip to the moon?
Take your temperature with a hand-held optical sensor thermometer – the kind you put in your ear. They are a spin-off of Apollo's infrared sensors that could remotely measure the temperature of distant stars and planets.
Enjoy Travel Snacks and a Movie
Stay home to watch "First Man" on Amazon Prime and have freeze-dried ice cream, invented for the Apollo missions and popularized by Action Snacks, who sell millions of dollars' worth of snacks that supposedly retain 98% of the nutritional value at only 20% of the original weight.
Practice Space Yoga
If you're feeling cramped by all this reading, take a posture break with the performance art/science crew at Guerilla Science, who teach yoga for astronauts on their Youtube channel.
And Our Top Way to Celebrate Space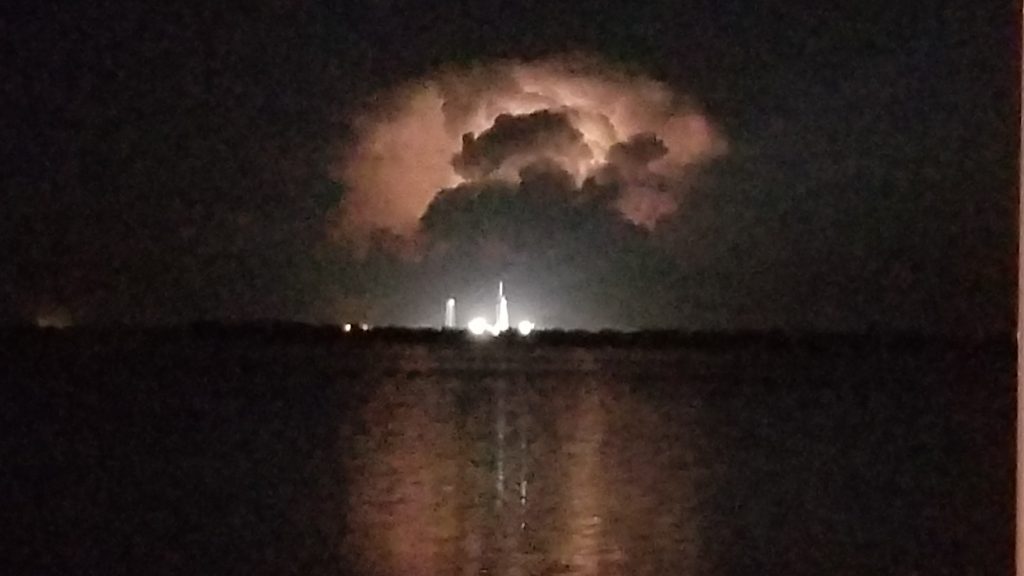 With NASA taking on commercial partners like SpaceX and Blue Origin, rocket launches are becoming more frequent at Cape Canaveral and the Vandenberg Air Force Base in California. Spaceport America in New Mexico may begin manned, sub-orbital Virgin Galactic flights this year. With a new generation of rockets using super fuels, space buffs don't need to buy tickets to viewing events. They can pull up a lawn chair and watch live launches from miles away.
However, nothing beats having an educational context and Kennedy Space Center does that well. You can take the tour any time or make it a bucket list trip by including a rocket launch, which now occur almost monthly. Depending on the launch window, launch packages with excellent commentary may include seats, a meal and live streaming video.
Share your Innovation
We love new ideas, so please add your event or idea for a commemoration in the Comments section and we just may revise our Top 50 List!
Dear Reader: This page may contain affiliate links which may earn a commission if you click through and make a purchase. Our independent journalism is not influenced by any advertiser or commercial initiative unless it is clearly marked as sponsored content. As travel products change, please be sure to reconfirm all details and stay up to date with current events to ensure a safe and successful trip.
---