"You picked a fantastic weekend to come down, though there's really no bad time around here," our driver told us on the way from the Tampa Airport to St. Petersburg's family-friendly Sirata Beach Resort.
"We get an average of 361 days of sunshine a year." I looked outside and squinted up at the brilliant sun, certain I must have misunderstood him.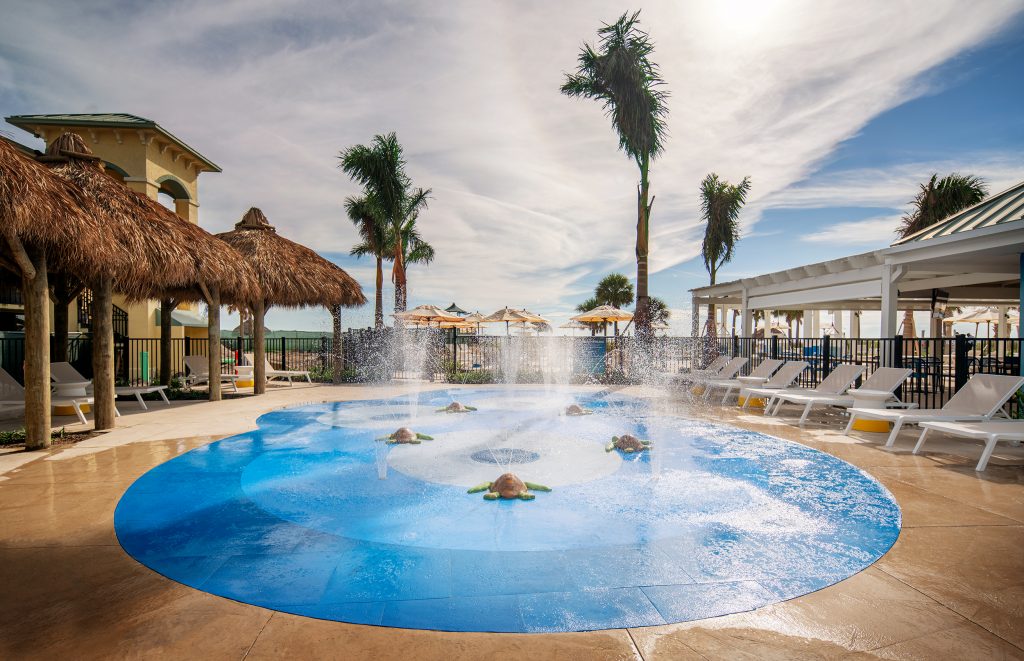 "No place has that much sunshine," I thought to myself.
It turns out such a place really does exist, and that's St. Petersburg, Florida. In fact, not only does this charming city average 361 days of sunshine a year, but it also logged the most consecutive days of sunshine by the Guinness Book of World Records at 768 days in a row.
It's no wonder St. Petersburg is known as "The Sunshine City," though locals affectionately refer to it as "St. Pete." Situated south of Clearwater Beach, St. Petersburg hugs the Gulf of Mexico and Tampa Bay and boats warm weather and temperate waters.
And although the beach is glorious with plenty of water recreation to choose from, St. Petersburg also features a thriving downtown with fantastic shopping, restaurants, bars, and area attractions spilling into nearby Clearwater Beach.
Exploring the Sirata Beach Resort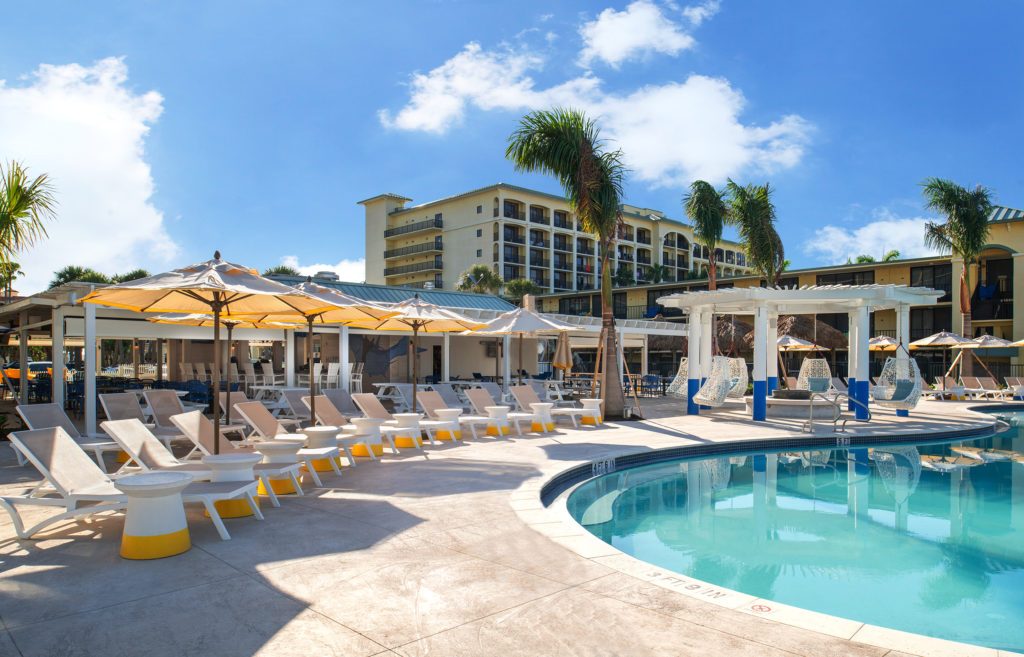 When we stepped into the Sirata Beach Resort, we were given wristbands to access the pools, splash pad, and game room. I was surprised to learn the resort was actually several buildings of accommodations that recently underwent an impressive $15 million renovation.
Our suite was in the Conference Center building, and sunlight poured through the balcony and spilled into the room as we opened the door. We were greeted by a refreshed suite complete with mini fridge, breakfast bar area, separated living room area, and balcony. I said, "Let's just live here," as my eyes rested along the headboards aptly reading "Play" and "More."
That playful attitude is something the Sirata Beach Resort prides itself on, as their renovation included new suites, pools, volley ball courts and a splash pad. It struck me it had been awhile since I had played anywhere, and the beach seemed like a great place to do it.
We headed down to one of three on-site restaurants after getting settled in. The Gulf breeze and live music at Rum Runners felt glorious, and we quickly settled on sharing plates of tacos and chips and salsa, along with their signature Rum Runner drink.
Sirata offers Beachfront Fun
We wandered onto the beach and were greeted by a kiosk inviting guests to rent umbrellas and loungers for all-day use. A playground delighted kids right on the beach who loved both the traditional playground climbing structure paired with a sandy beach.
A Sirata Beach Resort golf cart turned drink-mobile took orders of soft drinks, juices, beers, mixed beverages, and light snacks to serve right at the waterfront.
We decided to take a walk and wander both ends of the immediate beachfront. If you're facing the Sirata Beach Resort, you can jog left until you hit a rocky outcropping and either skirt around it to find more resorts and beachfront around the bend, or go right and head towards the historic Don CeSar Hotel.
Why the St. Pete Beach is so popular
The Don Cesar is where the likes of F. Scott Fitzgerald, Franklin D. Roosevelt, Babe Ruth, and Al Capone frequented. The hotel was once known for its Prohibition-era debauchery but is now a pink palace of glamour where tourists come to stay.
What struck me during our walk is is how accessible St. Petersburg's beachfront is with well-appointed resorts, a few updated motels, and restaurants. We were accustomed to vacationing along the Atlantic Ocean in St. Augustine.
There, beachfront access requires a long stroll down a boardwalk and over dunes from your accommodations, or even walking across the street. Locals explained this had something to do with hurricane threats and the likelihood of inclement weather, whereas St. Petersburg and its nearby cities were largely insulated and protected on the Gulf side.
Whatever the reason, I loved how easy it was to walk from our room to restaurant to beach and feel we were part of the action. Although in this case, the action was really all about relaxing in the sun and sipping on cold drinks.
Sunsets lead to Nights under the Stars
At lunch, our waiter reminded us to come back for Sirata Beach Resort's "Happy Half Hour" with complimentary rum shots and signature Rum Runner drinks at sunset. From 7:30pm to 8pm, guests at the Sirata Beach Resort gather for cocktails and sunset views over the sparkling Gulf of Mexico. Not a bad way to end the day.
As we made our way back to Harry's Beachfront Bar, adjacent pool and kids' splash pad, I wondered how I was ever going to pull myself out of the warm water of the tranquil pool and get ready for dinner.
It turns out there's really no need. You can always take your dinner poolside in one of the tables or loungers, or move into the shaded bar area for a more traditional dinner setting.
Live music filled the evening air as we wandered back onto the beach and made a loop up to Rum Runner's and back to our room. The music died down around 10 p.m. or so, and we watched the night fall from an inky dark blue to black from our patio.
We were perfectly stuffed from appetizers and dinner at Harry's, but an on-site resort shop sells sundries and beach basics like flip-flops and sunglasses. Across the street, a sizeable beach-themed shop sold similar items and included toys, clothes, floats, swimwear, and everything you could need for a day along the water.
Making Waves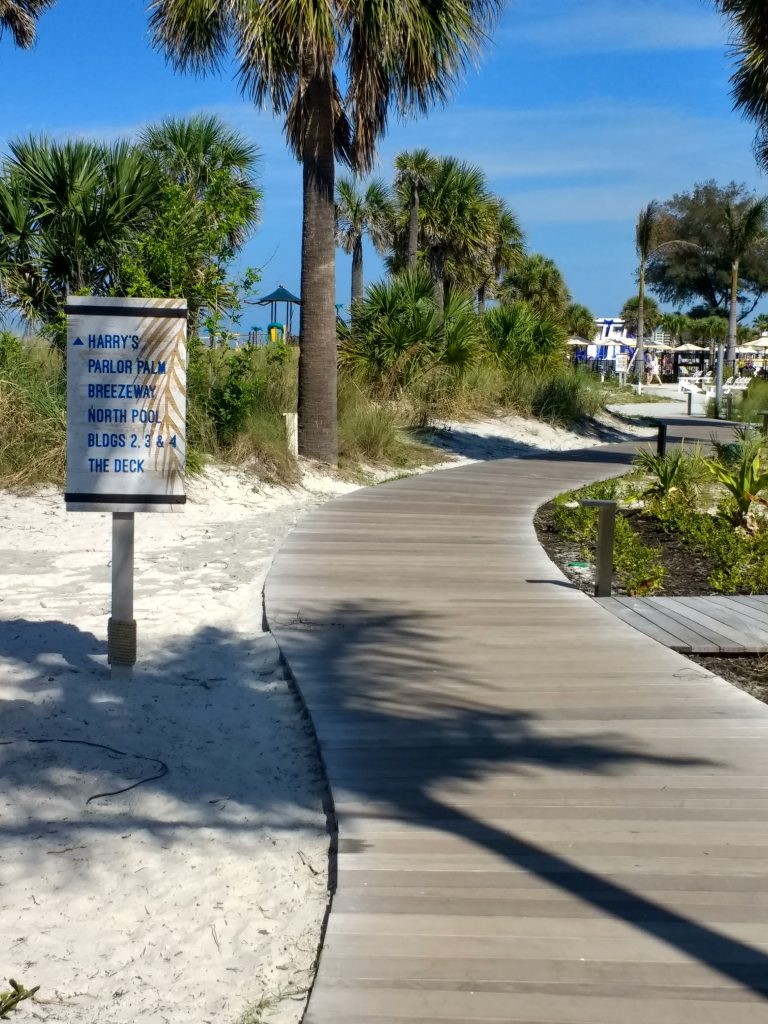 The next morning we decided we had not fully explored the beach, which we did from rented loungers and umbrellas. I may or may not have dozed off in the sun before we grabbed a snack and then went to check in at Suncoast Watersports for their popular Sand Dollar tour.
We met some ladies in line who were on a girls' trips from the Indianapolis area. They promptly told us they were, "Seniors Gone Wild" and struck up a friendship with us.
"Let's sit with them," I whispered to my husband, hoping their infectious carefree attitude would rub off on us. They delighted us with stories of their annual pilgrimage down to St. Pete and proceeded to order beer and cocktails through the duration of our boat trip.
Dolphin Watching and sand dollars
Our captain and trusty assistant on the Sand Dollar tour were fun, lively, and well-informed about the area. They took us to a popular dolphin haunt and said there were only two times in the last several years they had been out on tour and not seen a dolphin.
After giving us a lay of the land, or the water, in this case, we went to Sand Dollar Island. More of an inlet than an island, we disembarked and hunted for sand dollars and shells. The captain gave us pointers on what we were allowed to collect and take off the island (empty shells and white or beige hard sand dollars) and what to leave (brown, fuzzy sand dollars that are still alive).
But if you weren't one of the lucky ones to find a decent sand dollar, Suncoast Watersports sent you home with one of your very own. When we returned, our new friends from Indianapolis were off for adventure, and we made our way back to the Sirata for an early dinner.
Kids Fun plus beach at Sirata Beach
We didn't have our kids on this trip who were happily hanging out at their grandparents in Atlanta, but they would have loved the pools, private cabanas, and game room.
The cabanas were available near Rum Runner's and had a heavy privacy curtain that would make for a perfect place for a nap. Inside, couches offered families a place to stretch and get out of the sun.
On-site ping-pong, floating noodles, and daily activities were also on hand. I was half-sad, half-relieved our kids weren't with us to make "sea slime."
We're pretty sure they would have never wanted to leave the Sirata Beach coastline.
Dali in St. Petersburg
We managed to tear ourselves away from the Sirata Beach Resort the following day and headed to the Dali Museum to see the "Dalí and Magritte" exhibit. This world-class arts venue is a gorgeous museum devoted solely to the work of Salvador Dalí, with accompanying rotating exhibits.
We will return — maybe with the kids — to see "Dalí Live," a 45-minute experience that uses machine learning to create a digital projection likeness of the artist. The charismatic life-sized Salvador Dalí will greet visitors on a series of interactive screens throughout the Museum, personally welcoming guests, commenting on present-day events and speaking about the motivations behind his masterpieces. Dalí will even snap and share selfies with guests before they leave.
Soaking up Downtown
We were delighted to discover our Uber driver was a great-grandmother named "Grandma Rocky" who thrilled in driving a handful of hours in the mornings to meet new people and stay active.
She had moved down from "Minnesnowta" shortly after her husband retired some 20-years ago and managed to entice a few of her kids and grown grandchildren to eventually follow. I noticed we were constantly meeting people from other areas whether the northeast, Australia, or other parts of landlocked Florida who all came to start their lives in sunny St. Pete.
I have to say that kind of spirit is contagious, especially when you see the downtown.
Downtown St. Petersburg is an absolute treasure. This bustling little city is thriving with life, business, coffee shops, fine dining, recreation, waterfront fun and a sophisticated arts scene. Locals look just a touch smug when you comment on how surprised you are that the city is so fantastic from start to finish. Turns out they knew it the whole time.
St. Pete is also seeing a significant influx of millennials and remote, work-from-anywhere workers flocking to this city full of urban amenities, a laid-back vibe, and just a stone's throw to fabulous beaches.
But there's still room for everyone. From Grandma Rocky embarking on a side hustle to the college grads just launching their careers, everyone seemed to get along and honor a shared passion: The magic of living in St. Pete.
St. Petersburg: Know Before You Go
There's really no downsides I can think of to visiting St. Petersburg and enjoying the area. Come to the Sirata Beach Resort from spring through New Year's or so, when weather tends to be picture-perfect.
If there is a "bad" season in St. Pete, it's supposedly January and February, although you never know what their glorious weather will hold.
You can fly into the Tampa airport on a family-friendly budget airline like Spirit. But the St. Petersburg area is also home to Petersburg-Clearwater International Airport with airlines like Frontier making direct, affordable flights.
Splurge on a suite at the Sirata Beach Resort to spread out with your family and enjoy the afternoon, beachside dining at Rum Runners. To get a reprieve from the sun, try Compass Grille for a tasty brunch buffet.
But there's just no substitute for rum drinks and floating noodles for a sunset dinner at Harry's Beach Bar.
Have you vacationed in St. Petersburg or the Sirata Beach Resort? Let us know about your experience by leaving a comment below!
Dear Reader: This page may contain affiliate links which may earn a commission if you click through and make a purchase. Our independent journalism is not influenced by any advertiser or commercial initiative unless it is clearly marked as sponsored content. As travel products change, please be sure to reconfirm all details and stay up to date with current events to ensure a safe and successful trip.
---