If anyone in the family has caught the space bug, make Ohio your road trip destination and explore America's space heritage in style.
Did you know that Ohio, homeland of the Wright Brothers and a few dozen astronauts, calls itself the Birthplace of Aviation (and, by extension, space travel)? The state, within a day's drive of 60 percent of the U.S. population, is promoting its To the Moon and Back road trip in 2019, in honor of native son Neil A. Armstrong and the 50th anniversary of the Apollo 11 moon landing.
While we're big space fans, you don't have to be, just curious. A space-themed road trip is a fun and affordable way to interest kids in STEAM activities. You'll find, as we did, that the down-to-earth Ohioans and rural countryside are part of the pleasure.
So, buckle up for some highlights along this 546-mile route.
Cincinnati Kicks off our Journey to the Stars
Among Ohio's many celestial delights is the Cincinnati Observatory, the first professional observatory in the country. Being able to see the stars through an actual observatory telescope – especially a mahogany and brass one dating back to 1843 – immediately elevates the spirit.
After our visit, we drove up to the AC Marriott Hotel at the Banks right across from the Cincinnati Reds Stadium, parked and walked. Check out the fabulous Moon Walk mural on a huge downtown parking garage wall at 6th Street and Walnut done by Brazilian Eduardo Kobra.
There's a lot to see in Cincinnati, in addition to relaxing with one of the city's many craft beers and a Coney Dog at Taft's Ale House.
The Cincinnati Museum Center's Neil Armstrong Space Exploration Gallery in the newly refurbished Union Terminal train station features artifacts from the Apollo 11 mission, including the inflight jacket worn under Armstrong's spacesuit and the Snoopy cap (for communications) worn under his helmet.
Armstrong Air & Space Museum
Driving on to Wapakoneta, we talked about "First Man" and Ryan Gosling's portrayal of Neil Armstrong, Wapakoneta's favorite son. This small town is devoted to sharing his extraterrestrial accomplishments, yet what began as a tribute to one heroic man has evolved into an educational history of the space program.
The Armstrong Air & Space Museum on the edge of town is a must-see for intergalactic aficionados, with a unique collection that includes a replica Sputnik and moon landing inspired artwork.
There's the actual capsule and Armstrong's spacesuit from the infamous Gemini VIII mission. (When the capsule he was piloting started spinning out of control, his quick response to correct it and save the mission is said to have earned him his place as the Apollo 11 commander.)
Photo ops like planting a flag on the moon, the astronaut helmet etched into the Ladies Room mirror that frames every face, an exhibit of dehydrated astronaut food, the mirrored Infinity Room full of 'stars' and a real moon rock – these are the items that draw all ages into the experience.
Most interesting to some will be the museum-produced video of the Apollo 11 Mission that shows every half hour.
Being the Next on the Moon
The Armstrong focuses on children's programming (more than 140 museum programs each year) with in-classroom visits, Scout sleepovers and frequent workshops designed to get kids interested in science. The May Rocket Weekend, for example, studies all aspects of rocketry from launches to creating your own. In June there's a weeklong Engineering Camp. The annual Festival of Flight takes off with kites and drones in late September; Boo on the Moon and the Grand Illumination take over during the fall and winter holidays.
For an otherworldly experience any time, visit The Armstrong at night, which we could do from our room at the Holiday Inn Express & Suites. Outside, there's a F5D Skylancer experimental aircraft that Armstrong flew. Replicas of the Gemini and Apollo capsules he piloted glow under starlight with the white domed museum, resembling a lunar base station, in the background.
Wapakoneta's Own is First on the Moon
Wapakoneta is a charming small town near Grand Lake St. Marys and Indian Lake, popular summer recreation areas that make a fun road trip stop. Devoted Armstrong fans can see his home, now dubbed "Eagle's Landing" by current owners, and the Blume High School he attended. You may even find a guided tour.
This year, the 2019 special #Apollo50 Summer Moon Festival (July 19-21) will include NASA-supported museum exhibits, demonstrations and activities about historic and future lunar exploration as well as Run to the Moon Races, family activities and visiting astronauts.
Stick around a few days to discover the delights of J. Marie's Wood Fired Kitchen, Winan's Chocolates + Coffees and First on the Moon products and events that local vendors are rolling out for the anniversary.
Anyone up for the largest moon pie on earth?
Dayton, Ohio's Aviation Trail
Dayton is the place to explore space from the ground up, literally, in the same room as an original Wright Flyer III from 1905, the world's first practical airplane. Now a landmark in Carillon Historical Park, Wright Flyer III is located in the Wright Brothers National Museum, a reproduction of the Wright Brothers bicycle shop that serves as a testimonial to their mechanical abilities and ingenuity.
Dayton makes exploring its aviation legacy easy with a 17-site Aviation Trail that spans the history of flight. Ask the kids to get their passports stamped at each attraction in order to win a Wilbear Wright teddy bear in aviator goggles!
USAF Museum's Top 7 Exhibits
Another don't-miss in Dayton is the National Museum of the United States Air Force located at Wright-Patterson Air Force Base. With 19 acres of indoor exhibits (and counting), the USAFM comprises more than 360 aerospace vehicles and the National Aviation Hall of Fame. This stunning collection is free of charge and, miraculously, doesn't rely on taxpayer dollars!
You could spend every minute over three days soaking it all in but if time is limited, here's our short list of must-see's in historic order:
Catch some of the Wright Brothers contraptions.
Admire the WW2 favorite B-17F Memphis Belle.
Read the labels on the Berlin Airlift exhibit.
Ogle the assorted stealth and spy planes.
Get a closer look at four Presidential Airplanes
Immerse yourself in a flight simulator and a 3D movie.
Tour the rocket gallery and mockup of a Space Shuttle. The Air Force's intimate ties to NASA may surprise you as much as us.
Kids Space COSI in Columbus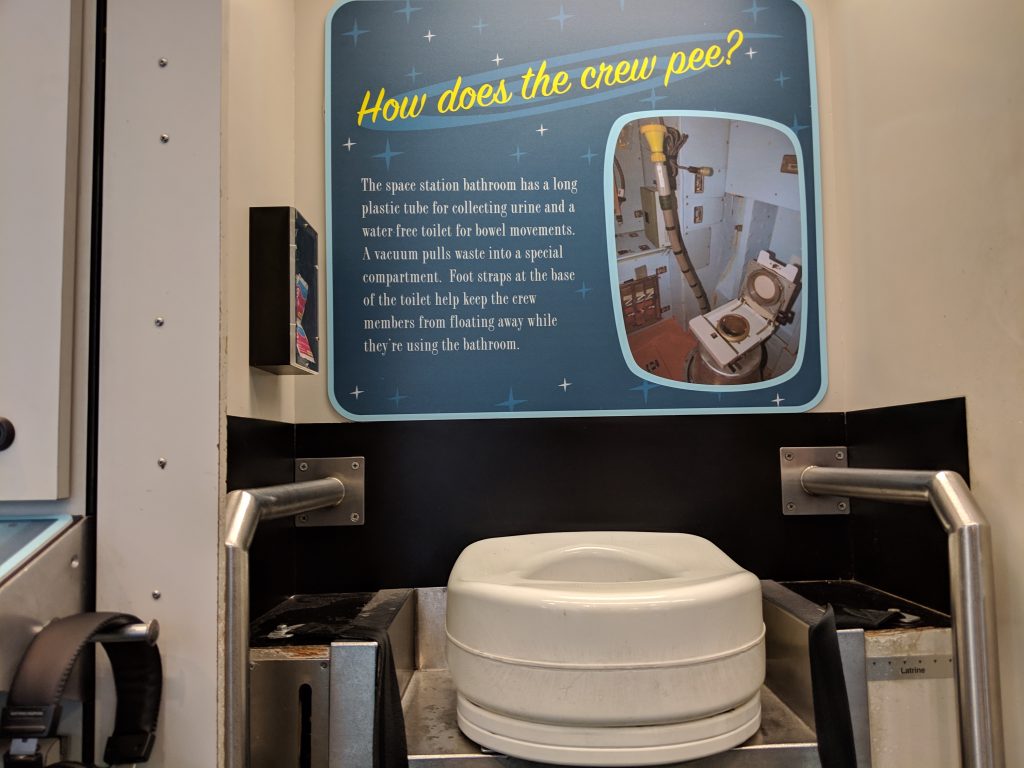 The three-level Center of Science and Industry, a centerpiece of Columbus' rejuvenated waterfront along the Scioto River, explores science, technology and the natural world in dozens of family-friendly ways.
There's much to do at COSI – including learning about gravity on a Highwire Unicycle that crosses the atrium under pedal power — than look at outer space. However, wannabe' astronauts head to the second level Space Gallery next to the Planetarium, where shows geared to the tiniest star-seekers play a few times each day.
There's a replica capsule that looks like the one from the Gemini program. Two can climb in and get ready for an old-fashioned, blinking lights simulation of a liftoff and splashdown.
We loved this: At the end, an authoritative voice intones, "Prepare to debark and sign autographs…"
In the guts of the replica International Space Station (ISS), strap yourself onto a toilet seat as astronauts do and decide which freeze-dried pouch to open for dinner.
Most fun are the three simulators where visitors can sit, grab a joystick with three side thrusters and one descent thruster, and pilot an STS (Space Transport System), MMU (Manned Maneuvering Unit) and LEM (Lunar Excursion Module).
Man's Earthly Needs in Columbus
Columbus is a fun city to park and walk. Across the river from the museums is Milestone 229 for a foodie, locally sourced lunch break with beautiful views. Don't miss the towering chocolate cake for a sugar blastoff.
We were guests at The Leveque Hotel, a stylish combination of office Art Deco – it was the 1927 American Insurance Union Citadel tower –and whimsical décor conveniently located on the waterfront. On the mezzanine, The Keep serves terrific food sourced from Midwestern farmers and bakers. Fashionistas can inquire about the Leveque's "Farm to Fashion" package which invites guests to a sheep farm to felt a scarf with the wool just harvested, then to visit and learn more at a fashion design studio. For real.
By the way, Columbus' COGO bike share is available two blocks away (there are Bird and Lime scooters and bikes, too) and it's an easy way to get around.
Cleveland Rocks Space, too
Cleveland may be best known for the Rock & Roll Hall of Fame but NASA also makes its presence felt along the shores of Lake Erie. (In fact, next door to the Rock Hall.)
The NASA/Glenn Visitor Center inside the Great Lakes Science Center is a treasure trove of interactive space exhibits, featuring an Apollo Command Module, moon rock, artifacts from Ohioan John Glenn's mission and a cool exhibit on living in space. If you're not traveling with someone young enough to download the NASA app "Mission to STEM" just borrow one of the preloaded iPad minis and play.
Note that the fabulous documentary, "Apollo 11: First Steps Edition" will play there in the IMAX Theatre daily from June through August. We stayed all day at this terrific science center.
Women of Cleveland in Space
We found two more Cleveland stars: the International Women's Air & Space Museum and the Children's Museum of Cleveland that are fascinating, especially for women and girls.
The no-frills Women's Museum showcases the astonishing range of women's achievements in flight – plus parenting, cooking, sewing and more — from Amelia Earhart to the Flying Fraulein, Lady Lindy to Sally Ride, to the Women of NASA Lego Set.
You'll find background on the "Mercury 13," women who were involved early on in NASA's Mercury program then abruptly dropped from the astronaut short list. Each intimate story is inspiring, and the museum holds occasional workshops and camps.
And the Children's Museum? This converted Cleveland mansion has been put to use as a delightfully interactive children's learning and play center. Just head to the Wonderlab waterplay area with toddlers for a quick lesson in the science of propulsion – key to the Saturn V's success – and you'll know why your family is here.
There's so much room for more in Space
As for the Rock Hall, did you know that the breakout album "Dark Side of the Moon" by Hall of Famers Pink Floyd was released in 1973? A pioneering psychedelic effort, it thematically explored world issues rather than Apollo 11's harrowing time orbiting the moon without contact. The first Pink Floyd record to reach the US Top 40 charts, it eventually sold 15 million copies.
Sky high in Cleveland
We stayed in the ethereal, reflective glass Hilton Cleveland Downtown overlooking this hip city's public art collection. There's a beautiful indoor pool with views and Bar 32, worth the splurge, serves out of this world bar food with views that reach to the heavens.
Especially during the full moon.
Dear Reader: This page may contain affiliate links which may earn a commission if you click through and make a purchase. Our independent journalism is not influenced by any advertiser or commercial initiative unless it is clearly marked as sponsored content. As travel products change, please be sure to reconfirm all details and stay up to date with current events to ensure a safe and successful trip.
---