The imagination of my two boys skyrocketed as they built and built their adventures in Legoland California, a different kind of theme park surrounded by other fun attractions in Carlsbad, California.
Since 1932, youngsters have enjoyed building their own creations from tiny plastic brick Legos, thanks to Ole Kirk Christiansen, a carpenter from Billund, Denmark. As you can see, even during the coronavirus pandemic — when all the Lego parks are closed and people around the world thank their first responders — Legoland has stayed at the forefront of kids' imaginations.
What do you do at a Legoland?
Legoland California has certainly lived up to its famous legacy, and my kids have been playing with Legos for years. We knew we needed to visit this intriguing amusement park. When we told people where we were going, some looked skeptical.
After all, the idea of most theme parks these days is thrills and chills, high-speed rides, laser light shows, and a roster of cartoon characters that already parade across our TVs, T-shirts and lunchboxes.
They wanted to know, "What is there at Legoland? Piles of Legos lying around?". Well, there are lots of Legos lying around in some regions of the park waiting to be transformed by the creativity of visiting kids, but Legoland is a lot more than that.
More Than Piles of Lego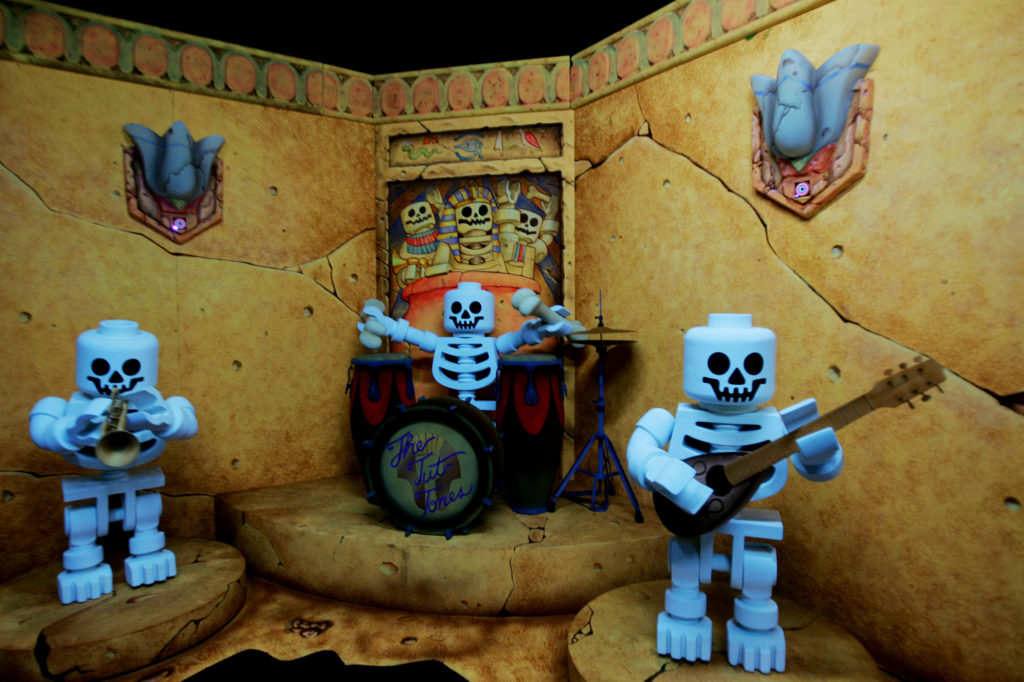 It's a whole new theme park experience geared to the youngest set, often neglected by the traditional big amusement parks. One that allows families to interact, create, and even power the rides themselves. (Legoland is aimed at kids age 2 to 12; though I'd recommend it primarily for the under 10-years crowd.)
Top Rides in Legoland California
Technic Coaster
And while the trend in parks is to keep adding bigger, faster, scarier, and higher-tech rides to attract crowds, Legoland prides itself on its laid-back image. The Technic Coaster is the fastest ride, with top speeds of 35 mph . (Compared to coasters that go up to 100 mph at other U.S. parks, this may seem too tame for kids over age 7.)
Also read: The 10 Best Themeparks For Family Vacations
Dragon
Another favorite coaster is the Dragon, with top speeds of 15 mph. This more scenic than a terrifying trip through a castle. Away from a fire-breathing dragon demonstrates why the rides here are billed merely as "pink-knuckle" in theme park parlance.
Sky Cruiser Gone but Not Forgotten
Instead of screams of fear you'd hear peals of laughter at Legoland. And forget about sitting back and letting your kids just have fun. Here parents get in the act and do most of the activities with their children. Our favorite was pedaling around the Sky Cruiser, an elevated monorail. It has closed to much dismay, but there are many other interactive attractions.
For example, pull yourselves up on ropes 30 feet in the air. Then, take a free fall down on the Kid Power Tower. (I was scared on the latter; my 4-year-old wasn't!)
You can always refer to the list of rides if you intend to visit LEGOLAND California.
Legoland California has a Preschool Playground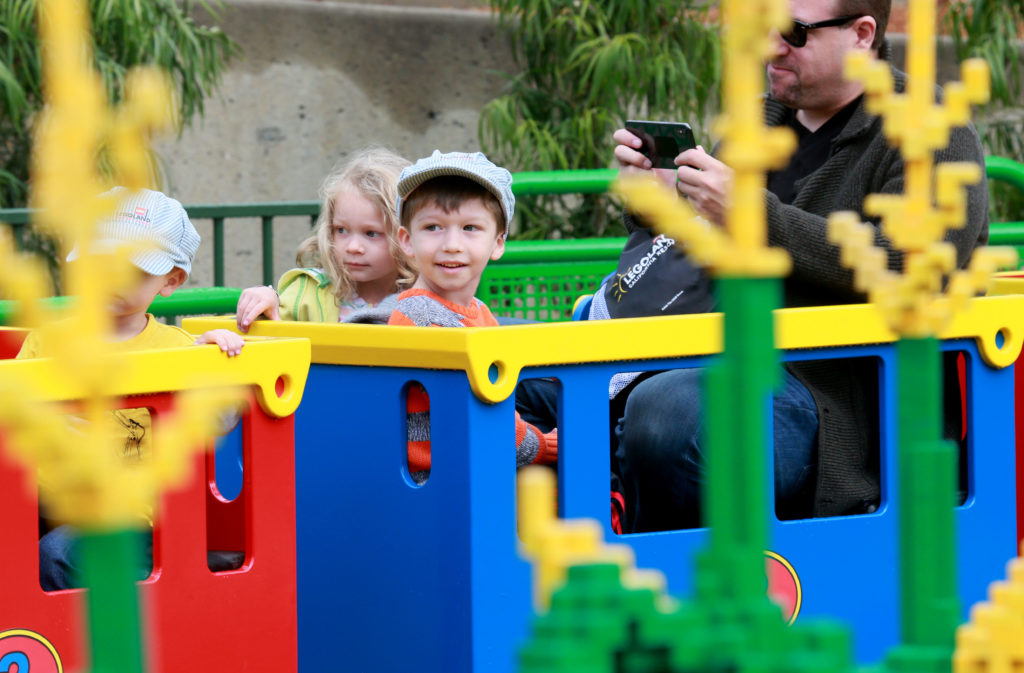 There are lots of rides that even preschoolers can do themselves. These include Junior Driving School where pint-sized dragsters aged three to five can steer electric Lego vehicles on a track and receive their first licenses. Older children drive on a grid of streets complete with traffic lights and stop signs after learning the rules of the road.
The youngest visitors will love the Village Green where Duplo (the larger sized bricks for tiny fingers) reigns. There, even babies can play in interactive fountains perfect for hot summer days, or spend hours in Playtown, a 13,000-square-foot Duplo playscape where they can climb, swing, and crawl through a maze, farm, garage and toddler-size train.
There's also Fairy Tale Brook, where children can ride boats past their favorite characters. Well, all made out of Legos, of course. The designers added a touch of whimsy throughout the park. Look for Prince Charming on his white horse talking into his cell phone. Also, Little Red Riding Hood with a blow dryer in hand.
Legoland = Two Days Worth of Fun
Although you can do this park in one day, it's worth coming back for a second. So you can hit whatever you missed and just look around at all the fantastic Lego creations. The family of ducks floating in a pond may look real, but they're actually made of Legos. They are a life-size water-spraying elephant, a construction worker exiting a manhole, and an alien waiting in line to make a phone call. The Lego dog relieving himself on a fire hydrant does when the sprinklers are turned on!
Miniland is the real highlight of the park. There, toys, art, architecture, and creativity meld and you can truly appreciate the ingenuity. And painstaking work — of the Lego designers. It took them five years and 32 million Lego bricks to create nine detailed areas of the United States in 1/20th Lilliputian scale. (The Empire State Building is still taller than Mom and Dad.)
Complete with sound effects and moving parts, you'll see an animated Lego Mardi Gras parade in New Orleans, cheering crowds greeting the president's motorcade in Washington DC, windsurfers and bungee jumpers in Southern California, a working New England harbor, and window washers scaling a New York City skyscraper.
My kids loved searching for amusing details, like the alligator in a Manhattan sewer and (their favorite) the commuter sitting on a toilet reading the newspaper in a cutaway of Grand Central Terminal.
It was nice to see kids jaded by video games and action-packed cartoons proclaiming everything "awesome." After years of building their own creations out of Legos, my kids were amazed at what the professionals could create with a handful of the same stuff they've got at home.
Legoland is a Theme Park that Inspires Creativity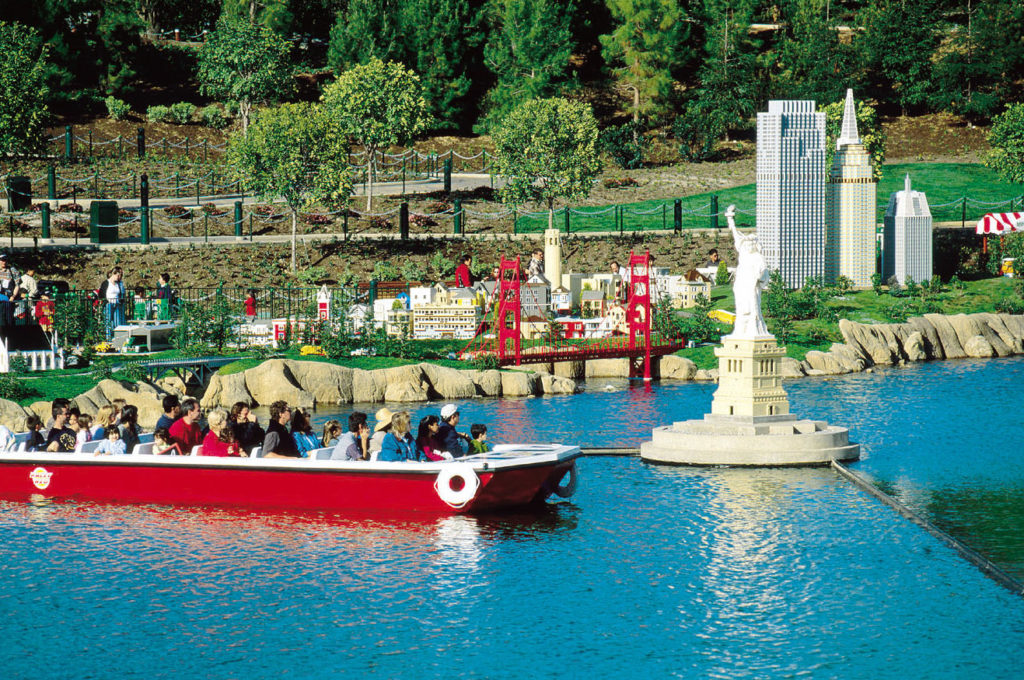 By day's end, they were hankering to build something of their own with the mountains of Legos provided in the Imagination Zone.
My 9-year-old designed a ball-shooting robot programmed by new LEGO computer software and special chip-imbedded bricks, while his 4-year-old brother built a battery-powered windmill and racecar he got to race on a timed track.
Refreshingly, for a theme park, there are no movie or TV tie-ins except to the fun animated Lego films. There's, no glitter, and no junk food. Restaurant menus abound with made-from-scratch gourmet food including breads, salads and pastas. You can even buy bananas, apples and oranges instead of cotton candy.
Yet, despite its pitch as a kinder, gentler theme park, you'll be reminded that it's really a gigantic advertising and marketing tool for the toy products when you hit the gift shop and expensive Lego sets abound.
All I know is that besides having a blast, being surrounded by 50 million Legos set the imaginations of my own two Lego maniacs afire. The minute my sons walked in the door at home they delved into their own stash of the colorful plastic stuff and began building an intricate mini version of Legoland on our dining room table. Now that's more than you can usually expect from a weekend at a theme park.
Legoland Attractions Since Our Family Visit
Legoland California flourishes; so much so that you may want to upgrade your tickets to include a Reserve 'N' Ride app that cuts down on waiting time for popular rides like Safari Trek and Coastersaurus. In addition to its Castle Hotel, the park now features Legoland Waterpark, an adventure-filled water play-zone has everything necessary to cool down on a hot day.
The five-story Lego tower lets kids plummet through tubes to an open pool and the six-person rafts give a thrill to the whole family. Like the Sealife Aquarium, this section of the park requires a separate admission fee.
Toddlers love the Duplotown Playland with its express train. Miniland is always expanding, with the amazing Star Wars Miniland featuring 2,000 Lego models of characters and scenes from Star Wars movies. Including the latest, "Star Wars: The Clone Wars" from which a line of Lego models was built. Lego Movie World is based on the characters from the top-rated Lego movies and features the Masters of Flight ride.
Trip Planning Details for Legoland California and Beyond
When the parks reopen, set your GPS to head to Legoland California near Carlsbad, California, about 30 minutes north of San Diego off Interstate-5.
Note that park designers keep their young audience in mind everywhere, with lower cafeteria counters, kid-high drinking fountains and even family bathrooms. The Baby Care Center offers nursing mothers a place to take a break with rocking chairs, changing tables and complimentary diapers. Don't forget to have the kids bring some minifigures with them because there are lots of opportunities to trade them at sites around the park.
If you want even more time with Legos, there are two super-themed hotels — the Legoland California hotel we reviewed and the royal-themed Legoland Castle Hotel, both right on the premises. If you want to stay nearby, there is the wonderful Omni La Costa resort, several chain hotels and many wallet-friendly choices in the Anaheim and Carlsbad area.
There are many, many other attractions in this area of southern California. Disneyland is about 1 hour north in Anaheim; Sea World and the San Diego Zoo are approximately 30 minutes south.
True Lego fans will be pleased to note that there are now 10 Legoland Parks in the world – the original Legoland Billund in Denmark, Legoland Windsor outside of London, Legoland Florida in Winter Haven, Legoland Deutschland near Günzburg, Bavaria Germany, Legolands in Japan, Malaysia and Dubai, a Legoland Water Park Gardaland in Italy and a new Legoland New York opening in Goshen in 2021.
Also read: 9 Questions To Ask Before Planning A Theme Park Vacation
FAQs about Legoland California
1. What are the main attractions at Legoland California?
Legoland California offers a wide range of attractions, including Miniland USA, Lego-themed rides, a water park, and interactive Lego exhibits.
2. How can I purchase tickets for Legoland California?
You can purchase tickets for Legoland California online through their official website or at the park's entrance. Online booking often offers discounts and convenience. We think the Viator site is great for booking Legoland California in advance of arrival, and it sure saves time waiting in line.
3. Is Legoland California suitable for all age groups?
Yes, Legoland, California, is a great destination for families. However, younger children ages 12 and under will be most impressed by this theme park.
4. What are the operating hours of Legoland California?
Operating hours vary depending on the season. It's recommended to check the official Legoland California website for the most up-to-date information on hours of operation.
Join our vibrant community on social media! Whether you prefer scrolling through stunning visuals on Instagram, diving into a world of creativity and inspiration on Pinterest!, engaging in lively discussions on Facebook, staying updated with real-time news on Twitter, or exploring captivating videos on YouTube, there's something for everyone. 
Don't miss out – click those follow buttons, subscribe, and stay connected to be a part of our exciting journey!
Dear Reader: This page may contain affiliate links which may earn a commission if you click through and make a purchase. Our independent journalism is not influenced by any advertiser or commercial initiative unless it is clearly marked as sponsored content. As travel products change, please be sure to reconfirm all details and stay up to date with current events to ensure a safe and successful trip.
---