Wondering how to go fishing with kids on your next Florida vacation? If you don't picture jon boats and fishing poles when you think about a family beach vacation, this blog is dedicated to you.
If you're one of the many grownups whose kids watched Charlie Brown or Tigger fishing and thought it was a good idea, read on. And if your children imagine Shamu will be the next big catch or think tuna belong in a sandwich, this is required summer pandemic reading. For all of you, I present a brief look at affordable family fishing outings in south central Florida, a delightful respite from summer vacation stress.
Starting Small: Small Fish, Small Ponds
Start small and local. At many resorts and condo complexes along coastal Florida's Ft. Lauderdale – Boca Raton – Palm Beach corridor, man-made ponds stocked with local fish add both scenic appeal and water storage for irrigation systems.
To try out the basics of fishing, visit the nearest hardware store for a cheap pole. (A bamboo stick to train vines on will do fine.) Bait is chaep — bread, bagel bits or frozen shrimp will do. Be sure to supervise children under 8 years with hooks. Take extra bait to attract the herons, cormorants and ibis who are guaranteed to entertain the little ones.
Do the kids love remote learning? Hang out in the hotel room and tune into the Florida Fish and Wildlife Commission's virtual lessons in saltwater fishing and conservation. Appreciate this dry, air-conditioned way to advance your technique.
Piers – It's Great Fishing with Kids at Deerfield Beach
If older kids have a couple of hours' worth of stamina, make the trip to Deerfield Beach at U.S. Route A1A east off Hillsboro Boulevard. The City of Deerfield Beach Park Service maintains a one-mile-long stretch of white sand beach with lifeguards, picnic tables and restrooms, as well as a long, high oceanfront pier which hosts dozens of sport fishermen. It's a fun outing and you can break it up with lunch nearby.
The catch is best in early morning, but throughout the day you can visit the concession at the head of the pier and rent a fishing pole. The pier entry, fishing fee and parking (get your dashboard ticket from the pay kiosks; traffic police are tough!) run a bit more.
However, the Deerfield Beach Pier gives you an opportunity to catch sea bass, dolphin and pompano. If nothing's biting, feed your minnows to the friendly pelicans. From there, head to the popular beachview cafés and resturants or walk down to the sand for some castle building and swimming.
Charters – Atlantic Ocean Fishing Charters
Trying to entertain bigger kids or kids at heart? We'd already visited the pier with a 9-year-old, who quickly turned in his rod 'n' reel for a boogie board. Therefore, we decided the next time to go fishing with the kids by boat. The freedom to speed, sightsee, or pursue more tranquil pleasures would provide enough entertainment for our three generations of fair weather anglers.
So it was on a recent trip that we interviewed several local fishing charters operating from The Cove Marina, on the Intra Coastal waterway at Hillsboro. To interview them, search online, then call for available dates (reservations required with limited capacity trips) and double check prices by phone. The captains of several private boats in Hillsboro and, further south in Pompano, promised fun for all ages who join their Atlantic fishing expeditions.
Your Instagram feed may think fishing with kids is priceless, but we found these captains charge groups of six upwards of $600 for quality fishing gear (though true fishers bring their own.) Yes, rates include bait, a sporting chance to catch swordfish or sea bass, and four hours of sun and fun on the high seas. However, seasickness is not unheard of.
Four hours? High seas? Too rich for our youngblood. Instead, we explored the local one-day fishing clinics designed for young fishers.
Fishing the Everglades with 3 Generations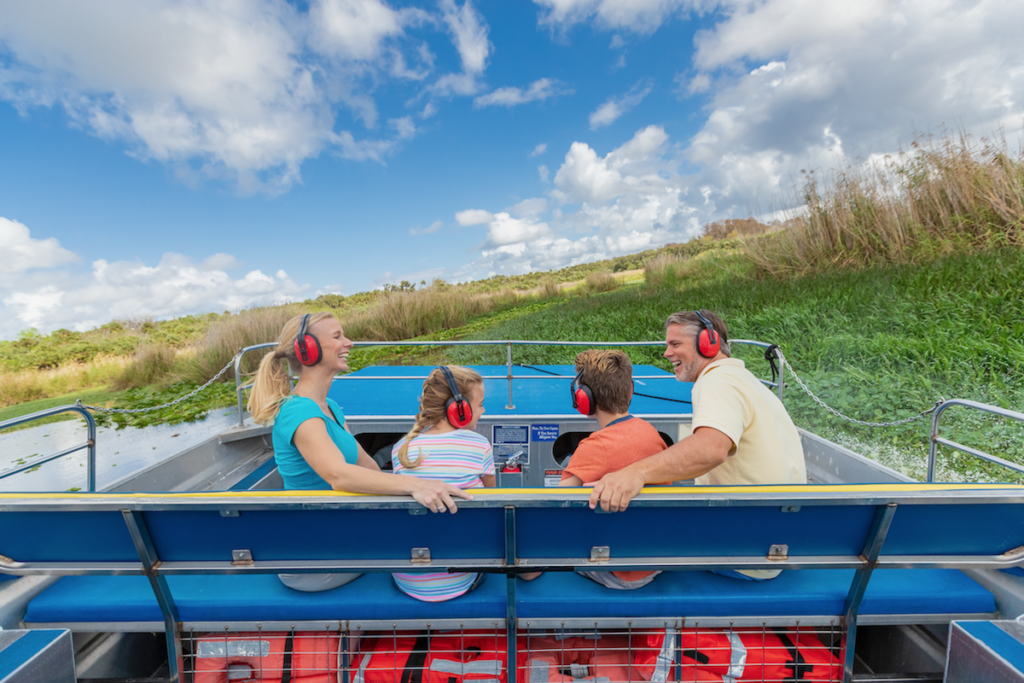 Better judgement steered us to the Sawgrass Recreation Park off Interstate 75 in the northern Everglades. Everglades airboat tours is one of their top activities, plus there's mining for gems, shopping for plush stuffed alligators, eating and yes, boat rentals, fishing and even bargain camping sites.
Fishers take note: at Sawgrass, a busy concessionaire rents jon boats and fishing gear, sells bait and serves "authentic" overpriced Gator Fingers at a dusty snack stand. The flat price of $69 for four hours of boat rental and a map seemed right, but didn't stay flat as we added a rod, two pots of worms, and the deposit.
Diane, behind the concession counter, explained that any fishermen over 18 would need to get a state fishing licence. Since we had no intention of catching anything, we picked up a free copy of Florida Fish and Game Finder and set off with her hand-drawn map of the Sawgrass canals.
Zen & The Art of Fishing
The Zen aspect of the sport — the patient waiting — is part delightful and part deadly. The Everglades' endless wave of sawgrass is remarkably beautiful and incredibly monotonous. Four hours in a Boston Whaler gave us plenty of time to contemplate fishing's contradictions.
Before you doze off, some nifty quotes come to mind:
Izaak Walton mused, "Doubt not but angling will prove to be so pleasant that it will prove to be, like virtue, a reward to itself."
From Washington Irving: "There is something in angling that tends to produce a gentleness of spirit, and a pure serenity of mind."
We paused under some elusive cloud cover in the middle of the 50-foot-wide channel for grandma's tuna sandwiches (the irony) and iced tea. Revived, our young angler baited some hooks with filthy earth worms which loved escaping their papercup home.
They reminded us of what Shakespeare said, "The pleasant'st angling is to see the fish cut with her golden oars the silver stream, and greedily devour the treacherous bait."
Speeding along, noisily towing a fishhook in our wake, was not productive. So, we paused again, letting down the useless beercan-shaped anchor and drifting lazily into the razor sharp sawgrass. Grandma began recounting the tale of a young boy who fell overboard recently, only to be gobbled up by a passing alligator — the stuff of dreams for Florida tabloids.
Fishing With Kids Requires a Digital Boost
Depending on the age of your fishing students, the experience will probably need a digital boost. For us, our new digital camera provided some distraction from the hot sun overhead. Suddenly, a loud splash announced a large (for us) alligator, slinking from the bank to the shallows at our bow. Could we capture on film how close he had come? Would one of us fall in and get eaten?
The tension skyrocketed as the digital camera rose from its camera bag. Whispering, we determined that the gator was really lying in wait for two small ducks who were grazing nearby. He lay still for endless moments while he was photographed, zoomed into, even approached by oar. It was a fascinating exercise but incredibly inert. We decided after a half-hour or so to move on and fish.
Although neither the tourists nor the pros whizzing past in their airboats claimed to have caught anything when queried, our Fisher King landed a 16″ barracuda — "ugly fish" he named him. We were thrilled, the victory of the catch ever so sweeter for having come in a somnolent period aboard our vessel. Unlike other anglers, who blamed their poor catch on the cold weather, he was a hero!
Very, very proudly, self-esteem boosted for life, he took the tiller and turned for home.
Florida Fishing Resources
Once upon a time, I was part of one of three generations who embarked on a family fishing trip in Florida's Everglades… Fishing with kids is one of the best activities you can do during this pandemic summer. Hooked? Here's more online help to get your tiny anglers started.
Gone fishin? Let us know what you catch in the Comments field below.
Dear Reader: This page may contain affiliate links which may earn a commission if you click through and make a purchase. Our independent journalism is not influenced by any advertiser or commercial initiative unless it is clearly marked as sponsored content. As travel products change, please be sure to reconfirm all details and stay up to date with current events to ensure a safe and successful trip.
---