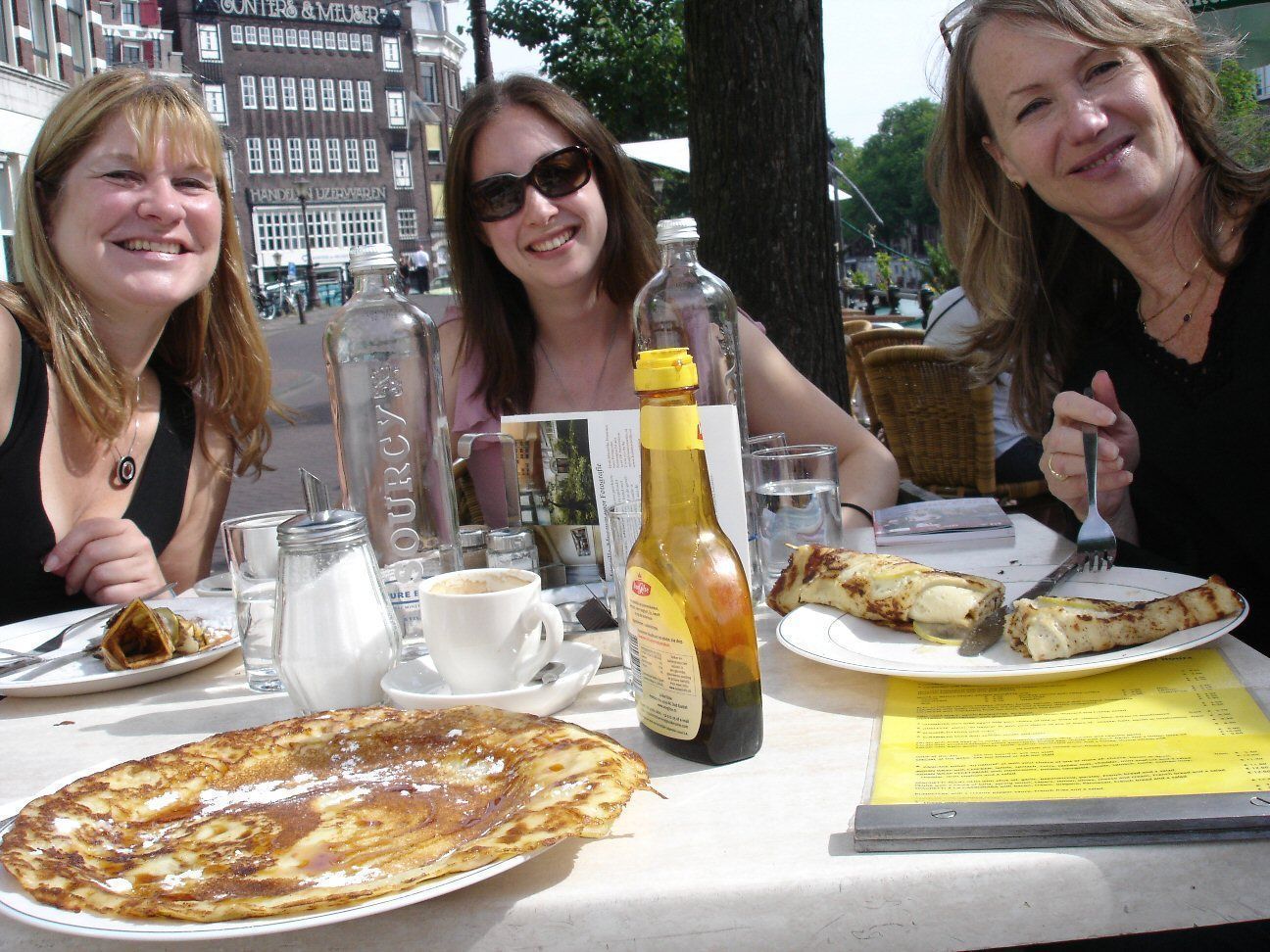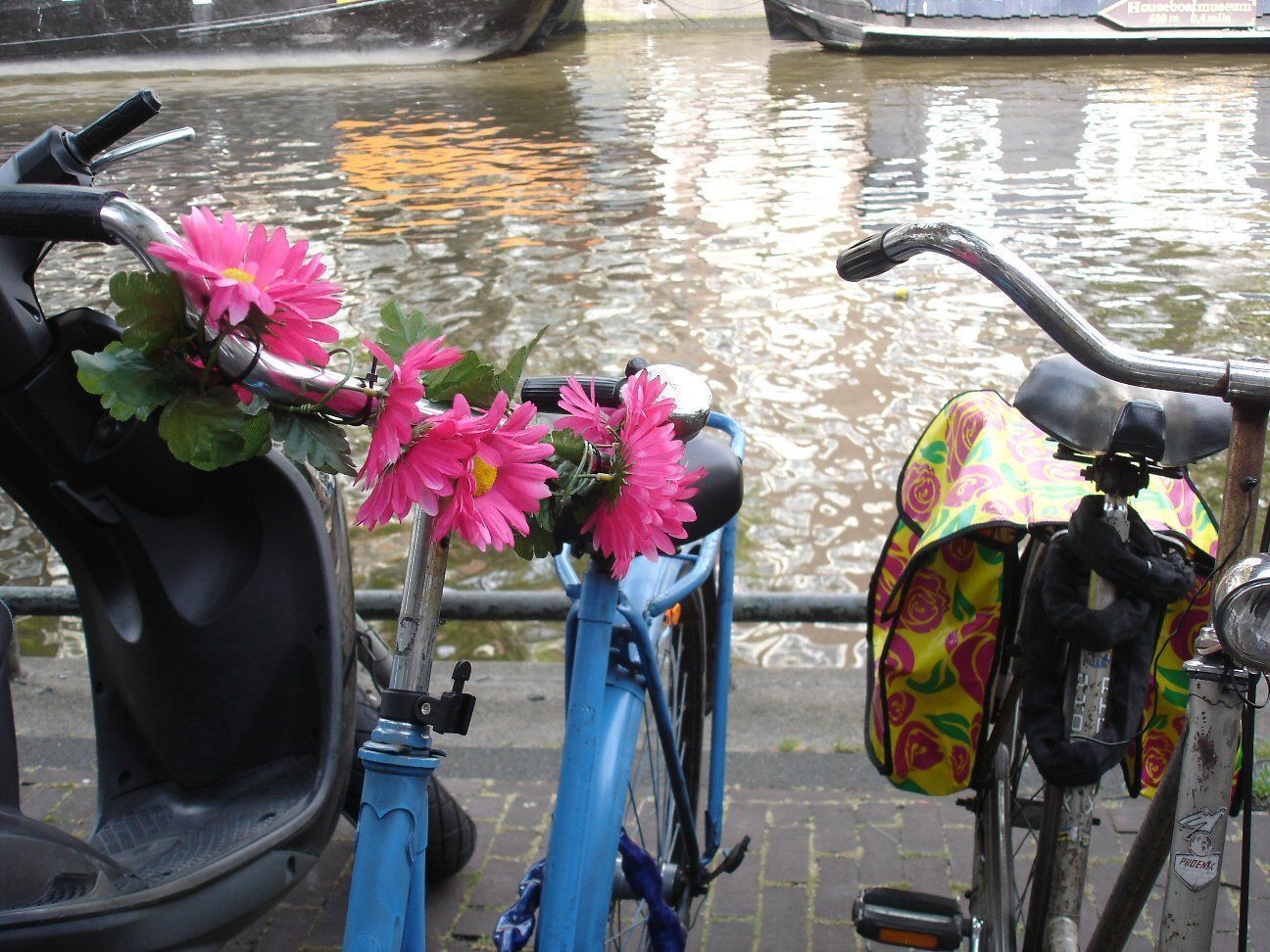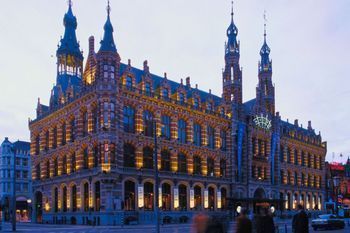 With new Eurostar highspeed train service direct from London to Amsterdam, Holland's colorful cultural center and Europe's party capital will see more tourism than ever. Families, however, can take a different path through the city's intricate canal network and historic cobblestone lanes to find a huge array of attractions.
Only half the size of Maine, tiny Holland began as a fishing village in the center of Europe's marshy lowlands. After the founding of the VOC (Verenigde Oost Indische or Dutch East India Company) in 1602, overseas commerce and conquest became Holland's main source of wealth. Holland and the Netherlands Antilles (Bonaire, Curacao, Sint Maarten, St. Eustatius, Saba) are remnants of the Dutch empire also known as The Netherlands. While The Hague is Holland's political center, picturesque Amsterdam is Netherlands' capital, and a thriving city of 17th-century homes encircled by canals emanating from the Amstel River.
Some families will prefer to bypass Amsterdam's legal Red Light District (half nude women lounging in glass display windows or doorways), the Homomonument to same sex love, "coffee shops" (which in reality are cannabis cafes), and other eye-opening aspects of this ultra-liberal city. Those who narrow their focus to just Amsterdam's maritime culture and excellent museums won't be disappointed — all ages will find something to love here. The I Amsterdam tourism site is a great resource, but what follows is the FTF short list of favorite, kid-friendly spots for explorers.
For for Little Ones
(up to 8 years)
Netherlands Maritime Museum Amsterdam
Kattenburgerplein 1
1018 KK Amsterdam
+31 (0)20 52 32 222
"Pirates, ahoy! Ahoy, thee pirates! I'm coming!" So calls out 10-year-old Harold from Manchester, England, as he races down the pier to the the beautiful 1749-era M/S Amsterdam. The full-size cargo ship is a replica of VOC vessels used to trade with former Dutch colonies. Today, safely moored on the Amstel River outside this museum, it is Amsterdam's favorite playground, open for tours of the captain's cabin, the galley and the sailors' sleeping quarters. Inside, the enormous museum is a bounty of ships' models covering 500 years of maritime history. Recent renovations brought in virtual reality exhibits, hands-on displays for families (like the whale's mouth open wide for exploration), a one-hour audio tour of highlights, studies of ships' decor, nautical paintings and more.
Tropenmuseum
Linnaeusstraat 2 next to Oosterpark
+31 (0)88 0042800
This is a remarkable collection of more than 340,000 ethnographic objects from Batavia (now Jakarta, Indonesia ruled by the Dutch for 150 years), Africa, Latin America, and the Caribbean (all conquered by the WIC/ West India Company) exhibited in imaginative ways, ranging from photo collages with indigenous music; to costumed wax figures; to tableaux set in huts, yurts, longboats and more. The special Tropenmuseum Junior wing is packed with hands-on learning experiences. Kids can board an airplane headed to Morocco and meet Moroccan children and try local crafts projects. Weekends, preschoolers with parents can tour the Kartini Wing, where crafts supplies await. Daily, except Monday, ages 4+ have a special learning route through exhibits, and ages 8+ can join the hour-long guided museum highlights tour.
The fun continues nearby at the Dappermarkt Street Market, the city's cheapest flea market.
Artis Amsterdam Royal Zoo
Plantage Kerklaan 38-40
1018 CZ Amsterdam
+31 (0) 20 52 33 694
Amsterdam's zoo and botanical garden is rolled into one large center city park. There are a variety of animal habitats to satisfy most animal lovers, and we especially like the Predator Habitat at the Kerbert Terrace, occupied by wild cats since the 1920s. In addition to many native plants and trees, visitors will also delight in the Artis flower collection, including the country's famed tulips. (Do let the kids know that they'll see as many plant species as animals.) The entry ticket isn't cheap, but if you plan a full day here you can visit the planetarium and aquarium, and a discounted admission applies to the fascinating Micropia, suited to older kids (see below). Check their website for a schedule of English language tours.
Fun for Older Kids
(ages 8 to 16)
Anne Frank House
Prinsengracht 263-267
+31 (0) 20 5567 105
This row house nestled alongside a quiet canal was home to the celebrated teen author Anne Frank. Her stirring diary of life under the Nazi terror was discovered after her death and has been translated into 55 languages. Words cannot convey the experience of touring the family's secret chambers; it's as evocative for children as it is for adults. We recommend that you book your tickets to enter (from 9am to 3:30pm) through their website, two months in advance of your visit. Visitors without tickets are admitted from 3:30 pm until clsoing time, and wait in a queue which can be quite long.  After the tour of the tiny space in which her family was hidden, be sure to explore the modern museum about her next door. Older children will want to download the museum's app with her stories.
The Van Gogh Museum
Museumplein 6
+31 (0) 20 5705 200
This admittedly remarkable collection is a tough-to-justify stop on any youngster's itinerary, though severed ear stories may give you enough time to glide through several galleries. Fans of Vincent Van Gogh's work will be delighted at the breadth of the collection, which showcases the diversity of talent exhibited by this painter before depression overcame him. Use your IAmsterdam Card for an admission discount and you'll feel free to drop by for a quick look. Open daily from 9am to 5pm and Friday evenings until 10pm.
Amsterdams Historisch Museum and Neighborhood
Kalverstraat 92
St. Luciensteeg 27
+31 (0) 20 523 1822
The Amsterdam Museum has occupied the former Civic Orphanage building since 1975, showcasing archeological finds and objects from the daily life of residents dating back to 1250. Its hidden location is the perfect starting point for a walking tour of this fascinating part of town. All ages can appreciate the museum's sophisticated interactive displays before heading out to explore the surrounding lanes, few of which see the tourist hordes found on Dam Square. Woven between the traditional canal houses and religious structures are light-filled galleries, covered walkways and canals filled with coot, small black waterfowl who agressively nest on houseboat anchors and boat bumpers. Back in the 7th century, Amsterdam was a city of fewer than 80,000 inhabitants, and Beginjhof Lane, its gardens and the English Reformed Church in the museum's neighborhood transport visitors back to this era. The original red brick residences for single Catholic women are here, across from the Beginjhof Kapel, a Catholic chapel opened after the church became Presbyterian following the Reformation. Look up to see how the sculpted gable stones denote the occupation of each house's original owner. Wooden houses are often more than a century older.
The Dutch Resistance Museum
Plantage Kerklaan 61
1018 CX Amsterdam
+31 (0) 20 620 2535
This museum is dedicated to telling the story of the Netherlands during the Nazi occupation, from May 1940 to May 1945.  It answers questions about how the Dutch were affected, and how they responded to oppression. The museum also presents a separate children's exhibit geared for ages 9 and up, which presents information about the resistance movement, going into hiding, acquiring false identity papers and more through the stories of four children who lived during the war years.
NeMo
Oosterdok 2
1011 VX Amsterdam
+31 (0) 20 5313 233
NEMO, a fabulous, blue-green building which houses the Amsterdam science museum, is designed to look like a ship's bow jutting out over the water in the city's Docklands neighborhood. Hands-on activities teach visitors about the sciences and technology in an exciting four-story space, with labs and exhibits covering many fields of science, technology and engineering. NeMo welcomes all ages, but their target audience is 4 to 16-year-olds, and their parents. Closed Monday.
Micropia
Artisplein
Plantage Kerklaan 38-40
Explore the wonderful world of microbes at Amsterdam's newest science museum whose slogan is "shows the invisible." You'll begin to understand just how vital the mighty yet miniscule microbe is at this highly interactive, incredibly innovative museum. Though invisible to the naked eye, visitors have the opportunity to get to up-close with these omnipresent organisms. The Kiss-o-Meter shows how many microbes are transferred during a kiss and the space-age body scanner allows you see the microbes that are present on your body. Some kids will love the gross-out factor of the animal feces display and the petri dishes oozing with bacteria. Real research goes on at Micropia, and lab technicians engaged in experiments are available to answer your questions. You'll leave looking at bacteria in a whole different light. Micropia is conveniently located next to the zoo and all exhibits are in English.
Hermitage Amsterdam
Amstel 51
1011 AB Amsterdam
+31 (0) 20 530 74 88
+31 (0) 20 530 87 55
The Hermitage Amsterdam shows remarkable artworks from the collection of the State Hermitage Museum in St Petersburg and, of the three major temporary shows each season, one is often inspired by the historical ties between the Dutch House of Orange-Nassau and the Russian Romanovs. Compact and well laid out, it's ideal for a family visit, with a pleasant snackbar and garden restaurant. Best yet, there's often special children's programming because the separate Hermitage for Children has workshops and classrooms that cater to grades 4-6, offering online classes, special teacher tours, and on-site workshops where children can explore their own artistic talent. Take advantage of being there to explore the Plantage neighborhood of parks, gardens, other cultural institutions and the Zoo.
Fun for the Whole Family
As charming as Amsterdam is, easy-to-locate transportation and well-sign-posted streets are not its strong suit. That's why a privately guided city tour — cheaper would be a bike or canal boat group tour) is the best way to maximize sightseeing for the family with limited time. Strawberry Tours offers "free" tours with local guides who cover a variety of themes, and participants pay whatever they feel is appropriate for their experience.
Yellow Bike Guided Tours
Nieuwezijds Kolk 29
1012 PV Amsterdam
+32 (0) 20 620 6940
"Yikes, Bikes!" Amsterdam's official bike lanes parallel the sidewalks, so pedestrians always have to look both ways before venturing into the street. In a city with 1,200 bridges and more than 550,000 bicycles, a guided group tour by bike might be just your family's speed. Yellow Bike City Bike Tours offers two and three-hour city rides and four-hour countryside rides. Holland is a delightfully flat country and these are excursions that even young children can manage. There are also many bike rental shops in different neighborhoods and, especially on weekends when traffic is quieter, children can manage the bike lanes easily.
Blue Boat
Stadhouderskade 30
1071 ZD Amsterdam
+31 (0) 20 679 1370
This company (others recommended by the tourist office include Canal, Rederij Kooij and Rederij Plas) offers traditional guided canal tours in the historic center of the city, as well as cruises through the Eastern Docklands neighborhood, supper cruises and more, on comfortable, air-conditioned sightseeing boats. Families can do some of this cruising on their own on a Hop On/Hop Off Canal Bus, the public ferry system that departs from the Central Station and sails throughout the city. Gs Brunch Boat is another option, a converted barge serving food on weekends as it glides through the canals.
Flower Market : Bloemenmarkdt
Singel between Muntplein and Koningsplein in the city's southern canal belt
1071 AZ Amsterdam
The Flower Market, especially in spring and summer, is a canalside treat of color and frangrance and the only floating flower market in the world. In addition to beautiful cut flowers and houseplants, families will find silly souvenirs ranging from tiny Delft blue ceramic clogs to plastic windmills and coffee mugs. It's open daily, busier on weekends, and best early in the day. Ignore the tulips or other flower bulbs; readers planning to bring them into the US should only buy at the airport, where florists have them "certified" to clear US Customs' stringent agricultural laws. (Other easy-to-carry gifts include Dutch biscuits and packets of those wonderful colored sprinkles that the Dutch serve on breakfast toast; there's a huge grocery store at Schipol Airport.)
Rijksmuseum
Museumstraat1
+31 (0) 20 6747 000
Though famous for its Dutch Renaissance masters, this museum with its varied collections is also successful with kids. Be sure to admire the intricate miniatures and the awesome 17th-century "Doll's House of Petronella Oortman," all fascinating for anyone over age 5. The Asiatic Art collection features some X-men style Japanese Edo armor worn by samurai; there's fashion, contemporary European art, and a large Dutch History collection with arms and armor, and models of VOC trading ships, and the model double-decker William Rex man-of-war ship with its 74 guns. Plan ahead and book any of their family tours or multimedia adventures, given daily, and see the place with a guide. The gardens and fountains can be enjoyed afterwards.
The Jewish Historical Quarter
Located between The Plantage and Old Town, the Jewish Historical Quarter is home to several unique museums, monuments and many other sights of interest concerning the history and relationship of Jewish people with Amsterdam.  The Jewish Historical Museum and the Jewish Historical Museum's Children's Museum are located at Nieuwe Amstelstraat1 and are housed within four grand synogogues. Through artifacts, art and interviews, the museum explores the vibrant community and tells the 300- year-long story of Jews and Judaism in the city.  The Portuguese Synagogue is located at Mr. Visserplein 3.  Dating from 1675, it continues to be an active congregation. The impressive interior is illluminated by large, candlelit chandeliers.  The complex also includes the oldest Jewish library in the world, a collection of ceremonial artifacts, a Rabbi's study, a Memorial Room and a Sukkah used during the Jewish harvest festival Sukkot.  The National Holocaust Museum and the National Holocaust Memorial are located at Plantage Middenlaan 24 and 27. The museum retells stories of the victims of the Shoah (Hebrew for "catastrophe") in personal accounts and artistic expression. The memorial lists the names of all of the 102,000 Jews and 220 Roma and Sinti who were murdered.  Other points of interest in the neighborhood include a statue to commemorate the 1941 protest against the German round-up of Jews and resistance fighters, former synagogues, orphanages, schools, a hospital and a poorhouse. Tickets purchased at one of the major sites allows you entrance to all of them.  There is a kosher cafe as well as museum shops.
The Eye Film Museum
IJPromenade 1
1031 KT Amsterdam
+31 (0) 20 5891 400
Located on an island, getting to this interactive cinema museum is part of the fun. Catch the free ferry from the train station and in five minutes you'll arrive at this futuristic building (opened in 2012) with striking views of Amsterdam. Families should head to the lower level for the Panorama permanent exhibit. Junior cinephiles will go gaga for the Pods; these mini-cinemas with cozy sofas are where you can act in a movie scene on a green screen or try your hand at movie trivia. There are activities, screenings and workshops for kids ages 2-12. Admission to Eye Film's Panorama, open daily, is free.
The NDSM Wharf District
Free ferries from Central Station Pier to NDSM Wharf
The Dutch Dry Dock and Shipbuilding Society (NDSM) originated with local ship building, ship repair and, later, bridge repair operations on Amersterdam's eastern islands dating as far back as 1894. Over time, the operations merged and relocated to one of the city's hippest neighborhoods for nightlife, Amersterdam Noord. Go before sunset to explore the neighborhood's restaurants tucked into warehouses and shipping containers, shops and offbeat residences. Both Brooklyn and Pllek are popular as casual venues with live music, good food, and lots of room to run around.
De Zaansche Molen Windmill Village
Museumlaan 18
1541 LP Koog aan de Zaan
+31 (0) 75 6215148
Anyone who's enjoyed the sight of windmills in the Dutch countryside will love a day's outing to this village of windmill powered homes and mills, located about a half-hour by commuter train from Central Station. See 13 industrial windmills preserved in the same working condition that made them stars of the 1920s Zaan district, then one of the largest industrial zones in the world. Under the auspices of the Zaan Windmill Authority, skilled craftsmen operate each of the mills as a tiny museum, where all ages are welcome to ask questions while watching the production of grains, oils and other goods. Roam the landscaped paths and enjoy the view, dine in their traditional restaurant and shop for souvenirs; it's all here and makes this place very lively.
De Poezenboot
Singel 38G
1015 AB Amsterdam
+31 (0) 20 625 87 94
Families who are missing their kitties at home will enjoy a visit to this unique cat shelter located on a canal boat.  Sheltering abandoned and found cats since 1968, the Poesenboot is both an adoption center and a permanent home.  The boat is fully-equiped with bookcases lined with cat beds, cozy window seats, toys, climbing structures and even an outside terrace. The organization also aids in neutering as many cats as they can and they re-home 250-300 cats each year.  The cats welcome visitors from 1pm to 3pm except on Wednesdays and Sundays.  Donations are very welcome.
For More Amsterdam Information
Central Station is the large train terminal with shops, banks, phone card vendors, the main trolley terminal, canal boat piers, and a Tourist Office. They sell the IAmsterdam Pass, a terrific value; providing discounted transport and tours, free or discounted museum admissions, restaurant bargains, and even a city map.
Dear Reader: This page may contain affiliate links which may earn a commission if you click through and make a purchase. Our independent journalism is not influenced by any advertiser or commercial initiative unless it is clearly marked as sponsored content. As travel products change, please be sure to reconfirm all details and stay up to date with current events to ensure a safe and successful trip.
---