Home to Dolly Parton's Dollywood theme park, Pigeon Forge, Tennessee boasts dozens of other country-coated attractions and one of the largest centers of outlet shopping below the Mason-Dixon line, making it a huge vacation destination for the southeastern United States.
Pigeon Forge & the Great Smoky Mountains
First settled late in the 18th century by mountaineers from the Carolinas, Pigeon Forge has always been closely tied to its rolling, towering next-door neighbor, the Great Smoky Mountains. President Coolidge created America's most visited national park, Great Smoky Mountains National Park and ever since 1926, travelers have been coming through Pigeon Forge as a means of gaining access to the beautiful land preserve, which lies just a few miles outside of town.
When tourism in the region really began booming in the 70s, Pigeon Forge took on a life all its own. And what a life. Down-home country flavor is what it's all about, and a glitzy, airbrushed, neon-lit blanket is thrown proudly over all of it. But after scraping just below the surface of Pigeon Forge, I discovered a thriving respect for simple living, good times, patriotism and a refreshing sense of Americana.
Forgetting for a moment the main draws in Pigeon Forge — the theme park, the national park and the shopping — I found simply wandering up and down the Parkway (the main drag that runs through town) was an adventure unto itself.
Lined with water slides, go-cart tracks, arcades, and souvenir stands, there is plenty of mindless fun to keep the kids amused for awhile. Weekends, the real spectacle sets in. Locals from all over the county drive in on the Parkway, pull off and park on the shoulder, bring out folding chairs (and maybe a grill) and simply sit and watch the traffic pass. It's quite a scene. Many folks arrive in beautifully maintained classic cars, and participate in the car shows that are often organized by the town. But classic cars or not, this seemed to be a weekly ritual that would never skip a beat.
Other attractions include 'chains' seen elsewhere like the indoor amusement zone, WonderWorks, and Magiquest, with blacklight golf, laser play and interactive role-playing games. Rain or shine, I imagine if you visit Pigeon Forge during the summer, there will be at least a few locals to welcome you from the side of the road, country music blaring from their portable radios.
Choice Tunes & Good Eats in Pigeon Forge, Tennessee
Country music, as a matter of fact, is one of the predominant themes in Pigeon Forge. Picture yourself in a country style Branson. A bit farther on down the Parkway sit a number of large, ornate theaters, each housing resident musical performers with varying degrees of notoriety who entertain almost every night, all year long. I've never been a fan of country music myself, and so before entering formerly the Louise Mandrell Theater.
I promised myself I would keep an open mind. To my surprise, the show was a blast!
Country and gospel music dominated the performance, but there is a little bit for everyone (unless you're into heavy metal). To be honest, Mandrell's tribute to American veterans went a little too far for me by flashing actual war footage on a backdrop while she sang a patriotic hymn, but the older generations who were well represented in the audience seemed to be moved.
[Editor's Note: The Louise Mandrell Theater is currently The Miracle Theater which features a show with biblical and Christian themes.]
Dolly Parton's Kingdom: Dollywood
One can't talk about Pigeon Forge without talking about the patron saint of the town, the woman who put the place on the map. Of course, I'm talking about Dolly. Ms. Parton grew up in humble surroundings in the Great Smoky foothills just outside of town. After she hit in big, Dolly came back to Tennessee and did a lot for her hometown. Aside from the charitable foundations that she has created that work directly with Smoky Mountain communities, Dolly provides instruments and brand new uniforms for the high school marching band that she was once a member of. I saw the band parade down the Turnpike in Dolly's honor; they looked great.
After the old Silver Dollar City theme park went bust a number of years ago (It is now located in Branson, Missouri), Dolly made her biggest stamp on Pigeon Forge and in 1986 opened up Dollywood (800/365-5996) on 118 acres the original park occupied. Today, with over two million visitors each year from April through December, Dollywood is Tennessee's most popular man-made tourist attraction, and with good reason. With a mix of top-flight roller coasters, authentic on-site crafts demonstrations, musical performances and games and activities for children of all ages, the theme park has captured the spirit of the Appalachian culture.
Dollywood has Fun Rides & Toddler Play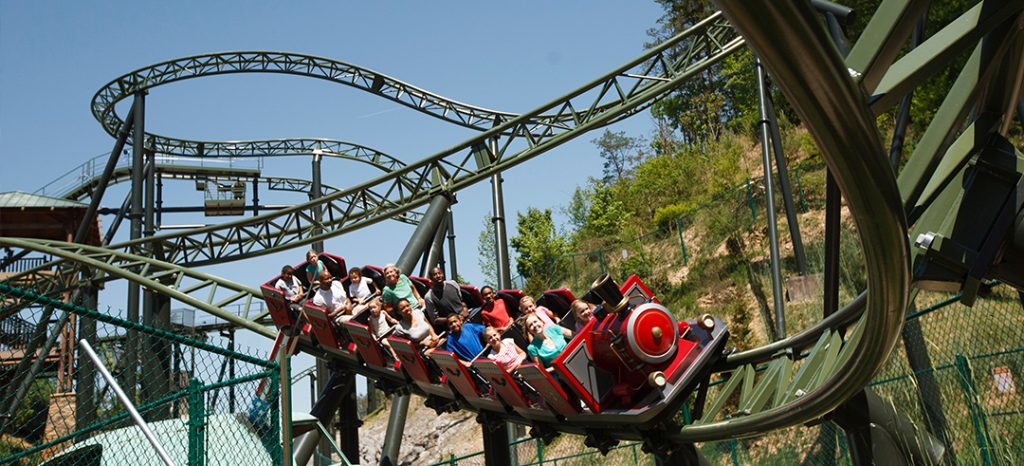 Wildwood Grove recently opened and it features trees and plants native to East Tennessee. Attractions there include the Wildwood Tree, a 55-foot tree that will grow from a cluster of natural rocks. Families will love the Dragonflier roller coaster but if you prefer to stay low to the ground, "walk" the Black Bear Trail, a new ride in which kids can hop on the backs of mechanical bears. Other new facilities include Sycamore Swing, the Treetop Tower and Wildwood Creek.
Daredevils should check out Wild Eagle, the country's first wing coaster that soars through the park. Tennessee Tornado is the nation's first "spiro-looping" roller coaster that puts its riders through almost 4 G's at 70mph. The entire family will find something interesting at the annual "Festival of Nations" featuring 400 international performers, a bazaar and ethnic dining which takes place annually from April to May.
Adventure seekers can head over to the recently unveiled FireChaser Express, serving as the nation's first dual launch family coaster, to blast its riders both forward and backward.
Not even close to the scale of Disney World, what Dollywood lacks in overwhelming size and wonderment it gains in a concise, manageable theme park experience. What is most impressive is the way in which the surrounding Smoky Mountain landscape has been integrated with the park, as opposed to being walled out.
Surrounding hills and forests have been preserved right up to the sidewalks, and instead of feeling like a visitor in a Tennessee fantasy-world, one feels as though he never left Tennessee at all.
Steep yourself in Dollywood's Appalachian Culture
Also well-preserved at Dollywood is the handcrafts heritage that America, and particularly the Appalachian region, survived on generations ago. A program called the Crafts Preservation School teaches aspiring blacksmiths, leather workers, woodcarvers and pottery makers the ancient arts of these all-but-forgotten trades. Every day, craftsmen practice their trades at Dollywood, for all to see. There is even a carriage-making workshop in operation at Dollywood, where a number of fine, highly decorated wooden carriages are produced each summer.
Plan ahead and the entire family can catch one of the four annual festivals, including the Smoky Mountain Christmas. Dollywood also celebrates the handcrafts heritage of America, particularly the Appalachian region. Visit Craftsmen's Valley to learn about the arts of blacksmithing, leather working, glass blowing, and other trades. Finished products are, of course, for sale.
Can't get enough of Dollywood? Look for the DreamMore Resort. The resort boasts a layout featuring 306 rooms with family-friendly rooms and reunion suites complete with large porches and rocking chairs with the backdrop of the Smoky Mountain.
Pigeon Forge's Waterpark for Summer Fun
Adjacent to the Dollywood theme park is Dollywood's Splash Country (800/365-5996), a 35-acre water adventure park full of fun summer activities for families. It is a great alternative for kids who enjoy water rides and families may want to take advantage of Dollywood's "Splash and Play" special. From Memorial Day to Labor Day, family specials offer admission to both parks for three days, so you'll have plenty of time to try 23 water slides, a wave pool, the 1,500-foot lazy river, leisure pool and two interactive children's play areas. Guests will be delighted to find more picnic tables and more shade for the 2019 season.
Get a thrill on the RiverRush a family of four, toboggan-style boat that climbs four stories high, then plunges 25 feet at a steep, 45-degree drop. Whew! Other favorites include SwiftWater Run, a ride that takes riders through corkscrew twists and turns on a rubber tube, and Big Bear Plunge, an extreme white water rafting adventure which seats the entire family together before winding through dark caverns and bumpy cliffs.
Young ones can get in on the fun, too. The Little Creek Falls has a children's pool, water slides and an activity center that will keep younger kids busy (and wet!). The Downbound Float Trip is also appropriate for young children.
Trip Planning Details for Pigeon Forge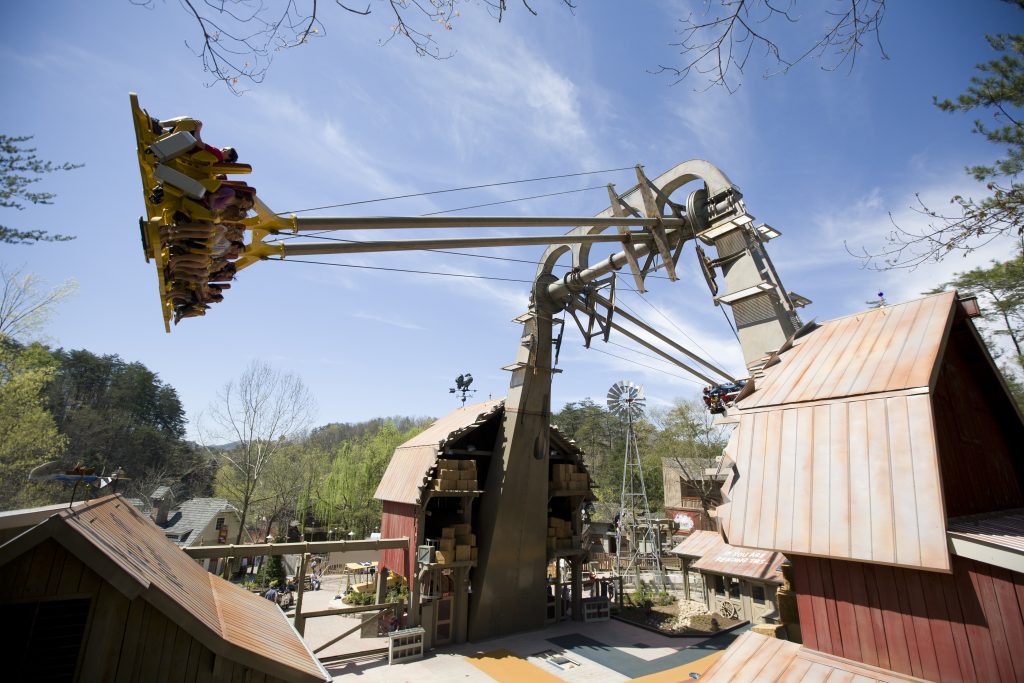 After all is said and done, the nice folks in Pigeon Forge treated the "Yankee" in their midst very well. I didn't get 5-star treatment, as there really was none to be had in town. But what I did find was a lighthearted, simple good time for the family.
No boring museums, no miserable dressing up for a fancy restaurant, where the food tastes weird anyway. And no problem if you want to just sit by the side of the road for a while and watch life pass by.
With thousands of units in town and lots of cabin rentals and homeshares, there is plenty of lodging to choose from. Most rooms are of the basic chain variety. A substantial step up from basic is the MainStay Suites, a hotel on Pine Mountain Road. With an indoor/outdoor pool, fitness room, WiFI, microwave and free breakfast, the $104 and up rate for suites that accommodate up to four family members is top value.
A plethora of other lodging choices and more information is available at My Pigeon Forge (866/463-8674).
Dear Reader: This page may contain affiliate links which may earn a commission if you click through and make a purchase. Our independent journalism is not influenced by any advertiser or commercial initiative unless it is clearly marked as sponsored content. As travel products change, please be sure to reconfirm all details and stay up to date with current events to ensure a safe and successful trip.
---