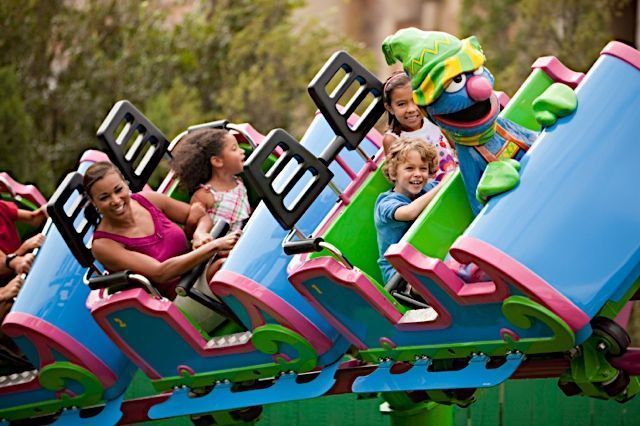 What started out in 1969 as a 3,000-acre tract of land for a brewery on the James River in Virginia is now home to what some consider the most beautiful theme park in America, Busch Gardens Williamsburg.
Here, you'll not only be awed by the metal creatures of epic proportions and dizzying contortions, but the eye-catching juxtaposition of 100 acres of sculpted gardens and romanticized European-themed facilities.
Thrill Rides to Thrill Even Jaded Riders
Traveling through the park is akin to traversing the European continent, passing the massive German-inspired Festhaus and the similarly themed steel beast, Alpengeist. Starting at 195 feet off the ground, riders following this legend of a German ghost figure have the floor dropped out from under their feet so they can hurl at speeds up to 67 mph on a ride that's been voted one of the top 10 steel coasters in the world.
Other teens and brave family members will prefer the Italian Renaissance masterpiece known as Da Vinci's Cradle; and the Scottish monstrosity, the Loch Ness Monster rollercoaster. Griffon is another one of the park's tallest coasters, with a 205-foot drop at a 90° angle; it's floorless too so those wearing sandals be warned.
Fall park goers will enjoy the latest incarnation of Oktoberfest, with its Mäch Tower thrill attraction, and hearty helpings of Bavarian weiner schnitzel, pretzels and beer. Visit the "German Tourist Office' and go off course on your autobahn road trip via Verbolten, the ride that takes you far far away into the depths of the Black Forest. After your family has had enough of an adrenaline rush, head in a pack toward Wolf Valley and Jack Hanna's Wild Reserve, which your tiny travelers will especially like. If you brush all thoughts of Hitchcock's "The Birds" from your mind, then Lorikeet Glen and Eagle Ridge are interesting areas to bird watch. (Shows are seasonal.)
Busch Gardens for Toddlers
The little ones will want to meet up with Big Bird and the rest of the gang at the Sesame Street Forest of Fun, an amusement park owned by the same company as Sesame Place in Pennsylvania, so they know their Sesame Street characters and do this very well. The area is full of family-friendly rides such as the 25-foot-tall Grover's Alpine Express rollercoaster, Oscar's Yucky Forest and Elmo's Castle, an interactive stage and wet play area.
Make sure to visit the enchanting Land of the Dragons, a play area with a three-story treehouse and a Ferris wheel perfect for the kids. For everyone in the family to enjoy – and this works for toddlers and the elderly as well — the Busch Gardens Railway cruises through more than 100 acres of lush landscaping with stops in Scotland, Italy, and New France for a breathtaking tour of the park.
Other aspects of their "Kidserate" policy which we appreciate are a commitment to rides that parents and grandparents can do with toddlers, plus conveniences like strollers, baby changing tables, nursing rooms and kid-sized menu options. Staff will help you with height-check stations and will also you plan your child's day.
Wet and Not Too Wild at Water Country USA
For a completely water-logged day in the area, head over to the 1950s and '60s surf-themed Water Country USA. Vanish Point is wild, with a 75-foot-tall tower where guests can choose from two wave paths, either straight down a tube or sideways, at high speed.
The whole family can enjoy a river-rafting adventure on Big Daddy Falls, or the two-passenger rainforest-themed Wild Thang. Spend the rest of the day cooling off at "Rock 'n' Roll Island," complete with three body slides emptying into a 11,000-square-foot pool surrounded by a 700-foot lazy river.
And yes, in addition to these theme parks you must plan at least a day for the family to visit the living history themed areas at Colonial Williamsburg. Here, you can experience first-hand the lives of tradesmen, artists and African-American slaves, and even meet key players in colonial American history.
Trip Planning Details for Busch Gardens Williamsburg
Busch Gardens Williamsburg (757/229-4386) is located at One Busch Gardens Boulevard, Williamsburg, VA. It is open daily in summer and weekends most of the year, with daily openings during the major school holiday periods. You can check their calendar online and watch for seasonal hotel deals paired with themepark tickets.
Before arriving, especially if you've budgeted one day only, plan which rides your family members should aim for. This will save you time, confusion, and whining by those who may be too short to ride the mega-rides, which usually require a 54" height.
If you're traveling with pets, they will be cared for in a kennel at the main parking lot for a fee of $10/day. Day admission fees vary with many online and local promotions. Children under 2 enter the park for free, and ages 3-9 pay about 15% less than adults on a daily pass. Season pass holders have a variety of privileges.
---
This story was accurate when it was published. Please be sure to confirm all rates and details directly with the companies in question, and stay up to date with current events to ensure a safe and successful trip.