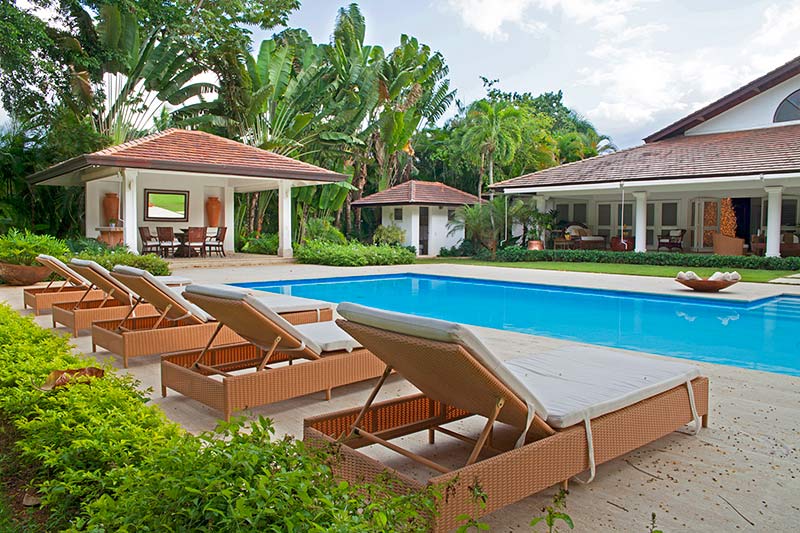 The fabulous Casa de Campo resort in La Romana, Dominican Republic, has extensive amenities and activities for multi-generational travelers. In fact, as my family discovered, there's more than anyone can do on a single beach vacation.
That's a big change from the resort's days as a playground for international business travelers. Recently, the likes of Beyoncé, Jay-Z, Marc Anthony, Lupita Nyong'o, various sports stars and other celebrities have booked private villas for family getaways and blowout parties. Now that private jets, American Airlines (from Miami) and JetBlue (from New York) fly directly to nearby La Romana Airport, it's made a luxury family beach vacation or reunion there easier than ever before.
A Golfer's Dream Getaway
"Bella balla! Bella balla!" cheered Enrique as the 70-something grandmother drove the 15th hole of Teeth of the Dog Golf Course, the famed fairway ranked #1 in the Caribbean. The newest course at Casa de Campo is Dye Fore Chavón, a 27-hole complex that joins it and The Links. Each of the three provides a different golf experience because they've been carved from the coral shoreline and rolling hills by the same architect, Pete Dye.
Despite the intermittent bouts of tropical rain, the grandparents were thoroughly enjoying teeing off as part of their family reunion.
Their son, a single, over-worked music industry executive, was back at the four-bedroom villa reading by the pool. Their daughter (this reporter), son-in-law and grandson were at the main hotel complex shopping for Aloha shirts.
"More high here," urged their caddy, as he watched Grandpa drive his ball above the jagged coral coastline. Considering all the activities they had done together, these energetic grandparents were playing remarkably well.
Busy Days at Casa de Campo
Casa de Campo, known since 1971 for its extensive (if expensive) recreational facilities, has provided its growing family clientele a fresh approach to "togethering" on multi-generational vacations.
Our family's day had begun with an enormous breakfast of tropical fruits, ham and eggs, fresh croissants, Dominican coffee and pitchers of fresh orange juice prepared by the butler and maid assigned to tend this reunion's Villa Rancho Arriba 14. We loved our home away from home and also saw the hotel rooms, whose decor matched the ambiance of the private homes.
After breakfast, three generations had hopped onto the villa's red carritos (golf carts) to go "shoot clays" at the 245-acre Shooting Center. Although children under 12 are not allowed to fire the long-barreled shotguns, the guide offered as much instruction to an awed 9-year-old as to his fearful grandmother. In an hour, with 25 shots apiece, they practiced shooting at clay Frisbees mimicking the flight of pigeons, quail and ducks at three of the range's 200 stations.
Then the entire family had taken the free resort shuttle to Casa de Campo's central recreation and dining complex. With 7,000 tropical acres to play Casa de Campo is known worldwide as the Caribbean's Most Complete Resort. Its beauty is not only obvious in its lushly manicured landscapes and gardens, but its diversity of world-class options for all ages.
This Must Be Italy? No, It's Altos de Chavon
Next stop: the re-creation 16th-century, Italian village at Altos de Chavon. This delightful and somehow appropriate architectural folly was built above the Rio Chavon by Paramount Pictures. If one recalls the U.S. patrol boat steaming up the Mekong in "Apocalypse Now," filmed on the Chavon when Casa de Campo was owned by the Hollywood studio, Altos begins to make sense. Fortunately for today's visitor, private funds have allowed the incredibly picturesque village to thrive as an artists' colony and venue for shops and restaurants.
Creativity abounds at the bustling Chavon Escuela de Diseño, a college level design school associated with New York City's Parsons School of Design. Full time students and resort guests can take two-week to two-year-long programs in fashion, interior, graphic or product design. (There's also a Santo Domingo campus which has kids and teen courses as well.) Make sure to drop by with your college-bound teens and look around.
Reunion planners may even customize a seminar or plan a special event in the village. Several of the hand-hewn coral and limestone block structures house crafts, woodworking shops or jewelry boutiques; others are appealing venues for Italian, Mexican, patisserie and other gourmet fare. There are several art galleries, some featuring the work of local artists, the St. Stanislaus Church and a 5,000-seat amphitheater. The small, comprehensive Archeological Museum of Altos de Chavon boasts a well displayed collection of Arawak, Taino and other native artifacts, as well as priceless mementoes from the Colonial era that began with Christopher Columbus' landfall in 1492. Nearby, the 370-slip Marina & Yacht Club is designed to resemble a Mediterranean village, and is its own community of waterfront homes, shops and outdoor dining venues that attracts sport fishermen, yachting enthusiasts, and guests from around the resort.
Busy Nights all over Casa de Campo
More than a dozen restaurants serving delightful seafood, international buffets, or gourmet fare are scattered around Altos de Chavon. At any of them, children will find a warm reception, inventive kids menu and highchairs, even at those with a dress code (strictly enforced only in winter.) Note that daytime nannies or private evening babysitters are available through the resort; call 809/523-2522 to book them in advance.
Mumba and Grandpa's post-golf celebration was at a large lounge area where the entire family could try a billiard table, air hockey, board games, basketball, video games, and computers.
Kids Together, Teens Apart at Casa de Campo
One of the strongest appeals of Casa de Campo for multi-generational family reunions is the breadth of supervised children's programs. Parents familiar with ordinary 'kids camps' will be impressed by the intelligent program and multilingual, super energetic and genuinely kid-loving staff. The Family Activities Coordinator recruits staff from a pool of ex-pats, hotel staff and local University graduates; the recreation staff is further trained in CPR, 1st Aid and water safety.
The Toddlers 'n Casa program runs half and full days for ages 1-3, for a fee. The Kidz' n Casa bunch of 4- to 7-year-olds play in an airy casita with its own shaded playground and picnic area, that is, when they're not being shuttled around the resort to the stables, pretty sand beach, pool or tennis courts. Casa 'Tweens (8-12 years) are even more active in their use of the resort's incredible facilities, and will kayak, fly kites on the polo fields, take merengue lessons, tour Altos de Chavon or mount the banana boat for a wild ride in the Caribbean with their counselor.
During summer, long-stay families can sign up kids 7-13 in a daily program that costs $120 per week and includes sports and recreation, horseback riding, art classes, and watersports. One of the resort's challenges is entertaining the teens, a demand made by many of the 1,800 villa owners whose children have grown up spending weekends and school holidays at their "country houses". The teens-only Bonche 4 Teens is where resort guests ages 13 and up play pool, Foosball, check their email, or watch a movie. Young counselors staff this private club, open 7pm to midnight daily.
Family Togetherness is the Dominican Way
The resort's action-packed schedule means there are other family-together activities which less active reunion-goers can participate in or avoid. Saturdays, there are daylong programs and team sports right on Minitas beach. Kayaking on the Chavon River offered us a different perspective on a river teeming with bird life. As single and two-person kayaks gently paddled upstream, a 'safety' motor launch puttered along to sweep up the youngest and less fit paddlers. Within a half hour, a clearing appeared on the opposite bank. The group paddled ashore to discover waiters hovering over a fully dressed lunch table laden with sandwiches, fruit and cold drinks. Such is the Casa de Campo picnic.
Another excursion promised an early morning horseback ride (or buggy for the elders) followed by a ranchero breakfast. The sight of polo ponies in training, Andalusians with their masters, and helmeted little girls in pink jodhpurs made it clear that, for many families, the Equestrian Center is Casa de Campo's main draw. Chipper elders and sore-butted youngsters soon met back at the 250-horse stable to find breakfast set on the patio at the Polo Field Clubhouse, a private chef in white toque waiting to customize his guests' omelettes. Such is the Casa de Campo calibre of pampering.

El Tiempo Para Gastarlos
When Dominicans raise glasses, they toast to Salud, Amor, Dinero y el Tiempo para Gustarlos (Health, Love, Wealth and the Time to Enjoy It.) At a 7,000-acre resort with three golf courses, 13 tennis courts, countless kilometers of cycleable roadways, beach, river, a myriad of watersports and an over-burdened shuttle system, there is never enough time to see or do everything.
The adults in our group didn't have time to linger at the luxurious Spa at Casa de Campo, whose reputation preceded it. The spa, winner of the World Spa Award as best in the D.R., does Ayurveda-inspired treatments for adults and children.
In fact, there was hardly enough time to enjoy the Dominican Republic's endless summer breezes, or savor the clusters of bougainvillea at every turn.
But then, of course, there's next year's reunion.
Casa de Campo is a AAA four-diamond resort and a member of Leading Hotels of the World. With such a variety of accommodation, there's a wide range of pricing available. To ensure your family's stay, especially over any of the major holidays, book ahead at Casa de Campo or contact your travel agent.
Dear Reader: This page may contain affiliate links which may earn a commission if you click through and make a purchase. Our independent journalism is not influenced by any advertiser or commercial initiative unless it is clearly marked as sponsored content. As travel products change, please be sure to reconfirm all details and stay up to date with current events to ensure a safe and successful trip.
---