It takes work and a thoughtful Grand Canyon hiking plan to make a truly grand summer trip with kids. The spectacular Grand Canyon, 278 miles (446 kms) long and up to 6,000 feet (1,829 meters) deep, cuts across three states of Arizona, Nevada and Utah.
It's so enormous that some families mistakenly believe it will be empty. Not so; the Grand Canyon gets very crowded! Other families plan only a day or two to visit. Don't make these mistakes.
America's second most popular national park (behind Great Smoky Mountains) welcomes over 3 million visitors per year. Create your summer Grand Canyon hiking plan to avoid the July-August high season. The app and website AllTrails sorts Grand Canyon trails by length and difficulty so you can plan easily. Choose June or late August to mid-September and spend a few days. Your family hikers will have a much better chance of seeing what's wonder-full about this natural wonder.
Go Slow With All Ages, Especially Kids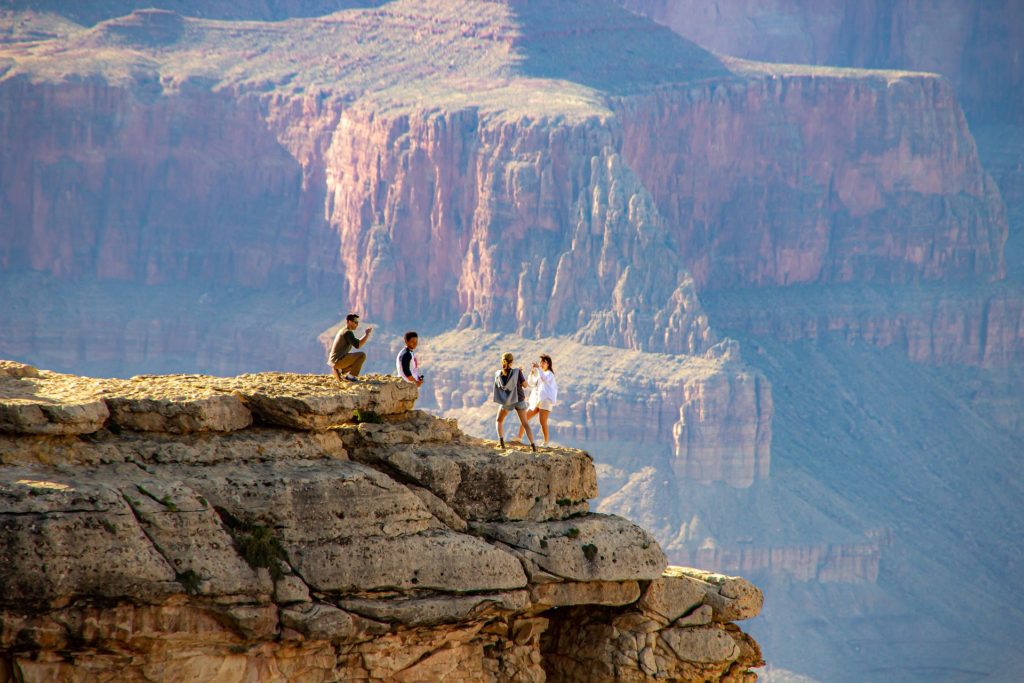 Younger children will certainly appreciate the Grand Canyon's natural beauty — if only because thousands of others are making such a fuss. Showing preschoolers the sites can be hair-raising. Rim-side lookouts top the Canyon's steep sides. Walk to the edge to look over and down. Notice how the slim metal handrails are easily ignored. Since hiking trails are crowded and slippery, parents packing infants in child carriers should go slowly. Adults must be on guard at all times.
Families with older children will be freer to explore. Estimate that reasonably fit children will be able to hike about 1 mile per day, per year of age, after about 3 years. Thus, your 5-year-old should be physically able to hike 2 miles. (We know of one Mom who trained her 4-year-old daughter on a Stairmaster in front of the TV for three months so she could keep up with her older brother!)
Hikers should remember that the Canyon rim is about 7,500 breathless feet above sea level. Due to the altitude, hiking back up from any trail will take about twice as long as the descent. With young children, keep your hikes to the Rim trails and relatively level pathways near the top of the canyon.
Parents note that occasional athletes also tire easily between the lack of oxygen and high temperatures. And remember, although the Colorado River looks so close, it takes two days of hiking on the River Trail to reach it!
The Grand Canyon Hiking Plan – Where To Stay South Rim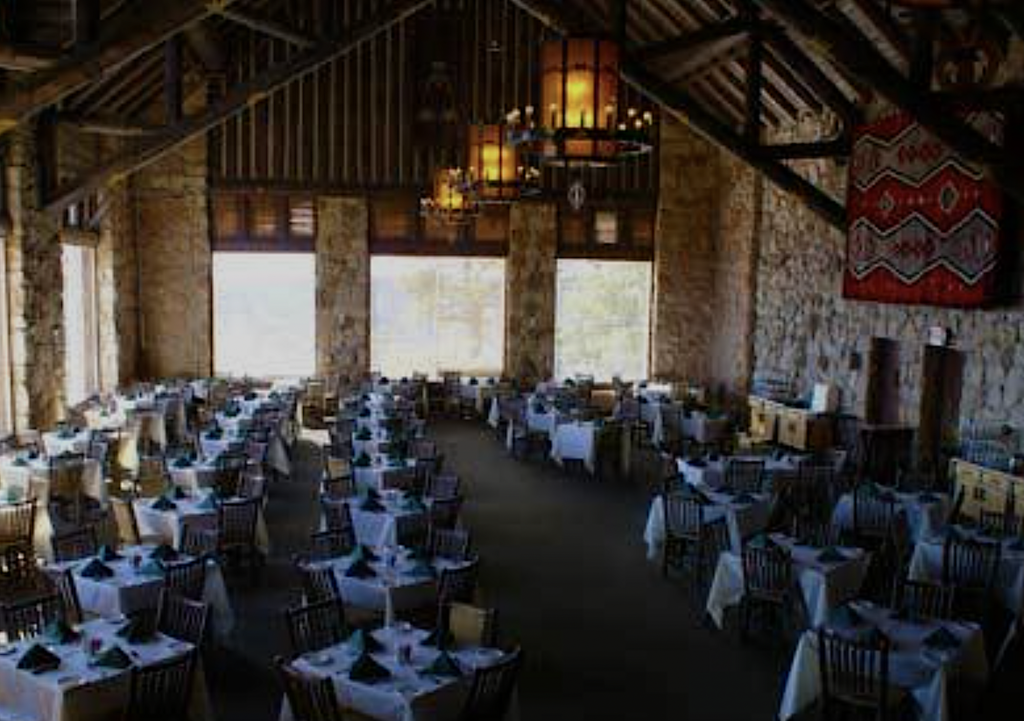 The Grand Canyon's South Rim, better known as the national park, attracts 90% of visitors simply because it's much better developed. Most visitors would say overdeveloped. Hotels, motels and fast-food restaurants can crowd out the views.
Other families prefer Grand Canyon Village as a base because the region's medical clinic, pharmacy and other conveniences are nearby.
The Canyon's most luxurious housing is found in the traditional El Tovar, a ca.1905 classic National Park lodge. It's a stately, casual place perched on the rim in Grand Canyon Village, with a good restaurant which welcomes children.
At the Maswik Lodge and the East or West Yavapai Lodges (West is adjacent to the Visitor's Center, about 1.5 mi/2.4 kms from the rim) you'll find moderately-priced cafeterias and a food court. No matter where you stay, you will be spending most of your time outside the hotel. Don't worry if you can't get your first choice lodging.
Get out and explore. The South Rim can be pretty depressing if you've brought the kids to appreciate nature's beauty… and that's all you see.
The Grand Canyon Hiking Plan – South Rim Trails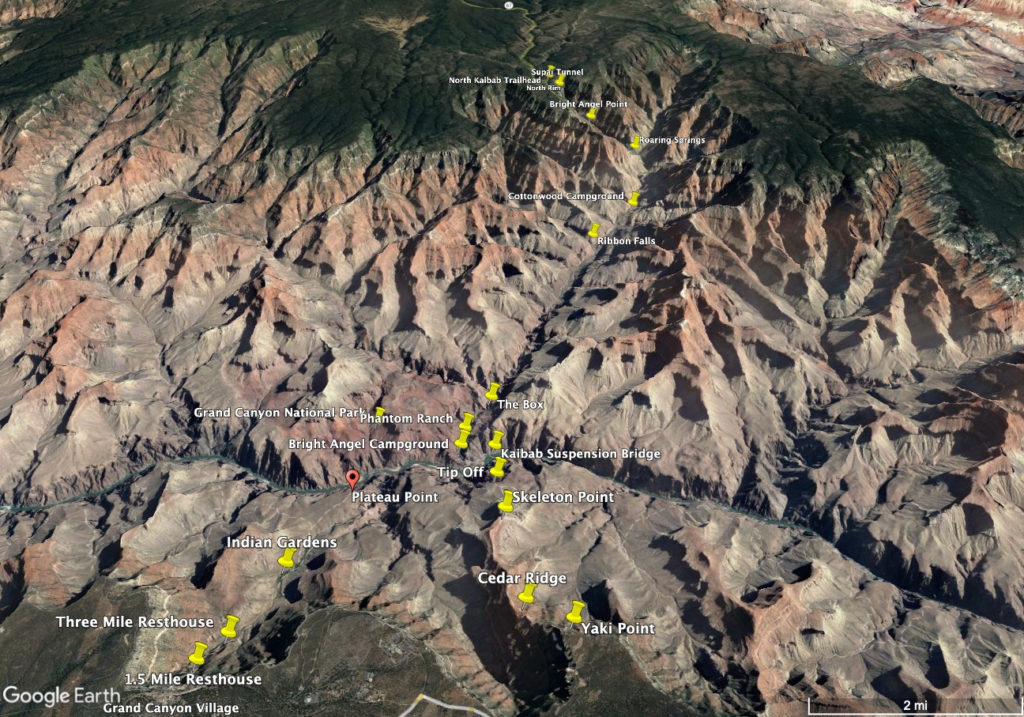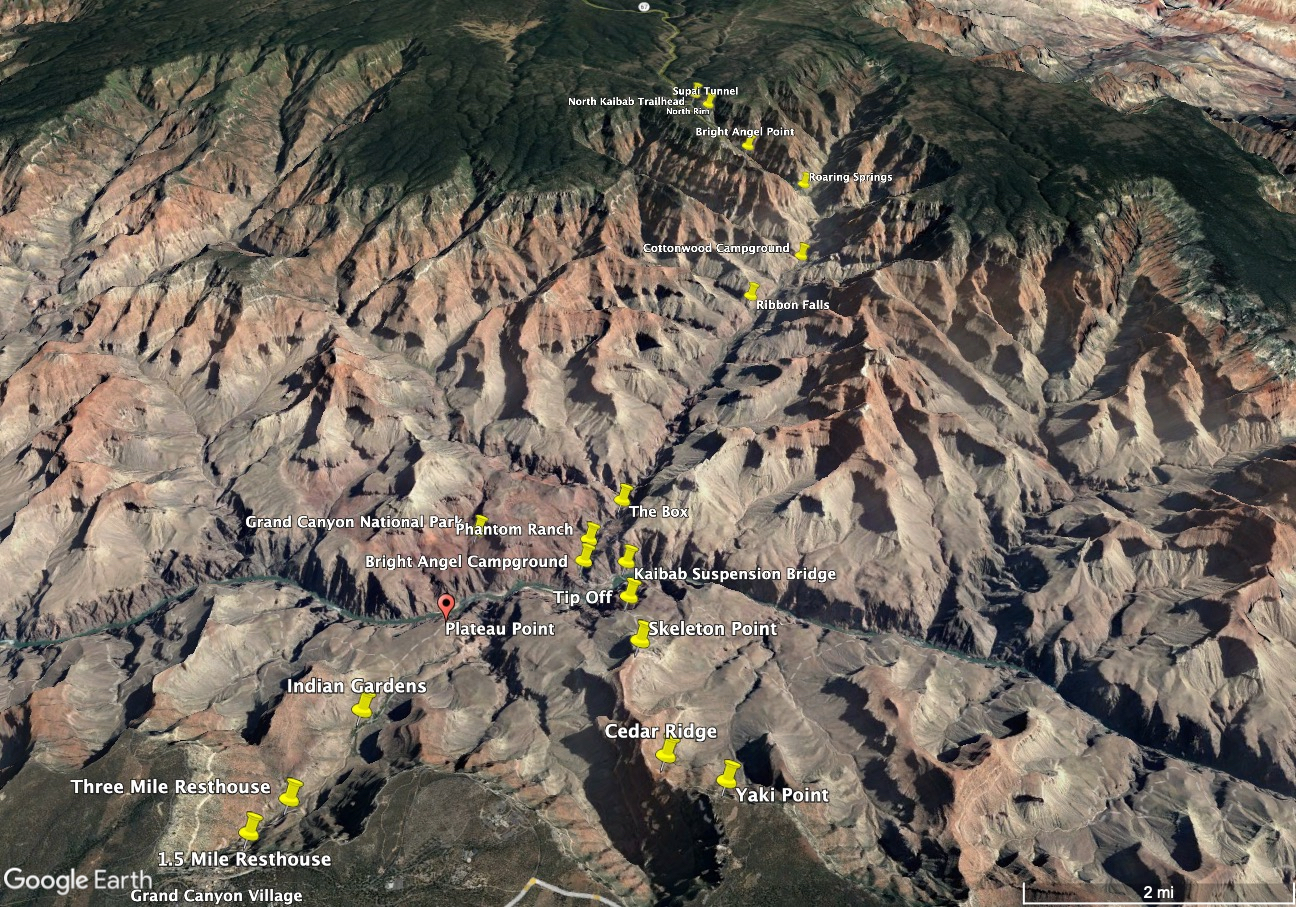 Once you drive into the Grand Canyon National Park, park your car, walk or use the free shuttle buses to get around. You can arrange a donkey ride down into the Canyon, short hikes near the rim, and aerial flightseeing tours (more than 8,000 per month during the busy summer season according to Outside magazine).
One of the most popular South Rim trails is the South Kaibab Trail near Yaki Point on the East Rim Drive. Another one that is steep and slippery after rain is the Bright Angel Trail which leads down from Grand Canyon Village into the canyon. Access it across from the Bright Angel Lodge — a fun cafe for lunch, too.
Hopi Point is a family favorite and the gathering spot for a legendary sunset view. This is where you'll want to walk to the edge and lean over. Keep in mind that there are miles of views accessible by walking paths from each of the main vehicle lots. Those who walk a bit will leave behind the crowds.
Not far from the South Rim visitor center is the Yavapai Observation Station. The Canyon views and exhibits on the region's fascinating geology are guaranteed to engage school-age kids. From here, do your own rock hunting along the easy-going, approximately three-mile-long Maricopa Point Nature Trail.
An amazing, seven-hour hike down into the Canyon earns you lodging at Phantom Ranch, if you reserve it up to two years in advance. This lodge, built in 1922, is the only lodge at the bottom of the Grand Canyon. Accommodations in Phantom Ranch's cabins come with mule trip packages, while backpackers stay in dorm-style rooms.
Be sure to reserve food far ahead also (meals cost extra) from the Phantom Ranch Canteen, which features hearty breakfasts, hiker's stew, sack lunches, and steak dinners.
The Grand Canyon Hiking Plan – Where To Stay North Rim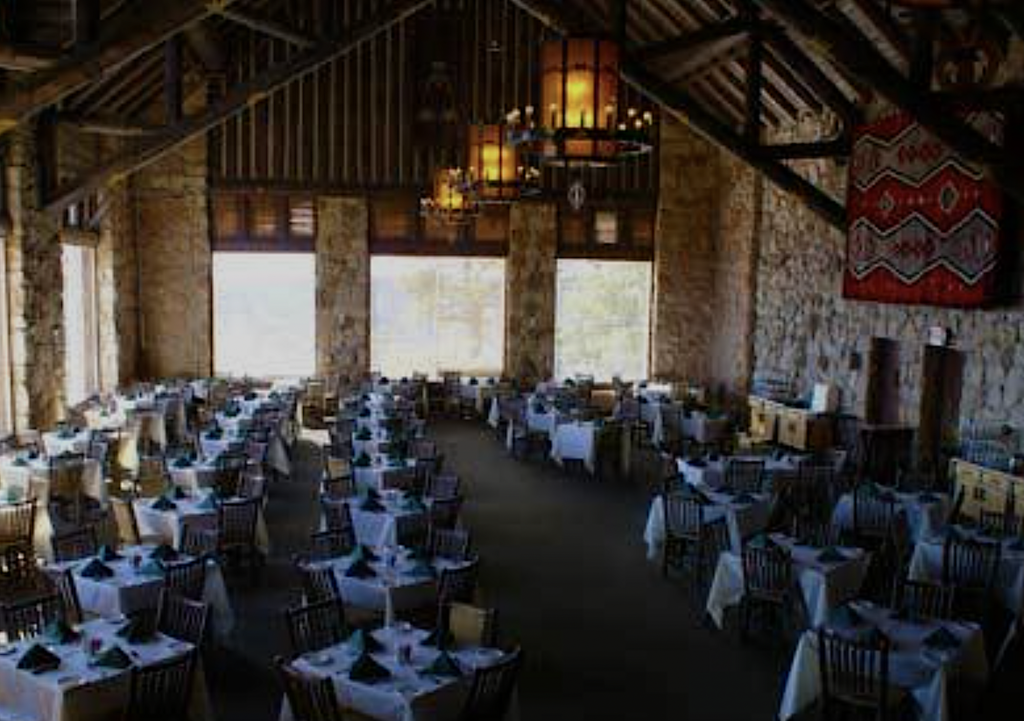 Serious hikers and outdoorspeople hoping to get away from the crowds should drive on to the North Rim. The Grand Canyon's North Rim, some of it preserved as Native American reservation land, faces Utah. The good news is there is much less development. The bad news is there are very few facilities, the temperatures are more extreme, and you can expect greater rainfall year-round. Most facilities are open only mid-May to November.
Experienced camping families with their own gear will have the most fun here. As for hotels, the best around is the Grand Canyon Lodge, with motel rooms tucked into the forest. It's convenient to the Visitors Center as well. Ask about their charming stone and wood Western Cabins and the more rustic Pioneer Cabins with wonderful vistas.
The Kaibab Lodge, about 18 miles north of the North Rim entrance, rents simple rooms in a wooden log-framed main lodge and in log cabins. New cabins opening for summer 2023 will be two stories and sleep up to 10 easily.
If you don't mind a bit more driving, some visitors chose to stay in Jacob Lake at the Jacob Lake Inn, about 44 miles from the North Rim. This simple motel, at nearly 8,000 feet in elevation, is a good base for daytrips out to Zion and Bryce Canyon National Parks in Utah. Drop by their gift shop, a noted Native American trading post with lots of artwork and traditional crafts.
The Grand Canyon Hiking Plan – North Rim Trails
Experienced hikers 12+ will enjoy the North Kaibab Trail, not far from the North Rim ranger station. Families with kids 8+ should look into the half-day mule rides down the rim to Roaring Springs. Another popular alternative on this rugged rim is the easy-going 5-mile Widforss Trail. The best of the nearby lookouts is at Point Imperial, about 11 miles from the Grand Canyon Lodge.
At Cape Royal, about 50 miles south on the Walhalla Plateau, you can picnic while enjoying views of the Colorado River below. From here, you can hike the mile-long Cliff Springs Trail which passes the remains of an Anasazi granary on the way to Cliff Springs.
Exploring the Great Western Parks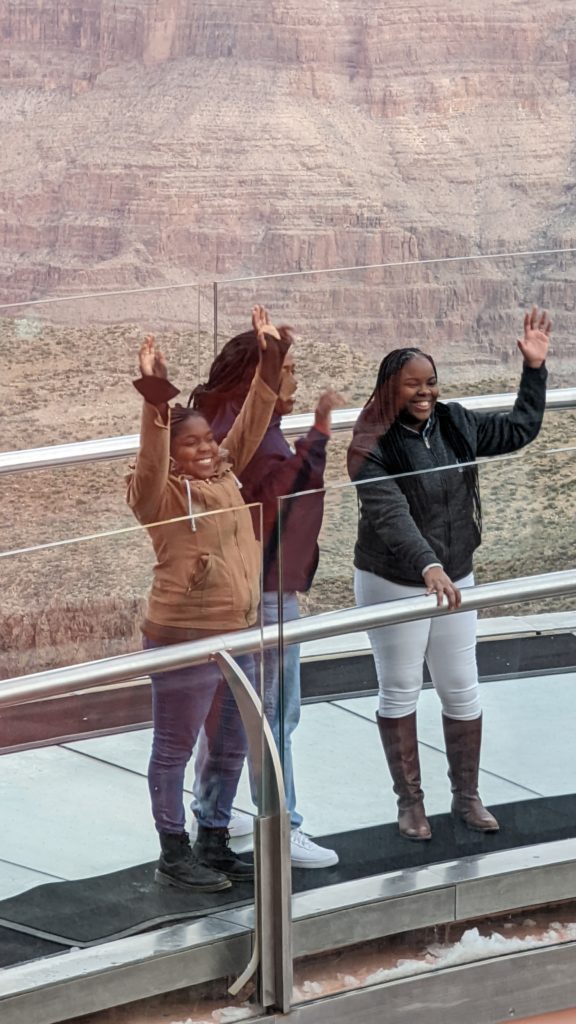 River rafting should be the first choice activity after hiking for school age children. There are several other rafting companies, yet OARS gets top marks for its guides and great camp cooking. Note that OARS offers reduced family rates.
As with everything natural out West, there is gorgeous scenery but the driving distances are farther than they seem. Grand Canyon West, for example, is approximately 4.5 hours west of the South Rim on the way to Las Vegas. Go for the remarkable Skywalk, the 4,000 foot-high glass bridge that towers above the Colorado River and the edge of the canyon. Those that are brave enough can walk onto the bridge and look down for spectacular views.
Both kids and adults can learn about four different tribes at Grand Canyon West, which is owned by the Hualapai peoples. (Read more about why we love Grand Canyon West.) Check out their small museum and educational experience at the Indian Village. Adventure Packages starting at $64 at Grand Canyon West.
A driving trip to the East Rim of the Grand Canyon offers wonderful vistas. Head south to the hip mountain town of Flagstaff, Arizona, about 80 miles away. The mysteriously dappled Painted Desert is a worthwhile trip that is several hundred miles away.
Trip Planning Tips for Your Grand Canyon Hiking Plan- Travel Tips
Plan your trip ahead if you want to stay active because things book up early in summer. There are many concessionaires for horseback riding, flightseeing and guided hikes on the NPS website. The Grand Canyon Conservancy is a non-profit with many educational options.
Grand Canyon Village has dozens of shops, as well as several small galleries highlighting Native American culture and local flora and fauna. There are even an IMAX and a multimedia theater offering virtual tours of the Canyon for those too weary to descend from the overlooks.
Ranger lectures are often given about the park's natural history. Check out the NPS website Grand Canyon National Park for more information about these and about their "Junior Ranger" program, where even preschoolers can earn a Junior Ranger badge by studying the Canyon.
Don't forget: Hikers should wear protection from the sun and the cold year-round, and carry plenty of drinking water. Always ask a park ranger for a free trail map and information about current trail conditions before setting out.
Dear Reader: This page may contain affiliate links which may earn a commission if you click through and make a purchase. Our independent journalism is not influenced by any advertiser or commercial initiative unless it is clearly marked as sponsored content. As travel products change, please be sure to reconfirm all details and stay up to date with current events to ensure a safe and successful trip.
---