Orlando nature attractions surround the theme park capital of the world. Yes… it's true. Florida has a natural side that lets visitors spot a baby alligator or stroll through a cypress swamp. After a few days of upside down, plummeting adventures, why not spend a day or two participating in some of these eco-activities just a short distance from many theme parks?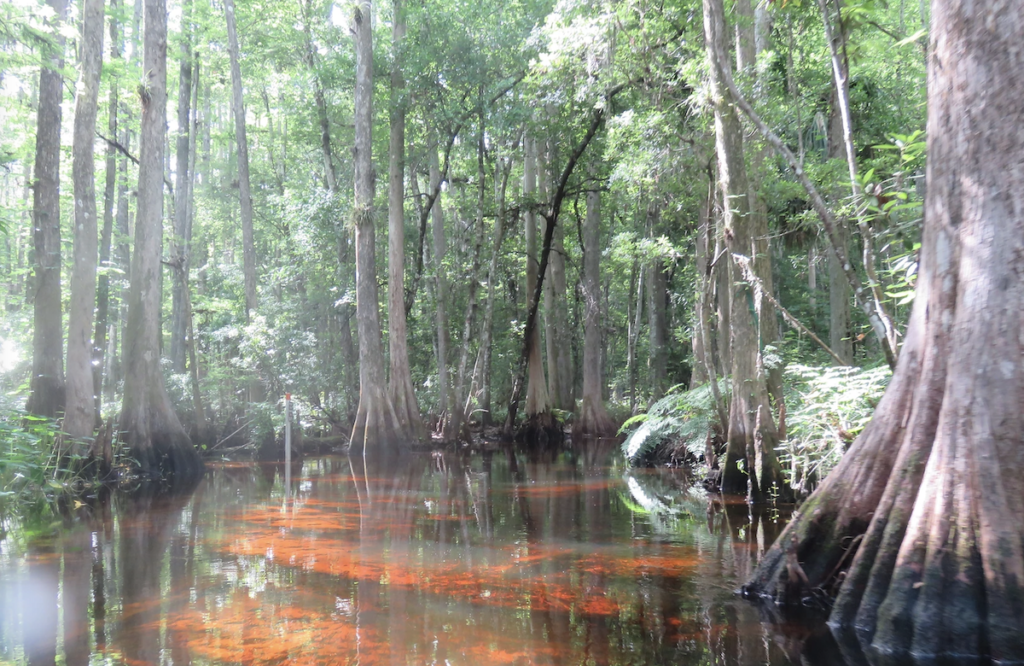 According to Visit Orlando, the region's tourism marketing organization, outdoors and ecotourism attractions abound. Even better, enjoying genuine wildlife experiences in a controlled and fun setting makes Orlando an ideal destination to introduce kids to lifelong interest in preserving wildlife.
Orlando Nature Attractions are Good Value for Families
Orlando nature attractions — compared to those in Costa Rica, for example — are a good value for several reasons. These include value flights, accommodations and dining options. Orlando is an easy weekend destination serviced by frequent and inexpensive flights from most parts of the US. Central Florida around the city of Orlando is friendly and safe with good transportation options for travelers. Given that it's one of the top tourism destinations in the US (more then 75 million visitors in 2018), Orlando has enough good value housing to accommodate even the tightest family budget. The same is true of dining because there is such a range of places serving quickly prepared meals and local cafes.
Don't tell me you've been there, done that or have no interest. There really are sights for the outdoors family who prefer real sloths to stuffed Tiggers, snakebirds to Tweetys, and palmetto bugs to plastic ferns. True – some of it's real… and some of it's simulated – but all of it's alive!
Airboating in the Upper Everglades
Within 15 minutes of Orlando's packaged animal kingdom is the real thing. The Kississimmee wetlands habitat at the mouth of the Everglades ecosystem is where alligators coexist with endangered birdlife and burly fishermen out for striped bass.
Boggy Creek Airboat Rides uses a sleek aluminum airboat with powerful jet engines. Their hovercraft needs only a few inches of draft to navigate the wetlands. They say gator-spotting is best when the sun is high because alligators' slow metabolism requires the sun's heat to help them digest. However, we went early before it got too hot for humans.
Padded earmuffs in place, we blasted up and away from the dock, hair flying. With the rising sun, cool breeze, and broad-winged gulls gliding by, we felt at one with Florida's ecosystem. Although our tour of the huge lake's marshy fringe only lasted 30 minutes, our family saw a pair of bald eagles on their nest, blue herons and egrets, anhingas, gulls, ducks and beds of lotus. The highlight was a nine-foot alligator slithering off a muddy islet and into the reeds.
Book a group half-hour, one-hour or private jet boat tour with a guide, seven days a week. Nightly tours are said to offer better alligator spotting.
Orlando Nature Attractions in Nearby Winter Park
For another, very different aquadventure, visit the posh suburb of Winter Park, about 30 minutes' north of Orlando. Winter Park is where the multi-million-dollar estates of entrepreneurs, theme park executives, stars from the NBA's Orlando Magic and old citrus money line several fresh water lakes.
The best view of Winter Park's natural beauty is from the water. Sign up for pontoon boat tours given hourly for a wonderful introduction to the lakes' habitat. The classic Scenic Boat Tour is narrated by guides telling jokes dating back to the company's 1938 founding. One-hour tours depart from a small dock in Lake Osceola. After circling the co-eds sunbathing by the pool at the lakefront Rollins College campus, the small pontoon boats use two Winter Park canals to visit three of the region's seven lakes, each with its own personality.
In one hour, we were treated to blue and gray herons, gulls, and anhingas (a.k.a. snakebirds because they keep their long black necks above water as they swallow fish whole.) Peacocks roamed around immaculate private lawns. Our guide continuously pointed out the flora, too: sleeping hibiscus ("too tired to open their blossoms"), lithe Egyptian papyrus, live oaks and 200-year-old cypress trees.
It's easy to turn this outing into a day-long exploration as you can see from this review of Winter Park's top attractions.
More Natural Attractions Near Orlando
Take a walk on the wild side in sunny Florida. If you're into hiking, you might check out the Florida Trail Association, a directory of trails and outdoors organizations, some of which offer excursions each month. Trails range from historical walks to trail maintenance trips to beach walks. In nearby Kississimmee, for example, Kissimee Prairie Preserve State Park is a designated Dark Sky Park with great opportunities for star-gazing at night.
Check out one of our favorite local parks: Big Tree Park. Head about 15 miles from downtown Orlando to General Hutchison Parkway between U.S. 17-92 and State Road 427, in suburban Longwood. The park is famous because for 3,500 years it had a breathtaking cypress tree known as the "Senator." That tree was lost to fire in 2012, but other cypress and special scenery abound in this natural hydric hammock swamp. The park's boardwalks and playground are open daily from 8 am to sunset.
Alternatively, head 15 miles northeast of Orlando to Chuluota to join the Flagler Trail. Along the Okeechobee Branch of the Florida East Coast Railway, the shady, part-asphalt, part-grass, part-underbrush trail goes through Seminole County's Lake Harney Wilderness Area. It's open for hikers, horseback riders and fat tire bikers. Even a short part of it provides a rustic escape.
Road bike Orlando's natural areas if you have a cycling family. The Ride Experience company not only rents all types of bikes but they will deliver to your hotel or location. Prefer to ride with a knowledgeable local? Book a tour guide from them too. Check out their website for suggested places to ride together, no matter your skill level.
On the Water Nature Attractions in Orlando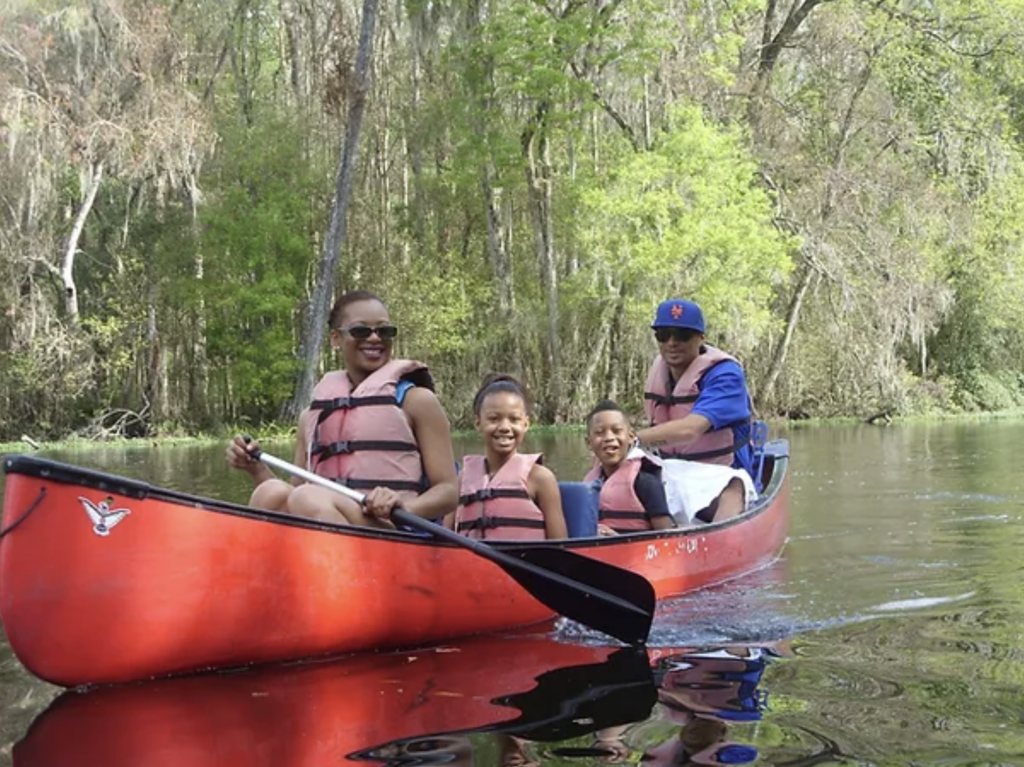 Being out on the water is a great day away from the theme parks. The Paddling Center in Kissimmee's Shingle Creek Regional Park offers guided tours and rents kayaks, canoes, and standup paddleboards. Choose between a two-hour guided ecotour or a self-guided paddle. There are also options to kayak among the manatees at Blue Springs State Park.
Manatee Cruises is farther away — about a one and half-hour drive — in the town of Ponce Inlet, near New Smyrna and Daytona Beach. It's worth the trip for the of 90-minute guided boat tours along the Intracoastal Waterway to see dolphins and manatees. They operate several times daily year-round and, in summer, have sunset cruises.
In nearby Tampa, families navigate a 16,000-acre wilderness preserve by canoeing the Hillsborough River. This "alligator alley" is home to dozens of gators who sunbathe on logs and dive into the river from its banks. Tour guides also point out snakes, turtles, river otters, fish, birds of prey as they relax in their natural habitat. The leisurely self-guided trips last from two hours to a full day and include paddling instructions as well as drop-offs and pick-ups at the designated launch spots along the river. Click on Canoe Escapes in the Real Florida for a first-hand account of this journey.
Being One with Orlando's Nature at the Beach
And don't forget the beach, of course. Locals in Orlando usually are divided between those who prefer the more raucous Daytona Beach and those who opt for generally laidback New Smyrna Beach, both of which are no more than an hour's drive and along the Atlantic Ocean.
Another waterside choice is Melbourne Beach, which is the place to surf or watch others looking for the perfect wave. While it's a fully developed beach town, there are opportunities to commune with nature in an active eco-adventure. There are also turtle watches, all within a 90-minute drive of Orlando. Keep in mind that your trips are not limited to hours of sunshine. Deserted beaches at night are perfect places for stargazing in the big Central Florida sky. And if you're fortunate enough to chance upon a nighttime storm in the ocean, it's a sight that dwarfs manmade fireworks.
Wekiva Island is another option — an island at the Wekiva River made for partying, surrounded by watersports facilities. Rent a kayak, SUP or canoe to explore the local flora and fauna. You really will see birds and some marinelife, even while swimming. On the island, there are indoor and outdoor games to play together. Stroll the riverfront boardwalk or grab an Adirondack chair for sunning and a craft brew. There are rental cabanas, a learning center for groups, a bar, food truck and more.
Simulated nature? Real? It's Orlando, where wonderful adventures are designed for families to enjoy each other, their beautiful surroundings and the magic of Nature.
For information on other eco-options in Florida, contact Visit Florida or Visitflorida.com.
Dear Reader: This page may contain affiliate links which may earn a commission if you click through and make a purchase. Our independent journalism is not influenced by any advertiser or commercial initiative unless it is clearly marked as sponsored content. As travel products change, please be sure to reconfirm all details and stay up to date with current events to ensure a safe and successful trip.
---