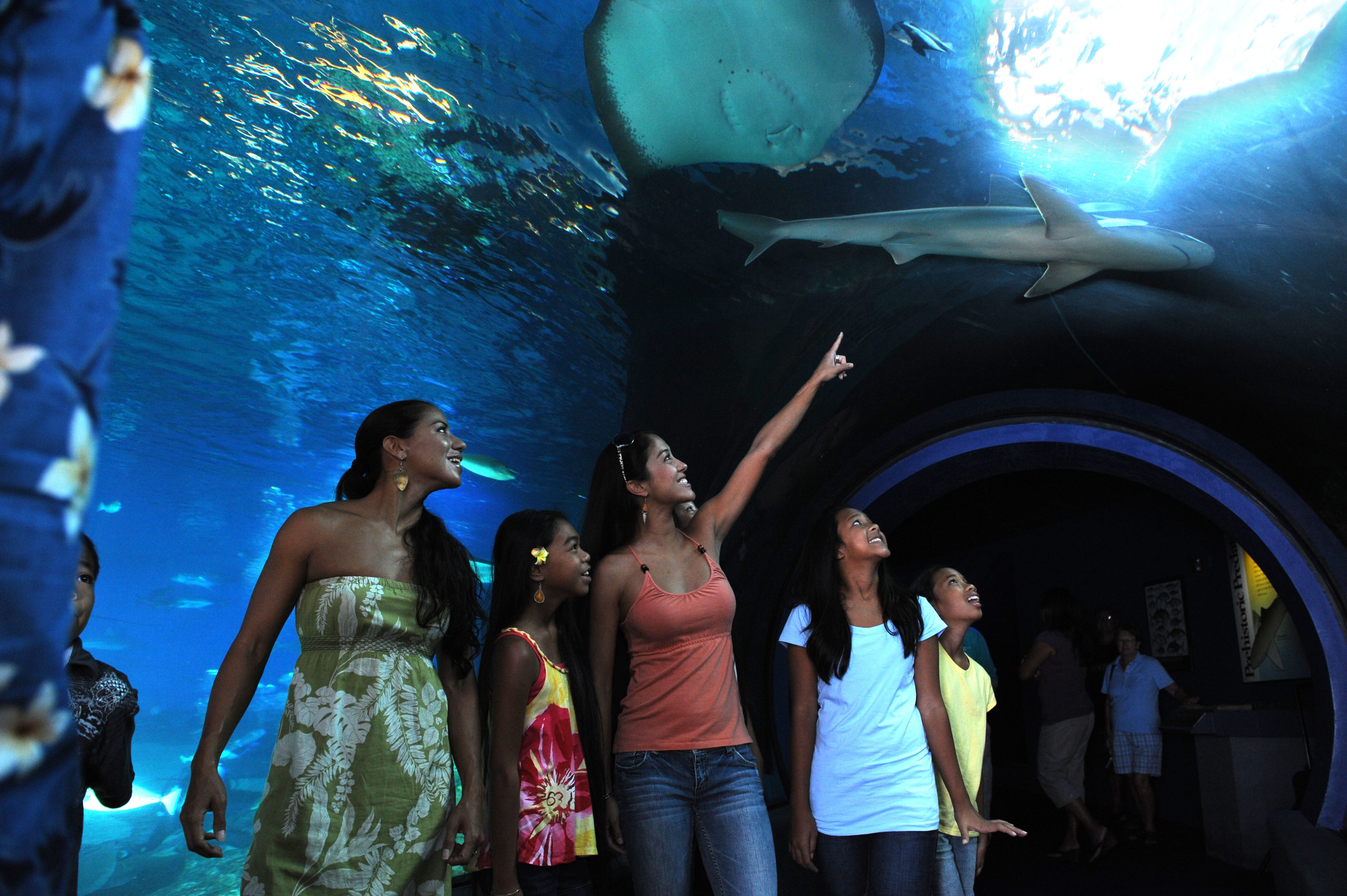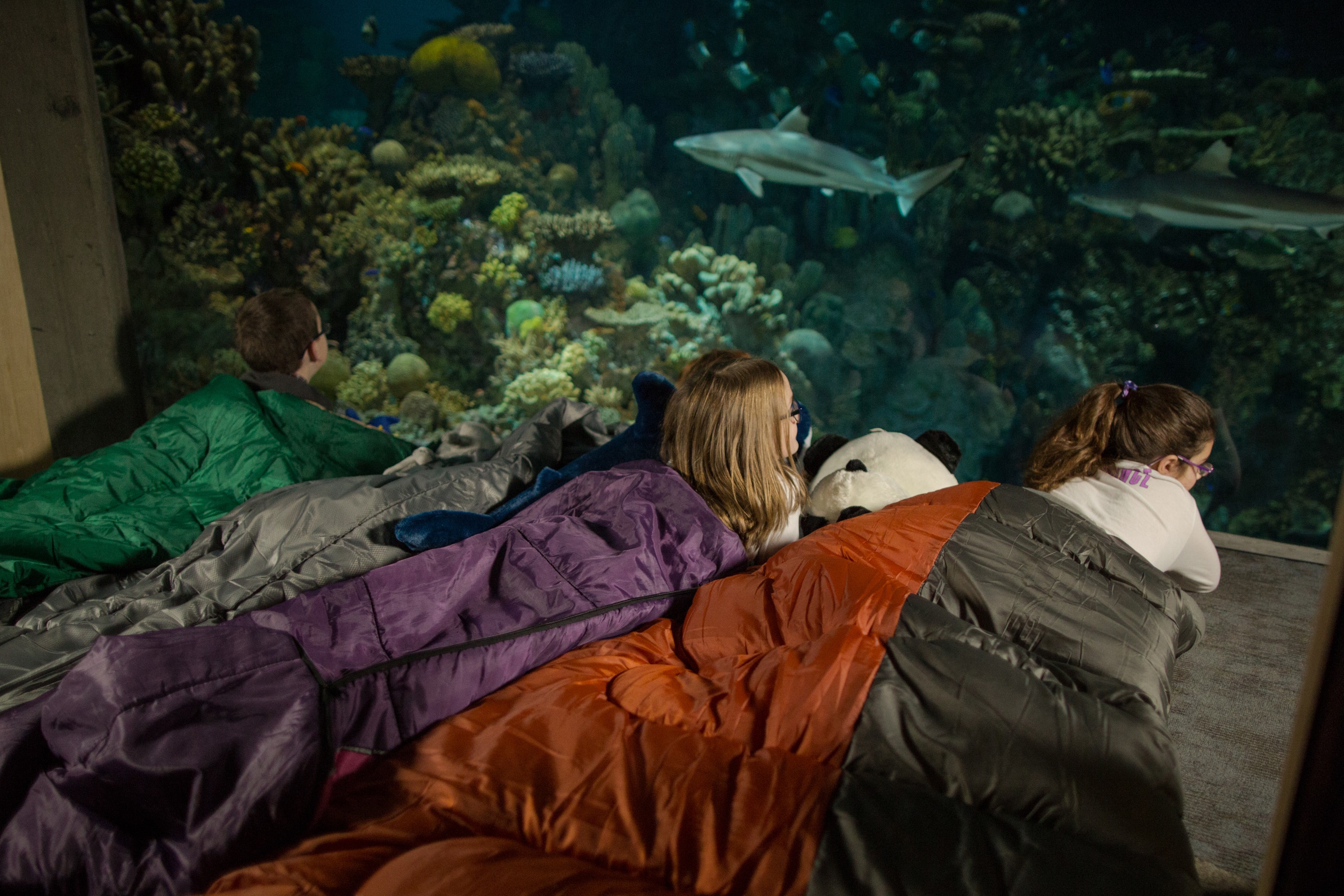 From coast to coast, special sleepovers at aquariums and zoos are available to travelers who book ahead. Interested in sleeping with the fishes or feeding reptiles after dark? Not only can your family have a blast on vacation at a new educational institution, but you'll also save a bundle on a hotel room. The Association of Zoos and Aquariums, a trade group setting standards for educational programs, has a search tool to help you find institutions when you travel that may have these special interactive events. (For sleepovers and a night at the museum, see this roundup.) Note that many AZA members accept your membership in other zoos or aquariums for a discounted or free entry at your destination.
Each program will post its own requirements for bedding (perhaps a sleeping bag) and rates include a meal or snack in the evening and a light breakfast in the morning. Think camp more than Hilton and you'll find tremendous value in these overnights. Here are some favorites.

Overnight at America's Great Aquariums
At each of the aquariums reviewed here, members of the educational staffs conduct the overnight programs. That doesn't mean they don't center on fun. Arts and crafts projects, behind-the-scenes tours, and special demonstrations at all of the programs promise an evening of excitement for young and old. When it's time for bed, visitors drift off to sleep as the inhabitants in the tanks above their heads do the same. Of course, the nocturnal creatures in the aquariums will have just woken up!
National Aquarium
501 East Pratt Street
Baltimore, MD 21202
410-576-3833
Everyone knows the dramatic aquarium situated on Inner Harbor, Baltimore, that partners with Washington D.C.'s National Aquarium. Few know their sleepover experiences, Aquarium Sleepover, Shark Sleepover and Dolphin Sleepover. Designed for parents and children (all of whom must be at least 8 years of age; age 18+ may attend without a guardian), each program includes a guided tour behind the scenes of the aquarium, including a visit to the food-prep area to learn how (and what) aquarium residents are fed. Learning crafts and activities take place in the Discovery Lab. The Aquarium Sleepover focuses on all the species, but if sharks or dolphins are a favorite, choose one of them instead. When night falls, your newly educated family will have dinner and watch a 4D Immersion film about the species you are studying. Head out on a guided stroll on the Shark Catwalk, inches above these predators for an up close look. Sleeping bags will be rolled out in the underwater viewing area, surrounded by sealife. The Aquarium Immersion Tours take place 5:30pm to 9am and include aquarium admission that night and all day the following day, plus dinner and breakfast.
John G. Shedd Aquarium
1200 South Lakeshore Drive
Chicago, IL 60605
312/939-2438
Asleep with the Fishes gives kids the chance to see the world's many aquatic environments through hands-on activities, in the heart of Chicago. Activities include the Wild Reef exhibit to study coral reef ecosystems, and a shark visit. A marine mammal presentation, information about the Amazon River, and educational activities designed for adults with children ages 5-12 (5 years is the minimum age) round out the evening. Then, families hit the sack (or the sleeping bags they bring) in one of the many carpeted galleries. In the morning, enjoy continental breakfast and watch the marine animals wake up and begin their own days. Overnights at Shedd usually take place from 6:30pm-8:30am, and are scheduled periodically. More information can be obtained by calling their educational department at 312/939-2438.

Aquarium of the Pacific
100 Aquarium Way
Long Beach, CA 90802
562/590-3100
This aquarium offers Family Sleepover programs (one parent chaperone required for children ages 5+) in winter. The Teen Sleepover, held during summer, accepts teens ages 13-15 without chaperones. It has a fun scavenger hunt, the opportunity to steer a Remote Operated Vehicle through an obstacle course, and a pizza party dinner. All overnighters are introduced to aquatic family life and learn how various species at the aquarium interact with their young. Also part of the family overnight is a tour of the kitchen, where meals are prepared for all of the Aquarium's inhabitants. In the morning, hands-on activities are offered and kids take home a T-shirt when they leave. More details at 562/951-1630.

The Newport Aquarium
One Aquarium Way
Newport, Kentucky 41071
800/406-3473, 859/261-7444
The Newport Aquarium has a few fun sleepovers each year where guests bed down in a clear winding tunnel within sight of sharks, stingrays, and exotic fish who swim overhead. Aquarium naturalists are on hand to lead a behind-the-scenes tour and in-depth visits with sharks or penguins. Overnights are for ages 6+ and include a snack and light breakfast.

The Florida Aquarium
701 Channelside Drive
Tampa, FL 33602
813/273-4000
Florida aquarium offers an overnight program for kids 6 and over that features up-close and personal contact with a few of the sea critters on hand. Visitors have a choice between Aquarium Adventures (standard sleepover), Birthday Party (includes making a cake, games, animal encounter and other activities), FINS (grades 2-5 with educator) and Fish Investigations (grades 6+). Any sleepover can include late-night pizza, a light breakfast, admission to the aquarium the next day, sleeping next to the fishes and — one chaperone goes free for every 10 children.

Maui Ocean Center
192 Maalaea Road
Wailuku, HI 96793
808/270-7000
This aquarium offers Sleep with Sharks events for ages 6-13 throughout the year. Children's Sleepovers begin at 7pm on a Friday and run till 9am Saturday; this aquarium is also open till 9pm on Fridays if you just want to drop in. All events include aquarium admission the next day, nighttime snacks (not dinner), a movie, tours, and a light continental breakfast. The kids will get up close and personal with sea creatures, as they feed them with a staff naturalist, and observe the noctural behavior of sharks.

Sleeping Overnight at your Favorite Zoo
If your family would rather feed bats, take flash-lit hikes to find exotic bugs, and wake up to howling baboons or barking sea lions instead of hovering sharks, a zoo overnight may be the choice for you. Wild overnights are popular at zoos all over the U.S., and they promise families an intense learning experience shared with seasoned and caring animal experts. Here's a sampling of some favorites; as at all these events, advance booking is a must.
Bronx Zoo
2300 Southern Boulevard
Bronx, NY 10460
718/220-5100
New York's The Bronx Zoo offers its a "Family Overnight Safari" for parents with kids ages 5 and older, the zoo's most popular family tradition. The very pricey package includes snacks, breakfast, a T-shirt and animal sightings. Because this is the Wildlife Conservation Society's showplace, the sleepover experience is more comprehensive and exciting than a similar "night on the town" at the midtown-Manhattan Central Park Zoo, so we prefer it, especially for out-of-town families. Be sure to plan ahead, this event sells out quickly. Call the Bronx Zoo Education Department at 718/220-5131 in advance for more details and reservations.

San Diego Zoo Safari Park
15500 San Pasqual Valley Rd
San Diego, CA 92027
760/747-8702
The famous San Diego Zoo's Safari Park is where it's at for a fun Road and Snore Safari Sleepover. Sleepovers are geared for kids ages 3+, with special programs for scouts, school groups and even adults only!) They're pricey and rates don't include admission fees, but they provide a fun African style canvas tent for your party of up to four. Camp activities include an after-hours look at the wildlife, guided walks, dinner around a campfire, snack, breakfast, and a Park souvenir. The San Diego Zoo does run Wildlife Sleepovers for educators leading groups of students, scouts, etc in grades 3-12. There's a minimum of 35 participants, so you can put this on your reunion wishlist.

Also for more fun on another night in southern California, the Los Angeles Zoo's overnight, Creature Camp Out, features an after-hours tour, and families may bring their own tent or rent one. In this large urban zoo, an overnight with ages 5+ becomes a surprisingly rustic experience. Held several nights per month in summer; call 323/644-4212 for more information.
Fort Worth Zoo
1989 Colonial Parkway
Fort Worth, TX 76110
817/759-7200
This zoo gets the award for frequency, with overnights every Friday and Saturday year-round for ages 6+. The zoo has a wonderful Wild West theme in a zone featuring indigenous animals, which is not to be missed. Safari Overnights entertain all ages with a nature scavenger hunt and pizza party. Call ahead to make reservations; group size is 15 minimum but you may be able to join another party.
Cheyenne Mountain Zoo
4250 Cheyenne Mountain Zoo Road
Colorado Springs, CO 80906
719/424-7827
Come see what the animals do while the rest of us sleep! The Cheyenne Mountain Zoo now lets Colorado visitors explore the zoo by moonlight. Designed for 10 to 175 people, WildNights is a memorable experience for families, scouts and groups of adults and children ages 5 and up. (You can also register to join another group.) We love the emphasis on healthy treats for dinner, snacks and breakfast, and like that this overnight includes giraffe feeding, as well as a night before and morning after guided tour. WildNight typically runs 6pm-8am; the zoo will provide dinner and activities; visitors need to bring their sleeping bags (adults can rent cots), pajamas and other personal items.

Dear Reader: This page may contain affiliate links which may earn a commission if you click through and make a purchase. Our independent journalism is not influenced by any advertiser or commercial initiative unless it is clearly marked as sponsored content. As travel products change, please be sure to reconfirm all details and stay up to date with current events to ensure a safe and successful trip.
---