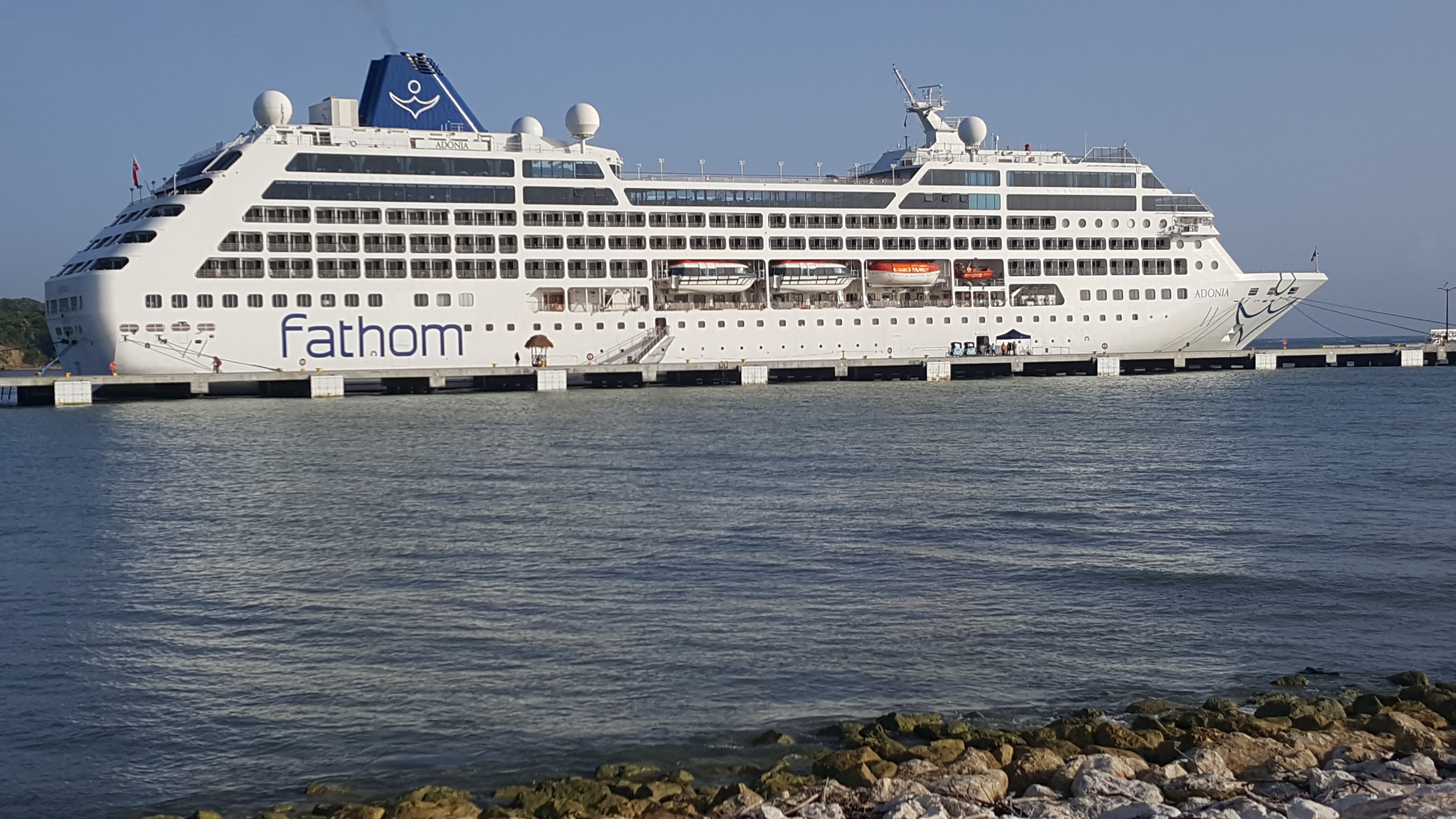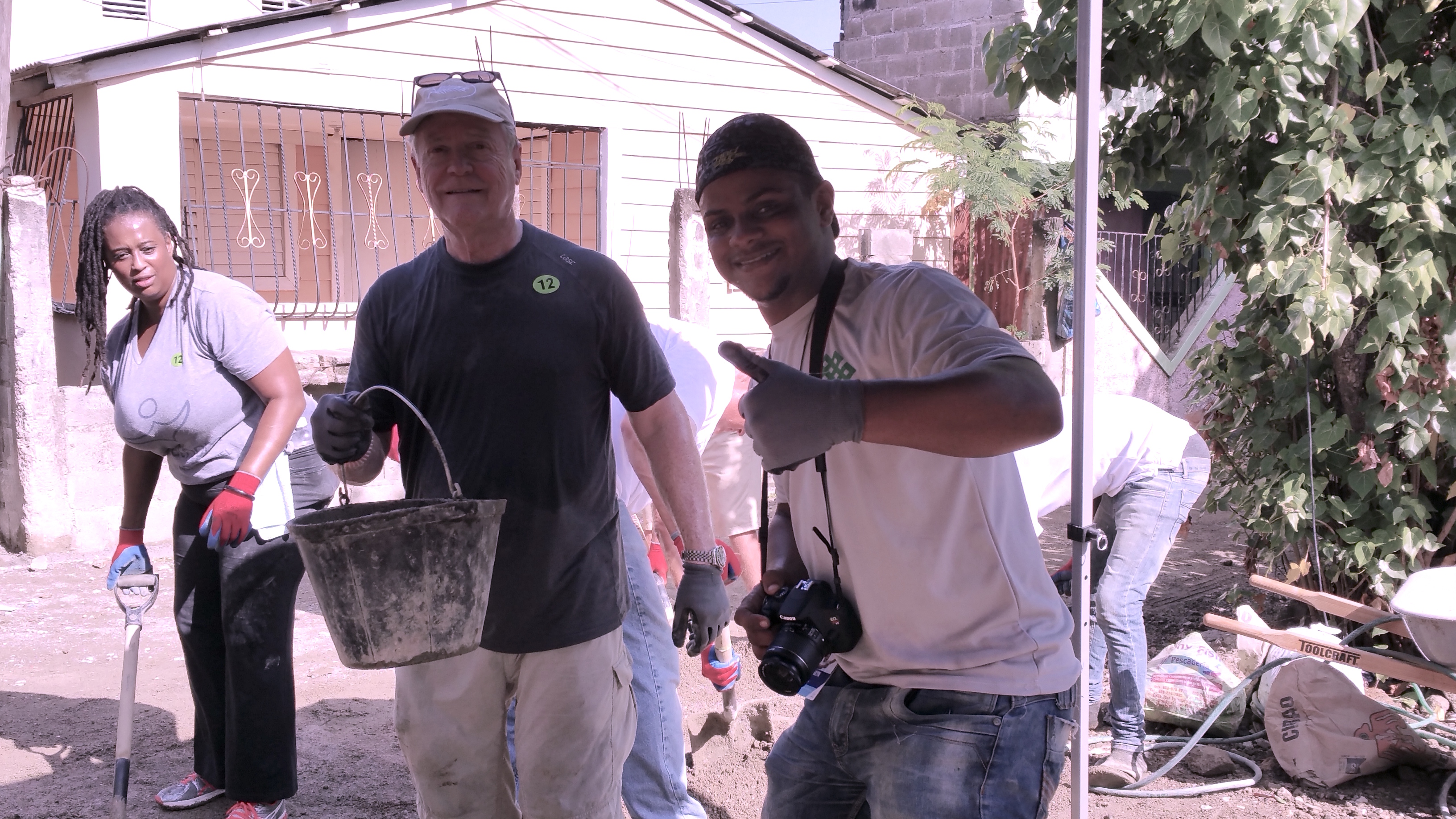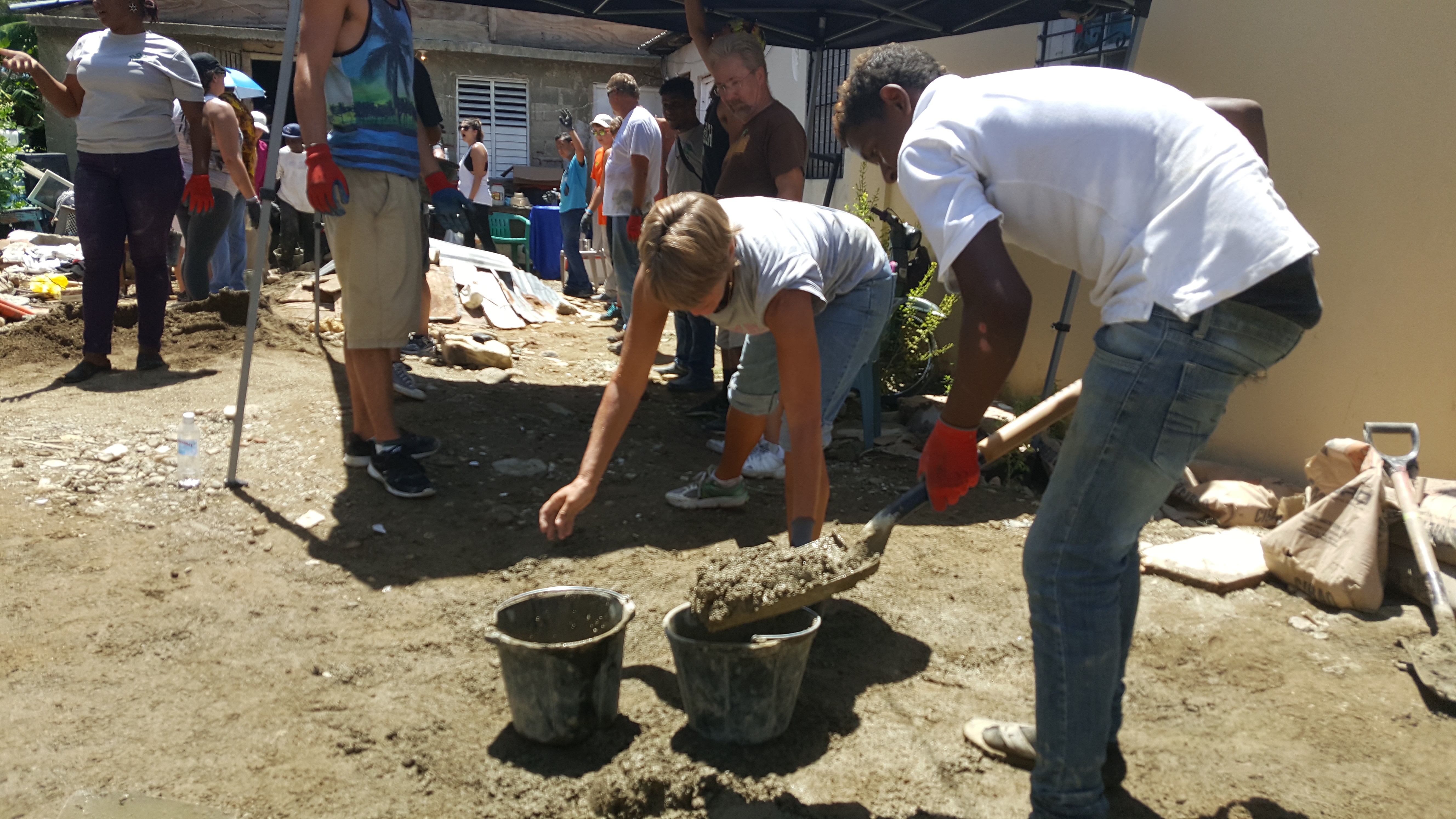 The recently created Fathom Cruises, a division of the mammoth Carnival Cruise Line, offers a kind of social good cruise unprecedented in the industry. For the inaugural Dominican Republic itinerary, that translates to two days cruising from Miami each way, and three days docked at Amber Cove to give back to the Puerto Plata community. The concept is to combine travel with "social impact," providing opportunities for travelers to have fun and participate in volunteer work activities on shore.
Fathom's guiding principle is Travel Deep: provide "empathy, not sympathy" and offer a "hand up, not handout" to people in the destination seeking sustainable ways to improve their lives.
My family took this journey with the hope, in even a small way, of making a difference. We approached it with an equal measure of trepidation, fearing that the volunteer work would not add up to much.
Overall, we felt the activities did have an impact on people's lives. In the Dominican Republic, where the minimum wage is $170 per month, many people struggle to get by and seemed to welcome assistance. In the process, we experienced the island and its culture in new and interesting ways.
The Vacation Part of Fathom Travel
With a capacity of 704 passengers, the Fathom ship Adonia, leased from P&O Cruises, operates in many ways like any other mainstream cruise line. The British officers and gracious staff were friendly, helpful and eager to please. There are three dining choices: a Lido deck buffet, the Pacific full service dining room (no assigned seatings) and the premium Ocean Grill, with a $25 surcharge for gourmet cuisine. We liked being offered the choice to sit with "new friends" at a large table, or at our own table, each night. Adonia has a small saltwater pool, large gym and spa, some daily programming and a few bars with live music at night.
For some passengers who score a last minute cruise bargain rate, this will be just another Caribbean cruise, very comfortable but without the megaship frills. They are surprised, and usually delighted, to find community service oriented excursions when they come aboard.
The staff is young, energetic and idealistic about being Social Impact Guides (there are 14 on board). The "travelers of Fathom" concept is experienced on the first day, when we met with our Impact Guide in a passenger subgroup of 15 or so called a cohort. Our Guide explained the Fathom philosophy guiding the volunteer work, and the range of opportunities offered. There were several more meetings during the southbound journey in which the practical aspects of volunteering were explored further. Spanish phrase tutorials established some social graces in the native tongue to help us develop some rapport with locals. There were also sessions about finding your inner superhero, storytelling and taking better photographs.
In the non-volunteer time between missions (or, all the time if you decline to volunteer), there are lots of things to explore around Amber Cove. Carnival built a real port here, as it is sited in a lovely, undeveloped bay. There are two bar/restaurants, a very good coffee stand, and a very large, meandering pool with waterslides and lifeguards. There are also the inevitable tourist shops, jewelers, and Duty Free. Free WiFi is available in the air-conditioned shop areas. A taxi stand outside offers self-organized trips to nearby beaches, an excursion to the very popular 24 Falls (climb among waterfalls and pools in a jungle setting), local seafood restaurants, and the town of Puerta Plata. The ship offers its own organized excursions to the beach, a snorkeling adventure, and several history and culture tours of the Puerta Plata region for an additional fee.
The Work Part of Fathom Travel
On the third day, work began. The range of possibilities for volunteering included "Concrete Floors," a reforestation project, water filtration, Paper Recycling Workshop, Chokal chocolate factory, English language tutoring, and an arts and sports children's daycamp.
Fathom has established partnerships with several Dominican NGO's (Non-Governmental Organizations), who organize and staff the volunteer opportunities with Fathom Impact Guides. Key to making their endeavor sustainable, each of the activities continues year round, since the Fathom ship – which alternates with a weeklong Cuba route — is only in port three days every other week.
Pouring Concrete can be Fun
The Concrete Floors project was hard work, but quite satisfying to us and absolutely meaningful -– probably life-changing — for the man whose uneven dirt floor we replaced with a finely finished concrete floor. The Impact program has tackled this project in the small village of el Higuerito, where 80% of houses have only dirt floors, a real health hazard for families with small children. The 25 members of our group provided an efficient team effort to mix the concrete by hand and, with a daisy chain, deliver it inside the house to skilled local masons who provided professional installation and finishing.
Within 3 1/2 hours, we had finished the floor, which would get a final colored patina the following day. Lorenzo, the lovely owner of the small house, was thrilled and thanked us from his heart. We all felt good that we had made a difference in his daily life.
Making Life-Saving Pottery is an Honor
The Water Filtration project also had a direct tangible impact. Potable water is scarce in the DR and even tap water can lead to serious illness. An NGO, Wine to Water, has developed a terracotta filter that can convert any water into drinkable water. It is made from very fine clay mixed with fine pine sawdust and a liquid silver compound. After being fired in a pottery oven, the conical filter is installed above a plastic 5-gallon bucket that collects the water as it drips through. Bacteria are killed by contact with the silver.
Volunteer travelers journey to the factory where these are made and actually make one filter each. Fathom supports the cost and the resultant filters are given to people in several communities. After making our filters, we delivered several to people in the village of Los Llanos, who had been asked to contribute $5 towards the approximate $50 cost. Watching them, we could see that a water filter is a life-changing, even life-saving, gift.
Other Fathom Volunteering Programs
We could not try every project, but spoke to other passengers to get their reactions. The Fathom Reforestation Project requires passenger volunteers in various stages of the process, from planting seeds in small plastic envelopes, to actually planting seedlings, either in denuded hillsides or along the coast. All stages require manual labor to nurture plants that will mature into trees which will keep giving through the years.
There are two local entrepreneurship projects. One women's cooperative, RePapel has developed a variety of small projects to help support its members, from making artisanal paper from recycled office paper, to making jewelry, to arts and crafts creation. The ladies are warm and friendly, and sing as they work. Mostly single moms, they engage volunteers to help in the various creative projects that help support their families.
The Chokal chocolate factory is owned and operated by another women's cooperative. They grow organic cacao in the surrounding hills and process it into a variety of chocolate products, which are sold retail throughout the country. Volunteers in hair nets and gloves help in laborious tasks ranging from sorting the quality beans, to separating chocolate nibs from crushed pods, picking out shells and packaging. The volunteer labor helps to increase their output, and purchases of the finished product (at retail, not wholesale prices) by hungry and excited volunteers increases their bottom line.
Currently, there are two offerings with direct people-to-people dimensions. Volunteers can be trained aboard ship to help local adults improve English language skills, then go out to work in communities with small groups of adults. The Creative Arts, Music and Sports program trains volunteers to bring a creative dimension to a local area classroom. Both seem to be quite satisfying for the volunteers and welcomed by the communities.
The Impact team is constantly monitoring activities to maximize the satisfaction of the volunteers and the value of the volunteer work to the community. We were reminded that programs are always evolving with the goal of a sustainable future for each of these businesses.
Planning your Fathom Volunteer Vacation
The Fathom Travel cruise we experienced – only the eighth one since launch — attracted a wide variety of passengers, from grandparents with schoolage grandchildren (minimum age is 8) to girlfriend getaways, teachers, missionaires, expat Dominicans, single parents on vacation, business groups and many who also volunteer in their own communities and wanted to see what this was like. Getting to know many of them was very satisfying and a memorable part of the trip.
Good to know: Passengers are limited to three volunteer sessions, leaving free time for local sightseeing, snorkeling, shopping and beach time. As soon as you commit to a cruise date, book your volunteer activities so you'll have choices. If impact activities are not full at the last minute, you can always sign up for more.
Cabins are spacious, with a small sofa and roomy bathroom. Only inside cabins sleep up to four in two upper berths. Rates for these start at $499 per person through November 20, 2016, using Code FB1, for a seven-day cruise including all meals, most activities, food and beverages other than soda and alcohol. Staterooms with balconies start at $699 per person and port taxes (estimated at $208) and gratuities (about $80.50) are added to all rates. The Fathom Cuba cruise is priced higher. Bookings can be made online at Fathom.org or by calling 855/932-8466. Their agents are very helpful in recommending age and ability-appropriate volunteer options.
All in all, we would highly recommend this trip. The concept is positive, the work is important, and we look forward to where Fathom's Impact Program takes us in the future.
Dear Reader: This page may contain affiliate links which may earn a commission if you click through and make a purchase. Our independent journalism is not influenced by any advertiser or commercial initiative unless it is clearly marked as sponsored content. As travel products change, please be sure to reconfirm all details and stay up to date with current events to ensure a safe and successful trip.
---