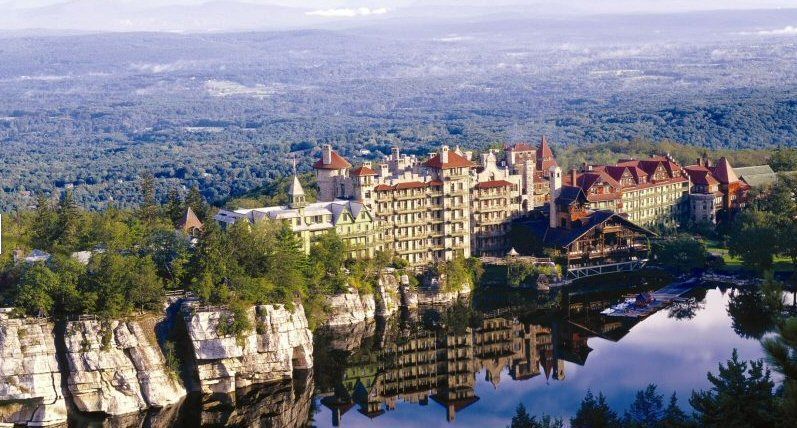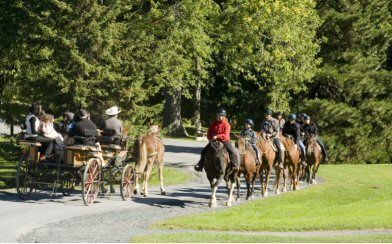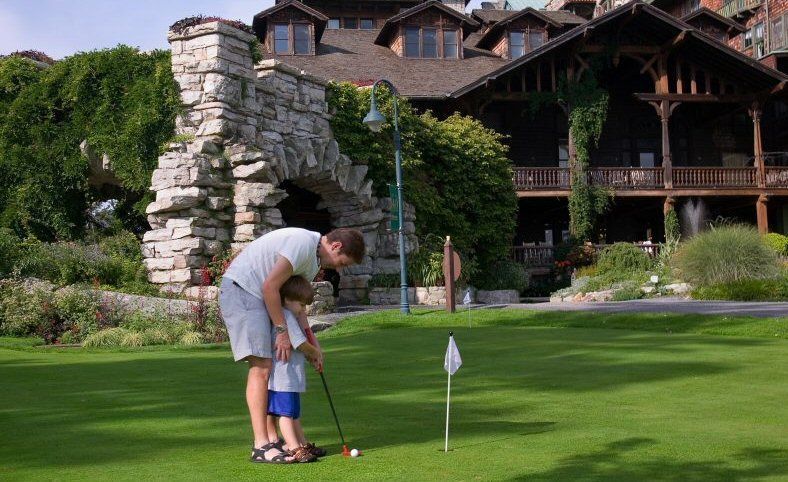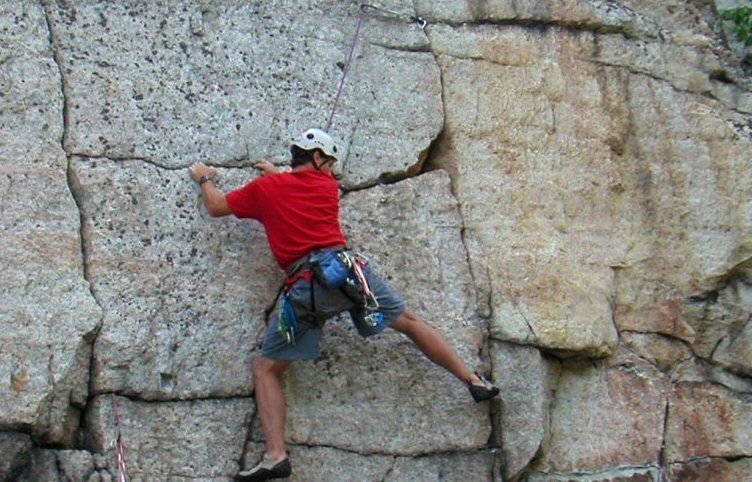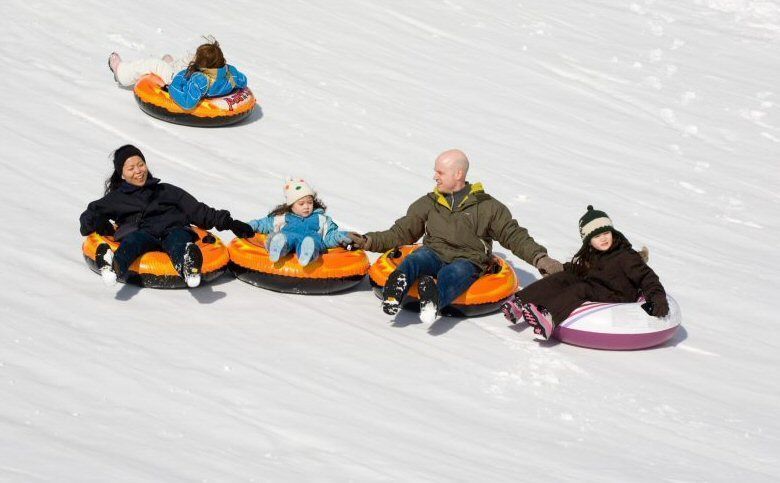 About 90 miles north of New York City in tranquil New Paltz, New York lies one of the nicest resorts we've ever seen — Mohonk Mountain House. Come take a look. . .
Light rain pattered mist-shrouded Lake Mohonk, and the loudest morning noises were child-like complaints. "What are we going to do now?" The answer was not television because there are no in-room TV's at the Mohonk Mountain House (855/883-3798) in New York's Hudson Valley. So how about video games? An elbow-cramping room with six video games crowded together was also not in use. Welcome sounds of silence.
Many children could be found in Mohonk's organized kids' programs. Admittedly, arts and crafts instead of rock climbing, at least this morning. Some families were in the resort's main meeting area, the Lake Lounge, playing Clue or Monopoly, or putting together puzzles from a wide variety of games and classic old-style entertainments available here. Other families donned rain gear and braved the elements to hike a portion of the resort's 85 miles of trails.
At this point, it dawned on me: The real test of any family destination, particularly when it comes to children, is what to do on a rainy day.
The nature-filled mountaintop Mohonk Mountain House easily passed the test. This is not to say that it rains every day, but on clear days, this more than a century-old resort that is a sort of throwback to the past is only a little less than Heaven-like for families. There's plenty to do- or nothing at all – on the grounds of the 2,020-acre National Historic Landmark, for everyone from grandmothers sitting in rocking chairs to tykes barely able to walk.
Programs for the Kids
The Kids' Club is available weekends and holidays year-round and daily in the summer for ages 2 through 12. For Mohonk's youngest campers, 2 to 3-year-olds, here are morning and afternoon sessions full of arts'n'crafts, dress up, truck and train play and more. Obviously motivated and usually young staff members teach art, sponsor sing-a-longs and do storytelling. Activities also include hikes, pony rides, splashing around at the lakefront beach and visiting the playground.
Tykes are the 4 to 6-year-olds. They start with a get-acquainted period, and then go on to several main activities which include choices: Hiking or frog hunting, swimming and arts'n'crafts, boat rides, a play castle and more. For Adventurers, 7 to 12-years-old, typical activities might be rock scrambling, tennis clinics, sports tournaments etc. and these tweens are asked for their input in the activity program. During July and August, teens ages 13 through 17 are invited to take part in the Teen Program, which features supervised activities such as day-long hikes and tennis during the day and evenings at the Teen Lounge with games, PlayStation 2 and Wii.
Under the auspices of Nina Smiley, a member of the family that has owned and operated the resort for 146 years, the resort offers a "Junior Naturalist Experience." Designed by staff naturalists, it's regularly scheduled activities include climate lessons at the resort's boat dock, where the group will examine weather instruments and learn how to take scientific readings. Other program events include expeditions to observe the many different types of flora and fauna that make up the local environment and nature walks to observe animal tracks. At the end of their stay, kids can receive a certificate designating them an official Junior Naturalist at Mohonk Mountain House and an Eco-Kit that includes a hand-held magnifying glass and a list of simple eco-activities to take home.
For non-ambitious adults, rocking chairs abound, and greenhouses and lush gardens as well. For the more active-minded, there's tennis and golf. There are often-changing theme weeks, and the organized activities, such as nature walks, ballroom dancing, and kitchen tours, are popular.
During my visit there, a single day featured a breathless schedule. Adults could start the day (after your continental or buffet breakfast) with an 8am fast-paced walk starting in the fitness center. Then, they could go on to a morning prayer/meditation at 9:30am, followed by a nature hike to collect Mohonk Blueberries. While nature is emphasized, there are also many cultural and self-help programs which some of your fellow guests may be participating in. One popular offering is the Tower of Babble, a language learning "immersion" that offers upwards of two dozen languages, including American sign language.
It's Always Choice Time
Throughout the day, adults probably would need rocking chair breaks to rest from the busy schedule of tennis doubles mixers, stretching sessions and various exercise classes. After that, visitors could sit back or watch a recent feature film, or reward themselves with the ritual afternoon tea and cookies in the Lake Lounge (included in the cost of a room).
"We try to organize our programs so that families can get together for part of the day and yet have their own separate programs," says Heidi Jewett, the resort's director of recreation. "Mornings, we have children's programs while mom and dad can take the time to read the papers or do things on their own. Then from 2 to 5pm in the afternoon, for many people it's beach time when the whole family can get together."
The new 30,000-square-foot Spa wing provides a whole new slew of choices. There are 16 treatment rooms, a solarium, and outdoor heated mineral pool, along with an indoor heated swimming pool with an underwater sound system, fitness center, and yoga/motion studio.
Having choices is key because the resort's philosophy is that vacation is a time to get away from the normal routine of the everyday world. "Our guests can sit in rocking chairs and read books all day or take meditation classes. They can get massages, play a round of golf, take fitness classes, listen to music or go to poetry readings. It's all about choice," she adds. During the winter months, organized activities also abound. There are 40 miles or marked, carefully maintained cross-country ski trails and a massive, 18,000-square-foot skating pavilion.
Mohonk Through The Generations
"Guests are not received on Sunday, and are not expected to leave on Sunday, except for very special reasons. Dancing is not permitted."
From "Impressions of Mohonk," by John Willy, 1923
Quaker twins Albert and Alfred Smiley started the resort in 1869 as a rural retreat where modern people could commune with nature. "Provide opportunities for recreation and the renewal of the body, mind and spirit in a beautiful natural setting," was their mission statement. The Smiley family continues to run the resort.
In many ways, the Grande Dame of resorts has not really changed much in the more years since it opened. Sunday checkouts are fine these days, and bugles no longer summon guests for meals, but the resort still has an otherworldly, old-fashioned appeal. Where else these days are men required to don jackets for dinner?
Mohonk hasn't changed that much since 1923, either, when John Willy, in "Impressions of Mohonk" wrote about the "hum of pleasant conversation among agreeable people." As for activities, he also noted: "There are amusements and recreations galore, principally of the outdoors kind, as boating, bathing, tampling, tennis, baseball, golf, riding, driving."
Motorists going up the winding 2.2-mile mountain road immediately get that sense when they see signs tucked within the tress admonishing visitors "Slowly and Quietly, Please." From the parking lot, they look up at a 259-room late Victorian Revival structure surrounded by stone cliffs and forests. "A cross between Charles Addams and early Walt Disney World" is how former New York Times architectural critic Ada Louise Huxtable described the building, which is a huge and striking stone structure with turrets and a reddish roof. Once attendants park their autos, visitors often don't get behind the wheel for the length of their visit.
Families checking into their rooms usually find they have fireplaces (there are 138 or them) and balconies (over 200). Most rooms have rocking chairs and Victorian-style furniture. From the balcony, guests can see across some of the 25,000 acres or 38-square-miles of contiguous public use land near the Hudson River in the hard-to-pronounce Shawangunk Mountains.
Rock formations rise above the water of the glacier-carved Lake Mohonk, which is a half-mile long and 60-feet deep. For visitors who take an easy, medium hard or difficult trek up to the Sky Top Tower, there's a view of six states – at least on clear days.
Excursions Off Property
For those who want to explore the area, its closest small town is New Paltz, founded by freedom-seeking French Huguenots in 1678. Huguenot Street here is said to be the oldest in America. Visitors can take in a half dozen old stone houses and a French church operated by the Huguenot Historical Society. The village of New Paltz buzzes with eclectic shops and restaurants. Many of the latter are gourmet treats, which is no surprise because the Culinary Institute of America (800/CULINARY) has one of its campuses just across the Hudson River at Hyde Park (you can dine here as well, but make reservations well in advance.)
Alternatively, visitors might try the scones or butter cookies made at The Bakery on North Front Street or a hamburger or New England clam chowder at P&G's, which still bears a resemblance to its founding as a dance hall in 1900. Chefs on Fire in a craggy stone setting offers famous wood-fired pizzas. There are also many farmers markets with U-pick orchards and an array of wineries turning out products that increasingly please even the most critical palates.
For those who remember hippies or have kids who dress like them, Woodstock is less than a half-hour away. Visitors at the Woodstock Museum, where the motto is "We Stand for Land and Peace," can pick up mementoes such as incense wands and tie-dyed T-shirts.
A P.S. for parents who do opt for the Mohonk Mountain Resort and fear television deprivation might be traumatic: There are several 27-inch TV's tucked away in various parlors. During my visit, they seemed to be turned on all day long but had few viewers. The upside is that TV-watchers can pick their own programs- which, of course, fits in well with Mohonk's philosophy of choice.
Trip Planning Details
It's not inexpensive to stay at the resort but it can almost be considered an "all-inclusive" vacation. Double occupancy rates include three meals a day and afternoon tea are included, as well as most activities and the children's programs. With 32 different room styles, finding the perfect room for you is as simple as deciding what amenities you need, and how much you're willing to spend. Fortunately, there are several times a year when children can stay for free, usually in during the summer and school holidays.
For families who want to visit the area and find the Mohonk too pricey, access to the resort is available for daily fees. Less expensive digs are also available, such as the activity-packed Yogi Bear Jellystone Park Camp-Resort at Lazy River in Gardiner less than a half-hour from New Paltz. The heavily-wooded park has tent sites, cabins and RV rentals with clean restrooms and showers. The campground will even rent you your own RV — now that's an option for the adventurous!
Dear Reader: This page may contain affiliate links which may earn a commission if you click through and make a purchase. Our independent journalism is not influenced by any advertiser or commercial initiative unless it is clearly marked as sponsored content. As travel products change, please be sure to reconfirm all details and stay up to date with current events to ensure a safe and successful trip.
---