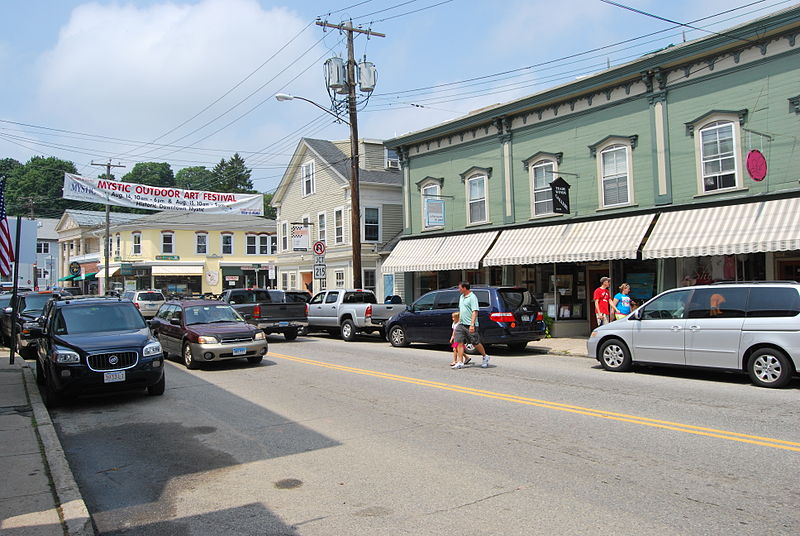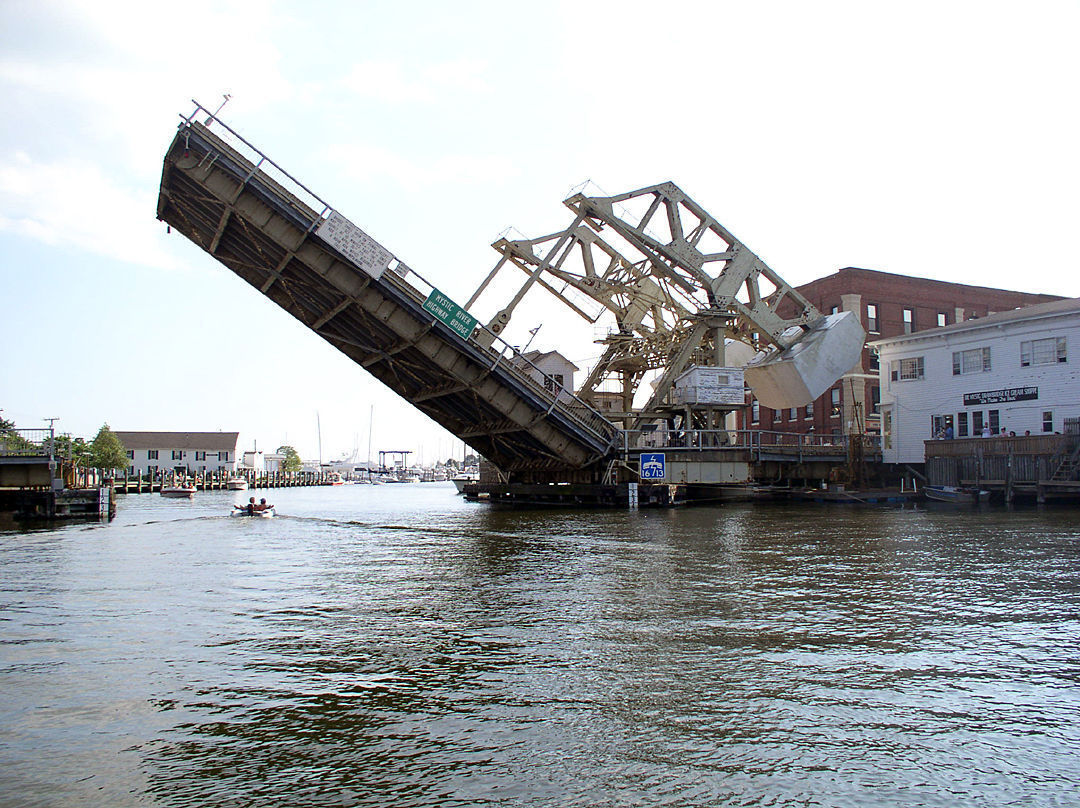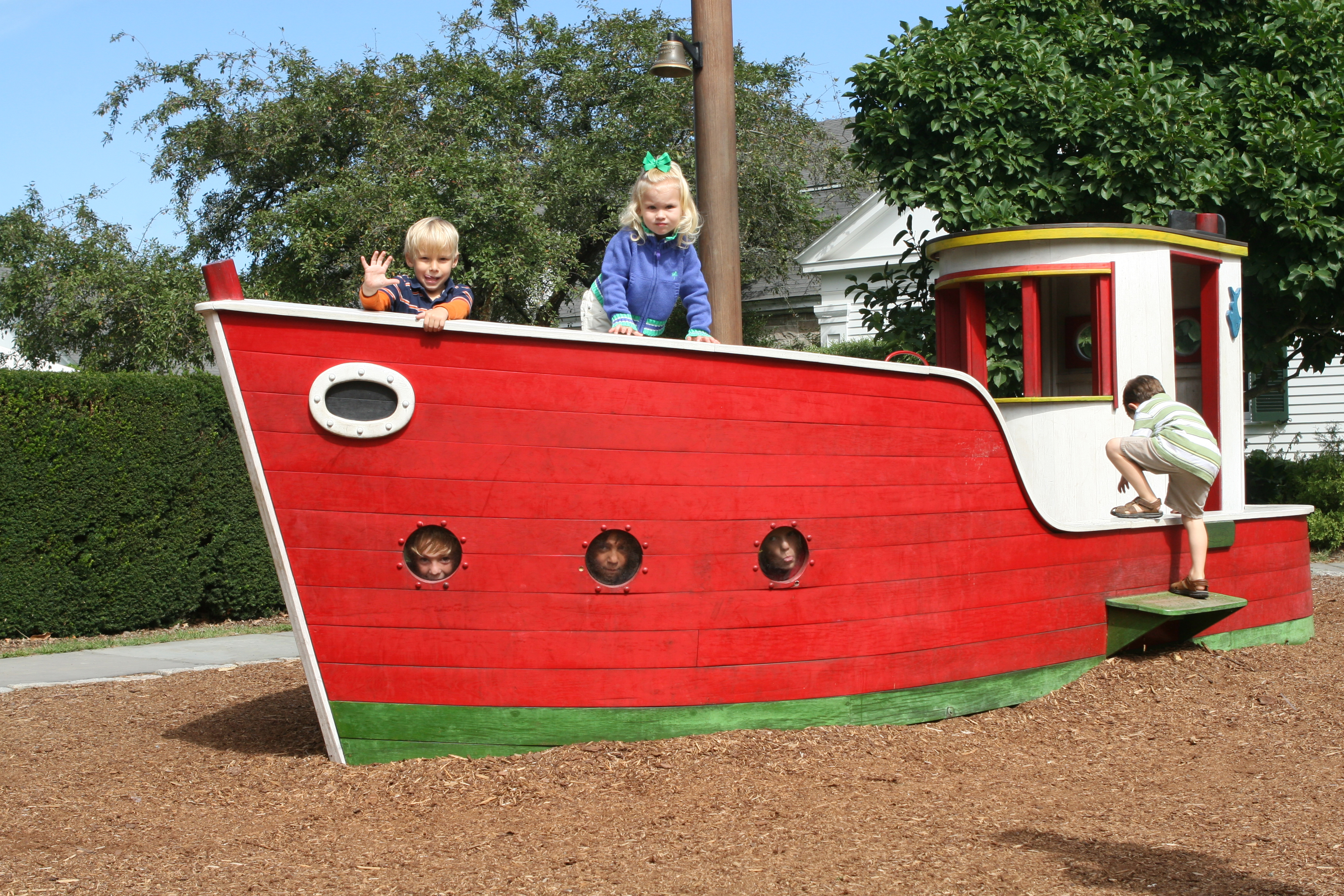 Mystic, Connecticut has all the ingredients for a great family weekend: schooners and whalers, clippers and dinghies at Mystic Seaport; dancing dolphins and dashing sea lions at Mystic Aquarium; a children's museum in Niantic; hiking, biking fishing, and other activities galore plus a whole spectrum of kid-friendly places to stay and kid-favorite places to eat.
Family Fun at The Seaport at Mystic
First stop during any Mystic weekend will surely be Mystic Seaport: The Museum of America and the Sea (860/572-0711), a replica of a 19th-century seafaring village where no matter when you plan your visit — spring, summer, fall or even winter — there's always something happening. Kids of all ages love to walk the gangplank onto the Charles W. Morgan, to seize the wheel and to make-believe they're bunking down below and heading out on a whaling expedition. Steam churns out of the funnels of the old coal-fired steamboat Sabino (1908), which chugs out from the dock daily from mid-May to Columbus Day for a 30-minute trip down the Mystic River.
Younger children 7 and under can visit the Seaport's Children's Museum to dive into the trunk of clothes and pull out sailors' uniforms and other costumes, pretend to cook a hearty meal in the galley while they set their sibling to swabbing down the deck and pretend to sleep in the bunk. Kids 8 and over are excited by the hands-on activities in the Discovery Barn, where they explore a fishing scooner, imagine they're setting the sails, or experiment with a block and tackle.
A favorite event to witness (except in winter) is the Dead Horse Ceremony. A stuffed horse is raised up high into a ship's rigging and dropped over the side with a mighty splash to the accompaniment of vigorous sea chanteys. Supposedly this is how sailors celebrated paying off their debt to the ship's store (though don't ask me how the horse got involved). There's so much here for kids of all ages and temperaments to enjoy; let them explore their own nooks and crannies. (Baby Note: It can be difficult pushing a stroller along the gravel pathways.)
Older children may drop in on the artisans who demonstrate all kinds of nautical trades — barrel making, sailmaking, figurehead carving, and ship smithing. These folks encourage the kids to ask questions and to get involved in the processes that they are demonstrating. At the Nautical Instruments Shop, for instance, you and your kids may learn how to work a large-scale sextant. What stirs young mariners in the making, though, are the special demonstrations of seafaring skills from sail setting and furling aboard the square-rigged Joseph Conrad (1882) to whaleboat rowing. Adults are more likely to appreciate the collection of scrimshaw and figureheads in the museum buildings.
Details for Planning a Mystic Seaport Outing
When you get hungry, the Galley (860/572-5305) has good choices for the kids (hot dogs, grilled cheese sandwiches), and for you. There's also a full-service restaurant, but it's tough to secure a table.
Depending on the ages of your children, you can spend at least four hours at the Seaport. In summer it gets very crowded so try to arrive early; the nicest time to visit (as usual) is in the spring or fall when everything seems less frantic. The Seaport features 40 or so exhibit buildings and ships.
Special events include various summer camps for teens and kids in July, marathons, book signings, summer Sunday evening events, dog festivals, art exhibitions, fish & chip seafood festival and over the Columbus Day Weekend enjoy the annual Chowder Days.
Whale Kissing at Mystic Aquarium
Your next stop should be the Mystic Aquarium Institute for Exploration (860/572-5955) which appeals to kids of all ages, from pre-schoolers to seniors. It houses more than 12,000 marine life specimens of 425 different species in 70-plus exhibits. Kids are delighted by the antics of the sea lion performers at the Marine Theater. When the kids see the white Beluga whale kissing and cavorting with his trainer, the younger ones will probably want to pull a Free Willy and set him free; but they'll be thoroughly charmed by the sea lions who goof around, tossing and balancing balls, and honking back at the audience before waving everyone farewell.
You won't want to miss seal feeding time . The keepers who know each one of the animals by name will point out the "characters" in their charge — those fusspots who want only tails and those who want only heads and so on. Much less endearing are the sand tiger sharks who cruise around huge tanks. Beware – they are so close, their teeth can be counted! Also thrilling to see are the giant 25 lb. Pacific octopi, the seahorses, and a variety of other fish. Toddlers all seem to enjoy exhibits where the fish are at their eye level. The aquarium is open daily year round with limited hours during certain times of the year, so check the website for details. Parking is free at the Aquarium, and you have your ticket validated you can return for two more consecutive days without charge.
Setting Sail from Mystic Shores
Mystic Whaler, a windjammer schooner, sails on regular voyages and day sails that include lunch or dinner and there are overnight cruises as well. Depending on the captain, the kids will have an opportunity to help set sails and even to steer if they want to. If you don't know whether or not your child has sea legs, this is no place to find out, so go prepared; also, note that children under age 5 are not allowed to sail. Contact Mystic Whaler Cruises (800/697-8420).
Niantic's Children's Museum of South Eastern Connecticut (860/691-1111), off I-95 at exit 74, caters to kids from 0 to 12. They can role-play in the Global Village by experiencing other cultures, meet critters such as a bearded dragon and a leopard gecko in the Discovery Area, or they can go outside and use the climbing wall, soar on the zipline and play in the water table. Open Tuesday through Saturday from 9:30am to 4:30pm, Sunday from Noon to 4:30pm and closed on Mondays.
Families staying around for a few days should visit the Mystic Cycle Centre (860/572-7433) to rent 10-speeds, mountain bikes, and tandems so you can cycle along River or Cove Road or in nearby Bluff Point State Park.
Mystic, Connecticut Family Fuel & Lodging
The following restaurants and accomodations are truly kid-friendly: Mystic Pizza, 56 West Main St. (860/536-3700) is the title of a Julia Roberts movie that your kids probably never heard of, but they will still want to go for a slice.
My favorite summer dining spot, though, is Abbot's Lobster in the Rough, 117 Pearl St., Noank, CT (860/536-7719), at the western tip of Mystic harbor in Noank. Here you can order steamed lobster, crab roll, mussels, clams or steamers. Take them outside to the tables at the river's edge, watch the river craft and the gulls circling overhead, and breathe the salty air. Prices are very reasonable. Call for directions and seasonal hours.
For picnic items, head to Mystic Market (860/536-1500 and 896/572-7992) with two locations, a deli/bakery that makes picnics to go.
The Inn at Mystic (860/536-9604) offers classy motor inn accommodations, many of which are prettily furnished with Federal style antique reproductions including full- or half-canopy beds. TVs are tucked away in cabinets. Additional facilities include the Harbor House Restaurant, anoutdoor pool, basketball and volleyball and tennis courts, and complimentary bikes. Children <12 stay free in parents' room.
The Whalers Inn (860/536-1506) occupies a super convenient downtown location only four blocks from the railroad station. Its rooms are arrayed around a motor court. Although they tend to be small, they're attractively furnished with four-posters beds and other reproductions. All have private bath, TV, and telephone. Casual and fine dining are available. Children <12 stay free in parents' room.
For additional information, contact your travel agent or any of the following: Mystic Country Connecticut (860/536-8822); Mystic Chamber of Commerce (860/572-9578); or Mystic & Shoreline Visitor Information Center in Olde Mistick Village ( 860/536-1641).
Dear Reader: This page may contain affiliate links which may earn a commission if you click through and make a purchase. Our independent journalism is not influenced by any advertiser or commercial initiative unless it is clearly marked as sponsored content. As travel products change, please be sure to reconfirm all details and stay up to date with current events to ensure a safe and successful trip.
---