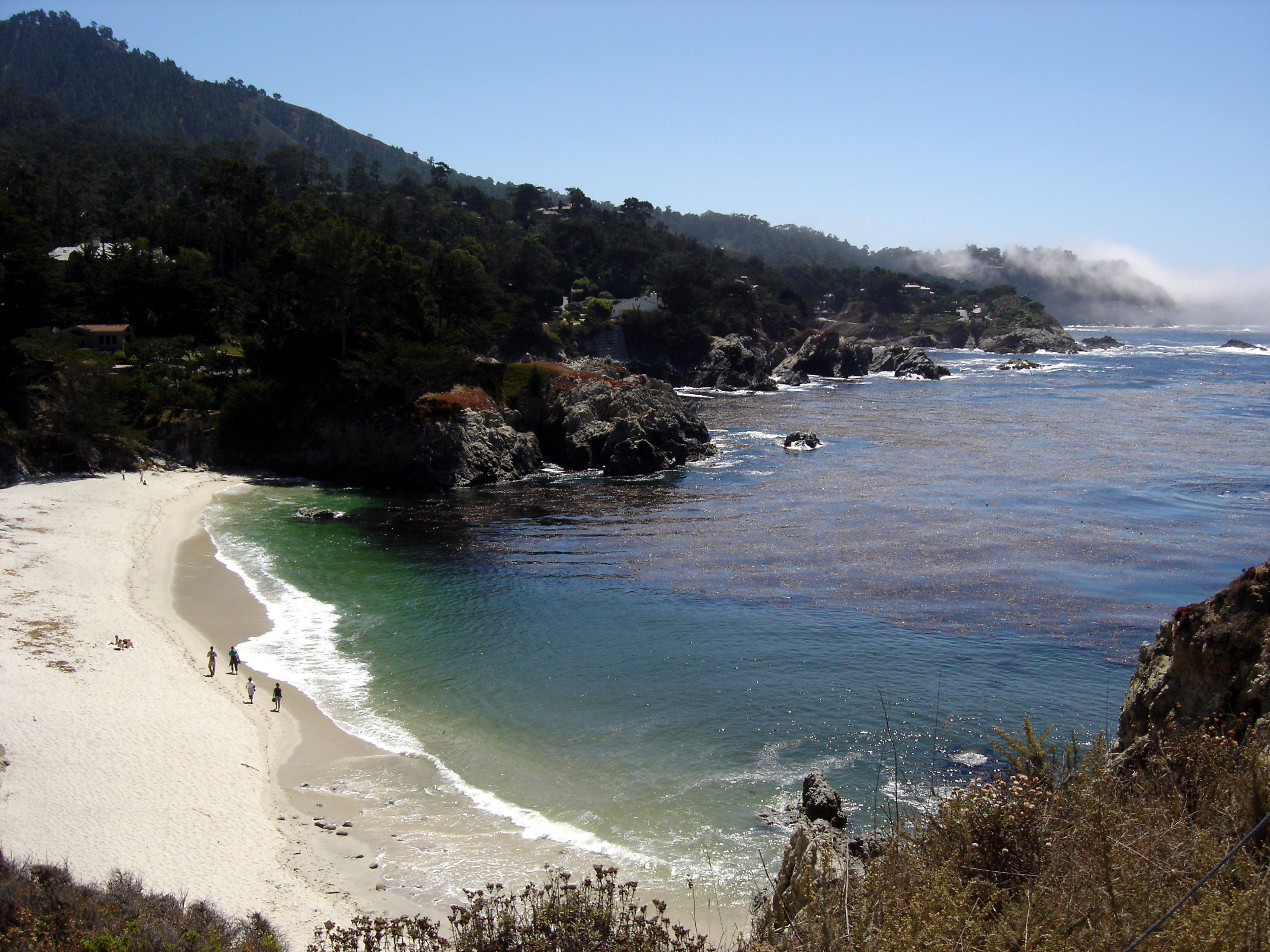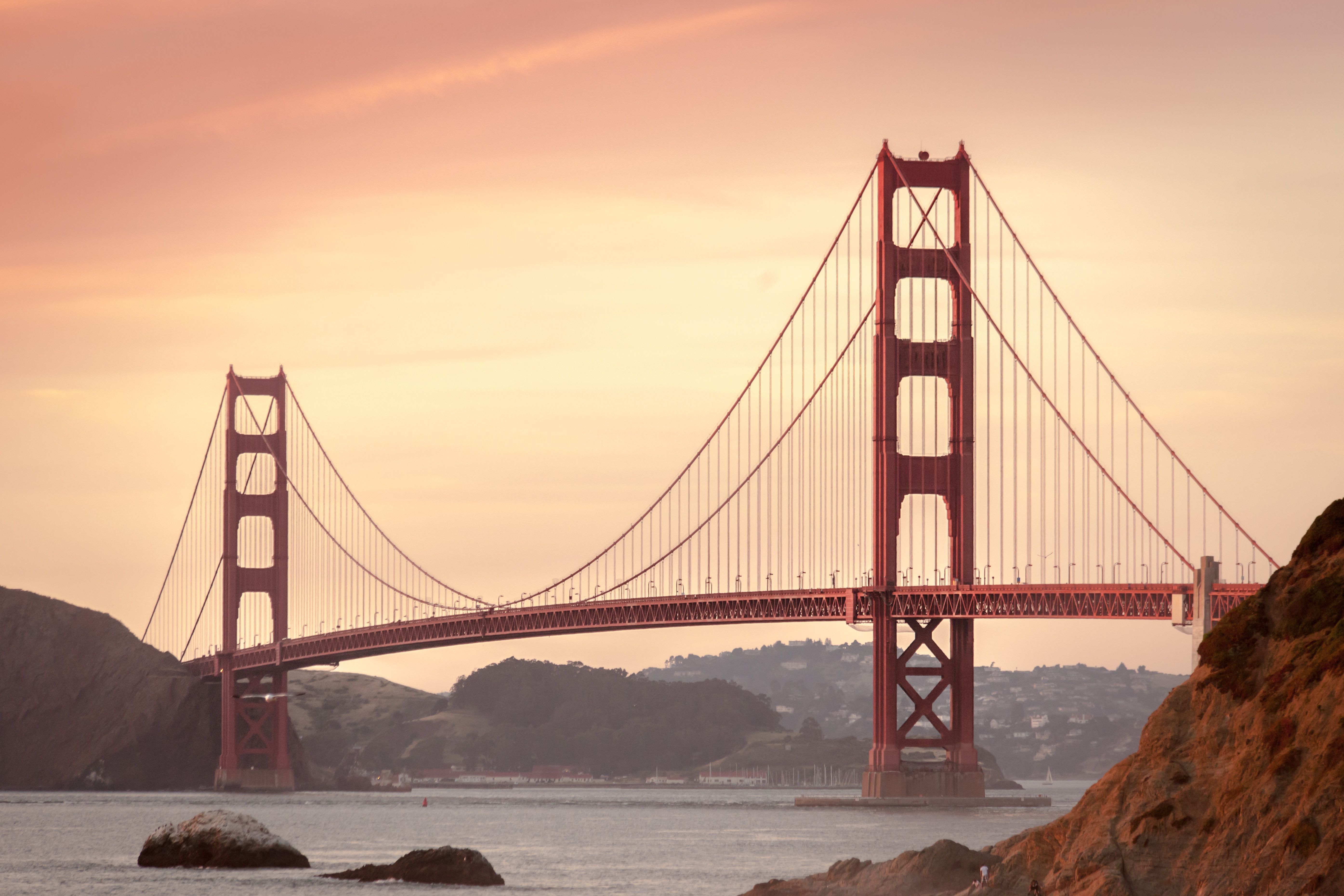 With low-cost airlines serving San Francisco and Oakland, northern California has several options for top-value family getaways within a short drive of either airport that feel like deluxe vacations.
Visiting the San Francisco Bay Area on business and need a relaxing weekend nearby? We've explored the San Mateo and Marin Counties, plus Carmel, Monterrey, Pt. Reyes, and Sacramento to find places where your family can afford two nights at a nice hotel without busting your vacation budget.
All around the northern part of California, there are fresh sightseeing, entertainment and lodging options that won't completely empty your pockets, so read on!
San Mateo County, California Weekend Getaway
Including varied attractions such as Redwood City and Palo Alto, San Mateo County is south of the airport between San Francisco and San Jose. Hotel prices are cheaper than in the city, especially on weekends, and many fine museums, farms and small sights will keep the kids busy.
Get your bearings in the San Mateo County History Museum (2200 Broadway, Redwood City 94043; 650/299-0104), an interactive museum that is really kid-friendly. Housed in the former county courthouse, this impressive structure is on the National Historic Register of Historic Places and its exquisite stained-glass dome is thought to be the largest in a Pacific Coast public building. Exhibits include Nature's Bounty exploring how early people used natural resources for day to day life and build San Francisco, and ;Journey to Work exhibit on how transportation transformed the county from a frontier into a suburb, an exhibition on the Immigrant Experience in San Mateo County. Keep an eye out for Ships of the World, a remarkable exhibit of over 20 meticulously crafted model ships created by a local ship enthusiast.
Don't miss the Hiller Museum of Aviation (601 Skyway Road, San Carlos 94070; 650/654-0200). The museum more than 40 aircraft, exhibits, and interactive displays. It also showcases an extraordinary collection of "flying machines" beginning with an Avitor (the first controlled power unmanned aeroplane) dating from 1869, before the Wright Brothers ever dreamed of flying, to experimental robotic Blended Wing aircrafts. In fact, the museum is dedicated to "dreams of flight: past, present and future" with a focus on unique technological innovations and innovators.
The expansive Main Gallery is the heart of the facility, and several of the vehicles on display were designed and built by Stanley Hiller, Jr. who began his career as an entrepreneur at age 18 with the Hiller XH-44 "Hiller-Copter." Other highlights of the collection include gliders dating from the early 1900s; an Aerocycloid (a cycle-like vehicle that attempted vertical lift) built in 1908; biplanes, wind tunnels; the Little Looper (the first American plane used for aerobatics) dating from 1914; a rotocycle and Hiller's "Flying Platform," among other antique crafts.
Some more contemporary pieces include the 1969 Lockheed Quiet Star, an early example of stealth technology and the 1988 super-secret Boeing Condor, a robotic flying aircraft. Exhibits on the future of aviation include information on "hypersoar" planes that will travel beyond the atmosphere into space at hypersonic speed, conserving fuel and decreasing flight delays. Sounds like an innovative idea, especially for all those stressed-out frequent fliers.
It's worth stopping at the Burlingame Museum of Pez Memorabilia (214 California Drive, Burlingame 94010; 650/347-2301). This is the only place in the world where you can see over 500 Pez dispensers that have been produced since 1952 and the World's Largest Pez Dispenser. Share your memories of these with your kids, and also introduce them to many of your favorite playthings including Mr. Potato Head, Tinker Toys, Lincoln Logs, View-Masters and Erector Sets on view at the adjacent Classic Toy Museum.
Discover a wide variety of lodging in the area. We stayed at the appropriately named Bay Landing Hotel (1550 Bayshore Highway, Burlingame 94010; 650/259-9000) which is a short van ride from the airport. A paved walkway around the grounds offers great views of the water and of the airport activity. The rooms are very comfortable and come equipped with a small refrigerator, microwave and coffee maker, as well as complimentary high-speed internet access. There is an on-site fitness center, and the plentiful complimentary buffet breakfast can be eaten in the dining area, or outside on a lovely terrace overlooking the bay. Rates for a family of four are $149/N for a room and $249/N for a suite depending on the season and promotion.
Other nearby hotels include the San Francisco Airport Marriott in Burlingame, the Sofitel San Francisco Bay in Redwood City, and the Four Seasons Palo Alto. The latter houses the very elegant Quattro Restaurant, a romantic spot for a date if you arrange for a babysitter.
Learn more in FTF's Guide to San Mateo County. For more information on activities, restaurants and lodging, including pet-friendly hotels, parks, restaurants, beaches and nature trails, log on to www.VisitSanMateoCounty.com.
Carmel & Monterey Peninsula, California Weekend Getaway
Located south of Santa Cruz, this peninsula is one of the most beautiful, family-friendly regions in northern California, where fall and spring bring the lowest rates. Go on a picnic with seals and otters at the Seal Rock Picnic Center (17 Mile Drive, Pebble Beach 93953), ride a paddle boat at the Dennis the Menace Playground (Pearl Street, Monterey 93940) or leave on a whale-watching cruise from Fisherman's Wharf (Old Fisherman's Wharf, Monterey 93940).
While you're there, you can also stop by the Point Pinos Lighthouse (Asilomar Avenue, Pacific Grove 93950) to learn how lighthouses are kept. For activities away from the water, you can visit the interactive M.Y. Museum (425 Washington Street, Monterey 93940; 831/649-6444) for children or go horseback riding in Carmel Valley.
The kids will love the refurbished Monterey Bay Aquarium (886 Cannery Row, Monterey 93940; 831/648-4800) featuring 200 galleries and over 35,000 animals. The aquarium celebrates its 30th Anniversary in 2014, and in recent years was voted the #1 aquarium for kids in the U.S. by Parents Magazine. Here your kids can touch various animals (all safe to be handled) at the Touch Pool and explore the "Splash Zone," the first-ever children's museum inside an aquarium. Other special exhibits open regularly and feature particular species — such as sharks — or habitats.
For more out-doorsy types with easygoing hikes and breathtaking view, Point Lobos State Reserve (Route 1, Carmel 93923; 831/624-4909), is located within a short driving distance. Golf and tennis buffs in your group will enjoy a drive inland through upscale Carmel Valley. This Old World town has absolutely no traffic lights, but boasts a world-class Bach Festival each summer.
The Four Sisters Inns operates two affordable and lovely B&Bs in the Monterey area. The Green Gables Inn (301 Ocean View Boulevard, Pacific Grove 93950; 800/722-1774), which claims to be California's most famous inn, offers rooms with a view of the bay, a king bed, pullout sofa, and a futon mat on the floor. It was recently voted as one of the "Top 50 Small Hotels in the US" by readers of Conde Nast Traveler. There's also the cozy Gosby House Inn, which is more for romantic getaways. Another option is The Hotel Carmel (Corner of 4th & San Carlos Street Carmel 93921; 855/622-7635) with rooms beginning at around $200/night. Amenities include fireplaces in some rooms, flat screen TVs, heated swimming pool and Continental breakfast delivered with the newspaper to your door.
Traveling with multiple generations? FTF's North Coast Reunion: Carmel & Monterrey outlines the region's attractions in detail. For further information log on to Monterey Peninsula Visitors and Convention Bureau (888/221-1010) and the Carmel Chamber of Commerce.
Point Reyes, California Weekend Getaway
At Pt. Reyes (1 Bear Valley Road, Point Reyes Station 94956; 415/464-5100), hike along beautifully maintained trails, go whale watching, see wild elk, play on the beach, horseback ride, and visit the many quaint little towns nearby. Pt. Reyes receives lots of visitors from the Bay Area, and it is no wonder why.
Its proximity, wealth of free outdoor activities, great restaurants, and affordability make it the perfect candidate for a weekend getaway. It wasn't the setting for the popular film Sideways, but the caliber of fine dining and wining in this area will startle and delight parents. Best yet, it's such a casual place that kids are welcomed to participate at many of the best restaurants.
At Hostelling International-Pt. Reyes (1390 Limantour Spit Road, Point Reyes 94956; 415/663-8811), a family room sleeping five is available for a minimal cost. This youth hostel is located in the center of the park, so families can hike right out the front door. Families looking for more service can contact Point Reyes Lodging (800/539-1872) for B&B's in the walkable hamlet of Pt. Reyes Station or neighboring towns. Family oriented cottages have a price range of $165 to over $300/N. Prices vary between different seasons.
For an in-depth look at the region, check out FTF's Guide to Pt. Reyes National Park, California.
Marin County, California Weekend Getaway
Another beautiful — nearby but less expensive — location is San Rafael, where you can stay at the newly renovated Four Points Sheraton (1010 Northgate Drive, San Rafael, CA 94903; 866/716-8126). It offers a good base for San Francisco city sightseeing, and an affordable alternative for families. This hotel is situated in the center of the city, near San Francisco and attractions such as the Civic Center designed by Frank Lloyd Wright and the Mission San Rafael Archangel. As a guest you can enjoy the amenities offered, which include babysitting services, a pool, rooms featuring 32-inch LCD HD televisions, bathrooms with granite topped sinks, and laundromat and dry cleaning services. The hotel is also home to the new restaurant Marin Steak & Spirits Company, where guests can dine inside or outside, depending on the weather. Check out their rates starting around $150/N. They have special offers as well, including discounts for AARP and AAA members.
An FTF Blogger reports on his family visit to San Marin, California here. To find out more about the attractions and accommodations in Marin County visit the Visitors Bureau.
Sacramento, California Weekend Getaway
The state capital of Sacramento is especially fun for families traveling with infants and toddlers, as reported by busy grandparents Mel and Ronnie Greenberg in FTF's Guide to Sacramento, California.
Year round, families can visit the Governor's Mansion (1526 H Street, Sacramento 95814; 916/808-7000), the impressive California State Railroad Museum (Second and I Streets, Sacramento 95814;916/445-6645), the Crocker Art Museum (216 O Street, Sacramento 95814; 916/264-5423), and the Aerospace Museum of California (3200 Freedom Park Drive, McClellan 95652; 916/643-3192). Sacramento is also known for its many professional and semi-professional theater groups and arts presentations.
What about the Gold Rush? It's been over 150 years since fortune hunters came in search of the elusive metal, but with few reminders of this storied past, the city offers savvy travelers its Sacramento Gold Card. Exclusively for registered hotel guests, the free discount card uses smart card technology to provide special offers at dozens of participating restaurants (including the Hard Rock Cafe), attractions (like the Railroad Museum) and retailers (such as the Westfield Shoppingtown Mall).
For a great hotel to check into, try the Best Western Sutter House (1100 H Street, Sacramento 95814; 800/780-7234, 916-441-1314), convenient to sightseeing at Sutter's Fort and the Governors Mansion. This AAA-three-diamond-rated hotel offers a double with two queen beds, free breakfast, a pool, and Internet access, with rates from $132/N depending on the season. Kids 17 and under stay free.
Annually from mid-August to early September, the town goes all out for Cal Expo (1600 Exposition Boulevard, Sacramento 95815 916/263-FAIR), the California State Fair and the state's biggest dining and entertainment bargain. Major artists, nightly performances, fabulous cooking, lots of 4H shows, what more could a family need? Check out the Sacramento C&VB site for more information.
Dear Reader: This page may contain affiliate links which may earn a commission if you click through and make a purchase. Our independent journalism is not influenced by any advertiser or commercial initiative unless it is clearly marked as sponsored content. As travel products change, please be sure to reconfirm all details and stay up to date with current events to ensure a safe and successful trip.
---