Majestically tall sand dunes, steady winds and lack of nosy neighbors attracted the Wright Brothers to test their flying machine on the Outer Banks of North Carolina more than a century ago.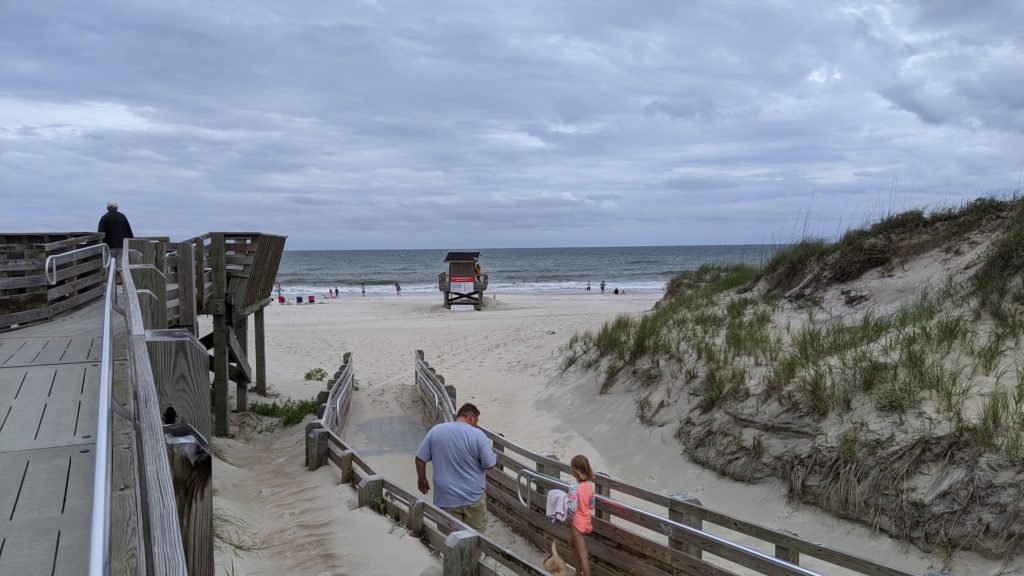 Today, the sand bars of the Outer Banks — OBX to locals — between the Atlantic Ocean and The Sound have much the same appeal.
This 100-mile chain of barrier islands is well cared for. Explore these protected places by by boat, bike, foot, kayak and of course, car. Note that "Soundside" places overlook the small, shallow estuaries separating these islands from the North Carolina coast. Because Soundside communities don't face the ocean, they are more affordable.
All in all, each summer, thousands of road-tripping families arrive by car and ferry to OBX.
The Wright Brothers on the Outer Banks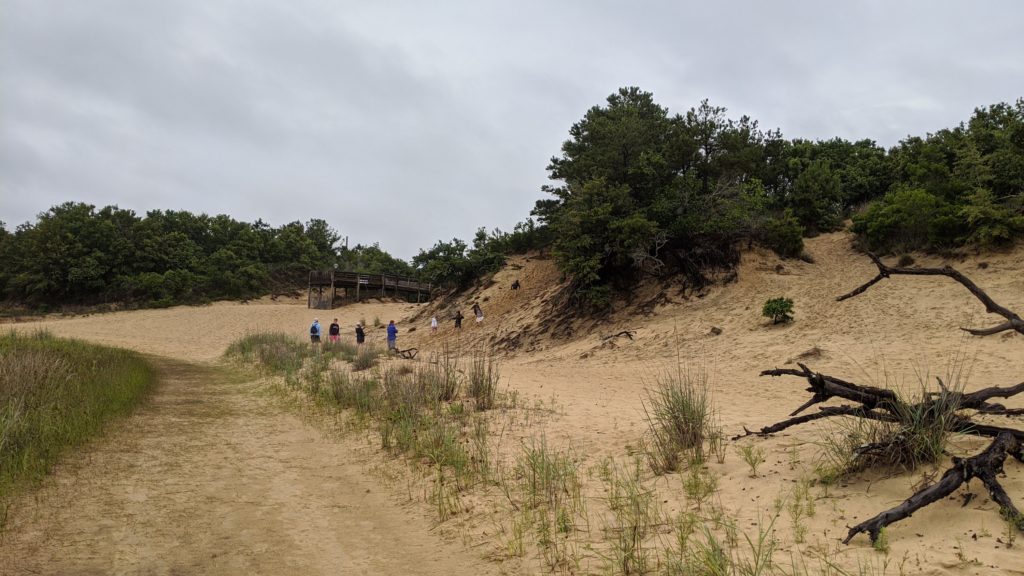 Outer Banks beaches are too casual to lure more recent celebrities but they don't need to. The Wright Brothers made Kill Devil Hills (location of the flight) and Kitty Hawk (their home) household names. Their aviation feat was an improbable-looking Wright Flyer, a primitive but ingeniously designed, double-winged craft that only flew 200 feet and stayed off the ground for 15 seconds on December 17, 1903.
This is the exciting stuff visitors experience at the Wright Brothers National Memorial on US Highway 158. See the dramatic monument soaring up from a grassy knoll. The actual park houses the crude sheds in which the brothers lived and built their plane.
Driving the Outer Banks Beaches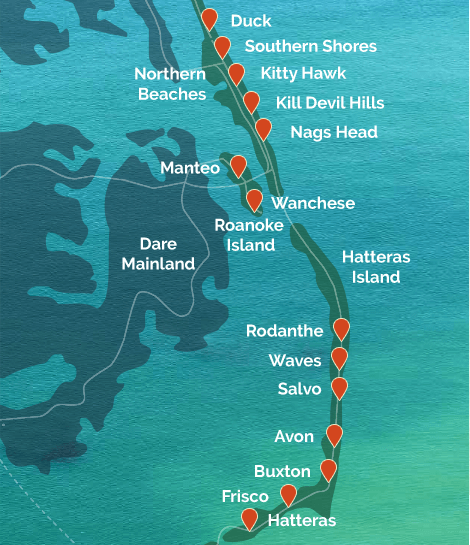 Even before the Wright Brothers, the eastern North Carolina seashore was a popular summer resort for the wealthy, especially around Nag's Head. In 1930, the opening of the Currituck Bridge from the mianland to Corolla allowed the masses to enjoy the barrier islands as well.
Go to the Outer Banks for the 900 square-miles of water surrounding vast stretches of sandy beaches, sculpted sand dunes and the third largest wildlife refuge and estuary system in the world. The relative isolation of these communities is the bonus.
Most New Englanders probably know the Banks from having watched tense, wind-blown reporters on TV shouting their hurricane reports the southernmost point. (Keep in mind that those winds often create Red Flag conditions at the beaches, when lifeguards caution against swimming in the strong currents. Those are perfect Soundside swimming days.)
Cape Hatteras National Seashore
To the south is the 72-mile-long region that comprises the nation's first national seashore, Cape Hatteras National Seashore, home to campgrounds and "America's Lighthouse." The 208-foot-tall, brick Cape Hatteras lighthouse dating from 1871 had to be relocated inland in 1999 and can still be seen. Just south of that is Cape Lookout National Seashore, a less visited park that comprises three sandbanks: North Core Banks, South Core Banks and Shackleford Banks, unspoiled hosts to their own wild horses (at the Rachel Carson Preserve), turtles, seabirds and a barbershop-pole-striped lighthouse.
Today, beyond the broad beaches, many quality (but not cheap) family adventures beckon. Of course, the beach, shelling, hiking and sightseeing are free and add priceless time outdoors to your vacation.
Kayaks, Fish and Outer Banks Watersports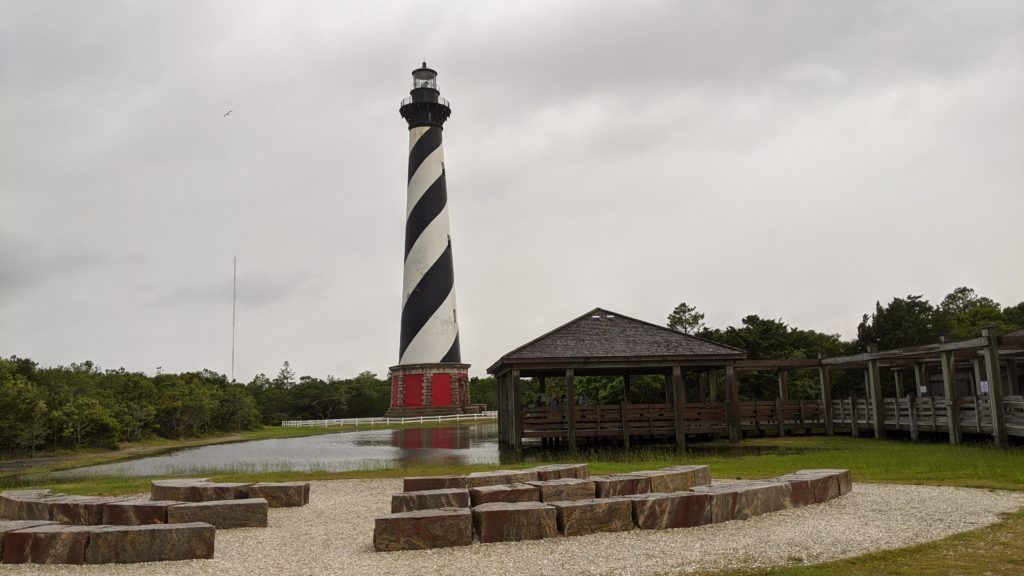 When the sandy beaches and swooping pelicans lose their summertime allure, here are some favorite things to do:
Kayaking Ecotours. Set sail with Kitty Hawk Watersports on six different tours (all regulated to ensure social distancing) suited to families. There's the Alligator River National Wildlife Refuge Tour, home to black bears, alligators and bobcats and the Dolphin Tour usually done aboard a larger boat.
Fishers who want a sure catch should book the Crystal Dawn with the whole family. The lively mate makes sure you bait the hook safely and cast your rod expertly.
Roanoke Island's Charms
Beach haters have other unusual options to stay busy on OBX. Explore the Elizabethan Gardens on Roanoke Island and stroll beautifully laid out walkways through all kinds of dramatic statues, many of which actually go back to Renaissance Italy. The Shakespearean herb garden, for example, contains plants mentioned in the Bard's great works.
Or, enjoyy a night out on Roanoke Island. In May of 1587, English ships set sail for the New World (with Sir Walter Raleigh on board) and landed on the Outer Banks in July. Two years later, the colony of 116 men, women and children disappeared without a trace. Roanoke Island Festival Park in Manteo, Roanoke Island, tells their story with a replica 16th-century sailing vessel, costumed interpreters, a reproduction settlement and a hands-on multi-dimensional museum. Plus — this is the night out part — the award-winning play "The Lost Colony" performed outdoors. It's back in person after a pandemic hiatus.
Outer Banks Environmental Preserves for Rainy or Any Day
Put Pea Island & Alligator River National Wildlife Refuges, accessed by trail markers from Cape Hatteras National Seashore, on your list. Children can work with park rangers to unroll a seine net which drags the bottom of Albermarle Sound. The Visitors Centers also provide virtual tours by cellphone so that families can learn about wildlife like turtles, bears, and red wolves through ranger talks and "safaris."
The Nags Head Woods Ecological Preserve is a tiny gem of Southern mystique, a carefully conserved swamp and marsh zone. Stroll the boardwalk to hear the gurgling sounds of plantlife decay. The decay turns the water such a creepy deep shade of tea brown. It rains a lot on the Outer Banks and this is one of those places that thrives in the weather.
The Audobon Center at Pine Island, off Corolla, is a 2,600-acre sanctuary known for its birds, upland maritime forest and wildlife; all framed by a classic hunting club preserved since 1913.
Go dune bashing at Jockey's Ridge State Park. Jockey's Ridge is the tallest active sand dune in the eastern U.S. and the most striking in an area characterized by sand dunes. How high is high? About 100 feet — or in more vivid terms — 6 million dump-truckloads. Check if facilities for kite flying, sand boarding or hang gliding are open. If so, take lessons there and do your own Wright Brothers thing. Plus there's a boardwalk and good access to soundside swimming if you don't want to get sandy.
Surfs Up! on the Outer Banks
Drive the Outer Banks and notice wind surfers and kite boarders gliding almost effortlessly across the waters that surround Highway 12. With an ever-present breeze and shallow sound, the Outer Banks is an east coast mecca for windsports.
What better way for parents to bond with older kids than over a beginner's lesson on Pamlico Sound? OceanAir Sports on Cape Hatteras offers affordable group lessons. All beginner windsurfing and kiteboarding lessons include gear rental during the scheduled session and there is more watersports gear for rent.
Ocracoke's Old-Fashioned Charm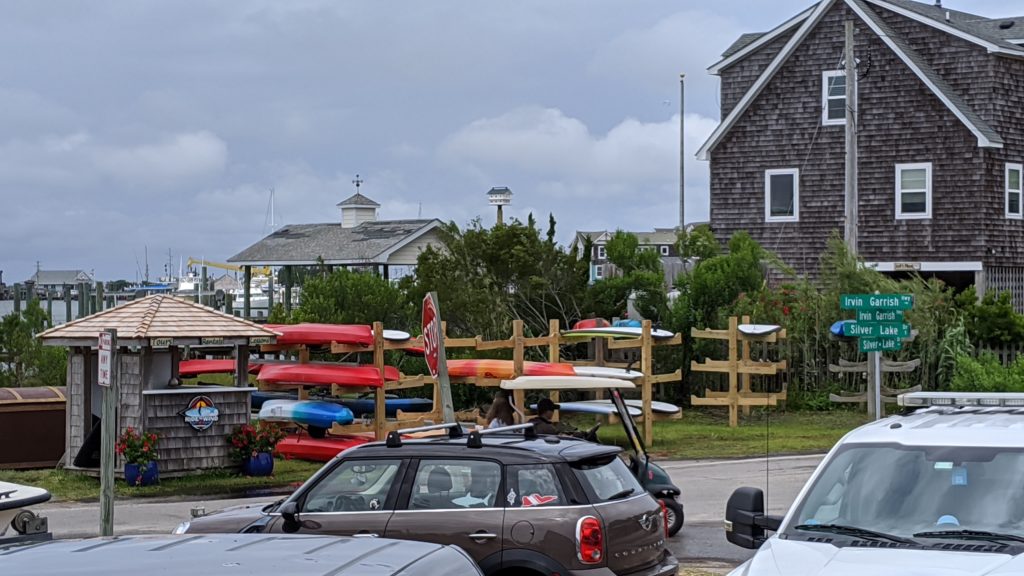 Nothing is very far away on the Outer Banks — you can see from one side to the next — and the system of ferries connecting to the small off-shore islands is quite reliable. Ocracoke Island, for example, is a lovely 45-minute ferry ride south from Cape Hatteras which is just down the coast from the built-up areas north like Nags Head. Nag's Head has a popular and affordable resort, Oasis Suites, which is located on Roanoke Sound. A waterfront restaurant that had barefoot waiters for 70 years, it was converted to a boutique hotel whose rooms have kitchenettes. Try to get in, book ahead.
The ferry follows the arc of the lovely coast. Once on the island, the 12-mile drive to the village of Ocracoke (oak-ra-coke) passes through classic marshland, dunes and rugged, vast stretches of beach. Crowded in the summer, the island is a haven for travelers and hippies seeking tranquility and "coziness" in the spring or fall. There are accommodations for longer stays, but Ocracoke makes an ideal full day trip from Nag's Head.
Ocracoke has some surprisingly good shops for sun and surf gear, some galleries and a few handicrafts stores. Food trucks typically serve Mexican fast food fare. Look around for signs of pirates, as this town is said to be the long-ago home of the infamous Blackbeard. Ferries are free (except for a few) in North Carolina; check schedules at 800/BY-Ferry or visit the North Carolina Department of Transportation: Ferry Division.
Outer Banks Road Trip Details
The Outer Banks is a destination that will require time to get to and time to appreciate. Getting there should be easier. A few airlines fly directly to Norfolk Beach, Virginia, an easy flight. From this point, 82 miles north, rent a car and make the drive to the Outer Banks. You'll need a car anyway, so most visitors rent one at the airport rather than take the rather expensive shuttle.
Arriving from the South: Beaufort
During the coronavirus pandemic, all shuttles and ferries are operating with reduced schedules and limited capacity, so reservations are a must. We drove from the south and booked a night at the delightful Beaufort Hotel, as Ascend Collection resort, in the tiny waterfront town just south of the Ocracoke ferry.
This Beaufort (pronounced like "BOW-fort" and not to be confused with Beaufort, So. Carolina promounced "biew-fert") resort is a great family resort, as you can see in the video, and the town's Island Express Ferry Service runs daytrips to Cape Lookout and Shackleford Banks. You may decide to skip the Outer Banks altogether. Those with more time to spend should check out Beaufort Cart Tours who provide guided golf cart tours of the town's Civil War and pirate histories, plus assist those with mobility challenges to get around and explore.
Arriving from the North: Virginia or North Carolina
Drive from the north down Highway 168 to 158 to the causeway that takes you to the Outer Banks. Be warned, the ride down is a trip through some funky vintage Americana the kids will enjoy.
My Top Outer Banks Tips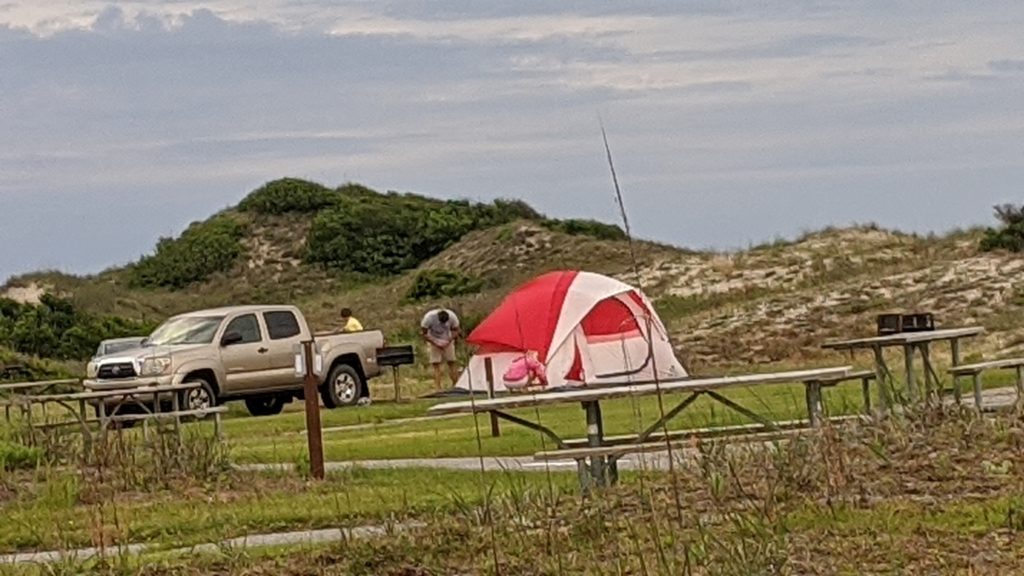 Many visitors find it cost-effective to rent condos or private homes for their vacation, saving on hotel costs and cutting down on their food bill. Village Realty is one of many local rental agencies. There are plenty of Airbnb's too, of course.
Many families like the oceanside Outer Banks, where the most expensive rentals on Beach Road sleep family reunions and are often blanketed in morning fog or high winds.
The soundside is quieter, while convenient to the many restaurants and ice cream parlors along Bypass Road. Expect even more quiet on the other islands like Roanoke that are closer to the mainland.
The Outer Banks Visitors Bureau is a good resource for places to stay, to eat, to go and whatever other needs you have and need help with. Their print "Outer Banks Travel Guide" is helpful.
If we whet your appetite, it's time to find your own Outer Banks retreat.
Dear Reader: This page may contain affiliate links which may earn a commission if you click through and make a purchase. Our independent journalism is not influenced by any advertiser or commercial initiative unless it is clearly marked as sponsored content. As travel products change, please be sure to reconfirm all details and stay up to date with current events to ensure a safe and successful trip.
---