As our family begins to enjoy being out and about again, we're contemplating family adventures in the Canadian Rockies, just like our long-ago trip.
It's rare when my college-age son chooses to spend time with me. So when Alec expressed interest in traveling together during his school break, I jumped at the opportunity. I had been invited to cover a media tour of Adventures by Disney, an abbreviated version of their popular 7-day Roaming the Rockies tour. We would venture to the Canadian Rockies of Alberta and British Columbia, where gorgeous alpine scenery was assured and the type of active adventure that Alec and I enjoy was promised.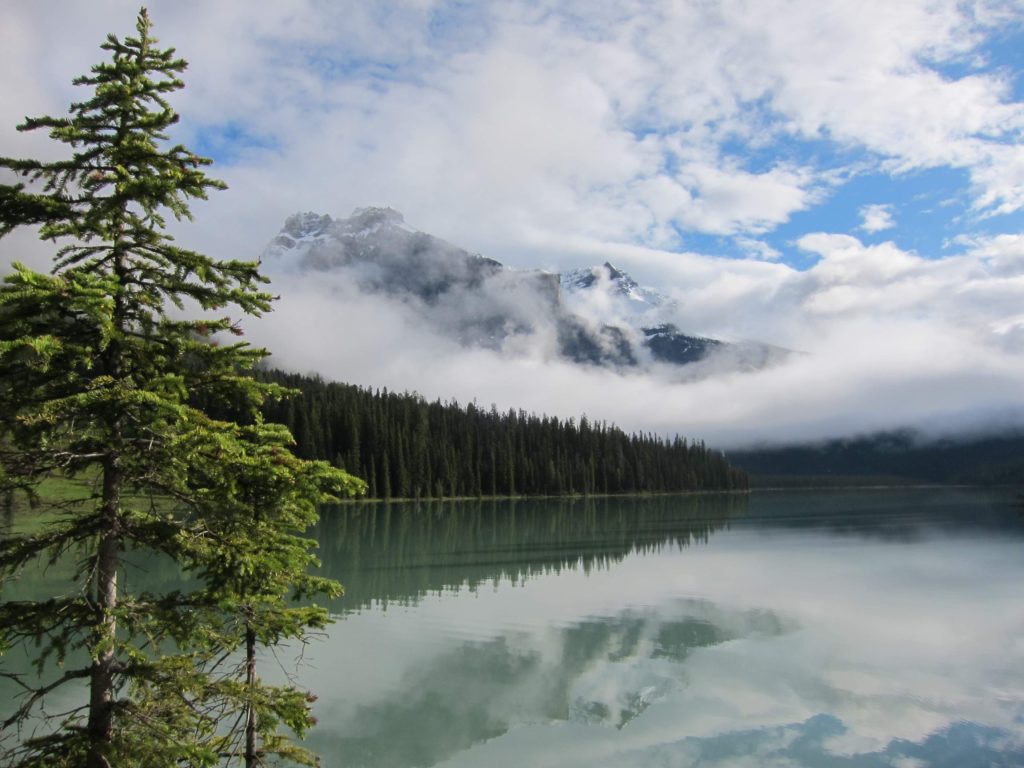 Our trip took place nearly a decade ago. I remember it so fondly that this post was updated with current information about the Adventures by Disney family tour. It still visits Calgary, Banff and Alberta, site of the best family adventures in the Canadian Rockies. Read on!
Was this my golden opportunity?
The Disney name is a strong selling point for families looking for a hassle-free guided vacation. In my case the Disney name was a plus for another reason. I had broken an unspoken parental obligation by never taking my kids to a Disney theme park. No Disneyland, no Disneyworld.
In spite of how many countries we had explored together (including Australia, Mexico, Italy, France, England, Korea) my offspring felt deprived. As my kids are now nearly young adults, it seemed as if we might never visit Disney together.
Was this my chance to ease my guilty conscience and give Alec a taste of the Disney magic without having to stand in long lines and deal with crowds?
My pre-trip hesitations about Guided Family Adventures
Besides the fact that we are not 'Disney' people, we are also not group tour people. I relish the freedom of arriving at a destination and living life like a local. My favorite family vacations have been home exchanges, where we swap homes with other families. Would a guided group tour work for us?
Adventures by Disney is fully escorted and promises VIP treatment plus immersion in the local culture. But would we find the group mentality too restraining? Would we feel too protected, wrapped in some sort of a Mickey Mouse-style bubble and not truly experience the people and spirit of the place?
To add heat to the fire, I feared that Alec might be too old for a trip like this. Was I trying in vain to catch the mother/child Disney train that had pulled out of the station years ago? Would he be a lone 6-foot-tall giant stuck in a sea of animated character-crazed elementary school kids?
In spite of these trepidations, we headed north. You could almost say we dared Adventures by Disney to please us.
The real story of our Family Adventure in the Canadian Rockies
Even before we left for the airport, I felt myself warming to Disney's concierge service. A Disney Vacationista booked our flights to perfectly coordinate with the scheduled itinerary.
I received a detailed daily itinerary including a handy tear-out with our daily contact information to leave behind for family members who were not joining us.
From the moment we touched down in Calgary, I found myself oddly relaxed. The usual hassles that we experience when traveling were nowhere to be found. Our personable guides, Tiffany and Lisa, greeted us and had our Disney-tagged luggage whisked to our coach. Our competent driver would be with us for the duration of the trip as well, and I was happy to leave the driving and navigating to a pro.
I breathed a sigh of relief when I saw our fellow travelers, mainly families with younger children, but a few childless couples and a 22- year old.
After being on the plane for so long, I dreaded the three-hour bus ride to Emerald Lake Lodge in Yoho National Park, British Columbia. But our guides kept us perky. Tiffany began a contest where points would be accumulated for sighting animals, such as Big Horn Sheep and Eagles.
This kept us mentally active and initiated a healthy sense of competition that somehow managed to bond our group of around 20. I was feeling my hesitations slip away.
The awe-inspiring beauty of the Canadian Rockies
Our arrival at Emerald Lake Lodge was breathtaking. The pristine lake was truly emerald colored, its beauty mystical. Our guides had done the check-in in advance, so we were given our room key immediately, no time wasted.
We didn't lift a finger as our luggage was transferred to our room. Our cozy cottage had an incredible lake view and a working fireplace. We had just enough time to canoe on the lake before our welcome dinner.
Alec was offered a cocktail along with the other adults, thrilled to be in Canada where the drinking age is 18.
Someone else gets to be the heavy
During the meal our guides engaged us in a few icebreakers and explained the daily logistics. Lisa announced the 'Golden Rule' of our trip, do not be late for morning departure, as this would be both disrespectful and delay the entire group.
The next morning we needed to be fed and ready for our rafting trip by 8 am. Alec was pretty disturbed that he would need to wake up by seven; his desire to sleep late is a major bone of contention between us. My son has many lovely qualities but punctuality is not one of them.
But Lisa's firm proclamation the previous evening had taken the parental pressure off me. She was now the authority figure, and though he has no problem rebelling against my rules, he does not rebel against stranger's rules, especially when they make sense.
Alec was prompt for all activities. I couldn't believe that Alec and I would not have to argue about his tardiness. Had I been foolish to avoid group tours for all of these years? I was beginning to think so.
The advantages of a local guide on a Canadian Rockies Family Adventure
A local guide boarded our coach on our way to the put-in spot and remained with us for most of our trip. Mitch's knowledge of local flora and fauna was extensive and our discussions quickly moved towards broad environmental issues connected to conservation as well as more specific issues, such as the Pine Beetle invasion.
I had visited the Canadian Rockies on my own in the past, but I quickly realized how much I had missed. Thanks to Mitch's expert eye, we saw two grizzly bears and a black bear on our trip. Better still we had learned what distinguishes these bear species from each other, what they eat at various times of the year and how they raise their young, all details that helped us in our successful bear spotting.
During the long bus rides we played group games such as Mad Libs and trivia, and yes, we did watch a Disney movie. But there was a good mix of intelligent commentary, wildlife spotting and thought-provoking discussion dispersed throughout our bus travels.
Our action packed itinerary
Our trip was jam-packed with outdoor adventures. We whitewater rafted, mountain biked, hiked around iconic Lake Louise, road a gondola to the summit of Sulphur Mountain and relaxed in the soothing Upper Banff Hot Springs. The highlight was our visit to the Columbia Icefield. Watch Alec's video and you will see why.
Our accommodations were impressive. We spent two nights in the rustic yet elegant Emerald Lake Lodge balanced by two nights at the Grande dame of the Canadian railway hotels, The Fairmont Banff Springs.
For our farewell dinner we were joined by a Canadian Mountie. Meeting him added a welcome note of authenticity and allowed us to gain valuable insight into our host nation.
Little details go a long way on Family Adventures in the Canadian Rockies
We felt exhilarated after our rafting trip, but the water was frigid despite our wet suits. Little details, like warm towels instantly appearing to dry us after we got out of our wet suits, made me feel wonderfully pampered. In fact, Lisa and Tiffany were always prepared with the things I often forget, such as sunscreen, insect repellent, hand sanitizer, band-aids. Coupled with an endless supply of water and an array of healthy (and not-so-healthy) snacks, I luxuriated in my parental responsibilities being shouldered by these two capable women.
Our Disney guides were full of helpful advice. When we checked into the Fairmont in Banff, they advised us to join the President's Club at no charge, providing benefits like free WiFi and the morning paper.
At the Emerald Lake Lodge, I had forgotten to book our table for dinner and was told that the only remaining seating was at 9 pm. This was late considering our morning start time, but Tiffany somehow managed to get us a table for the 7pm dinner seating.
Our guides snapped photos of us throughout our journey, which they sent to us on a disk a few weeks later. They even managed to get a few thoughtfully pre-stamped photo postcards of us ready before we left Canada, perfect to send home to grandma.
Enough free time to explore Canadian Rockies on our own
We had several meals scheduled on our own. I especially appreciated this during our time in Banff, with its abundance of good restaurants.
The younger kids on our trip had their own chaperoned dinner and campfire one night, leaving their parents happily childfree for the evening.
Alec still wants to go to Disney World
I can happily say that Adventures by Disney fully exceeded our expectations. The highlights?
Alec had a ball mingling with the kids and adults, and the guides seemed to genuinely like conversing with him.
My mission to spend quality time with my son was accomplished, without the intensity of just the two of us 24/7.
I was surprised how much I liked having tedious details taken care of by someone else.
I learned a tremendous amount about the area under the guide's tutelage, way more than I ever could have on my own.
Most of our fellow travelers were Disney regulars. Alec was eager to hear their expertise regarding the various Disney parks. The only mission that was not accomplished was that Alec now wants to go to Disney World more than ever.
Is a winter break at the Magic Kingdom in our future?

Dear Reader: This page may contain affiliate links which may earn a commission if you click through and make a purchase. Our independent journalism is not influenced by any advertiser or commercial initiative unless it is clearly marked as sponsored content. As travel products change, please be sure to reconfirm all details and stay up to date with current events to ensure a safe and successful trip.
---