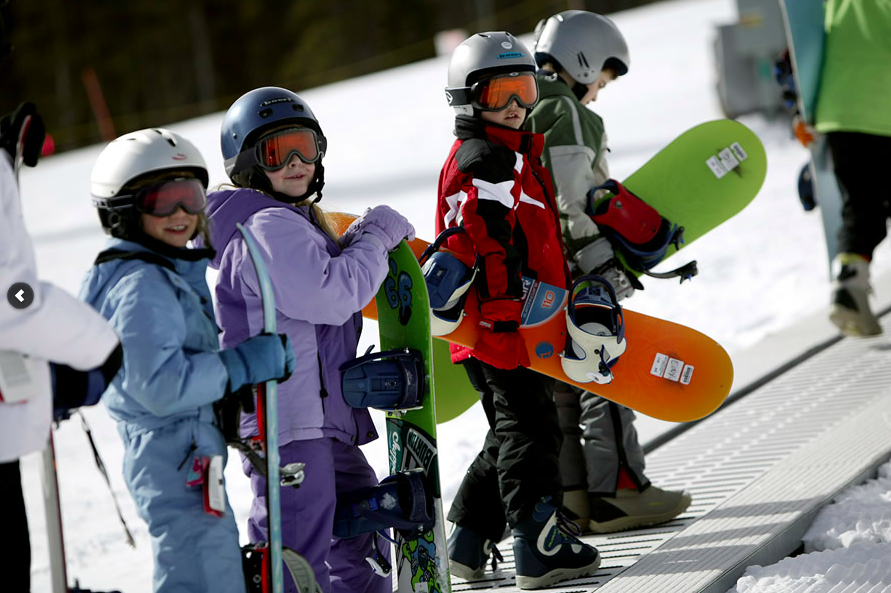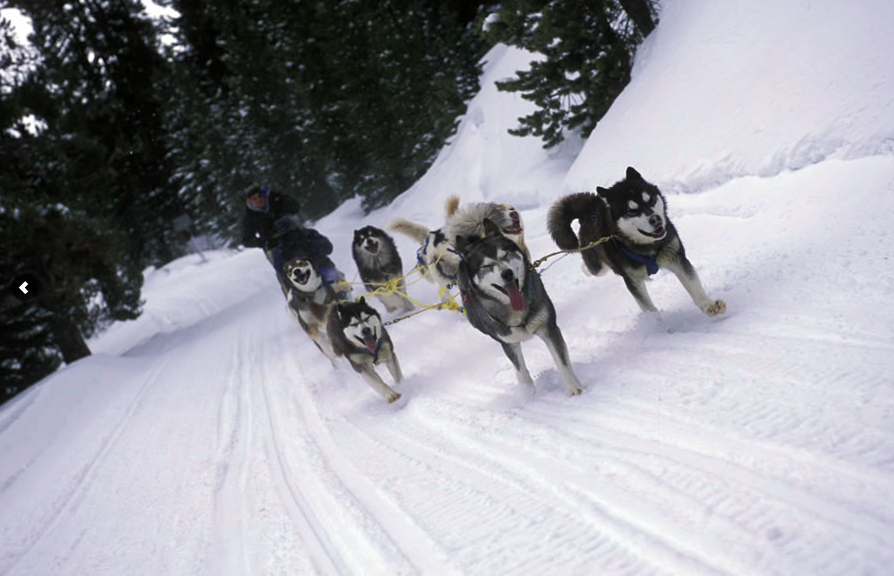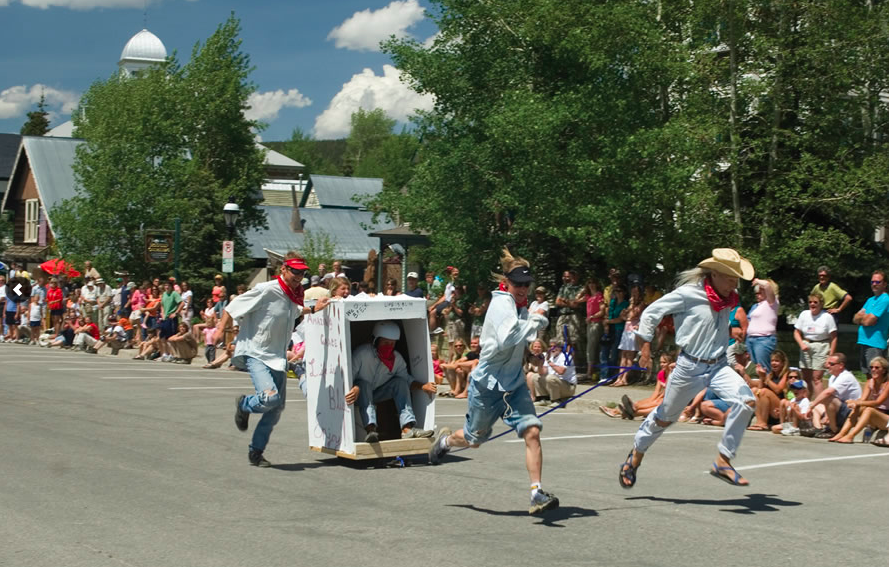 When you're doing snowsports with teens, you need more than just a great mountain, you need a great scene. Breck delivers all-around fun plus super infant and toddler programs.
What if you asked your teen how he liked his family vacation and he answered: "Breckenridge has to be the best ski mountain I have ever been to in my life. It has everything I would look for in a good ski resort, a big mountain with plenty of different trails, a variety of terrain parks with different size features, a good ski/riding school program, nice places to stay, and a nice town." That's the review we got about our winter vacation in Breckenridge, Colorado.
When my husband and I took our then 13-year-old son, Regan, and his 14-year-old buddy to Breck, little did we know that we would uncover a friendly mountain town that turned away from silver mining to go for the gold – as a major ski and snowboard resort. Much to our surprise, this is also a place that devotes as much thought, energy and skill into running nurseries and learn-to-ski programs for younger siblings and visiting toddlers. What's more, Breckenridge is scenic enough to be a popular summer getaway that lures mountain bikers, hikers, and just plain active families who enjoy the fresh air and cool breezes when school's out.
Breckenridge: The Mountain
Regan notes, "Breckenridge Ski Resort has over 155 trails (this might not seem like that many, but each trail is extremely long, some going for over three miles) on four peaks. Each trail had a different feeling, yet all were well groomed and fun to ride." As skiers, my husband and I enjoyed the variety of trails, especially the "classic" terrain on Peak 7, which has the most recently built and stylish base village. The boys thought it was very Old School to leave slopes in a more natural state, with powder drifts, rolls and bumps.
We also liked the fact that Breckenridge had fewer chair lifts crossing its 2,208 acres (more than 700 above the treeline), giving it a more open, less crowded feel than most Eastern resorts. Imperial Express now goes directly 12,840 feet to the top of Peak 8 — one of the mountain's four peaks — but that's unlikely to bring crowds because only experts can handle the powdery back bowls, double black diamond and extreme terrain found at its summit.
The big BreckConnect project, a gondola transporting guests directly from the lower town up past a few stops to 12,840 feet, is a major success. From Peak 8, families can even see the Continental Divide from the VistaHaus cafe. Another gondola also links Peak 7 and 8 to base camp.
Regan really appreciated the mountain's terrain parks, especially Trygve's, Freeway and Park Lane at the foot of Peak 8, ranging from beginner to among the most challenging parks in the world. Everyone seems genuinely proud that a visit by Jake Burton (of Burton Snowboards' fame) more than 25 years ago led Breckenridge to become one of the first slopes to welcome the new sport.
"The Intro to Terrain Park class I took was very well taught," Regan commented, as his friend nodded. "In one day I learned to nose-slide a fun box and a variety of grabs." We were all impressed with the friendly Ski & Ride School but from other vacations, our family has found that excellent instruction is a hallmark of all the Vail Resorts.
Breckenridge's school operates from mid-December to mid-April with a wide variety of programs for ages 3-12 years, broken down by ages 3-6 and 7-12 and by ski or snowboard interest. Helmets are mandatory and available for rent. Making these programs even more fun at our visit was Ripperoo, the costumed "dog" who skis and snowboards around the resort each day, in addition to making appearances in the very cute, gladed Enchanted Forest beginner area and at the base villages. He fits in well with Breckenridge's laid-back style.
Breckenridge's other very impressive instructional programs include private lessons, K2's Learn to Ski and Burton's Learn to Ride programs for beginners, women's clinics, terrain park lessons and camps for over-50s. The active and popular adaptive skiing program is run by the Breckeridge Outdoors Education Center (970/453-5633) and it's very inspiring to watch.
Breckenridge: The Village
Breckenridge's strongest appeal for us was the village itself: a hip, picturesque, former mining town. The boys appreciated that Breckenridge actually felt like a real town with, in their opinion, "wonderful restaurants and decent shopping." Public transportation, free mountain shuttle and town buses, is on eco-friendly hybrids, and lots of citizens have waist-length hair. The vibe is friendly and forgiving, sort of: "I'll put up with ski crowds blocking my sidewalk cause I know visitors support my great lifestyle."
Within a couple of miles' stretch of Main Street – a real "Wild West" town, at least to anyone who's not from the West – are dozens of restaurants, snow wear boutiques, T-shirt stores, bars and fun places to hang out. It's so small and so safe that we let the boys roam on their own at sundown, and meet up with us later for dinner.
Downstairs at Eric's (111 S. Main St, 970/453-1401) is a below-street-level arcade fronting a very good restaurant where chili cheese fries, large draft beers and juicy burgers are the main fare. Everything is cooked fresh, including the staff; in fact, you probably skied by your waitress that afternoon. Eric himself, judging by the tons of neat sports memorabilia hanging from the ceiling and lining the walls, is a hockey player. This was our kind of apres ski place, because while parents stretch out in the comfortable booths, talk or watch one of the 34 TVs, kids can roam over to the arcade and sample an array of video games (many vintage editions.) When we went at 7pm there was a 90-minute wait, so we returned for lunch on our last day. Good for that, too.
Where do you dine when Eric's is packed? For breakfast or lunch, it's The Blue Moose (540 S. Main St, 970/453-4859) for huevos rancheros, whole wheat pancakes, burritos and smoothies, with a side of Altitude Adjustment, a homeopathic remedy for altitude sickness. More on that later.
At night, go to Giampietro (on Lincoln St. just off Main, 970/453-3838), an excellent pasta and pizza parlor serving "East Coast Italian fare," whose lighting and small tables made it a step up in the luxe category. If the teens are still looking for a party, head to the Gold Pan at 103 N. Main; it's the oldest continuously operated saloon west of the Mississippi.
By the way, many condos offer Gourmet Cabby (970/453-7788), a local delivery service connected to Subway and most of the other Main Street restaurants.
Off The Mountain, Around The Town
The Mountain Top Children's Museum (970/453-7878) is at 605 S. Park Avenue near the mountain base. This small and charming museum has taken lessons from the big city guys in helping children understand their world, and provides water play, a dress up area filled with costumes and puppets, Kidstruction Zone for budding builders, a Sendak-inspired Where the Wild Things Are exhibit and many mini-tables and chairs so grandmas can play. New parents will appreciate the special Tot Spot where under-2s can safely roam and toss toys around. During summer, the museum runs a full-day weekday camp for ages 6-12, as well as occasional drop-in programs for ages 2-5 in separate groups.
Just outside this area is the reservoir used for ice skating in winter, but the ice wasn't thick enough at our visit. Families staying at ski in/ski out housing will find the not-too-fascinating base village a 5 to 10-minute walk from the main part of town, so a stroller or backpack may come in handy with little ones, particularly if you get short of breath (like I did) from the altitude.
The Breckenridge Recreation Center (880 Airport Road, 970/453-1734) or, more commonly, The Rec Center, is amazing. In the interest of full disclosure, we're from New York City where municipal works tend to be bridges or public baths dating from the 19th century. In Breckenridge, the village anyone would prefer to live in, the Rec Center is a contemporary palace of healthy fun, with great gyms, yoga, Pilates and aquarobics classes, a climbing wall, sauna and steam room, huge pool with a really fun waterslide called the Summit Plummet, jacuzzis indoors and out. Call ahead to ask about their daycare center for ages 2-months through 6-years. (Reservations are required.)
There's more; climbing and movement classes for ages 4+ and a Li'l Artists Exploration series for ages 2-5 years. Best yet, the Rec Center welcomes visitors by the day, at modest rates that vary by age. If your family is staying awhile, consider the Four Pack, which grants you three admissions plus entry to the West Ice Arena (full-size indoor skating facility where recruits for The Colorado Avalanche must be groomed), or the Gold Run Nordic Center, a lovely setting for cross-country skiing.
By the way, the Breckenridge region also offers myriad activities and adventures in summer. Possibilities include hiking, horseback riding, hot air balloon rides, the alpine slide, kayaking at the Breckinridge Whitewater Park, fly fishing and golfing at five area courses, including a 27-hole course designed by Jack Nicklaus. The base village or several shops in town can provide information about these excursions.
Regan sums up our winter stay: "Despite having altitude sickness and vomiting multiple times, Breckenridge is still the best ski resort I have ever been to."
Breckenridge for Little Sibs: Preschoolers
It surprised us to learn that Breckenridge resort has extensive childcare programs, because at 9,600-feet, the high altitude village can be a challenge for little ones. However, its proximity to Denver and those young ski-bumming families from The Front Range make daycare an imperative. The Breckenridge resort website also provides a helpful Planning Your Trip Tips Page with measures to prevent or alleviate the symptoms of altitude sickness (drink plenty of fluids is the most important one but your pediatrician will have more advice, too).
Breckenridge's childcare is busy every day of the season but especially on weekends, when you'll have to book ahead (888/576-2754). Spotless, bright and friendly, the three state-licensed Breckenridge daycare centers accept children ages 8-weeks to 5-years, for full or half days depending on season. The Peak 8 Child Care Center runs four classrooms for ages 8 weeks to 5 years, year round. The Village Child Care Center in the Village Plaza has three classrooms — winter season only — for children ages 8 weeks to 5 years old. The Beaver Run Child Care next to the Beaver Run Resort has two classrooms for infants and toddlers ages 8 weeks to 3 years old and is open daily during winter only. The facilities maintain a list of local private babysitters (some of whom work for the center during daytime hours). This comes in handy, especially if your child becomes sick or feverish and is not allowed to attend the group daycare sessions.
Dear Reader: This page may contain affiliate links which may earn a commission if you click through and make a purchase. Our independent journalism is not influenced by any advertiser or commercial initiative unless it is clearly marked as sponsored content. As travel products change, please be sure to reconfirm all details and stay up to date with current events to ensure a safe and successful trip.
---