Red Lodge, Montana is a real Western mountain town with a landmark hotel and wide-open skies for an authentic winter family adventure.
It's no secret that the American West is expansive — in both environment and in its historical cast of characters. For example, there was the multi-talented man who toured the US and Europe with his Wild West show, Buffalo Bill Cody. Then there was the woman who dared to wear pants and shoot and holler like a man, Calamity Jane. Then there was "Liver Eatin'" Johnston, and it wasn't exactly pâté that he was eating.
These people were the stuff of old dime novels. However, they were also real human beings, and each of them passed through Red Lodge, Montana. Each one spent time at a rustic city landmark, now the Pollard Hotel.
Historic Red Lodge, Montana
Nowadays, the town of Red Lodge combines a fascinating blend of tall tales and characteristics. Red Lodge is small, safe, laid back, eclectic, and of course, a little bit cowboy. Visiting families need not worry about the gunfights and dramatic bank robberies of years past. In those years, apparently, hotel guests once watched the Sundance Kid hold up the bank across the street. In any case, you will enjoy learning the legends of this town and window shopping on its pedestrian-friendly streets.
Red Lodge Mountain, the area's ski resort, boasts proudly of its "real Montana town." It's true, Red Lodge is more than a specially-built base village. It's a chic yet rustic place where out-of-town skiers support independent businesses, enjoy the surprisingly active nightlife and mingle with colorful locals. Right in the heart of this real Montana town of 2,200+ residents, you'll find a large sign with an elegant moose logo –you've just reached the Pollard and met Pierre, the hotel's iconic mascot.
A Red Lodge Home Base, Pollard has Comfort and Space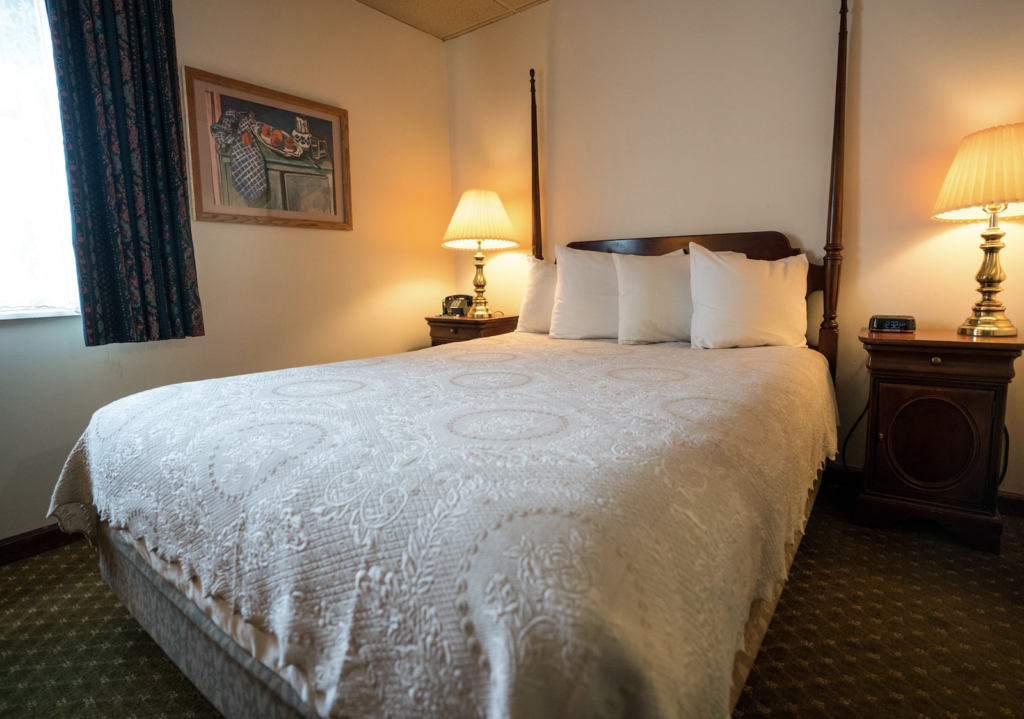 Dubbed "one of the nicest hotels in the West" by Frommers, this historic property uses a simple, but effective, recipe for success. Expect comfortable, yet elegantly spare accommodations with quality linens and luxury toiletries. (Historic Queen Rooms, by the way, date to 1893.)
Many rooms overlook the hotel's lovely central atrium, which features a player piano and fireplace but is mainly quiet at night. This is another key gathering place, especially since delicious homemade cookies may appear with the coffee and tea in the afternoon. Service is good, too. With only 39 rooms and suites, you'll be well attended to, even on the busiest of high season weekends.
Try Marli's for its popular cocktail bar and gourmet-style dining. Since you're in Montana, you might have to go with the Angus rib eye steak if it's on the menu.
In the basement, there's a gym with state of the art exercise and weight-lifting equipment. For $10/day access these facilities plus two racquetball courts.
Red Lodge Mountain and Local Snowsports
Nearby Red Lodge Mountain draws tourists and area skiers and snowboarders alike. In the Western tradition — and for everyone during the pandemic — time spent outdoors is so cherished. Many weekend warriors drive in from Billings, the nearest and largest city in the state. Like the Pollard, the mountain is simple but beautiful. The location offers great downhill skiing without the bother because it's not a far drive from downtown. Additionally, the mountain is uncrowded compared to some of the larger resorts in the Rockies.
Red Lodge Mountain is part of the Beartooth Range, one of the most scenic in the country. Beartooth Pass climbs above the town to connect it with the Beartooth Highway, which Charles Kuralt once called "the most beautiful roadway in America." (You can take the Beartooth Highway even further to Yellowstone National Park.) The Beartooths also generally guarantee that natural snow will be plentiful for skiing between Thanksgiving and mid-April.
The number of kids swishing down the mountain like they were born on skis is a testament to its family-friendly amenities. A variety of ski and snowboard lessons are available for different age groups. The Learn 4 Life program runs each January, offering first tme skiers and riders ages 4 and older four each of lessons, lift tickets and gear rentals for one low price, plus a bonus season pass on completion. There's also an Eagle Mount Adaptive Program for snow sports fans with disabilities.
By the way, the Red Lodge International Ski and Snowboard Camp at Beartooth Basin is one of North America's oldest training areas. It's open April through July to extend the snowsports season.
Off the Mountain and Outdoor Activities for Kids
For children who aren't interested in all-day, every day snowsports, try the nearby Yellowstone Wildlife Sanctuary. It's located at the edge of the Beartooth Highway and Greater Yellowstone Ecosystem. Like many others, this center cares for injured animals from the surrounding area that cannot be returned to the wild. Interpretive displays help visitors learn about the elk, fox, black bears, wolves, mountain lions, bison, antelope, eagles, and coyote that live here.
Skiing isn't the only winter sport that happens around Red Lodge. Visit in mid-March to catch the weekend of the National Ski-Joring Championships, which the area proudly hosts. If you're wondering what exactly ski-joring is, picture a course of ski jumps on flat ground, and a skier tethered to a horse and rider. The adrenaline rush from this unusual activity is sure to fuel a lot of energy in town.
If all else fails, take a walk around town. Since the Pollard has such a central location, many interesting shops and restaurants are just footsteps away. Divide the family between nappers and explorers and get out there. And don't forget to grab a cookie in the Pollard's lobby—you'll need extra calories for all of that outdoor fun.
Trip Planning Details to Red Lodge Montana
How exactly do you get to Red Lodge, Montana? The fact that you'll need to drive seems pretty obvious, but luckily, the city of Billings and its international airport are 75 minutes away. Flying in and renting a vehicle is easy, but check up on the weather conditions, since highly elevated Red Lodge may be snowing while Billings isn't.
The Polllard Hotel offers a variety of packages throughout the year, and room rates range from $160 and up, depending on season and room type. Other popular hotels on the outskirts of town include the wood-panelled Alpine Lodge and the Chateau Rouge, which has condo style rooms with kitchenettes.
For further details on local snowsports, visit Red Lodge Mountain. For information on what to see and do in the town, visit Red Lodge, Montana.
Dear Reader: This page may contain affiliate links which may earn a commission if you click through and make a purchase. Our independent journalism is not influenced by any advertiser or commercial initiative unless it is clearly marked as sponsored content. As travel products change, please be sure to reconfirm all details and stay up to date with current events to ensure a safe and successful trip.
---