Planning a New England beach vacation and wanna' know if Cape Cod is as famous, expensive, and beautiful as they say? To people residing east of the Hudson River, Cape Cod, Massachusetts is a seaside play area with diversions and beaches for all tastes, all ages, all styles.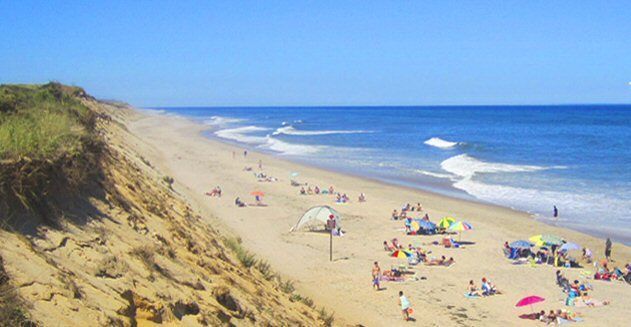 To the rest of North America, Cape Cod is a misunderstood resort region where they believe only those in the Kennedys' income bracket can vacation. Furthermore, for those people, we present the Cape Cod vacation primer.
Why is Cape Cod so famous?
First of all, it is an unusual parcel of real estate. Moreover, Cape Cod looks like a spit of land shaped like an arm, curled with a bent elbow and a flexed fist jutting from southeastern Massachusetts into the Atlantic. On a map of New England it is as prominent as Jay Leno's chin.
Second, it was one of the nation's earliest summer resorts. The first train pulled into Hyannis in 1854, an occasion celebrated with a band concert and clambake. By the peak of the Victorian era, distinguished celebrities such as actor Joseph Jefferson and President Grover Cleveland had bought summer homes here. President Kennedy's summer compound in Hyannisport made Cape Cod famous across the world.
Get the best rates on the top Rental Car brands at Priceline.
Where are the best beaches?
That depends. The beaches here fall mainly into three categories based on location: Atlantic Ocean side, Cape Cod Bay side and Nantucket Sound side. The Atlantic Ocean beaches, mostly part of Cape Cod National Seashore, boast the biggest surf but one should be part polar bear to enjoy a swim there.
The actual site of the first meeting between Indians and Pilgrims took place in Eastham, MA on Cape Cod Bay. Known as "First Encounter Beach," the water temperature here ranges between 60 and 70 degrees in summer making it perfect for families with young tots. Also, they can play in tidal pools, make sand pies and splash in the gentle water. Beyond the soft sand and gentle water, there is a grassy area and a bathhouse.
Thanks to the gulf stream, Nantucket Sound side beaches have the warmest waters with Craigville Beach in Centerville (popular with people young enough to look good in bathing suits) and Harding's Beach in Chatham as two the finest. Furthermore, Cape Cod Bay beaches have some of the longest tidal flats and include Grey's Beach in Yarmouthport, with an inviting boardwalk, and Paine's Creek Beach in Brewster.
Top 10 List of Must-Do Activities in Cape Cod Massachusetts
The Viator site is great for discovering unusual attractions in advance of arrival and booking online sure saves time waiting in line.
1. Cape Cod National Seashore
Experience the Untamed Beauty: Visit the Cape Cod National Seashore, over 40 miles of unspoiled coastline. Explore sandy beaches, winding trails, and iconic lighthouses.
2. Whale Watching
Witness Marine Giants: Embark on an unforgettable whale-watching tour from Provincetown or Barnstable. Also, you can get up close and personal with humpback and fin whales.
3. Historic Plymouth
Step Back in Time: Take a short drive to Plymouth and explore Plimoth Patuxet, a living history museum that recreates life in 17th-century New England.
4. Sandwich Village
Discover Quaint Charm: Stroll through Sandwich Village, where you'll find heritage museums, 19th-century architecture, and charming boutiques.
5. Martha's Vineyard
Island Paradise: Hop on a ferry to Martha's Vineyard, known for its picturesque villages, pristine beaches, and vibrant arts scene.
6. Nantucket
Historic Gem: Visit Nantucket and wander cobblestone streets, admire historic architecture, and relax on beautiful beaches.
7. Outdoor Adventures
Nature's Playground: Enjoy outdoor activities like kayaking, paddleboarding, and cycling along scenic trails and waterways.
8. Fresh Seafood
Culinary Delights: Savor Cape Cod's famous clam chowder and indulge in fresh seafood at waterfront restaurants with stunning ocean views.
9. Lighthouse Exploration
Iconic Structures: Explore historic lighthouses such as Highland Light and Nauset Light. Climb to the top for breathtaking panoramic views.
10. Family Fun
Kid-Friendly Cape: Cape Cod is perfect for family vacations, offering safe beaches, wildlife encounters, and interactive museums.
Are Cape Cod towns and villages different?
Very much so. Hyannis is the Cape's commercial hub. Brewster, in the geographic center of the Cape, is stately, abounding with 19th century sea captain's homes. Chatham is a fishing town; come here from about noon to 2 pm as commercial fishermen empty their catches at the Shore Road pier.
Provincetown is funky, rife with art galleries, gay bars, specialty shops and the Cape's most active streets at night. Mashpee has a Native American heritage. Also, Falmouth is highlighted by a village green that looks just like New England should look.
What about nightlife?
The young and the pierced head to the clubs in Hyannis, where everyone is on vacation and inhibitions are often left at home. There are lots of spots with live Irish entertainment. Summer theaters are abundant, the most famous likely being the Cape Cod Melody Tent (508/775-5630) in Hyannis and the Cape Cod Playhouse (508.385.3838) in Dennis. The Provincetown Theater (508/487-7487) is a center for the performing arts, where dance, spoken word, cabaret, and Shakespeare all intersect.
Head to Falmouth on the harbor and Kate Gould Park in Chatham for weekly free band concerts and to Mashpee for Night at the Pops. The Cape Cod Baseball League (508/432-6909) is the premier collegiate league in the United States. Moreover, about one-fourth of all current major leaguers played in the CCBL, and admission is always free. For more information, you can mail them at [email protected]
Is the traffic that bad?
Nobody will be lonely on Cape Cod in the summer. Susan Moeller, business editor of the Hyannis-based Cape Cod Times, interviews tourists regularly and has said some are truly amazed to find themselves waiting in traffic jams in Hyannis. Also, remember that Cape Cod's year-round population of 215,000 swells to nearly 6 million in summer. That said, vacationing here is not a matter of people killing themselves to relax. Cruising the village roads is a fairly carefree experience.
Weekdays are almost always lighter than weekends; the worst times for those entering the Cape are Friday afternoon and evening and for those leaving Sunday afternoon. If you must leave on Sunday, plan on taking off very early or very late. To avoid traffic, head out Route 6A instead of Route 6 towards either of the bridges connecting the Cape to the mainland. And the good news is that the Sagamore Bridge flyover project is completed and is expected to cut traffic wait times in half at the bridge, even during the busiest hours.
Are there any national parks?
Cape Cod National Seashore (508/771-2144), a national park in all but name, serves as a magnet, acquainting people with the hidden natural side of the Cape. Footpaths snake their way around beaches and forests. More than 10 miles of biking trails wind among the trees and marshland. Picnic tables beg for red-checkered tablecloths.
The sand dunes of Truro and the cliffs at both Coast Guard Beach and the Marconi area in South Wellfleet (where Guglielmo Marconi transmitted the first wireless transatlantic message in 1903) are among nature's most comforting sites here and a classic ca. 1740 Cape Cod house is evidence of the area's long human history.
How expensive is it to stay on the Cape?
As is true with most northern resorts, Cape Cod lodging owners' annual income is earned mainly during the warm weather. Most double rooms in every type of lodging, from bed and breakfasts, start at around $150 per night in summer, with cheaper motel options sometimes available. There is virtually no difference between lodging costs on weekday or weeknights as you can see from Booking.com's discount rates for Cape Cod Massachusetts hotels, motels, resorts and rental homes.
Your best chances of finding less expensive rooms are at the economy chains and independent motels in Hyannis. TripAdvisor's Travelers' Choice Winner Bargain is SeaCoast Inn for its central downtown location, cleanliness and friendly staff. Lodging deals and packages can be found at the Cape Cod Chamber of Commerce. Click on "Value Packages." Many people also rent out their summer homes on the Cape, so if you're planning to stay at least a week, you may want to consider that option. For further information on accommodations, see Best family hotels and resorts in Cape Cod.
What is there to do if it rains?
Lots. Consider these suggestions. The Cape Cod Museum of Natural History (508/896-3867) and the New England Fire and History Museum (508/896-5711), dedicated to regional flora, fauna and firefighting respectively, are in Brewster. In East Sandwich is the Green Briar Nature Center (508/888-6870), former home of children's author Thornton W. Burgess, where visitors watch jams and jellies made using 100-year-old methods.
Heritage Museums & Gardens (508/888-3300) in Sandwich is a 100-acre repository of Americana with an operating carousel. The John F. Kennedy Hyannis Museum (508/790-3077) displays a collection of vintage photos. Additionally, facing the village green in Yarmouthport is the Edward Gorey House (508/362-3909), home of the sometimes macabre children's author/illustrator. The Cape Cod Children's Museum (508/539-8788) is in Mashpee, and Falmouth is known for its 18th century historic Houses on the Green (508/548-4857).
What about recreation off the beach?
One can rent kayaks, canoes and powerboats, or let professionals play captain on harbor cruises, sailboat excursions and whale watching trips. The flat topography invites bicyclers, and among the most welcoming bike trails are the Shining Sea Bike Path connecting Falmouth with Woods Hole, the paved path along the Cape Cod Canal, the 28-mile-long Cape Cod Rail Trail and the trails of Cape Cod National Seashore. Duffers, keep in mind that there are 27 public golf courses here.
Where can I get more information?
Cape Cod Chamber of Commerce (888/33-CAPECOD, 508/362-3225) is located at 5 Patti Page Way at the Junction of Routes 6 and 132 off Shoot Flying Hill Road, Centerville, MA 02632.
Join our vibrant community on social media! Whether you prefer scrolling through stunning visuals on Instagram, diving into a world of creativity and inspiration on Pinterest!, engaging in lively discussions on Facebook, staying updated with real-time news on Twitter, or exploring captivating videos on YouTube, there's something for everyone. 
Don't miss out – click those follow buttons, subscribe, and stay connected to be a part of our exciting journey!
Dear Reader: This page may contain affiliate links which may earn a commission if you click through and make a purchase. Our independent journalism is not influenced by any advertiser or commercial initiative unless it is clearly marked as sponsored content. As travel products change, please be sure to reconfirm all details and stay up to date with current events to ensure a safe and successful trip.
---