"Beautiful and frigid," is the comment left by one guest at Canada's Ice Hotel. Ice Hotel gets its name from the fact that nearly everything in the hotel is made of frozen water. That includes the walls, ceilings, beds, furniture, chandeliers — even the glasses you drink from at the bar.
We took our kids there for winter vacation since it's only 15 minutes from Québec City. This frozen wonder is a snow fort for kids of all ages. It takes almost six weeks to build every year, each time slightly different from the year before. Over 30,000 tons of snow and 500 tons of ice make up 44 guestrooms. Once the weather warms up, around early April, it takes a mere six hours to demolish it. The original idea came from the Ice Hotel in Sweden and some guests have experienced both of them.
Visit the Ice Bar for a drink (hot chocolate is available for the kids) but be careful where you put your glass down, as it tends to slip off the bar. By day, the kids can try the ice slide or rock out to the beat of the disco. Families dance happily in groups or on their own, so there's no need to worry about rejection or "getting the cold shoulder" here.
You can take a tour of the hotel, or you can join the adventurous and spend a whole frozen night here in temperatures that hover between 23ºF and 28º F (-2º to -5º C). Staying over is by far the best part. Ask to choose your decorated family suite (many have fireplaces.) Some packages include a welcome drink, breakfast and use of the snowsports gear, sauna and hot tubs.
How to Sleep in a Fridge at Canada's Ice Hotel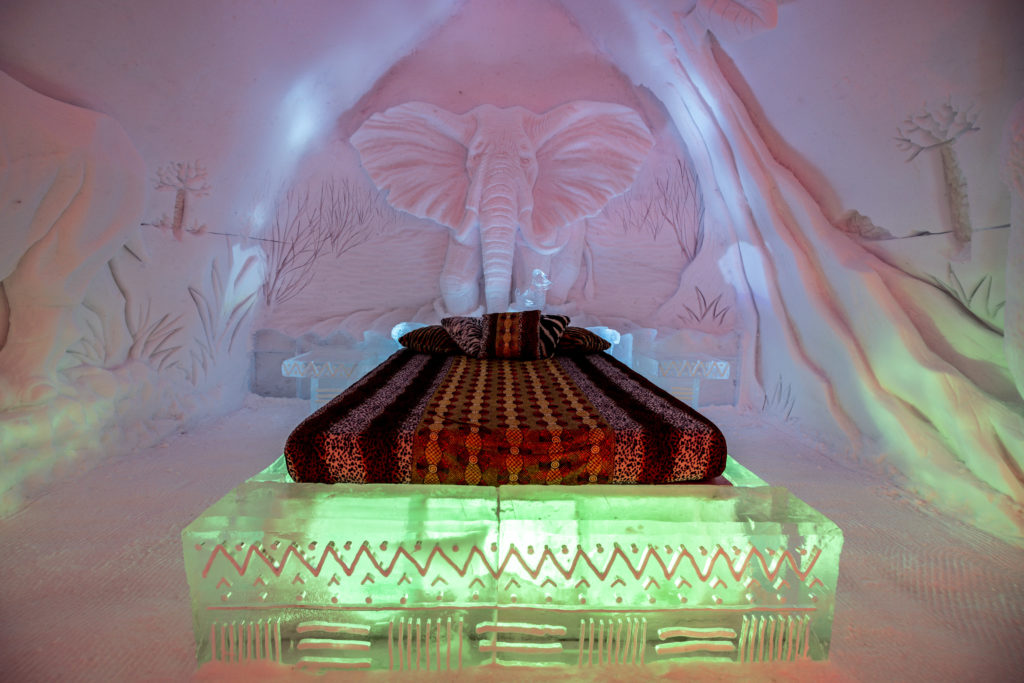 You take an information class that shows you how to get into your mummy sleeping bag which is warm enough for temperatures that go down to minus 40º F. (As a point of reference, your fridge's freezer gets to minus 8º F.)
Honeymooners get to zip their bags together and yes, there's even a wedding chapel on the premises. Makes you want to ask: "Did you get cold feet?" but that would be too corny. The style of Romantic Rooms varies each season and might include an ice bed shaped like a sleigh, a Nephertiti room or one with a four-posted bed made of crystal ice columns.
Before bedtime, the best practice for the family is actually to go into the outside hot tub to increase your core temperature. You'll need to wear your winter hat but don't worry, everyone does. Hats and hot tubs go surprisingly well together. Then you dry off in the dry sauna and put on your spa robe (provided), boots and hat. Your clothes for the next day go at the bottom of your sleeping bag so they stay warm for the next morning. Our kids thought this part was hilarious and loved all the squirming to get into the bag.
Frozen All Over at Canada's Ice Hotel
The secret to a good night's sleep is actually to make sure you don't breathe inside your sleeping bag as that would cause humidity and you'd eventually get cold. Even wearing that day's socks to bed can do the same thing, so be sure to put on fresh socks right before you climb in.
Since the year 2000, the Ice Hotel has welcomed hundreds of thousands of overnight guests. The beds are surprisingly comfortable. Don't worry — you're not sleeping on ice itself, although the outside of the bed is made of it. Instead, foam padding covers the wooden inside. A pillow is provided inside the hood of the mummy bag. Leave your snowboots outside the bag, they'll be fine in the morning. Oh, and don't wear cotton! Once it gets wet with perspiration, it makes you feel very cold. The whole family can snuggle together for extra warmth on one bed.
If you're not checking out the hot tub, dancing the night away in the disco, or admiring the ice chandelier (just how do they get it to stay up there), then look for the Himalayan photo exhibit with its pictures of the trek to the world's highest mountains. Feel glad you are only spending one night in the cold. Those explorers did it for much, much longer and in hazardous conditions. Brrrr!
Canada's Ice Hotel The Morning After
At breakfast next day, you can see the proud, beaming faces of the young and old snow warriors who survived their one night of sub-zero temperatures. Most people only do it once; we are creatures of comfort, after all. They regale their fellow travelers with stories of how long it took them to get to sleep, how warm they felt in their bag and how surprised they were to don their snow boots still remarkably dry and comfortable, before heading for the hot showers in the warm locker room of the auberge.
Sad though, is the face of the visitor who had too much to imbibe (even if it wasn't alcohol) and had to get out the sleeping bag to don warm clothes and make a bathroom visit in the wee small, freezing hours of the night, only to return and go through the whole undressing and back into-the-bag-again process. It's not surprising that some just don't make it back down from the lodge situated several yards away outside and end up spending the rest of their night's sleep in the heated locker room area. We were quite glad we'd limited the kids as to how much hot chocolate they'd had the night before.
At weekend's close, this writer and family headed to a cozy 50ºF back home. We packed our snow boots and thermals away, surprised to miss the Ice Hotel and all it had to offer. "Awesome. I never knew they could do so much with ice," said my 10-year-old daughter, Christine. The kids were quite happy as they got bragging rights with all their friends at school for actually sleeping in a hotel made of ice.
Was it beautiful? Breath-taking, like nothing you'll see anywhere in North America. Was it frigid? Not for the adventurous in spirit. More importantly, was it worth it? Absolutely. It's an experience that our family, for one, has frozen in our memory.
Plan ahead to get the most from your Canada Ice Hotel stay.
The hotel is located in a super fun winter snow park called Village Vacances Valcartier. Try outdoors activities like cross-country skiing, ice-fishing, snowshoeing, dog sledding and skating. Or you can simply stay warm by eating. The food at the Ice Hotel is to die for and everything you'd expect from a five snowflake resort. You can enjoy options like cheese fondue (try the bread, cheese and a grape all in one mouthful) or the local trout.
A million more visitors have come to the chilly attraction for the tour alone. There are several guided tours daily, in French or English; free for under-5s. There are also reduced tour rates for visitors after 8pm. Look for special packages that include a hot meal or a drink at the Ice Bar. With active kids, choose the Valcartier activities option. If you fall in love with the place as we did, you can buy a Valcartier Season Pass.
Note that tours are a huge part of the hotel's revenue, so rooms are open to the public during the day and til 8pm, though the public may enjoy the grounds and popular bar till midnight. Overnight guests get exclusive access to their room between the hours of 9pm and 8:30am. With so much going on outside and in other parts of the hotel, this is more than ample time. And don't forget to inquire about weddings and other ceremonies in the popular frozen chapel.
More Information About Quebec's Winter Fun
Check with the Quebec Province tourist office in mid-November for the tentative opening dates of the annual Ice Hotel. Their helpful staff will help you plan other, pre- or post-freeze fun for your winter weekend.
The hotels' season is short, sometimes just a few months between January and April, so be sure to book ahead. Keep in mind that it's probably sold out during Quebec City's mid-February Winter Carnaval. For room reservations starting from CDN$399, contact the Ice Hotel Canada. Again, the Hôtel de Glace is located at Villages Vacances Valcartier so you can make your visit a long weekend's adventure.
Video courtesy: Ron Bozman
Dear Reader: This page may contain affiliate links which may earn a commission if you click through and make a purchase. Our independent journalism is not influenced by any advertiser or commercial initiative unless it is clearly marked as sponsored content. As travel products change, please be sure to reconfirm all details and stay up to date with current events to ensure a safe and successful trip.
---