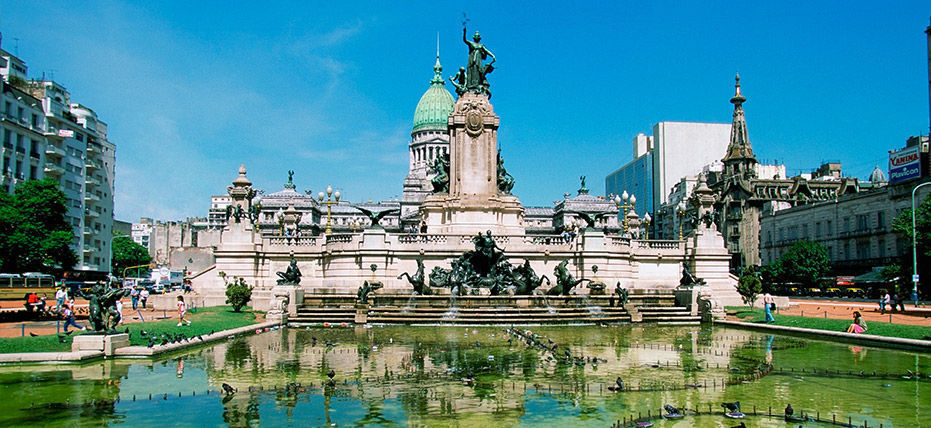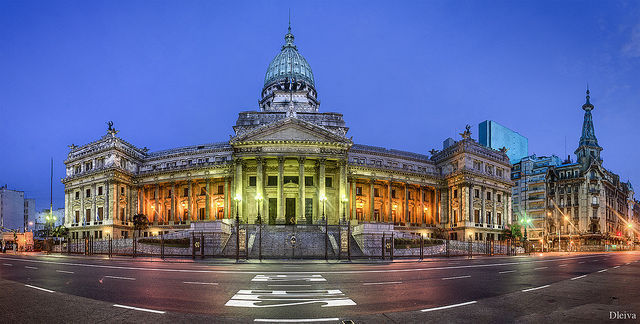 When family vacation planners think of Buenos Aires, Argentina, the image that arises could be the tango, which was threatened with being banned in the early part of the 20th century. Or the image may be that of revolutionary Che Guevara, who was born here. Or it may be how those South Americans often don't eat dinner till midnight, then dance till dawn. How in the world do they do it?
Hardly a family-oriented place, right? But at the same time, Buenos Aires has a lot of family attractions that include not only historical buildings but also zoos and many other options. Even the shopping malls can be attractive to the youngest members of the family because they often have children's activity areas including rides and arcades. The country has made a committed effort in recent years to attract tourists, and some attractions have followed suit.
Families visiting Argentina can know they are really in a foreign country. The country's real hub — where fewer than 1/10th of its 42 million inhabitants live — is Buenos Aires. The capital of Argentina, it's sometimes called the most European city in South America. With its mixture of culture, cafes, fine food and historical buildings, it is even compared to Paris. Its name in Spanish means "fair winds." But it is not the wind that captures the imagination of visitors.
An initial impression: this is a city that never seems to sleep. Dinner is often taken at midnight. People fill the streets in the early a.m. hours. And in combination with charming Salta in the north, the family who visits "BA" can feel they have begun to understand the country.
BA's Top Sights to See
As always, a good way to start to see the city is a bus tour. But keep in mind not all tours are in English; some require translation. The Buenos Aires City Tour has morning and afternoon offerings, in English. Unfortunately, it is not a hop-on, hop-off tour. The three-hour tour is also somewhat skimpy on the grave of Evita Peron, which is a must for any visitor here but otherwise, it covers such highlights as the magnificent Recoleta and Palermo neighborhoods, and the red plush-rich Colon Theatre, one of the five most important opera theaters in the world.
Take a walk through the Plaza de Mayo. It's known for its statuary, the rich furnishing of its hallways and its pink color, which local legend says was made by mixing whitewash with bull's blood. Your can also choose to walk down on Caminito, which literally means "little walkway," now crowded with tango dances, artisans and tourists. The Casa Rosada is where the government's executive branch has offices. The president works here but lives elsewhere. The balcony facing Plaza de Mayo has served as a presidential podium. Free guided tours can be arranged at the Palacio del Congreso or Congress Hall. Only some of the tours are in English, so you might want to check.
There's a non-profit greeting program allowing tourists to explore the city with a local resident called Cicerones de Buenos Aires (54-11/4431-9892). Volunteer guides will give visitors a different and non-touristy view of the city. There are also three-hour bicycle tours (54-11/4311-5199) given in English and Spanish.
How can you go to Argentina without seeing Museo Evita (54-11/4807-0306; Lafinur 2988, Buenos Aires C1425, the link may not be accessible in the U.S.) Ciudad de Buenos Aires, Argentina)? Perhaps equally despised and loved, Eva Duarte de Peron (Evita) led a short and turbulent life that is remembered here. Her humble origins that led to life as a B-list actress before marriage to the dictator Peron are documented at the museum. A darkened screening room shows intense footage of the thousands of mourners lined up to see her body. Her actual grave is in the Cemetery of the Recoleta, which would be fascinating even without her because it is a collection of mausoleums stretched across streets and alleys, leading some to compare it to a miniature city.
Taking an entirely different direction, you can easily spend a day at the Buenos Aires Zoo (54-11/4011-9900; Sarmiento y Av. Las Heras), which was created more than 100 years ago. There are a few surprises in the animals found here such as a rare albino tiger and indigenous monkeys known to perform lewd acts. Balancing that out is a petting zoo. And in a surprise, the zoo has a lot of artwork, including an entrance that is a reproduction of the "Triumph Arch of Tito" found in Rome. Visiting Recoleta Cemetary will also gain you a very profound understanding of this city's history through 6,400 above ground mausoleums.
Dining & Sleeping in Buenos Aires
Eating in Argentina is a lot like eating in Texas. It's all about steak. But adults should be sure to try the local wines, some of which are better than the more famous product from neighboring Chile.
There are a lot of al paso (walk through) places to eat; you eat standing up or in high chairs at the bar. Meals vary from hot-dogs to beef sausages. A good standby here is pizza, perhaps due to the city's immigrant heritage. Pizza comes cooked in a pan, usually with a medium to thick crust, or a la piedra (baked in a stone oven with a thinner crust), and a la parilla (cooked on a parilla grill with a very thin and crispy crust). Many people say that the restaurant Guerrin is the best place for pizza in Buenos Aires.
The restaurant Cumana offers native Argentinean food such as tamales, empanadas and stews. Prices are very cheap. Marini Gourmet (54-11/4831-5277) offers what some say is the one of the best buffets anywhere. It's heavy on meats and the price is right: about US$10. Juana M may occupy a basement and have minimalist décor but it offers good basic food at low prices. It's known for its steaks but the pasta is also surprisingly good. If you want to try grilled goat cheese and small intestines of lamb, make a stop at La Cabrera, (54-11/4814-0001; Rodríguez Peña 1967, Buenos Aires C1021 ABO). The restaurant on the site of an old grocery store also offers more familiar fare such as steaks. The price is right.
Hotels can be expensive but with a little effort you can find lodging as low as $30-70 nightly per person. The 562 Nogaro Buenos Aires (800/403-417-6562; Julio A Roca Avenue, Buenos Aires C1067ABN), a 4-star hotel, is comfortable and clean. There are ceiling fans (and cable TV) offered in many of the hotel's 136 rooms. The hotel is neatly placed near the Colon Theatre and the Galerias Pacifico shopping mall. The hotel is also near good transportation options such as the Metro and buses. An oddity in these days, smoking is permitted though non-smoking rooms are available.
A truly bare bones hotel with rates that can go as low as US$20 is the Gran Hotel America (54-11/4307-8785). Breakfast is included in the cost of under US$27.5. The End of the World Budget Hotel has TVs and refrigerators in every room. There's also air conditioning. The hotel offers Spanish and tango lessons. For about the same price, you can stay at the Complejo Tango Boutique Hotel, which has 8 tango themed rooms and offers dance shows and lessons.
For a few dollars more, there's Bohemia Buenos Aires (54-11/4115-2561; Perú 845, San Telmo, Buenos Aires), which offers 14 rooms with private bathrooms and large windows that make the space seem even larger. The Art Deco Hotel & Suites (54-11/4383-5049), in the heart of the city is within walking distance of Corrientes Avenue, which offers tango dancing shows and many restaurants specializing in Argentinean beef. Suites are equipped with king and queen size bed, kitchenettes, mini-bars, and Wi Fi internet connections. There's also a business center. Rates start at about US $100. Metro III also has an excellent location in the tango area of the city. Bus lines and subways are nearby. There are 60 single, double, twin and triple rooms with private or shared bathrooms. There are also several hostel rooms.
Don't Miss Salta, Another Side of Argentina
A two-hour plane ride away from Buenos Aires is Salta, a smaller city rapidly growing in popularity as a tourist destination. The reasons are apparent: Salta is situated in northwest Argentina bordering Chile, Bolivia and Paraguay. It's known as "Salta the beautiful" for its many colonial style buildings, elegant plazas with tall waving palm trees and fabulous food. It's in the broad Lema Valley, surrounded by steep, frosted mountains. With a population of only 400,000, Salta is easily walkable.
The heart of Salta is the Plaza 9 de Julio, which has a fine collection of colonial buildings going back to its founding in 1582. The city is shaded by the traditional tall palms that are signatures of Salta's plazas. The city's newest museum, MAMM or the High Mountain Archaeology Museum (54-387/ 437 0499) has a notable collection of exhibits from Inca high-altitude shrines, including something irresistible to children: mummies of child sacrifices.
Free guided tours are available at the nearby San Francisco Church, an ornate building that visitors can't miss because its tower rises above the skyline but also because of its colors: plum red and gold. Also nearby is a park called Cerro San Bernardo, which has a lake where rowboats can be rented. For those who drive outside Salta, the scenery is other worldly with multi-colored rock hills, red rock canyons and picturesque winding rivers.
There are more than a dozen hostels in Salta, some of them offering an unusual amenity: medical care. But there are also some inexpensive family-aimed hotels such as Bloomers Bed & Brunch (1 250 412 7336). It's a small private house with its own bathrooms. A full brunch is served and the bar is always open for a glass of regional wine. Prices are under US$50.
There may be no better version of an Argentine food staple, empanada, than the ones found at Patio de la Empanada in Salta. Experts usually recommend sticking to beef, ham, cheese and vegetables because Argentina is not known for its chicken. Papa Panchio has inexpensive fast food such as pizza and hamburgers, while Mercado Central has cheap empanadas.
Trip Planning Details for an Argentina Family Sampler
Having said Argentina is a foreign country, let me share some tips. From a practical sense, visitors should know that credit cards can be used just about anywhere, yet ATM machines are common. Money is in Argentina pesos. Many places accept U.S. dollars but it's easy to exchange money in banks and authorized bureaus. There's a hefty 21% room tax, so beware when reserving your hotel.
Plan your days like a local. Many shops are closed at lunchtime and on Saturdays. Spanish is the national language but English language newspapers are available at newsstands and list events of interest (foreign books are hard to find). Most residents speak English and are very helpful. Since the police are stationed everywhere tourists are found, the city is one of the safest in the world. However, all the precautions about traveling with cash and jewelry should be heeded, just as in any major city.
What's the best time to visit? If you look at a map, Argentina in general is long and narrow. But with its many different latitudes and altitudes, visitors can encounter many different climates. The most obvious thing to remember is that when it's summer in the northern hemisphere, it's winter in Argentina. That season stretches from July through October; summer settles in from December through March. January and February are great months to visit if you don't mind the heat, because visitors are fewer and prices decline slightly.
If you are traveling with babies, you can contact Alejandra Vicco, the owner and manager of Bebeba, which is a baby equipment rental company based in Buenos Aires, her email address is [email protected].
For national information, try In Argentina Tourism.com.ar and Welcome Argentina.com.
Photos Courtesy of Domigo Leiva and royalcaribbean.com
Dear Reader: This page may contain affiliate links which may earn a commission if you click through and make a purchase. Our independent journalism is not influenced by any advertiser or commercial initiative unless it is clearly marked as sponsored content. As travel products change, please be sure to reconfirm all details and stay up to date with current events to ensure a safe and successful trip.
---