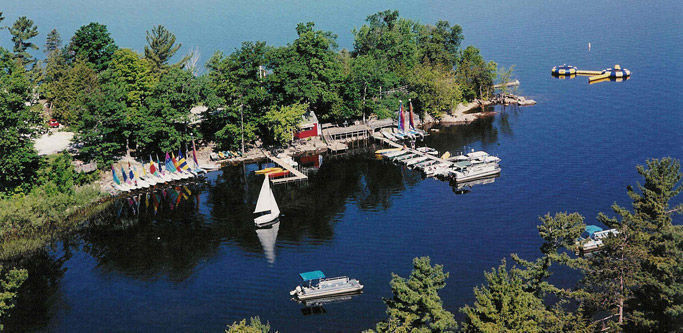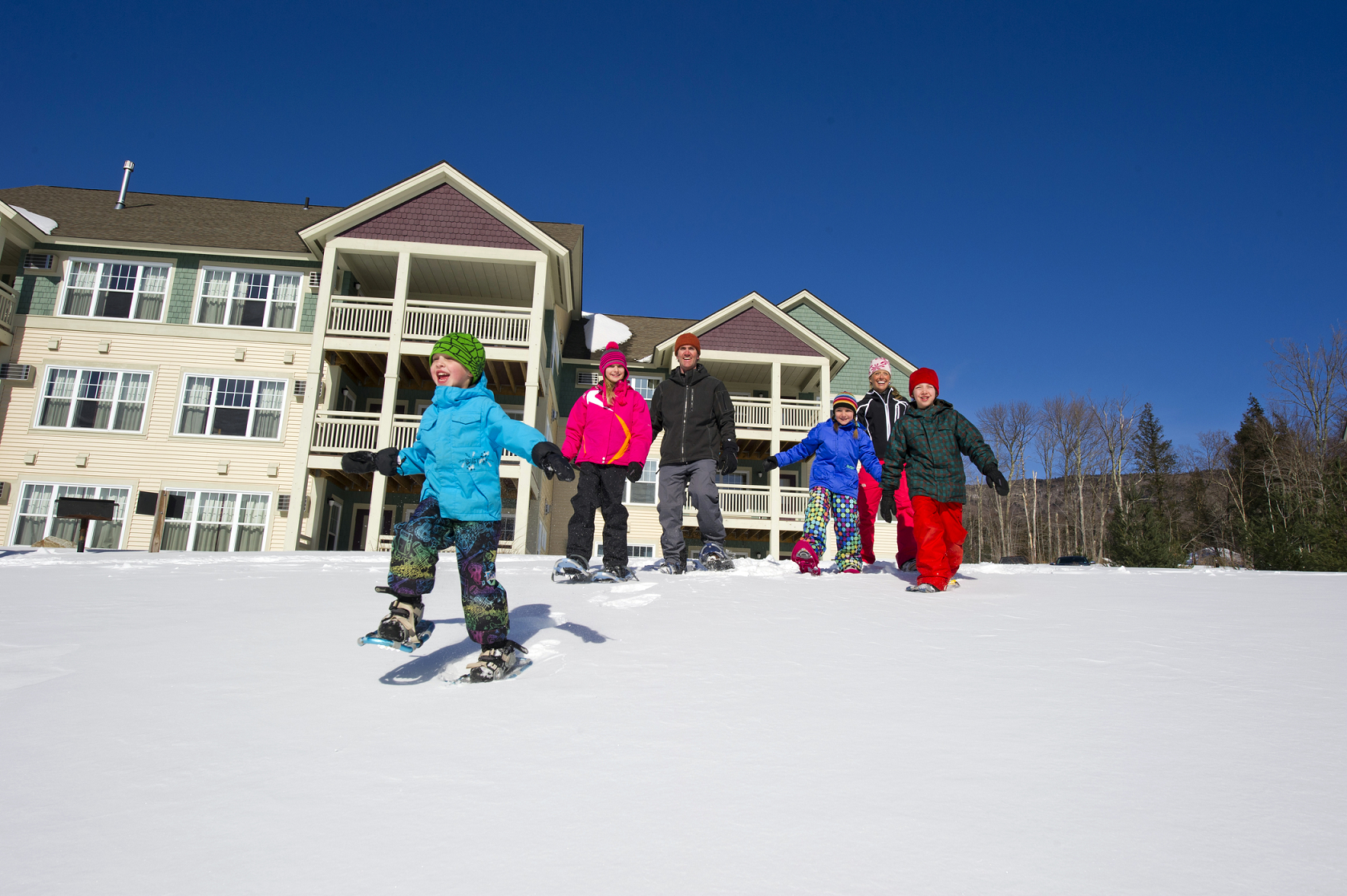 Mohonk Mountain House, the Tyler Place Family Resort and Smugglers Notch are among the top family getaways in the Northeast, and all three will fulfill your vacation fantasy of clean air, natural beauty and a myriad of activities for all ages. However, the similarities end there as each creates a very different vacation experience. By comparing each resort's ambience, accommodations and facilities, kid's programs, and dining offerings you'll be able to determine which resort fits your vacation needs, wants and desires.
If you want to surround yourself with luxury, check-in to the breathtaking Mohonk Mountain House in beautiful New Paltz, New York. Mohonk. This property is open year-round, and is the most upscale of the three resorts, yet the majestic setting is surprisingly kid-friendly.
As you drive up the winding scenic entrance, the hotel slowly comes into view. It immediately strikes you as unique because of its sheer size and design. Mohonk's old-world architecture mixed with modern amenities communicates that this will be a unique, charming and relaxing vacation. Your first impression of luxury is proved correct when you drive up to the main entrance and are greeted by eager-to-please bell hops, valet parking attendants, and a quick check-in. By this point, your family is feeling very pampered.
Upon entering the hotel, all ages will want to explore the historic setting. On the first floor, just past the front desk, is a grand staircase; wide and flowing with mahogany banisters. The kids will probably want to do a few laps up and down the stairs. Just beyond the stairs is a great room where guests gather every afternoon for tea, served on China, with freshly baked cookies. A porch wraps around the great room and overlooks the calm waters of the small but pristine lake surrounded by a spectacular backdrop of rocks and mountains. At this point, the rocking chair on the porch beckons you to sit down and breathe in the natural beauty of your surroundings.
Accommodations and Facilities
There are varying types of accommodations including traditional rooms, Victorian rooms, and suites. Although charming, most are small, but don't let that stop you from vacationing here. You won't be spending much time in your room.
At the waterfront you can take out a canoe, row boat or paddle boat, or you can walk down to the lake beach set up with roped-off swim areas, a swim deck and lounge chairs. Right on the premises, you can hike first class, well-marked and regularly maintained trails. There are also guided nature walks, horseback riding, indoor swimming, fishing, carriage rides, rock climbing, ice skating, snowshoeing, golf and Mohonk's famous rock scrambles.
Mohonk also features a stunning spa complete with an indoor pool, Jacuzzi, fitness room, outdoor mineral pool and a full menu of spa services. Sitting atop a cliff and surrounded by mountains and water, the wood, stone and cedar shingled setting signals the start of your relaxation journey.
Kid's Stuff
The best part of your vacation is the adults don't need to feel guilty enjoying themselves at their kids' expense. While parents get some much needed relaxation, your kids are having fun and exploring nature at Mohonk's award-winning kids' club. There's an evening program in the summer as well. Divided by age and by interests; the groups hike, bike, play tennis, go on pony rides, swim, do arts'n'crafts and lots of other fun things. The older groups do team building activities. Speaking of older groups, there's even a place for the 12- to 18-year-old crowd.
Mohonk's camp hours provide an excellent balance between family time and couple time. You'll still eat all meals with your children, unless you hire a babysitter. Camp space is limited and is on a first-come, first-served basis but they can usually accommodate everyone.
Cuisine
Mohonk has the best food of the three resorts, so don't plan to diet while you're here. There are two places to dine. The upstairs dining room is more formal and men are required to wear jackets. A second, less formal dining room serves buffet style. The latter is great if you have young children or don't want to dress for dinner. In good weather, lunch is also offered outdoors where the mountainous countryside sets the stage for a spectacular, well-appointed barbeque buffet.
Go to Tyler Place and enter yesteryear — where kids are safe to roam free; hop on a bike and ride to the lake, the inn or a friend's cabin; where everybody knows everybody else. The same time every year, between early May and late September, usually for the same week, guests return to Tyler Place for an experience like no other. (Tyler Place closes during winter).
It's easy to see that Tyler Place is different when you check in and receive a list of all the guests staying the same week as you. The list has guests' names and hometowns, as well as the names and ages of their children. Everybody checks in on Saturday and everybody leaves the following Saturday. For one week, enter a world that doesn't exist outside of Tyler Place — enter the Good Old Days.
Accommodations and Facilities
Tyler Place is a summer camp for adults and for kids, with a perfect balance of family and couple time. However, you don't sleep in a tent. Accommodations vary from rooms in the Inn, to lakefront, wooded cabins, most with two or more bedrooms as well as a kitchen or fridge and microwave. The Inn is most convenient because it is in the same building as the dining hall and the kids' camp meeting rooms. Lakefront cabins are more spacious, and have outstanding views including those of spectacular sunrises and sunsets overlooking the water.
Newcomers blend in fast and easy thanks to the adult-only cocktail party on the first night of your stay. After this welcome party, with drinks on the house, you'll know lots of people and feel very welcome. Old-timers welcome the newcomers. The kids' camp also starts on the first night. Eager to have a Saturday night activity of their own, the kids get into the swing of things immediately and can't wait to go back to their new friends in the morning.
At Tyler Place, you are surrounded with beauty, friends, acquaintances and the choice to join group activities or to do your own thing. There are low-key activities such as antiquing, painting and pottery-making; popular activities like tennis, bike rides, swimming, sailing, kayaking and yoga; or adventurous activities such as mountain biking, tubing, wakeboarding and climbing the rock wall.
Spa services such as massages, manicures are available but there is no full-service, separate spa building.
Kid's Stuff
The kids' programs at Tyler Place for ages newborn to 10th grade have an unusual, but functional, schedule that allows adults to be adults and kids to be kids; yet there's still plenty of quality family time. At most resorts, camps run all day and you don't see your children until close to dinner time. At other places the camp runs in the morning and the afternoon (some with a break for lunch). Then, family time is at night, when everyone's tired and there's not much to do.
Tyler Place is different. The camp at Tyler Place meets in the morning, breaks for a few hours in the afternoon and meets again at night for dinner and activities. The afternoon, when everyone is still energetic and can still enjoy all the daytime activities, is family time. You can hang by the lake, by the indoor or outdoor pool, go for a bike ride, play tennis, hit some golf balls, sail, wakeboard, and kayak or take a nap en famille. Kids often hop on their bikes (provided by Tyler Place) and ride together to a friend's cabin, the lake or the pool.
Cuisine
Buffet style meals provide lots of healthy choices and surprisingly gourmet fare, and dining is a relaxing experience because adults eat all meals separately from their children. The exception is breakfast, which you can eat together, if desired. It may sound un-family-like at first, but when you have such high quality family time in the afternoons, it's nice to be an adult again by evening and the kids are happy to be back with their friends. A week of uninterrupted meal times and happy, independent kids makes the concept of kid-free meals a no-brainer.
Smugglers' Notch Family Resort is mountains of fun combined with the best accommodations of the three resorts. It is a Resorts Crown International (RCI) timeshare property, so long-time owner families often come back to their unit the same week each year, whether they like the swimming or the skiing. However, there are always many renters, so returning guests don't necessarily share the same camaraderie as at Tyler Place where everyone meets and hangs out together. At Smugglers' Notch, you probably won't know your neighbors.
Accommodations and Facilities
Most accommodations in the lowrise buildings are new or have been recently updated. All units are modern family-size condos with kitchens, living rooms, televisions and a porch with magnificent mountain views. Units are equipped with all the amenities of home, even Jacuzzis.
Like the other resorts, Smugglers' Notch has many daily activities. In summers you can choose from hiking, biking, swimming, tennis or just relaxing. The hiking is outstanding and you can go on your own or with a group. Try tackling a large ski mountain where walking down is as much a challenge as hiking up. In winter, there is an extensive program of ski and snowboard lessons, facilities and well maintained trails and terrain for everyone in the family at one of Vermont's prettiest and least crowded ski areas.
Smugglers' Notch has the greatest assortment of pools. Some pools have slides; one pool has an obstacle course where you can try to walk across floating, foam lily pads. There are kiddy pools, outdoor pools, indoor pools, private pools (only open to guests in certain accommodations) and the list goes on. Smugglers' Notch has the best pools — period. There is a small lake for swimming but there are no water sports.
Accommodations and activities are very spread out, so bring your comfy shoes. Biking is limited due to the hilly terrain. It's possible to bike in the center of the village, but traffic is slightly too busy for kids. In addition, drivers are not very alert to bikers because bikers are not as common as walkers or cars.
Kid's Stuff
Smugglers' Notch offers a nursery for ages 6 weeks to 3 years, and a really fun kids camp for ages 3-17 that runs from morning until late afternoon. Kids are grouped by age and interests and by the end of the day the kids seem happy and tired. Best of all, there is a teens program as well as a teen lounge where your kids can hang out and you know they're safe and happy. Older teens above 16-years have their own lounge to hang out in.
Cuisine
Dining at Smugglers Notch is just average. Choose from fast food, sandwiches and a few other quick items from the village store and quick-serve restaurants. There are two full-service restaurants on-site which are mediocre. If you want a really good meal, you better cook it yourself or pack up the car and head for Stowe, about 15 minutes away. After a week at Smugglers, you'll swear off pizza and eating out for awhile.
Need a discounted rental car for your family vacation to our three favorite Northeast resorts?
Dear Reader: This page may contain affiliate links which may earn a commission if you click through and make a purchase. Our independent journalism is not influenced by any advertiser or commercial initiative unless it is clearly marked as sponsored content. As travel products change, please be sure to reconfirm all details and stay up to date with current events to ensure a safe and successful trip.
---