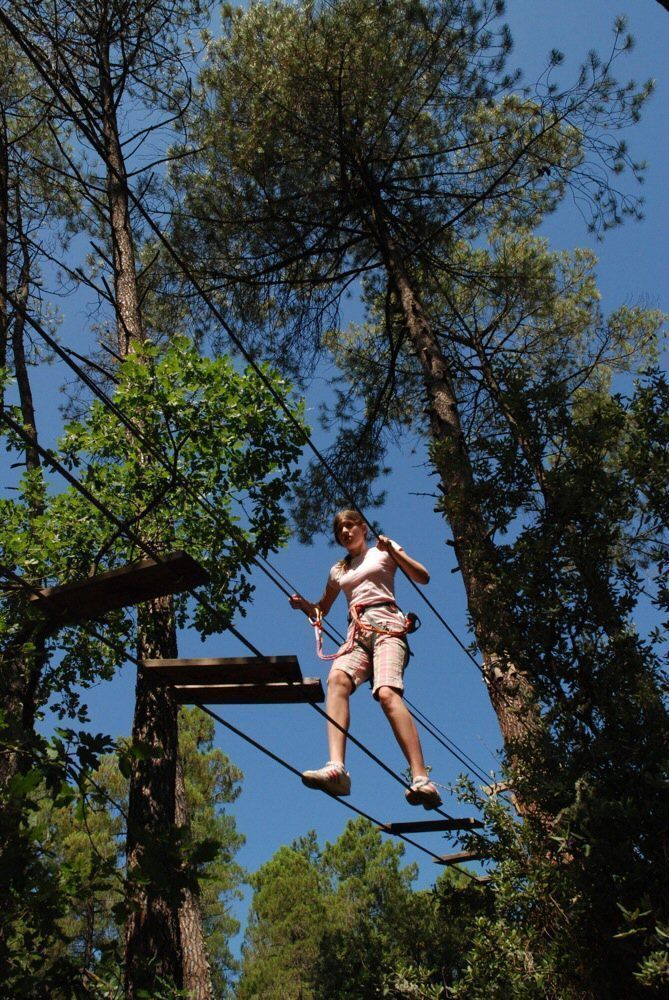 How a family of four exchanges their home and keeps two active teens busy on a successful vacation exploring the Provence region of France.
The name conjures up images of venerable hill towns, Impressionist paintings, sensations of rosé wine to be tasted in the local cellars, and perfumes of early summer lavender. Perhaps you too have lingered over the pages of one of Peter Mayle's odes to the region, and, like me, dreamed of your own week in Provence. But, for a family with two teenagers in tow?
Can one family successfully manage to blend these adult treats with kid-oriented activities? We did so quite nicely for one week this past July, and were all enriched by the experience.
Settling in at Bonnieux
We were based in Bonnieux, a classically beautiful hill town in the heart of the Luberon Valley. It is nestled among many other gorgeous hill towns, each a short drive from the other. As experienced home swappers, we had arranged an exchange with a French-American family. Our accommodation was a small house next door to the 12th-century Vieille Eglise, or old church, perched on the highest point of the town, giving us an incredible view of the valley and the Chateau of Lacoste from our terrace, and even from our bathroom!  We found that a rental car was invaluable for touring the Luberon Valley, as bus and train service between the towns can be sketchy.
I would have been content to spend a good portion of my time gazing at the view and reading on the terrace, with an occasional break to sample the peaches and plums from one of several fruit trees that provided a shady respite from the midday sun. However, my teenaged off-spring (Madeleine, age 14, and Alec, age 16) are both active and fun loving, and have different ideas of summer fun.
We quickly sought the advice of the local tourist office in town who gave us information about outings that the town of Roussillon offers local teens at the low cost of €8 per teen, per day. We went directly to the Roussillon Town Hall, or Mairie where we were warmly greeted. In spite of not speaking French, the kids felt comfortable enough to register for two of the day trips being offered that week. Wednesday would be a day at the beach in Marseille and Friday, "AcroBranche," or Colorado adventure, a rope and tree climbing expedition.
We spent the rest of our first full day in Provence exploring Bonnieux and its famous bread museum, which details the history and art of bread making in the region, and in the nation. Exhibits show many details of the process, from the planting of the crop to the ovens that the bread is baked in. For your morning croissant, Bonnieux has three bakeries to choose from, which seemed plentiful for such a small town, even in France.
We also explored the cedar forest, just out of town, where there were many shady trails for hiking. Every way we turned we were able to enjoy the scent of cedars that permeated the air. We were surprised by the solitude as we saw hardly any other walkers.
Exploring en famille
We planned our second day to go sightseeing amongst the various hill towns, choosing sites that both the kids and adults would hopefully find interesting. The Luberon Valley is famous for its open air markets, with each town hosting the morning market once a week. Tuesday was Goult's turn. Truly a delight for all the senses, we each found something to enjoy.
Alec loved the fresh merguez sausage rolls, and chatting with a Senagalese pineapple salesman, who used a special gadget that cored and sliced the pineapples in seconds flat. Madeleine loved the handmade soaps and sachets filled with lavender. My husband and I sampled organic cheeses, and fresh produce, particularly enjoying the local melons that the region is famous for. The colors, aromas, and sounds made the lively market a good choice to start our day. We purchased the makings of a picnic lunch, which we consumed before driving to Roussillon.
This next town of Roussillon is home to ochre quarries, a red rock canyon of sorts, featuring a variety of rocks and cliffs that really reminded me of the American Southwest. This unique geographic area of unusual colors and formations provides a variety of trails, and we walked through the canyon where ochre is extracted to make dyes. Its brilliant orange-red hue left a dusty mark on our clothes, and many kids were enjoying painting their faces and bodies with the powdery substance.
The footpath we chose was less than a kilometer, and though not steep, provided us with stunning views of the exposed, sunburned rocks. The trail was not difficult, even for very young children.
We continued on to our next hill town, Gordes, known for its Bories Village, a group of around 20 well-preserved igloo-like huts built of dry stone. We explored this uninhabited town, which has remained largely the same for centuries. These unusual, hive-shaped stone structures are reminiscent of the trulli houses that we had seen in the Puglia region of Italy. The locals told us that the origin of these structures is somewhat mysterious, but they are thought to be original Gaulois dwellings. It is known that they were inhabited until the early 1800's.
We strolled into traditional huts, barns, and even a pigsty, letting us imagine what life was like here in this village centuries ago. The kids enjoyed the day, but were definitely ready for something more active and fun. 
Going Our Separate Ways
Wednesday morning was sunny and breezy, a good sign for Madeleine and Alec's day at the beach with the teen group. The bus left from Roussillon at 9am sharp and with the kids not set to return until 6 pm, my husband and I planned the entire day to do more adult-oriented activities. We drove to Saignon, a village perched above the town of Apt, where we had a grand creme at an open-air table and enjoyed the view while leisurely reading the newspaper.
We continued on to Lacoste, the most controversial town in the region, which has been largely bought up by the clothing designer Pierre Cardin, who has poured a lot of money into improving and restoring it. The locals seemed to be squarely divided, either loving his influence and funds, or resenting him for boosting up real estate prices, and being another outsider trying to take over their region.
The summer brings a large arts festival to town, and it is full of students of the Savannah College of Art summer program, so it was quite a bustling scene, somewhat different from the pastoral quiet that we had grown to love.
We found the town pretty, but its restoration gave it a pristine quality that made it seem like a Disneyland version of a Provence town. The stone pavement was so highly polished, that it made for a slippery slope, and I chose to take my shoes off during the downhill walk, as I had seen several tourists lose their balance and fall.
We had lunch in Bonnieux at the Restaurant de la Gare. Just outside of the town's historic center, the Gare is set in a large verdant garden, with a few swings to boot, making it a great choice for hungry families. €14 buys a complete lunch, a carafe of house rosé wine included. We started the lunch with a visit to the hearty, healthy, all-you-can-eat salad bar, with ample veggies, cheeses, a bit of pate, and a few fish delicacies. The plat du jour, which changes daily, was a nicely seasoned chicken curry with white rice. Dessert was a choice of ice cream, chocolate mousse or fruit with kirsch. We enjoyed a peaceful adult meal, but put it on our list of family friendly activities, due to the price and garden setting. Before picking up the kids we gave ourselves time to stop and sample wine at two local cellars.
The kids arrived at the drop-off spot tanned and happy. They enjoyed the day at the seaside, swimming, seeing the city of Marseille from the van window, and although the other kids were too shy to speak English with them, the two young adult leaders, Latifah and Melody, were warm and welcoming. The experience had gone well enough to make them look forward to Friday's Colorado adventure trip.
We were all tired, but it was fun to reconvene and describe our day to each other. Wednesday is the weekly outdoor movie screening in Bonnieux, and my movie-loving son did not want to miss it. Chronicles of Narnia: Prince Caspian was the film that evening, and as there is little dialogue, it was a good choice for the kids and their limited French vocabulary. The screening was a 35mm projection, so the quality was high, which impressed my husband as well.
Making Friends at the Local Pool
After having spent the previous day pursuing our adult interests, we were ready to cater to the kids. We chose the public swimming pool in Apt, a 10-minute car trip. The admission price was a reasonable €6 for the four of us, for the entire day, but there was one catch: all males were required to wear Speedo type suits.
The super big and baggy shorts so popular back home were not permitted, for hygienic reasons. My husband had a suit of this type ready. My son, confused and bewildered, was ready to leave when the ticket seller generously lent him a spare Speedo. He was reluctant to wear this alien type of swim suit, but it was hot, and the three pools did look inviting, so he took the plunge.
Two of the three pools were shallow kiddy-pools. The Olympic size pool was clean and spacious, divided for swimmers and divers. All were surrounded by shady green lawns, giving us many places to lay our towels. A snack bar was on premise and we were very impressed with the quality and price. We dined on salade niçoise with baguette and delicious coffee to top it off.
Antonio and I went off to swim laps, and when we returned to our spot, we found Alec and Madeleine surrounded by local kids. In their limited English, these friendly teens were desperately trying to communicate with our children. What struck my husband and I most was the depth of the attempted conversation.
Alec was wearing a cross, largely as a fashion, not religious statement. These French-born teens of North African descent were trying to explain that although they were Muslim, "We respect your religion." Language and religious tolerance aside, it became clear that these kids were asking my kids to dive off the 5 and 10-meter diving boards with them, a sort of rite of passage in the pool hierarchy. Madeleine jumped off the 5-meter board, Alec off the 10-meter, and from that moment on they were set with a group of friends to splash and dive with for the day.
Apart & Back Together Again
Friday was Colorado Adventure for the kids with the youth program. Antonio and I were curious to check it out, so we drove the kids to the town of Rustrel, about 20 minutes from Bonnieux, and met the youth group there.
Colorado Adventure is set amongst the dusty ochre formations, similar to what we had hiked in Roussillon. We were impressed by the trails of aerial circuits perched up in the trees, connected by foot bridges and ropes, monkey bars and pulleys. My fear of heights made it impossible for me to actually watch the kids attempt the circuit, so we quickly left the kids with the group.
We had enjoyed our previous day at the Apt pool so much, we returned for a lap swim, without the kids. Some of the local kids asked where Alec and Madeleine were, which we found touching.
On Saturday we had planned to explore Apt, when it hosts the market. The locals told us that this market is one of the biggest and best in all of Provence, and ranked amongst the top in France. We had been warned to arrive early, to beat the crowds and find parking. We arrived at 9am, and were glad that we had, as things were already getting crowded.
The selection and quality of the produce, jams, meats and cheeses was incredible, yet not overwhelming. We bought some delicious fruit jams and found the fig flavor to be wonderful. The old town of Apt proved a charming place to stroll. Its beauty and quaintness were surprising, as just outside the old town, Apt is quite modern and industrial. We enjoyed trying a baguette and various delicious pastries at Alain Bouchard's Bakery on Rue Pedestrienne, in the center of town.
A last day in France for reflection on a great stay
On Sunday we wanted to explore the beaches in the area. Having really enjoyed the peace and tranquility of the valley, we were not looking for a loud and crowded scene. The Bonnieux tourist office recommended the Camargue so we headed to this area about 90 minutes southwest, to the beach of St. Marie de la Mer.
We were immediately struck by the beach's rugged beauty, and the pink and orange flamingoes that roamed freely. Hundreds of flamingoes greeted us, as 50,000 are said to inhabit this park-like preserve. This area of tidal flats and salt marshes seemed nearly untouched by the modern world. The beach was full of campers parked near the sand, with holiday makers setting up camp. But it was relatively peaceful, and not crowded for a warm July weekend. The cool water was refreshing, the views stunning. We all thought that this region merited a longer stay, to explore its many beaches and the natural beauty of the area, but felt lucky to have had such a lovely afternoon.
We drove back to Bonnieux and noticed how quiet the towns en route were. We had seen a few shops open in the morning, but Sunday afternoon was different. The quietness gave us all an opportunity to reflect on our week-long adventure.
The kids agreed that the youth group trips gave them and us a good chance to have a break from each other, and made our week of togetherness much more tolerable. They were glad that it gave them the chance to meet local kids, and provided them with a truly authentic, local experience. They liked the youth groups planned activities, but thought the chance encounters at the swimming pool were more fun and spontaneous.
Being in a house rather than a room in a hotel gave us all a bit more space and independence. The kids liked the safety of being in a small town, being able to stroll and explore without us. Antonio and I were proud of the kids for giving the youth group a try, despite linguistic obstacles. Besides being economical, it provided us with a bit of adult time.
Our week in Provence had been a good one, proving that even during the teen years our family could still find a way to enjoy our vacations together.
Dear Reader: This page may contain affiliate links which may earn a commission if you click through and make a purchase. Our independent journalism is not influenced by any advertiser or commercial initiative unless it is clearly marked as sponsored content. As travel products change, please be sure to reconfirm all details and stay up to date with current events to ensure a safe and successful trip.
---