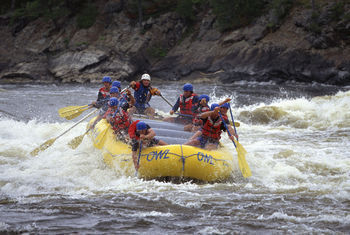 Q – Candace P of Glenview, Illinois asks: My husband and I and our 4 kids (ages 10, 13, 14 and 16) are planning a vacation at the end of July. We are interested in rafting, river floating, hiking to waterfalls, caving, etc. We have taken vacations in Steamboat, Colorado and Asheville, North Carolina, and, while we had a great time, are looking for a new location. Jackson Hole appeals, but we are afraid of the summer crowds and think it might be too pricy. We would like a condo, so we have room to spread out.
We have reviewed your request for information for your family's vacation this summer and I have selected several stories from our site that I think will interest your active family. Please check out these articles on FTF:
"Sunriver Resort, Sunriver, Oregon"
"Park City, Utah Summer Playground"
"Colorado's Vail Valley: Summer Mecca for Teens"

Smugglers' Notch in Vermont is a great place.  The following story is written with younger children in mind, but it might give you a flavor of the place and then you can visit their own excellent site at www.smuggs.com.
"Top 10 Getaways for Tiny Travelers – Smugglers'Notch, Vermont" 

Finally, this story compares and contrasts Smuggs with 2 other popular resorts in the area:

"Top 3 Northeast Family Resorts" 
---
This story was accurate when it was published. Please be sure to confirm all rates and details directly with the companies in question, and stay up to date with current events to ensure a safe and successful trip.