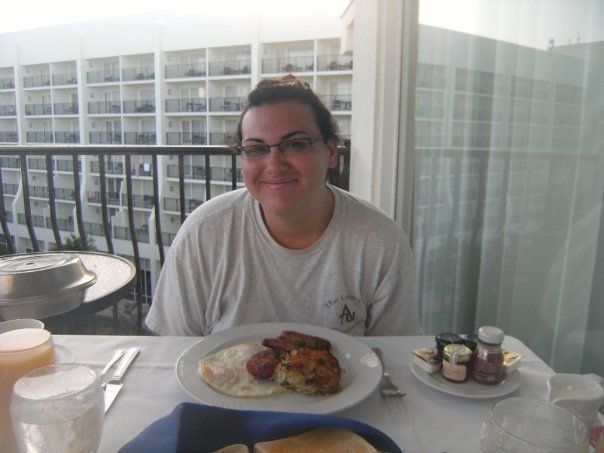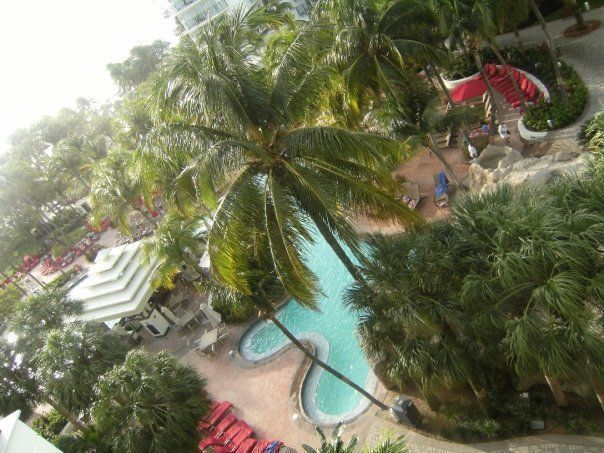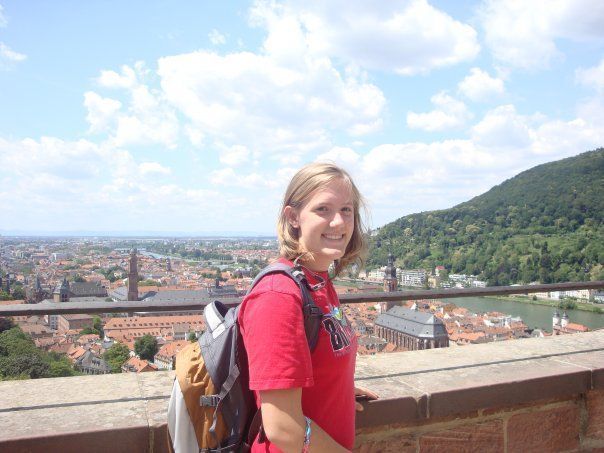 The moment we walked into the sprawling, six-story lobby of the Aruba Marriott Resort & Stellaris Casino
and received our complimentary tropical cocktail, my cousin and I knew we were in for a great family beach vacation. After a smooth check-in, we literally ran up to our room, unzipped our suitcases and found our swimwear; a quick change later, Keri and I headed for the beach, which we could have sworn had been calling our names from the moment we stepped off the airplane.

Laying on a lounge chair after a refreshing dip in the Caribbean Sea, we watched the beginning of a tranquil sunset from the golden sand on Palm Beach. The wind was blowing lightly and a waiter delivered strawberry daiquiris to our chaises. Without even exploring or having the slightest clue of the countless services and amenities our home for the next few days could offer, we knew we had arrived in paradise.
First Impressions of our Marriott Resort
Turns out that in our whirlwind rush to splash in the pristine blue waters, Keri and I certainly missed out on a lot, but the rest of our trip slowly revealed the resort's treasures.
In the beginning of 2009, the Aruba Marriott announced the completion of its $50 million property renovation. All aspects of the resort, its rooms, lobby, pools and even restaurants, were new — re-vamped and ready to entice guests. And we were quick to learn.
Once the sun had set, Keri and I returned back to our room, one of the 411 on property. We discovered not only a mess of clothes and other travel items discarded in our rush for a bathing suit, but also, a lot of space and comfort.
Said to be the biggest and most contemporary rooms on the island of Aruba, these accommodations offered us 300-thread count sheets, a walk-out balcony with a view of the entire resort and a glimpse of the ocean, plus modern and high-tech amenities likes an LCD widescreen television and a full electronic hookup for laptops and iPods.
Our double sink bathroom left us more than enough space to freshen up after our swim. Plus the spacious walk-in closet came ready with two plush, terry-cloth bathrobes that we donned the entire time we spent in our room.
We had heard that the city of Oranjestad was a quick cab ride to and from the resort and, with fun touristy markets, shops and restaurants, it would be a great place to spend an evening or afternoon.
To Do Nothing, or To Do Everything?
Eager to explore, we dined off-property on our first night to experience some authentic Dutch Caribbean culture. Live music and delicious pancakes awaited us at the Pannekoekhuis located in the Renaissance Marketplace in Aruba's capital Oranjestad. After a bit of a long wait after a long day of traveling, sweet and savory crepe-like pancakes hit our hungry stomachs… and the wait was worth it. I opted to get the "salty and tart in one" and had my pancake with half eggs, bacon and cheese and the other half (for dessert, of course) with fresh strawberries, powdered sugar and whipped cream.
Then we vowed that we would do as little as possible during our time in Aruba. After an excellent night's sleep, Keri heard a knock on the door delivering our breakfast-in-bed room service. Only we decided not to eat in bed; instead, we devoured our meal on our balcony each morning. The coffee was hot, the bacon was crispy and the eggs cooked just the way we liked them. Always ordered the night before just prior to sleep, our breakfast was prompt every morning and our server even set it up for us outside.

We were living like rock stars and all of our experiences at the resort, outside of our great room, proved similar. As our goal was rest and laziness, we spent afternoons on cushioned lounge chairs by the resort's freeform pool that featured a Jacuzzi (which was usually too crowded for us to get into), flowing waterfalls and rock formations. A swim-up bar was centralized in the pool, as were a variety of activities.
Activities at the Resort & Around Aruba
To be honest, we didn't partake in any, but other resort guests seemed to enjoy water exercise classes including: zumba, Latin dance and aerobics all in the pool. And in the surrounding areas, either the Bon Bini Kids Club or the Towel Hut, guests participated in a myriad of fun games and events. For teens and adults, there were beach walks, soccer, bingo, tennis clinics, volleyball, hair braiding, watermelon eating contests, and even classes in the fitness center.
Kids had bottle painting, coloring, shell art, Nintendo games, and treasure hunts. I was happy to see there were even family-themed activities, for "all generations," such as treasure hunts and T-shirt tie-dying. The events at the resort vary day-today; however, guests are always in the know because of the Aruba Marriott Newsletter that is delivered under each door every morning. Informing guests of the times and places of specific activities, it also tells of restaurant specials and happy hour times. Also, guests should note that while the majority of these organized events are complimentary, some do require a small fee.
It was hard to leave the comfort of our sunny lounge chairs and really girly beach-read books, but Keri and I did venture out. The Aruba Marriott's Concierge, located in the lobby, has a great activities desk. Mainly served by De Palm Tours, the desk offers guests a ton of options to help them explore Aruba properly.
We were able to experience a Jeep Safari tour that took us to the Ostrich Farm and other sights along Aruba's rugged north coast. We also ventured out to De Palm Island where we spent the day underwater with the help of snorkels, Snuba and a Sea Trek. There are plenty of other options the resort can help guests organize. Or to plan on your own, here some ideas on attractions to visit; check out my Aruba Attractions Guide.
This Marriot's Mouthwatering Food
Although our meal off the resort was great the first night, Keri and I decided that we wanted to dine in style for our remaining time in Aruba. There might be too many culinary options on the resort to choose from, but that also might be because we only had two nights left. Dining poolside, Keri and I enjoyed a delicious meal at La Vista where we opted for the a la carte dining menu. Over a chilled bottle of rose wine, we sat on La Vista's veranda and enjoyed the warm Caribbean breeze. Both a family-friendly and romantic eatery, we saw couples and families with young and old children sitting at different tables laughing and enjoying the delicious food. Calamari and a Cesar salad started our meal; I enjoyed a seafood pasta dish and Keri splurged tackling a huge lobster plate (which I, of course, helped her consume). Despite our fullness and the fact that we were literally the last ones in the restaurant, our waiter insisted we have dessert and he presented a creamy cheesecake that we somehow managed to finish. La Vista also offers a themed buffet menu that's varies every evening, including Tuscan Italian, Mediterranean Seafood and Taste of Rome, which might be more appropriate (and affordable) for a family.
We didn't think it possible that our last meal would top La Vista, but Keri and I sat down, toes in the sand, at Simply Fish (one of TripAdvisor's Top 10 Aruba restaurants). This casual oceanfront restaurant is literally on the water, so we tried to keep an open mind. Somehow we were wrong — it was even more fabulous. During the day this location is a casual beachside bar and food stop called Waves, but with a sunset and some torches set up in the sand, Simply Fish turns simply elegant. We ate seafood risotto, seared halibut with grilled artichoke and baked sea bass and, for dessert, we enjoyed Pina Colada creme brulee.
This might be the night to leave the kids ages 5 through 12 at the Bon Bini Kids Clubs as the vibe at Simply Fish is somewhat tranquil and romantic and we didn't see a many children partaking in this meal. No worries, however, as kids spending a supervised evening at the club can make pizza for dinner and watch a movie while parents enjoy a night out.
Time didn't permit for Keri and I to enjoy the other culinary options but the Aruba Marriott also has a newly renovated Ruth Chris Steak House and a 24-hour Sushi Bar in the main lobby.
Parting Impressions of our Marriott Resort
We wished we'd had time to do everything. The 8th floor of the resort is home to the Tradewinds Club, a "hotel within a hotel" that was said to be even more luxurious than where we stayed. We never got there. And super fun for parents, the Stellaris Casino, with 28 gaming tables, is the biggest on the island but we were too busy to play.
Our final meal was bittersweet; yes it was certainly delicious but it finally hit us that our time in Aruba was coming to an end.
An elegant wedding ceremony was being held at the resort that evening and watching the party and happy couple from afar made it difficult to be sad. After a quick walk down the beach, Keri and I grabbed our last Amstel Bright from the lobby bar and headed back up to our room. From our balcony, in our favorite bathrobes, we danced to the music of the wedding.
Looking down, we saw a family, mom, dad and kids, below us by the pool doing the exact same thing: smiling, laughing and dancing, together, at a resort, on an island, that is truly a playground for all generations. Learn more at Marriott.com
.
Dear Reader: This page may contain affiliate links which may earn a commission if you click through and make a purchase. Our independent journalism is not influenced by any advertiser or commercial initiative unless it is clearly marked as sponsored content. As travel products change, please be sure to reconfirm all details and stay up to date with current events to ensure a safe and successful trip.
---