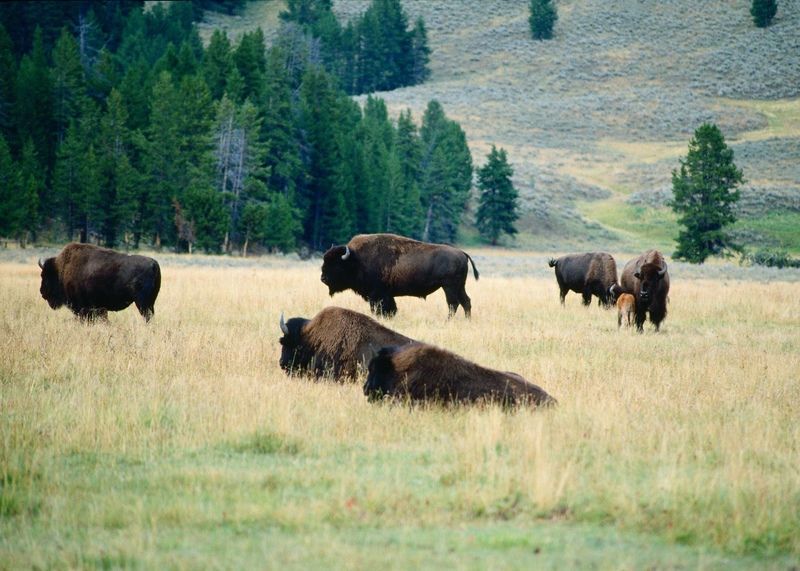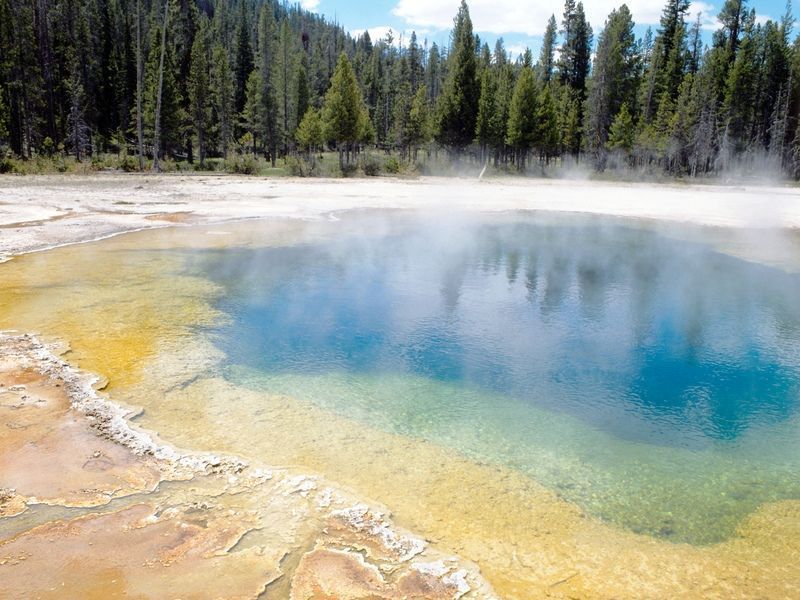 Yellowstone National Park is a perfect vacation spot where you can appreciate some quality time without interruption, save the cry of an endangered Bald Eagle or the humbling roar of a gushing waterfall.
Theodore Roosevelt saw it as a gift for all humans to enjoy. Nearly three decades later, his fifth cousin and 32nd president of the United States described it as the ultimate icon of America. In 2009 President Barack Obama and his family vacationed there, then had lunch at the Old Faithful Snow Lodge.
Today, over two million acres of undisturbed nature and an endless list of recreational activities provide not only an invaluable experience for any family to enjoy at Yellowstone National Park, but at little to no cost as well.
The catch? If you're lucky, maybe a giant rainbow trout from the Big Horn River.
A Day at Yellowstone Lake
Starting out at Yellowstone Lake, which lies at the heart of this Wyoming park that straddles the borders of Montana and Idaho, the family may never want to leave with the overwhelming number of activities offered in the area.
Known to be the continent's largest mountain lake and stretched out over 80,000 acres, Yellowstone Lake is ideal for fishing. Visitors should be aware that fishing season ends on the first Sunday of November. Thousands of trout populate these waters and it's impressive to note, too, that there is no stocking done in this lake; the fish that populate these waters are all wild.
For the more thrill-seeking type, canoeing and kayaking are just a few of the great activities offered in the area. As waves calmly lap back and forth against the boat, the combined visuals of nearby geysers, hot springs and mud pots will be sure to make the paddling effort well worth the while.
During the later fall months, camping and lodging within the park becomes a scarcity, while in the winter months all entrances – with the exception of the North gate – are closed to private vehicles. Therefore, for winter lodging and park excursions, Flagg Ranch Resort near the north gate might be the best bet for any icy expeditions. They are well known for their snowmobile excursions!
Old Faithful & Other Attractions near Yellowstone Lake
Trekking west of the lake along Route 20, the Old Faithful area is overflowing with activities for kids during the summer and early fall seasons. Before visiting the area's most famous attractions – the Old Faithful geyser and Grand Canyon area – taking a self-guided tour is a sure way to see every kind of thermal feature the park has to offer.
The Old Faithful Visitor Education Center opened in August 2010 to much acclaim as the first national park visitor center to earn Gold Leadership in Energy and Environmental Design (LEED) certification from the U.S. Green Building Council. Thanks to generous funding and technical know-how provided by Toyota engineers, the OFVEC provides hands-on, state-of-the-art exhibits that interpret Yellowstone's volcanic and geothermal science and the park's ecosystem. The very cool, energy-efficient facility also provides a library, classroom space for learning programs, and a theater to view Yellowstone educational films.
The Biscuit, Midway and Black Sand Basin Tours will awe and amaze the whole family with fascinating geysers, pools, fumaroles and more. (For all the non-geologists, a fumarole is an opening in the Earth's surface that emits steam and gases released from boiling groundwater.)
North of Yellowstone Lake at the junction of the Norris Canyon and Grand Loop roads, the Canyon Visitor Education Center allows kids to learn more about these geological features and enjoy interactive exhibits, fun educational films and find out what the center's 9,000-pound rotating kugel ball is all about. (No definition handout on this one – go and see it for yourself!)
After completing a list of fun and easy requirements within certain areas of the park, kids can receive an official Yellowstone Junior Ranger patch. Activity forms are available at any visitor's center.
Yellowstone Association Learning Programs for Real Fans
Kids seem to love park rangers, and what better vacation than to spend an inexpensive week at Yellowstone surrounded by them?
The Yellowstone Association is the park's educational arm, a non-profit organization dedicated to providing year-round day and multi-day field courses that give families an opportunity to explore the park. We've heard from many FTF families that this is a fabulous learning vacation.
The Yellowstone for Families program which is centered around Mammoth has beenselected "Best Summer Family Camp in America" by "Good Morning America" and Family Fun magazine. Like the others, it includes guides, activities and lodging, breakfast and lunches. Rates are modest for a program geared to ages 8-12. Typically, during the four-night programs, families dine with other participants and enjoy expert instruction and optional evening programs given by the National Park Service.
Mammoth Hot Springs & Yellowstone
But most families choose to explore this region on their own, so guidance is in order. My favorite, and not to be missed, the Roosevelt Arch looms impressively over the northern entrance, which was once meant for coach trains to pass through. Going beyond this portal – though by newer means of transportation – the whole family can spend summer days trotting along the rim of the Cascade Canyon at Mammoth Hot Springs.
Roosevelt Lodge & Cabins offers safe and fun horseback rides through scenic pine forests and meadows, as well as impressive views over the canyon. If the family hasn't had its fill of geological features, the Wraith Falls is worth a small trek up the hillside. Named by a team of geological surveyors for its eerie specter-like shape, the falls offer more than just scenery with the amount of diverse wildlife in the area.
During the winter, private vehicles do not have access to the northern park entrance near Mammoth nor are any snow-related activities available in the area. However, Old Faithful Snow Lodge & Cabins not only provide guests with accommodations and transportation, but snow coach tours, skiing and snowshoeing activities as well. During Yellowstone's winter, travelers can spend their time on the slopes at any of the area's popular skiing trails. The Indian Creek Loop Trail in particular is perfect for beginners and families with small children.
While the trip certainly doesn't have to end here, the Canyon Village area is an ideal location to settle down and rest from a long and exhausting journey. Not far from the park's Northeast entrance along Route 212, travelers will pass by the Slough Creek Campground. While it's a good place to hunker down for a few nights and enjoy some fly-fishing on the side, the campground has limited amenities.
Before leaving the wild paradise of the Yellowstone National Park, one last good look of the park might be in order. Visitors will not regret this small hike when they take in the 308-foot drop of the Lower Falls of the Yellowstone, which are located southward along Grand Loop Road from Route 212. The brilliant view may inspire a few words worthy of those of Roosevelt's, or may just leave you speechless.
Yellowstone Road Trip Planning
From Montana's Little Big Horn, it is approximately 130 miles (2.5 hours) to the park. Depending on whether you're coming in from Idaho or Montana, you might enter Yellowstone from its north, northeast or east entrances. Note that the north entrance at Gardiner, Montana (a fun mountain town with lots of family attractions) is open to regular family cars all year round.
During the winter months, the west, south and east entrances are open only to officially-permitted tracked over-snow vehicles such as snowcoaches and snowmobiles. Tours to visit the park this way can be arranged by a few local resorts, or in nearby tourist towns in Idaho and Wyoming.
Families should make it a point to drive at least part of the Beartooth Highway. Located on either side of the Wyoming – Montana border just east of Yellowstone's Silver Gate, the highway has been recognized for its spectacular mountain views and was selected Top US Road by the American Motorcyclists Association. The 68-mile road covers most of the ground between Cooke City and Red Lodge, Montana, and 54 of those miles have been named by National Scenic Byways as "All American Road."
It's often used by park visitors on their way to or from the towns of Cody, Meeteetse and Powell, who also typically use the Chief Joseph Scenic Byway which connects to the Beartooth.
Places to Stay in & around Yellowstone National Park
Headwaters Lodge & Cabins at Flagg Ranch (307/543-2861), located in Moran, Wyoming 83013, offers multiple-itinerary snowmobile tours to popular park attractions in winter. In summer, the property managed by Vail Resorts keeps a popular wooded campground near the Snake River, with 24-hour showers, laundry facilities, and pull-through RV sites with full hook-up (20 amp electric). Each site has a fire pit and picnic table. They also feature cozy log cabin rooms furnished with either two queen beds, or one king bed. Each room has a private bath, telephone, coffee maker and patio with rocking chairs. Accommodations are now available in winter (December to March) as well as summer (late May to early October) and advance reservations are highly recommended.
There are a few wonderful NPS lodges that families can book with advance planning. Mammoth Hot Springs and Cabins, open to winter visitors, offers comfortable mid-range rooms with two double beds, frontier cabins with a few options including hot tub, and less "rough it" style suites with telephone and cable TV.
For a more rustic family-style experience, try the Roosevelt Lodge Cabins, which has a large corral operation that offers horseback trail rides, stagecoach adventures and even a popular Old West Dinner Cookout. Reservations for the cabins can be made for dates between June 9th and September 4th 2017.
Open during select dates year-round, the Old Faithful Snow Lodge was completed in 1999 and offers a full service dining room and "Geyser Grill," as well as furnished rooms harkening back to a time of rustic old western style.
More information on Yellowstone National Park can be found at the U.S. National Park Service website or by calling at 307/344-7381. Reservations for accommodations at any of the park's lodges can be found at the Yellowstone National Park Lodges website or by calling 307/344-7901.
Dear Reader: This page may contain affiliate links which may earn a commission if you click through and make a purchase. Our independent journalism is not influenced by any advertiser or commercial initiative unless it is clearly marked as sponsored content. As travel products change, please be sure to reconfirm all details and stay up to date with current events to ensure a safe and successful trip.
---