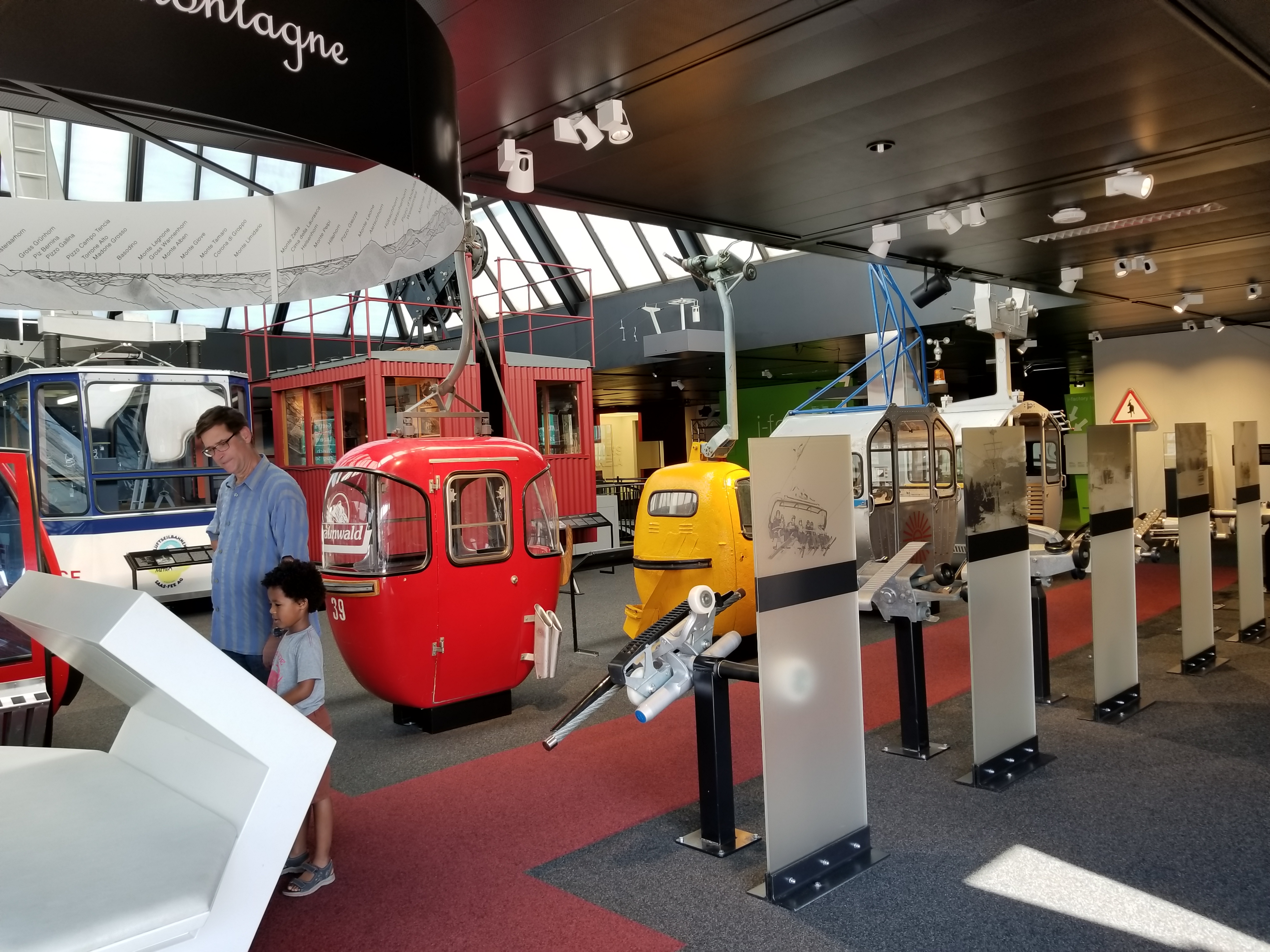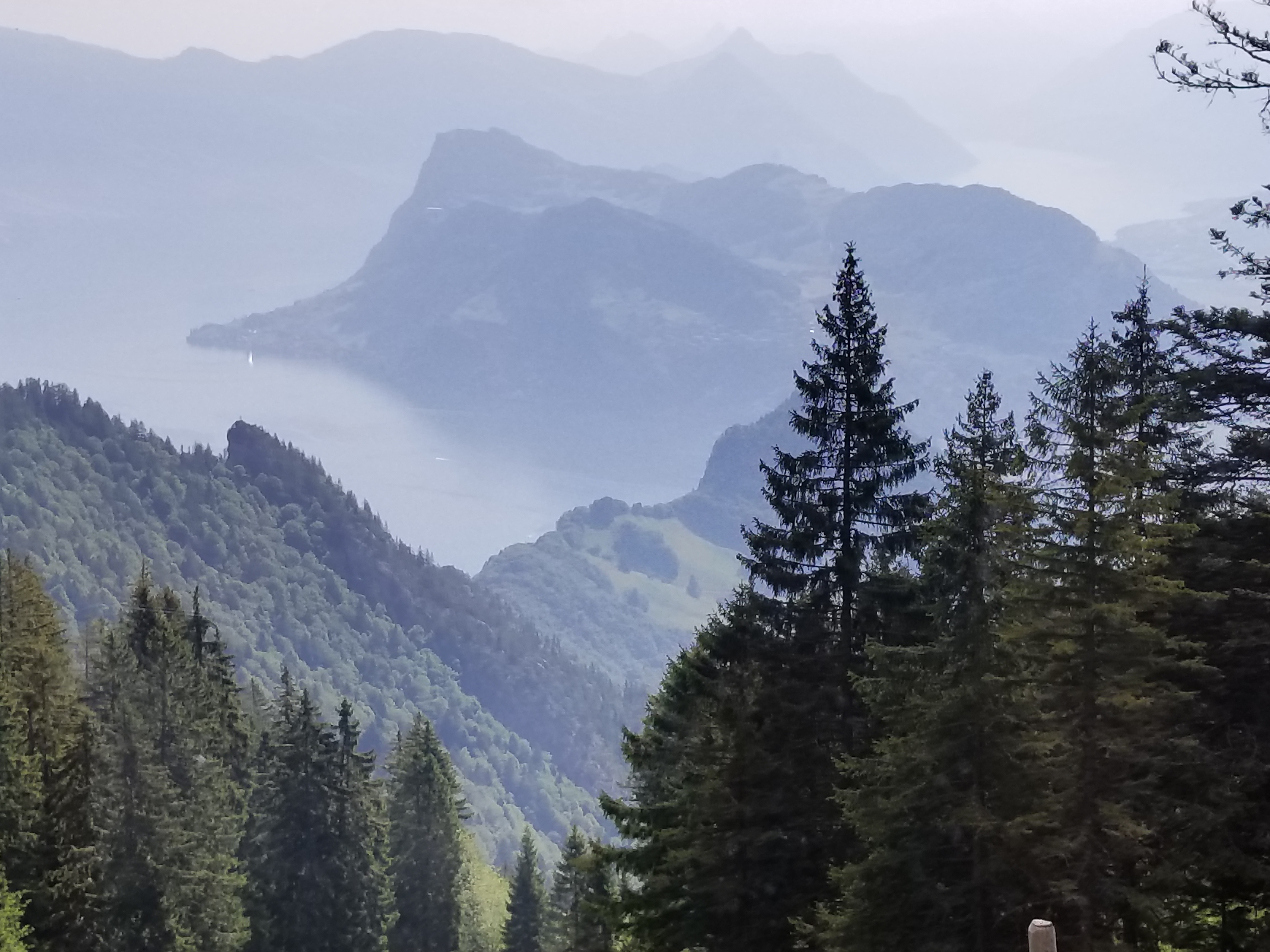 Switzerland in summer is a sensual overload: cool mountain breezes and deep blue lakes, blisteringly hot cobblestone lanes and chilled ice cream treats. Travelers who want to understand why affluent Europeans have vacationed here for generations must experience Switzerland from above and below. In just four nights, our family time-traveled from the 19th century splendor of a grand castle wrapped in alpine views to the contemporary lakefront pleasures of a thriving city.
Your Alpine Castle: Grand Hotel Kronenhof Pontresina
Driving to the Alps pales in comparison to the approach made by the Bernina Express, one of Swiss Rail's famous domed sightseeing trains. It didn't hurt that a uniformed driver in a tricked out BMW limo met us at the train station and whisked us away to the Grand Hotel Kronenhof, the grandest of the grande dames in the hilltown of Pontresina, near posh St. Moritz. Take a look.
We loved our two-night stay at the Kronenhof because it delivers on all the five-star promises: luxury, service, comfort, gourmet cuisine, pampering and tradition — without pretensions of exclusivity and stuffiness. (We heard that when the hotel first opened around 1860 under the ownership of Andreas Gredig, guests were surveyed upon arrival at the wrought iron gates and, depending on the amount of luggage they had, were charged whatever the proprietor thought they could afford.)
The location is ideal, even if you aren't a sporty family. Step outside the ornate wrought iron gates and easily explore the soaring Val Rosegg from the Diavolezza ski resort's cable car, which goes right up to a relatively easy hiking trail. Hike as far as you can, though, because every turn round a peak reveals more beauty than you thought imaginable.
The Good Life at the Kronenhof
Today, the devoted staff – most of whom live at the hotel — still have a sense of humor and welcome all ages, regardless of luggage. Children are treated with an Old World grace to daily Kronchen Kids Club activities, private sitters and a VIK program whose identifying wrist band brings on complimentary ice cream, toys and games. The stunning spa has an indoor children's pool with waterslide. The Rondelle children's dining room, worthy of the Royals, seats 30 kids ages 3-12 every evening so that adults can — and do — relax and dine on their own.
Kronenstubli, on the site of the original hotel, serves French, Italian and mountain specialties in winter. The St. Moritz sister hotel, the Kulm, honors the Kronenhof half board plan and its landmark Kulm Country Club features elevated Swiss farm to fork fare. That the Grand Dining Room requires gentlemen to wear a jacket should not come as a surprise; the elegant, four-course meal we enjoyed at dinner, under the eagle eye of the Maitre d', was straight out of "Downton Abbey."
Grand in the Details
From the kegelbahn, a traditional German bowling alley where children celebrate New Year's Eve over a steaming raclette fondue, to a gorgeous spa where fresh mango cocktails are delivered to the hot tub, the Kronenhof leaves no touchpoint unstroked.
Staff move discreetly in pairs, pushing room service carts topped with roses like an express train from heaven. The kleenex in our room was four layers thick — we counted. As we joined guests in plush white bathrobes and slippers taking in the sun and glacier views from the lawn, we cast off thoughts of ever returning home.
The Kronenhof is open only seasonally. In winter, guests have a valet-tended ski lockerroom and free shuttle to the slopes of St. Moritz. There's cross country skiing right outside the property and a natural skating rink on the back lawn, near the rustic mountain chalet used at lunch.
Exploring Lucerne Bottom to Top
From Pontresina, it is an easy move by train to beautiful Luzern (Lucerne) for the next few nights. Luzern is even more of a Swiss postcard than other major lake towns because of its unusual covered wood bridge over the Reuss River. We spent two nights here at sea level to explore the region, starting with the Swiss Museum of Transport, Das Verkehrshaus der Schweiz. This complex has a widescreen theater, planetarium, Swiss chocolate experience, a courtyard where kids can rock climb and enjoy water play, and a huge transport collection. Examine different boats, aircraft, ski gondolas and rail cars, then try to pilot several antique steam trains. The exhibits about the Gotthard Tunnel were our favorite because the longest train tunnel in the world is such a model of Swiss engineering. Kids were going crazy for the trains and chance to fly (with a harness) in one of the earliest glider machines. Allow several hours to explore this wonderful collection; many more activities are described at Lucerne.com.
We slept in the suburb of Kastanienbaum, so the central station Luzern Bahnhof across from the LAC cultural center and ferries was our base. A few blocks away is the big square Altstadtplatze and the original 14th century city walls with their nine intact towers, known collectively as Museggmauer; four can be visited in the middle of the day.
Seehotel Kastanienbaum is relaxing and well suited to families, especially in the heat of summer. In addition to panoramic views of glacial blue water topped by the Alps, there's a very good outdoor restaurant with sunset views, a small pool and spa, and a pier where sightseeing boats call. The black pebble beach allows guests to swim in the pristine lake, a real treat. The idyllic ambiance is also a welcome change from the thousands of tourists taking selfies in downtown Luzern. Just imagine that this long famous resort town had 140,000 visitors in the year 1900… and 1.2 million last year. Two nights along the lakefront, at the foot of the Alps, is a perfect family bonding opportunity.
Luzern from Mt. Pilatus
Luzern's peak experience is Mt. Pilatus. With a Golden Circle tour ticket, you can take a scenic, hour-long sightseeing cruise to the mountain's base at Alpnachstad, also easily accessed by train. Once there, witness how many people, probably Swiss, choose to climb the steep path uphill. If you're traveling with STEM focused kids, however, don't miss the life-altering cog railway experience.
The world's steepest cogwheel train chugs 2,132 meters to the Pilatus summit with the valor The Little Engine was able to muster. An unusual double cog system was built to pull trains up the 48% incline; they descend by force of gravity, with three braking systems to control speed as they meet in the middle. There are 10 of these adorable trains, mostly bright red, but only five can go up or down at the same time, necessitating visitor patience. The clanking sounds, views of forest interspersed with passing dairy cows, and dips into dark tunnels are just thrilling.
The Cloud Life in Switzerland
The Pilatus summit is like a ski resort base village. There's the cylindrical Hotel Bellevue, that some liken to a James Bond movie set, where crisply modern and efficient double rooms rent for 100 CHF per person including dinner and breakfast at their self-serve restaurant. (Once you're on the peak of Pilatus, there's nowhere to go.) Opposite is the stylish Pilatus Kulm Hotel, a more elegant version whose restored dining room once served Queen Victoria. We pause for a delicious lunch, watching the crowds of cravens (a crow-raven combo), tourists, hikers, hang gliders and others, and realize how mystical it would be to spend the night.
The real world descent via cable car stops at a zip line, luncheon restaurant, Dragon Ride and fun ropes course. Next is the free entry Pilatus Kids Park, where larger than life storybook characters join kids on seesaws and climbing toys in a clearing in the woods. Don't be surprised to see parents barbecuing Swiss sausage on long skewers on the hottest days.
Why You Want a Swiss Travel Pass and parting tips
Unless you're committed to not moving around, the Swiss Travel Pass is a must, because public transportation is amazingly efficient and expensive. Trust us, you do not want to be translating all those bus, train and funicular fares from Swiss francs (CHF) into US dollars and, with a Swiss Pass, you won't have to. Once you purchase it (adults pay 259CH for 4 days), you can ride even the highspeed express trains at no cost, and many other attractions are discounted or free.
The second class service so far exceeds anything in America that you can skip the first class premium, which provides reserved seating in rail cars with power outlets and more spacious seats. WiFi only works for those with Swiss mobile phone numbers to log in., so beef up your international data plan for selfie sharing.
And that unmissable Golden Circle tour of Mt. Pilatus? It's free this year, and 50% off for future pass holders, a good reason to go now.
Dear Reader: This page may contain affiliate links which may earn a commission if you click through and make a purchase. Our independent journalism is not influenced by any advertiser or commercial initiative unless it is clearly marked as sponsored content. As travel products change, please be sure to reconfirm all details and stay up to date with current events to ensure a safe and successful trip.
---