New England's beautiful display of foliage and charming towns make Vermont and New Hampshire perfect choices for a New England leaf peeping family road trip. In autumn, the friendly faces of local New Englanders break into smiles at the sight of so many visitors.
Vermont's small size and little traveled roads make it super for a family driving trip. October brings leaf peepers to view nature's annual display of autumn colors.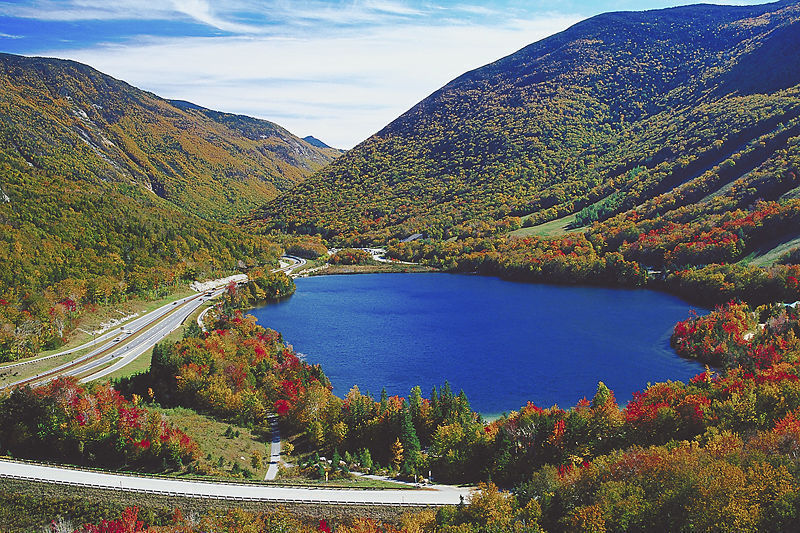 The northern part of Vermont is remote enough to never crowd. Of course, you'll need more than colorful leaves to keep the kids entertained, so I've suggested stops that provide a variety of more active pursuits.
Your road trip will take you across the Northeast Kingdom, Vermont's most rural region, known for its unspoiled beauty. The entire drive form Burlington to St. Johnsbury is only 76 miles, so you will have plenty of time to get out and enjoy the scenery.
If your quest for charm has not been satiated, head across the state line to Hanover, New Hampshire, home to Dartmouth College. Your children will enjoy seeing more of this area that is just across the state line from Hanover: Norwich, Vermont. For other fall trip ideas, please see our annual autumn travel roundup.
Our suggested 3-day New England Leaf Peeping Itinerary follows:
Burlington is a fine spot to start your New England leaf peeping trip, as it is easy to reach via Interstate 89. Additionally, its small airport is well served by budget airline Jet Blue and it is about as pleasant as an airport can be. Burlington is an easy place to rent a car for your family New England road trip.
First One or Two Days: Burlington to St. Johnsbury, Vermont
Next Day's Route: St. Johnsbury to Lake Willoughby
Day 3: Lake Willoughby to Hanover, New Hampshire
Day 1-2: Burlington to St. Johnsbury, Vermont – 76 miles
The picturesque city of Burlington, Vermont sits on the shores of Lake Champlain. Its waterfront has recently been developed into a playground for locals and tourists alike. You can rent boats, bike the 10-mile path that hugs the river or catch the ferry across the lake to New York State. Browse car-free Church Street Marketplace, where quirky local shops sit side-by-side with familiar favorites. If the weather is fine, you can enjoy entertainers including street musicians, mimes and assorted performers.
Stroll around the campus of the University of Vermont and have lunch at Henry's Diner, established in 1925. It is on Bank Street, just off Church Street and is an authentic, kid-friendly diner that is the perfect place to tempt little appetites. Burlington is a great college town, so if you are touring with teens, consider spending a night in town and just soaking in the student vibes.
There's still time to head out on Route 89 for the 30-minute drive to Waterbury, home to the Ben and Jerry's factory where the ice cream tour is a must do for all ages.
Continue on Route 89 for 25 minutes to the state capital, Montpelier. The smallest capital city of any state, you can explore the State Capitol building on a free, 20-minute guided tour, the perfect length for kids to get a taste of government's workings.
If You're Spending a Second Day in North Vermont on Your Leaf Peeking Trip
After you have had a walk around the town of Monpelier, head towards St. Johnsbury on scenic Route 2. You can follow this road directly to St. Johnsbury, but you would miss the Cabot Creamery at 2878 Main Street, Cabot, VT, 05647.
Founded in 1919, Cabot Creamery is worth a stop, and it is only a few minute's detour. To get there, catch Route 215 in Marshfield, which will take you into the center of tiny Cabot, where the visitor-friendly factory is located. You will see a variety of dairy products being made. Make tummy room to sample some world-class cheddar cheese. This is the largest cooperative in the region, owned by 1,200 farm families. The factory workers are members of the co-op, and are happy to answer questions, so it is a fascinating glimpse into the agrarian lifestyle of Vermonters.
Getting back onto Route 2, you will arrive in St. Johnsbury in 30 minutes. This active little town, fondly known as St. Jay, has a variety of lodging choices ranging from B&Bs to cottages and rental units, many of which are on the Discover St. Johnsbury website.
Day 2: St. Johnsbury to Lake Willoughby – 28 miles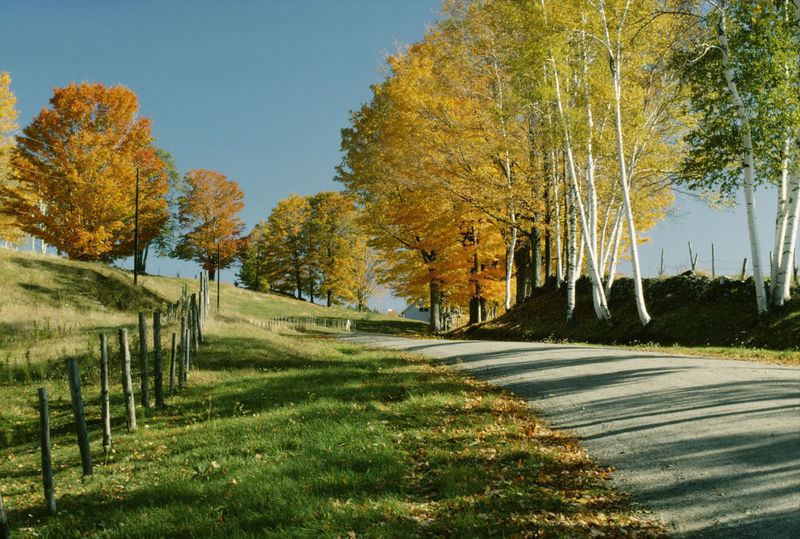 St. Johnsbury is a wonderful family destination and is home to the Fairbanks Museum and Planetarium. The Victorian building that houses it is a gem, set among residential Victorian homes on Main Street. Exhibits include Bug Art, a collection of mosaics created by thousands of beetles, moths and butterflies; the Exploration Station, an interactive area focusing on ecology, electricity and engineering; and the only planetarium in Vermont.
The museum's lower level is home to a real weather station. Look for Eyes on the Skies, a regional weather broadcast being prepared. It is small enough so that it is not overwhelming to kids, yet there is plenty to stimulate their scientific curiosity.
If your family is game for another factory tour, Maple Grove Maple Factory is located on Route 2. The Maple Grove Museum re-creates the maple sugar process, starting from gathering the sap all the way to the boil down stage. Here, maple syrup is converted into candy to provide free samples.
Dining Well, Sleeping Soundly, Collecting Leaves in Vermont
This part of the state is full of diners, part of the charm of a New England leaf peeping adventure. The Miss Lyndonville Diner, 10 minutes' north of town on Interstate 5 in Lyndonville, is one of the finest. The diner has a bargain-priced kid's menu and features real maple syrup and homemade baked goods. The town is famous for its covered bridges, so be on the lookout.
Continue 10 miles north on Route 91 to tiny Barton. In Barton, connect to scenic Route 16 to Lake Willoughby, about a 15-minute drive.  Ancient glaciers carved this remote 600-foot deep lake, considered one of the state's prettiest lakes. Lake Willoughby, secluded and largely undiscovered, is a gem. The perfect place to have a refreshing (some would say bracing) dip in summer is great for a hike in cooler months.
You can spend a peaceful afternoon surrounded by natural beauty in any season in this remote corner of Vermont. Make plans ahead of time if you want to spend the night. B&Bs and rental units are limited.
Day 3: Lake Willoughby to Hanover, New Hampshire – 84 miles
Backtrack to Route 91 South, the lifeline of any New England leaf peeping road trip. This route will take you to Norwich, Vermont, where the Montshire Museum of Science is located. Look for the interactive, hands-on exhibits for kids of all ages. Learning activities plus beautiful nature trails located on this 110-acre site make this a must-see for families.
Cross over the Connecticut River into New Hampshire to visit Hanover. This elegant college town is home to Dartmouth College and is a great family destination. A quintessential New England leaf peeker's dream, Hanover has a village green, church steeples and friendly faces. The student vibe makes it a fun place to spend an afternoon enjoying its charms. The town is full of cute cafes and shops. The college houses the Hood Museum of Art, whose collection is rich in contemporary works, including paintings by Picasso. The collection is small enough to appeal to kids who may not like art, as its manageable size will not overwhelm them.
Spending the Night for Moonlit New England Leaf Peeping
Settle for the night in this idyllic town, the classic Hanover Inn has been welcoming guests since 1780. New England style and temperament, a white-clapboard facade, Persian rugs and big fireplaces impart that crusty Ivy League feel.  At 93 rooms, you may even find some vacancies.
On the country roads surrounding Hanover are several of the small chain motels. Their quality is similar to whatyou might find around any college campus. Remember New England leaf peeping is all about stops and starts and exploring the trails. You may find that an affordable choice from Booking.com is just as cozy as a charming B&B.
Whatever season you choose to visit, this part of New England offers a range of recreational activities. From skiing and skating on a frozen pond in winter to hiking and biking in summer, there's fun for all ages. Take a moment to soak in the natural beauty of the land while engaging in an outdoor activity.
The Green Mountain state and its neighbor, the Granite State of New Hampshire, are sure to enchant you.
Dear Reader: This page may contain affiliate links which may earn a commission if you click through and make a purchase. Our independent journalism is not influenced by any advertiser or commercial initiative unless it is clearly marked as sponsored content. As travel products change, please be sure to reconfirm all details and stay up to date with current events to ensure a safe and successful trip.
---