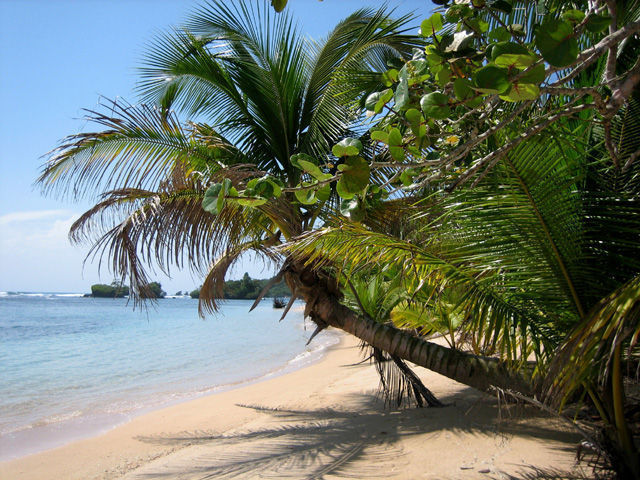 It was when the bus stopped for an hour or so on the "two lane highway"—a comical misnomer for the narrow dirt road down which our vehicle trundled—that I realized my idealized volunteering venture in Costa Rica was not relevant to the reality of dirt, heat, confusion where I found myself.  The Costa Rica of the internet appeared picturesque and accessibly untamed.  The country I found myself in was hot and humid in April—while my hometown, Midland, Michigan, would not be ready to part with snow banks for several more weeks—and my level II Spanish was proving itself woefully insufficient.  Though I had heard of culture shock, I assumed that as I was generally calm and relaxed I wouldn't experience it.  And yet, after months of insisting that my mother needn't accompany me on this trip in my seventeen-year-old state of advanced maturity and independence, I was in fact very glad that my opinions were overruled and my mother was sitting beside me on the bus in this bewildering new place.
The first occasion when I was glad to have her with me was on that bus, waiting for the dysfunctional transportation system to restart, but it was not the last.  My mom had lived in Colombia for a year and traveled throughout nearby Latin American countries including Costa Rica.  She had assured me that growing up in a town too small to have a public transportation system and too safe for her to object to me going running by myself at night I had no idea what developing countries were like.  She was right.  Midland is a town of 40,000; nearly nine times as many people call San Jose home.  Used to a quiet and polite environment, I quickly learned that in Costa Rica a lack of assertiveness could cost me a bus ride or lose me all my money.  It was a lesson in natural selection: I either became more competitive or I was a casualty of the rigor of reality.  It was reassuring to have my mother's example to follow as I learned to step out of my comfort zone.
Eventually we arrived at Cahuita National Park to volunteer in ecotourism, though the website had not specified how.  My mother had been skeptical at the lack of specific task description, and she once again proved to have an understanding of systems of which I was ignorant: we ended up cleaning floors for a week.  Though I cannot think of a more beautiful place to sweep, mop, and wax, this grunt work was not what I expected.  It was not glorified, pristine environmentalism but what real people have to do daily to keep their facilities running smoothly.  Retrospectively, I realized I learned much more from sharing in the manual labor with the park officials than if I had been feeding monkeys and giving tours.  There is something humbling about sweating with the rest of the workers that made me realize how dignified their lives—filled with menial tasks which at first seemed beneath me—how dignified a life of anonymous and exhausting service is.
To be honest, I didn't exactly have fun in Costa Rica—not altogether surprising considering I had two bouts of diarrhea due to the underdeveloped sanitation.  But I still have fond memories, in particular of one of the workers who climbed a coconut tree so I could have something to drink with electrolytes while I recovering from the sickness.  I was so lucky to have had the opportunity to clean floors among such beautiful people, my mother included.
Dear Reader: This page may contain affiliate links which may earn a commission if you click through and make a purchase. Our independent journalism is not influenced by any advertiser or commercial initiative unless it is clearly marked as sponsored content. As travel products change, please be sure to reconfirm all details and stay up to date with current events to ensure a safe and successful trip.
---