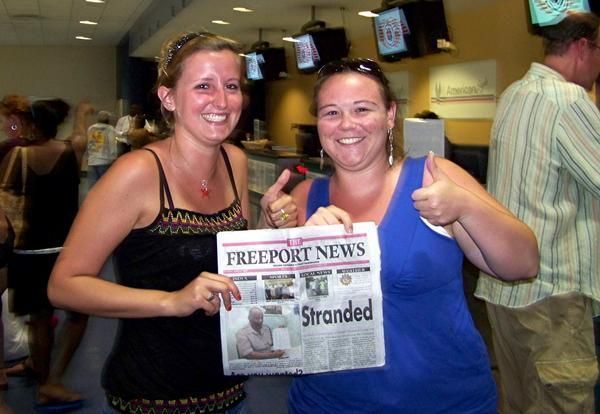 My senior year in high school was 2009 and I wanted to do something exciting for spring break. My parents, who belong to a service-organization called The Lions Club, happened to have a club visitation to a Lion's Club in Freeport, Bahamas during my spring break. To me that sounded like a perfect excuse to get away and travel somewhere new. With this perfect timing, my family, along with my best friends family, decided to pack up and head to the Bahamas for a weekend of relaxation and fun in the sun.
             The weekend was amazing. We left from Fort Lauderdale, Florida on the Discovery Sun which is an old cruise ship that is now used as a party boat/ferry between Florida and the Bahamas. The ship makes a round-trip journey 6 days a week and you can plan your trip to go over one day, stay in Freeport for as long as you desire and then get back on the ship and go home. So anyways, we took the Discovery Sun over to the Bahamas and had a great time. We watched people sing karaoke, had a couple Bahama Mama's, and played Bingo. Then we spent the weekend lounging in the sun, adventuring around Grand Bahama Island, and meeting Bahamians in the Freeport Lion's Club.
            The members of the Freeport Lion's Club were so welcoming and amazing. They had a giant steak cookout in honor of the visitation weekend. Not only was it the most delicious steak I had ever eaten in my life, but the people we met and the dancing and fun we shared with them was unforgettable.
            Regardless of how much fun we had over the course of the weekend, it came time for us to pack up and start our adventure back to Florida. The original plan was to board the Discovery Sun and have a relaxing boat ride back to Fort Lauderdale, this was far from how our trip turned out.
            When we went to check out of our hotel we noticed that there were signs all over the lobby doors saying that the Discovery Ships would not be sailing that day due to mechanical issues. This was the beginning of our long, long day. The hotel contacted Discovery for us and we were told that a representative from Discovery would be going around to all the hotels on the island and making statements about what was going to happen to all the passengers and how they were going to deal with getting them back to America. Well when the man finally arrived at our hotel, he told us that the ship was broken and it was likely that it wouldn't be fixed for at least a week and our options were either make our own arrangements home, or we could wait in the lobby of our hotel until Discovery made an official decision on what they planned to do.
            Since we didn't exactly have tons of extra money to be handing over to fly home, we decided to wait and hear what Discovery had to say. Finally, after over 3 hours of waiting in the lobby, we were told that there would be a bus coming to pick us up and it would be taking us to the airport where we would be able to fly back to Fort Lauderdale at no cost to us. We were ecstatic at the news.
            Our joy was, however, short-lived because when we arrived at the airport we realized how many other people were also stranded. The airport was so crowded and it had no seats and minimal air conditioning. It was miserable to sit on tile, airport floors with your luggage and no idea of when you'd make it home. After over 7 hours of being in the airport, my family and my friends family were finally given boarding passes and allowed to get on a plane headed for home. The flight was short and very crowded. I felt awful because we happened to get tickets on the very last flight that Discovery was paying for, everyone who was left in the airport behind us in line would have to pay for their own flights home.
            Finally we made it back to Florida and all was good, but I really did learn a lot from that trip. First and foremost, I learned the value of patience. I learned that getting grumpy and aggravated because I was hot, hungry, bored and stranded in a foreign country wasn't going to get me home any quicker and it wouldn't change the circumstances that we were in. It taught me to be more accepting of things I cannot change and to just go with the flow more. It all worked out in the end and I learned to be more relaxed and to let things work out the way they will. It was also such a unique experience that it really brought my family, and my friend's family, very close together. We learned the value of friendship and that we can make it through crazy adventures by sticking together and doing what we have to do to get home.
            Since this trip, I have traveled on the Discovery Sun again, and this time it was no trouble, we didn't get stranded anywhere and everything went smoothly and according to plans. So even though my first experience was a little rough, I gave it another chance and was pleasantly surprised at how well it turned out for me. Guess that goes to show you that you have to give things the benefit of the doubt sometimes.
Dear Reader: This page may contain affiliate links which may earn a commission if you click through and make a purchase. Our independent journalism is not influenced by any advertiser or commercial initiative unless it is clearly marked as sponsored content. As travel products change, please be sure to reconfirm all details and stay up to date with current events to ensure a safe and successful trip.
---