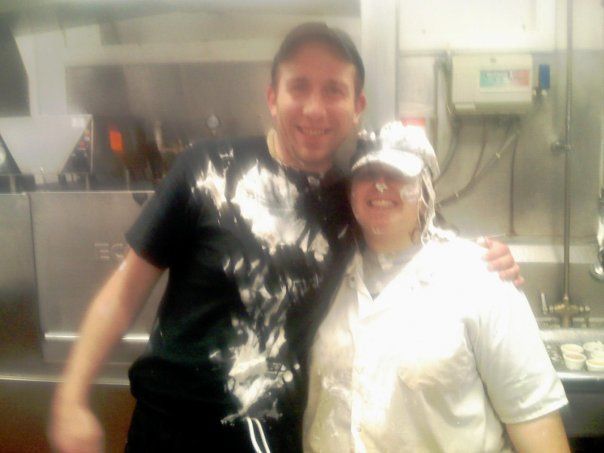 My journey to Alaska all started with me having a rough year with school and other personal problems and I just wanted to get away from Wisconsin. My parents suggested that I find a seasonal job in Wyoming or Montana. So I started applying everywhere in the United States for seasonal jobs. The Kenai Princess Lodge, which is affiliated with Princess Cruise Lines, was the first job offer I received.
Before I knew it was May 19, 2009 and I was on my first plane to Alaska. The first thing I saw around me was mountains and the air was so clean and crisp. From the airport in Anchorage, AK, it took us two hours to reach the lodge, which is located in Cooper Landing, AK. On the ride there I was just speechless because of all mountains, trees, and whales that we saw jumping out the bodies of water. The most difficult things to get used to was having the sunlight all the time, worrying about bears, the time difference and being away from my family.
My second day their all the employees had to attend bear training. I found out that the year before a bear attacked a girl right next to the lodge. I was relieved to get training on what to do i case I end up running into one, but at the same time I was really freaked out. All the employees made sure to walk in groups or at least with another person the whole summer.
Being a dishwasher was not the greatest job, but it was worth it because it brought me to Alaska, which ended up being a wonderful lifetime experience. I worked with people from all around the world. These people helped me get the fullest experience I possibly could have by pushing me to do things I would normally never do on my own. By the end of my first month I climbed to the top of Mt. Cecil and Slaughter. Mt. Slaughter is named Slaughter because during WWII airplane pilots would fly over the mountain and practice shooting which lead to endangerment animals on that mountain. It was a huge struggle for me but, I was motivated because the people I worked with have done it and I saw those mountains everyday because they surrounded the lodge. In the end it was worth the climb because the sights you got to see from the top are nothing I have ever saw before. I also even tried fly-fishing. I have gone fishing before, but that was on a boat on a lake. In Alaska fly-fishing is a huge recreational sport because Alaska is known for salmon spawning. It was awesome to catch a salmon but also to see so many in the river because of spawning. You really had to be careful when fishing because a large amount of rivers in Alaska are made from glacier water and if you fall in you could die from hypothermia because the water temperature is below freezing. Another threat you are faced with while fly-fishing in Alaska is running into bears. It would be considered to be normal to see bears by the rivers because they live off salmon in the summer. You just have to be careful not to startle them or run in to baby cubs so the bears would not become defensive. 
I would have to say I found two places I would love to live in Alaska. The first one is Seward, AK. It is a city located on a harbor and is well known because it got hit with an earthquake in the 1960's. The cities is full of shops, an aquarium, and of course the Kenai Peninsula tours. The Kenia Peninsula is part of a national park so you can take a tour on a boat and they will show endangered Stellar Sea Lions, many different kind of birds, whales, and different well-known landscapes. 
The second place I fell in love with was Homer, Alaska. It is know for their fishing, Sawlty Dog Saloon, and the Deadliest Catch's Time Bandit has a store there. Homer is on a spit and surrounded by glaciers and the ocean. It was my first time ever seeing the ocean. That night we camped on the beach and the next morning we went Halibut fishing. While fishing we went on a huge boat. Halibut stay toward the bottom floor of the ocean and are huge. I ended up catching three Halibut and even grilled one to eat that night. The other two I mailed home for my family. I usually do not eat fish, but I actually love Halibut. After fishing we went and had a few drinks at the Sawlty Dog Saloon which is known for having dollar bills hug all over the bar. I have to say that the trip was my favorite because it was one place where you truly saw what Alaska was about. They do not care about what kind of car you drive or what you are wearing. Instead they are more interested in living life. Even the ride home from Homer was amazing because I saw my first moose on the side of the road eating, got to visit the first Russian Orthodox church, and seeing the amazing scenery.
A few other things I got to do while in Alaska was go horse back riding, rafting on dangerous river, paragliding down a mountain, panning for gold, kayaking, camping on a mountain, and a helicopter ride that took us over glaciers.
People often ask me what was my favorite thing or part of the trip and I always say everything. If it was not for being no sun in the winter I could see myself moving there. Unfortunately I will not be returning to the Kenai Princess Lodge to work this summer due to school and family. I am hoping next summer I can return and hopefully one day take my friends and family. I am hoping next summer I can return and hopefully one day take my friends and family. Before I left Alaska I was not an outdoors girl and was lost. Now I love outdoors and enjoy the little things in life. I was scared about being far away from home, but I even started a savings account to save money for future trips around the world. I would highly suggest visiting Alaska to anyone.
Dear Reader: This page may contain affiliate links which may earn a commission if you click through and make a purchase. Our independent journalism is not influenced by any advertiser or commercial initiative unless it is clearly marked as sponsored content. As travel products change, please be sure to reconfirm all details and stay up to date with current events to ensure a safe and successful trip.
---