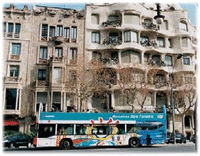 I have found nothing quite like the richness of the gravy-air in the land of spices. You could blindfold me and put me on an India-bound airplane without telling me where on earth I was going, and once the aircraft's door opened and the thick spicy air filled my nostrils, I would be able to tell you instantly, "I am in India". On my second trip to that diamond-shaped subcontinent, I gladly flew solo, and was ripe with the excitement of rejoining with my adventure comrade at the Delhi airport.
HONORABLE MENTION 2010 YOUNG TRAVEL WRITERS SCHOLARSHIP
Since we met in the Swiss Alps, Bethany and I have been kindred spirits with an equal thirst for adventure and an insatiable craving to experience the globe in all its fullness. Months before my return to India I had already purchased a plane ticket, but was still sketching out my itinerary. As I considered where in India I would journey, a deep desire developed within me to serve at Mother Teresa's House of Mercy for the dying and destitute in Kolkata. Though I had not mentioned the idea to Bethany, within twenty-four hours of this desire coming to mind, I received a message from her announcing that she was in India. She suggested that we meet in Delhi then take a train to Kolkata, because she wanted to take me to the Mother House. Divine idea. We spent hours on the phone thereafter both with our atlases open mapping out our pilgrimage. We decided that we would meet at the Delhi airport, stay the night in the city, then board the train at sun up. As I was packing my suitcase to launch to India, I discovered an old note Bethany had mailed to me years before detailing a prayer that we would someday have the opportunity to sip authentic chai in the land of India together. I tucked it safely in my journal.
My lungs were filled to capacity as I took my place in Delhi's customs line. I was finally back, and I would soon be reunited with my dear companion…or so I thought. I've come to learn that travel is a stubborn thing. It keeps its own pace and rarely consults my itinerary. Truthfully, travel couldn't care less about my day-planner, but once I have dusted my hometown's dust off my shoes, I find that I don't care much for my orderly schedule either. The more I've travelled, the faster I've learned to throw my timetable out the window and embrace spontaneity.
It was no surprise that the customs line was crawling at the pace of a three toed sloth, but it was a delight at least to find a conversationalist strategically placed in the line beside me. Her name was Carolina, and she was a dancer from Columbia. It was her first time to travel, so I told her I would help her navigate the airport and claim her luggage. We braved the assaulting crowds together and scanned the sea of faces for the familiar ones that were to pick us up. It took about twenty minutes of us scurrying through the throngs to admit that our rides were not present. I have grown acquainted and even fond of that feeling that comes when you realize that you are quite vulnerable in a foreign country and you have no idea how to speak the local language or even where you will sleep that night. It's similar to the feeling on a roller-coaster as it climbs its way to the highest peak. It clicks slowly and more slowly until at last you are perched at the climax suddenly equipped with a great view and a thorough understanding that you are about to plummet and there is no turning back now. You just lift those arms bravely in the air and hope you buckled your seatbelt.
Thumbing through my journal, I located Bethany's number and, inviting Carolina to join me, made my way to the STD station (I wonder if Indians understand the connotation their phone booth title carries). Apparently, Bethany had been delayed on the bus that was carrying her to Delhi, and she would not arrive in Delhi until morning. She concluded that we should meet at the Ajay.
By this time, Carolina was looking quite frightened, so I invited her to share a taxi and room with me. She gratefully agreed. The prepaid taxi was a reasonable 310 Rupees, and I was thankful to have a fellow passenger. As our typical chauffeur sped along the highway upwards of 100 kilometers per hour, he jolted into the left lane in order to be closer to a friend of his whom he realized was driving in the next lane over. Only inches away from one another at highway speed, these two men bantered in Hindi through opened windows for quite some time until it was our turn to exit for the Ajay. "Yes," I inwardly confirmed, "I am definitely back in India."
A night at the Ajay Guest House costs roughly six dollars and fifty cents, and as far as this place is concerned, the old saying rings true: You do indeed get what you pay for. In place of a shower, there was a bucket, and in place of a toilet seat, there was the opportunity to strengthen your quadriceps via prolonged squatting. Those tiny bottles of sample toiletries that I used to think so silly at cheap motels would have been a gloriously welcome sight, but in this place, even toilet paper would have been a luxury. I opened my suitcase that I had lugged up six flights of stairs and hugged its contents as they were still chilled from the airport's precious air-conditioning and still offered a bit of relief from the unrelentingly muggy heat of India.
The next morning, Carolina and I ate breakfast together before she launched to her destination, and she signed my journal, "Thanks for saving my life in India. The machete belly-dancer you came across at the airport in Delhi, Carolina." I had no idea how fortunate it was to have her with me. If someone would have dared to attack us, she could have chopped their heads off with a machete, and had the schedule gone as boringly planned, I would have forfeited a belly-dancer travel companion.
Just as Carolina and I were bidding one another farewell, a familiar face appeared in Ajay's doorway. Bethany and I were together again, and we boarded the train as planned. Once in India, one quickly learns to expect delays, but we were pleasantly surprised to find that our train ride to Kolkata that was supposed to take twenty-four hours only ended up taking twenty-seven. I discovered that a sure cure for boredom is an Indian train. Eastern-style restrooms combined with a roughly swaying train and the challenging task of aiming rightly hovered over a hole in the floor that allows you to witness the passing of the tracks as they file by is sure to add spice to even the dullest of demeanors. Having had hours on the train to regale one another on our recent adventures, we were ready to brave the dense crowds of saris in Kolkata.
Wednesday at three is orientation time at the Mother House. We registered on little white slips of paper then took our turns meeting with Sister Karina (who took over Mother Teresa's service following her death). She had a presence of immense peace that oozed out of her very essence. When asked where I would like to serve, I chose Shishu Bhavan- home for handicapped children, then was gifted with a small silver pendant as a remembrance of my time there. Sister Karina encouraged me, "It's not how much you do; it's how much love and joy you put into your actions." Filling the room were volunteers from all corners of the globe. The space was so simple and unassuming, yet something about love expressing itself through needed action united hearts from around the world to pour out of themselves into the desperate needs of India.
The sunrise on the fourth of July found Bethany and me kneeling in six o'clock mass with the Sisters of Charity in a simple second-story room on Sudder Street. The hymns that were belted forth to mingle with the sounds of rickshaws and honking horns in the street below were accompanied by no instruments, but indeed by much soul. Following mass, we all migrated to the breakfast line where we were granted a victual of a piece of bread, a small banana, and… a cup of authentic chai. As my kindred spirit and I nestled into a spot on the floor to dine, I pulled that old note with a scribbled but heartfelt prayer out from my journal. I handed it to my friend, and held my steaming cup of chai in the air as we toasted to dreams come true and to the adventure ahead.
Dear Reader: This page may contain affiliate links which may earn a commission if you click through and make a purchase. Our independent journalism is not influenced by any advertiser or commercial initiative unless it is clearly marked as sponsored content. As travel products change, please be sure to reconfirm all details and stay up to date with current events to ensure a safe and successful trip.
---