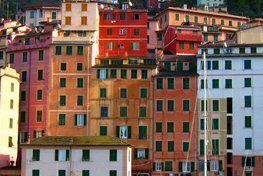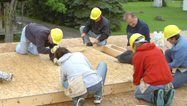 Of all the places that my family and I have traveled, I think my favorite trip was in the summer of 2009 to Durango, Colorado.
When I was four years old, my grandmother began an annual tradition of taking me skiing, usually in Colorado or Arizona. She still tells the story of how, even at such a young age, I talked about wanting to live in Colorado. When we'd go into town for groceries and things, I'd pick up the realty books and talk about where I would live when I was older. 
Last summer my family made the trip from Greasy, Oklahoma to Mesa Verde, Colorado pulling our fifth wheel travel trailer. My parents were nice enough to buy a huge four door truck a couple of years ago but even that was cramped with my parents, my best friend, my sister and her stupid little dog. We still had a great time. The purported purpose of the trip was to tour the Fort Lewis College campus to see if I wanted to attend in the fall of 2010. I already knew I wanted to go to college there, but would never pass up a chance to go to Colorado. 
We began planning for the trip about six months early and had everything set to leave on Sunday evening. My mom was putting the last of the gear in the truck when she got a phone call that my grandfather had passed away. He'd battled Parkinson's disease for more than 10 years and was weary and ready to "go home."  My mom was crushed because she's always been a "Daddy's girl" and had been taking care of him until her sister came in so we could go to Colorado. As devastated as she was, she insisted that we only postpone the trip until after his services.
So off we went! We trekked across the state of Oklahoma, into Texas, New Mexico, Arizona and north to Colorado. For miles before we got to Cline's Corner, we started seeing billboards advertising all that we could buy there. We were excited and thought we'd see things there that we simply couldn't find anywhere else. Our disappointment was very tangible when we arrived and found nothing but a gas station, diner and souvenir shop. So we fueled up and moved on. 
The RV park my mom found was directly across from Mesa Verde and the view was absolutely awesome. The park was for sale and my parents even talked about wishing they had the money to buy it and transplant to Colorado. If I hadn't known I wanted to go to college in Colorado before we got there, I was certain as soon as we arrived. We spent the evening setting up the trailer, then started the real vacation (sorry, Mom…I mean college hunting trip).
The next morning we toured the campus and I was more determined than ever to go to school there. Who wouldn't want to go to a college that sits at the top of a hill in the most beautiful state in the country? And after all, they have something called an "Outdoor Pursuits" program! I'll be able to borrow kayaks, canoes, tents, mountain climbing gear, sleeping bags, skis, snowboards and anything else I can use outside. I can only hope to convince the instructors to hold classes outside. After the tour we began roaming the town. 
The next day was a trip to Mesa Verde where we saw lots of holes in the ground and were actually awed by the cliff dwellings. The workmanship that went into building homes into the side of a cliff is something that is almost impossible to comprehend. As we walked to Spruce Tree House from the museum we were saddened that so many people simply observed from the back porch of the museum. As we made our way back up to the museum we understood why so many couldn't make the trip because of the steep grade and watched as my mom huffed and puffed her way up behind us, stopping along the way to catch her breath in the extreme heat. 
The last day we were in Durango, we went rafting. The water was perfect for "first-timers" but we had a great time anyway and I hope to be able to raft when the rapids are running a little swifter. My friend, who is actually my girlfriend, was a little intimidated when we talked about going white water rafting so I'm very glad that the water was at the perfect level for her and my little sister.
I have been blessed in my short life to be able to travel as much as I have. When I was younger, I played in soccer tournaments every summer so my parents bought a travel trailer instead of staying in hotels. This gave us the freedom to stop along the way and spend time where we might not otherwise have stopped. I've visited 26 states, including Washington, Oregon, Idaho, Utah, Montana, Wyoming, South Dakota, Nebraska, Colorado, Arizona, New Mexico, Arkansas, Missouri, Kansas, Texas, Louisiana, Tennessee, Mississippi, Alabama, Georgia, Florida, North Carolina, Virginia, Washington DC, New Jersey and New York. I hope to complete my visits to all 50 states before I graduate from college. I've learned so much from my travels from how long the Yellowstone River is (692 miles), to how to ignore my sister when she's all jacked up on sugar (headphones and iPod). There is so much learning to be done and not all of it has to be in a classroom, nor does it have to be academic. Sometimes the learning is just about seeing how other people live, what foods they eat and how they enjoy their leisure time. Once I finish my education, I hope to settle down and start a family and be a part of the teaching experience, as my parents have been able to teach me.
---
This story was accurate when it was published. Please be sure to confirm all rates and details directly with the companies in question, and stay up to date with current events to ensure a safe and successful trip.