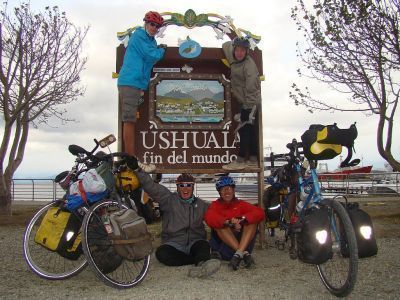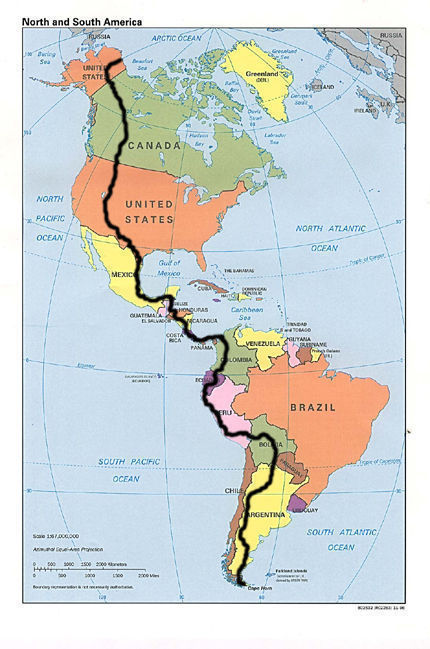 17,300 miles is the distance from Los Angeles, California to New York, New York — seven times. It is about 5,000 miles less than the entire circumference of the Earth. It is a number I had only seen on the odometer in my car.
But for Nancy Sathre-Vogel, her husband, and twin 10-year-old boys, Daryl and Davy, 17,300 miles was the distance they cycled from Alaska to Argentina. Yes, on bikes. For three years, the family pedaled and explored the rich history, vibrant culture and diverse landscapes of the Americas, completing a journey that most people could only conceive in a dream.
The (un)planned long distance bike trip
You might be asking if one wakes up one fine morning and decides to bike several thousands of miles to the southernmost tip of South America. Yes. And no. For the Vogels, the trip was a hybrid of planning and spontaneity.
"Traveling on a bike was always an integral part of our lives," said Nancy. She and John had met on a bike trip in Pakistan. They shared their passion for cycling with their sons, who eagerly picked up the hobby. The family took many two, three and four-day biking and camping trips throughout the U.S.
Because biking was such a frequent and beloved pasttime for the family, the cycling aspect of the journey was nothing extreme. Extreme came home one day and made a proposal.
"My husband, John, came home after work and really wanted to take a year off to bike and travel with the boys and me. At first I thought he was absolutely crazy and I kept on saying that is not what parents do," said Nancy.
But her initial skepticism turned into acceptance and support when she realized that this seemingly 'foolish' endeavor would be an amazing learning experience for Daryl and Davy.
The itinerary for cycling the Americas
The Vogels spent 2006 to 2007, when Daryl and Davy were just 8, cycling through the U.S. and Mexico. After riding 9,300 miles, they knew they wanted more. As in 8,000 miles more.
To satisfy their appetite for biking and adventure, the family conceived another excursion, a 17,300-mile ride from Alaska to Argentina. After coming back from their North American trip, the family went back home to Idaho and spent the boys' fourth grade year devising the Pan-American journey.
"We spent the next year intensely planning and cramming for the trip," Nancy said. "Nearly every waking thought and action was something related to moving or getting ready to go."
Although south was the proposed direction, the route itself was not entirely planned out. Starting in Alaska, the family progressed through the Western US, Central America and Western South America, traveling through several notable landmarks such as Yellowstone National Park, the Grand Canyon, Macchu Pichu in Peru and the Perito Moreno Glacier in Argentina, to name a few.
Very few. With a general idea of the route in mind, the family gathered as many maps as they could and talked to locals along the way.
The family also decided to try to obtain a Guinness World Record for Daryl and Davy for being the youngest individuals to cycle the Americas. While this goal provided more structure for the route (start and stop points, not being able to use ferries), the family still just followed their hearts and interests when it came to choosing their path.
Schooling the kids en route
With the route largely in place, another matter was the boys' education. While it would quite possibly be every child's dream to take off three years from school, Nancy and her husband wanted to make sure the Daryl and Davy were keeping up with school while cycling. John and Nancy are both teachers so they worked out a system for homeschooling. The boys would do math problems almost every night while other subjects would be incorporated into travel.
John is a high school math teacher, so he was able to concentrate on that area. It wasn't done every day, but on easier cycling days, which was 50% of the time, the boys had more math assigned.
"The rest of the schooling was built into the adventure and we took advantage of where we were," Nancy explained. For example, when the family was at the Panama Canal, Nancy and John prepared the sites they were going to visit, had the boys ask and answer questions and write a report. While this was not the format for every lesson, the world really did become their classroom.
Financing and Justifying a Bike Sabbatical
Even with what most would consider a very quixotic adventure, Nancy and John had to address very real concerns when planning the trip, one of which was finances.
"We were in a very unique situation, being older parents, we had about 20 years of savings for us to access," she said. The family was also able to rent out their home during the trip, which provided an additional income. Everyone's situation is different, so it is important to budget according to your individual needs and situation, Nancy says.
The family budgeted around $1500 a month for everyday expenses such as food and accommodations, which included stays at hotels, hostels and campgrounds. Sometimes the family was even able to stay with locals. They also allotted an additional $500 a month for excursions or 'just in case' money. Some months that money wasn't spent at all, while others it was used in a day.
Another, perhaps harsher, reality that the family faced was public criticism.
"Especially when you are parents, there is more pressure to do what is expected," Nancy said. "People said some very mean things on our blog, but we felt we were giving our kids the best experience they ever had."
The family didn't let the criticism bring them or slow them down. In fact, Nancy revealed that the judgment allowed her to become a stronger voice for family adventure travel.
Establishing a stationary home life
Now with thousands of miles of cycling under their belt, the family is taking a hiatus from longer trips.
"At this point we are not planning anything major," said Nancy. "We are looking to give Daryl and Davy as many varied experiences as possible, and the experience that they haven't had so far is being part of a community for a longer period of time." Nancy, John, and the boys, now 13, plan on settling in Idaho for a more 'classic experience'.
Whether you are amazed, intrigued or motivated to organize your own trip by the Vogel's experience, Nancy is optimistic that any family can succeed at such a feat.
"Don't be afraid, the physical aspect of biking is not that hard. Kids are capable of doing more than we think they are, so don't underestimate them or yourself."
For more inspiration and further detailed information on the ins and outs of long distance biking, check out the family's Family on Bikes site
Also, for more tips on biking with the family, check out Nancy's suggestions.
Dear Reader: This page may contain affiliate links which may earn a commission if you click through and make a purchase. Our independent journalism is not influenced by any advertiser or commercial initiative unless it is clearly marked as sponsored content. As travel products change, please be sure to reconfirm all details and stay up to date with current events to ensure a safe and successful trip.
---