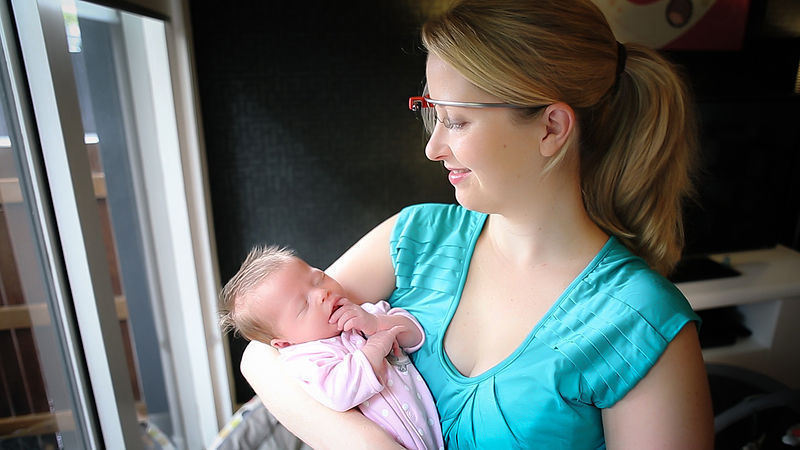 In the course of covering travel I am often asked to review innovative products that, while well designed and possibly useful, don't enhance the travel experience enough to justify their cost, weight or space in a suitcase.
In the case of Google Glass, however, I encounter a remarkable product that needs embracing rather than judgment, a new way of "seeing" the world with the most graceful new technology. But is it worth its weight in your suitcase?
An Hour with Google Glass
After an hour in the Google Glass Workshop candy store at Google's New York HQ, I didn't need to ask "Are we there yet?" Instead, once I don these "glasses," I see that on this particular journey getting there is as much fun as the destination itself.
"Ok glass."
Like Open Sesame, the tiny screen adhered to the right rim alights with white text, and the magical Google knowledge bank is revealed. I am thrilled that I can read it clearly without my reading glasses, and wonder if there's a leftside screen for lefties.
I am ready to experience a Glass demo. There are five travel-related software companies here, plus Google's own travel essentials: Google Search, Google Maps, and Google Now – a nifty what's-near-here application I use on my Android phone.
Making Google Glass Useful for Travel
Glass relies on a cellular signal or WiFi to learn your location, and bases its feedback for local/lifestyle elements on that. At Foursquare I am encouraged to "look for something nearby" with my voice, so I ask about Chinese restaurants in Chelsea. Some relevant results come up, and I page through them stroking the smooth temple of the Glass frame… like a kitten. Other businesses with the name "Chelsea" appear at random, but I'm not a Foursquare user and this is annoying. Open Table, however, which I love, is also showing off their Glass app.
At Field Trip, I am given hyperlocal results based on its highly curated database of cool things to do in certain cities. "Like you can see the best bars in Detroit," I am told. I use TripIt on my phone and find its app very useful to track flights and hear when seats open up; on Glass that info calls out to me from the edge of my field of vision, most useful if I have luggage in both hands or am wheeling my way to the car rental counters forgetting which place I'd rented from.
WordLens is a super fun app that allows you to photograph a sign in a foreign language and have it translated, and even pronounced aloud. Google has recently purchased its parent company, and this app is even more fun as Glassware, when the translation comes through a jawbone-like speaker. While hard to hear in a crowded room, Glass allows users to listen via headphones too.
How Does Google Sell Glass?
Google's Sales Pitch: "Glass is smart eyewear that allows you to look up and engage with the world by providing you with access to information when you need it without getting in the way."
One woman Googler at the event described it as an alternative accessory to her cellphone, a device she could use to make calls, return emails (by using the Google Voice feature) and get appointment reminders at a meeting, without the embarrassment of pulling out a cellphone. "The only time I don't wear it is when I go out to dinner with my husband," she noted, "because I don't need to." To her, Google Glass is an accessory that helps with work tasks.
In contrast, a Google engineer called it a "life-changing invention" that would inform the future of computing. When I asked him why it did not incorporate the early augmented reality features of Google Goggles, he said, "Our mission is to develop new applications, not to replicate things you can do on your phone. That would be a waste."
What Next? The Monday Morning Quarterbacking Begins
I decided to interview the few colleagues I'd seen at the Glass Workshop. Film producer Ron Bozman thought it was a waste of time, interesting to see, easy to dismiss. Eric Miró, a 3D graphic artist, pointed out that back in his early days as a traveler when "we weren't so privileged to have all this technology," it was really fun to stop and talk to people, to get directions, to learn more about a place by pausing to read the signs.
Not being an eyeglass wearer, he was uncomfortable with Glass, but imagined by seeing all the Googlers wearing it that you would soon get used to it. For a customer like Eric, who is very tech savvy, wearable wrist computers hold more interest than a pair of eyeglasses, yet he has not invested in any of those products either.
It left me wondering who this invention is for. When I heard that it could be developed to augment eyesight for those losing theirs, I loved it. When I heard it was like your phone but on your head, I thought it was useless.
How Do the Pro's Review Google Glass?
I was still intrigued by Google's new baby but dismayed that what I thought I knew about it was all wrong. So I googled "Glass" to learn more.
What are my takeaways?
Glass has very limited storage for Contacts, so to actually use it full time to write emails or return phone calls may be harder than it sounds.
Over the past two years, many civilians have thought the by-invitation-only "Explorers" (Google's name for its beta-testers) were spying on them.
Glass is hated by some because it's so elegantly showy: choice of five colors, sleek design, a real head turner. While some call show-off users "glassholes," Google's intention was to make the device stand out so civilians would not think they were being spied on or photographed without their consent.
Glass has no facial recognition software embedded, as most digital cameras do, precisely because it does not want to be mistaken as a "spying" device.
However, its ability to act like Google Goggles, an app which evolved from a QR code reader to an image recognition device, is non-existent. Therefore, its ability to enhance your knowledge of a destination lies in knowing where you are standing, not what you are seeing.
The tech trades consider Glass a prototype or work in progress, an innovative device in search of perfection and a reason to thrive.
There's a lot of debate about its $1,500 retail asking price.
So here I am. Intrigued and interested, happy to wait till it becomes more functional and cheaper.
And when, I wonder, will they make them in kids' sizes? That's the day when the "Are we there yets?" of family vacations will actually stop.
Dear Reader: This page may contain affiliate links which may earn a commission if you click through and make a purchase. Our independent journalism is not influenced by any advertiser or commercial initiative unless it is clearly marked as sponsored content. As travel products change, please be sure to reconfirm all details and stay up to date with current events to ensure a safe and successful trip.
---