Make no mistake when you pull up to the enormous Gaylord Texan Hotel: This is Texas, where everything is big, and, at this country-chic resort, it's even bigger. No matter what time of year you visit, this Dallas Gaylord resort is busy.
The Lone Star flag flies above a grand front entrance carved from Austin stone, studded with copper stars. The posse of valet parkers herd families out of pickup trucks with antlers on the grill. Bell staff greet wedding parties in Hummer limos and usher conventioneers out onto tour buses.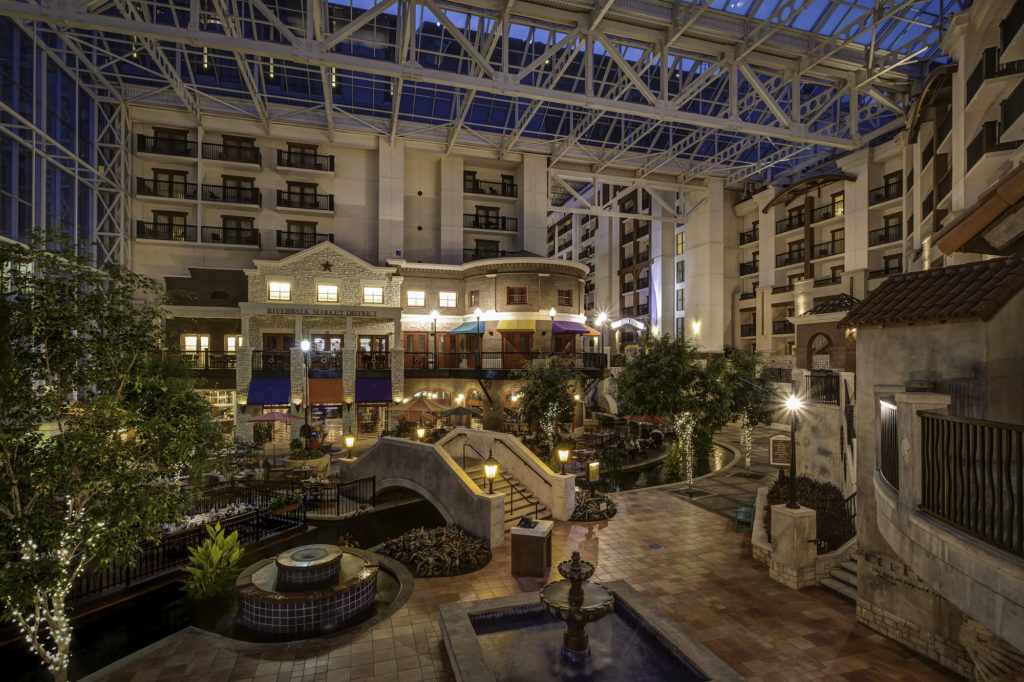 It's Bigger in Texas
The imposing inner lobby opens onto a Cowboys Stadium-sized, multi-level atrium where bridges lead to bars serving 100-ounce beers. The sports grill boasts a 100-foot-long big-screen TV,-. The complex includes outdoor cafes, a pool, a miniature railroad circling a fictional Texas town, various shops, and more, encircled by hotel rooms.
A Big Tex on stilts, the iconic cowboy of the notoriously large Texas State Fair, greets toddlers at the check-in. The rough-cut limestone facade of a Spanish mission resembles The Alamo. The lobby recalls Westerns shot in the Texas Hill Country — not in the spare John Ford style – but lavish musicals like "The Best Little Whorehouse in Texas." When we pulled up in our rental SUV, there was no doubt we had arrived in the heart of Texas.
Also Read: Short Breaks And Weekend Getaways From Dallas Fort Worth
Gaylord Hotels Make Big Their Brand
The Gaylord Texan is one of five upscale Gaylord Resorts and Convention Centers (a Marriott brand) which attract vacationers to what is designed as a convention paradise.
The signature glass-domed atrium at each resort blankets restaurants, shops, cafes, and recreation in an inviting natural light. Plan a weekend getaway, a short holiday break, or just a 24-hour staycation. We guarantee the entertaining programming, kids' activities, heated indoor pool, themed environments, and spa promise a weather-proof good time at any time of year.
Get the best rates on the top Rental Car brands at Priceline.
Each resort has a well-trained staff and special VIP Concierge Level service for families. Despite their size, the resorts try to be environmentally friendly. Texas incorporates LED lighting at Gaylord Texan. State-of-the-art, low-flow laundry facilities are available at the country music-loving Gaylord Opryland in Nashville, Tennessee.
Orlando guests take advantage of advanced networking between rooms and public spaces at the Floridian Gaylord Palms. Fuel-efficient heating and lighting keep Colorado's Gaylord Rockies Resort comfortable. Last but not least, metro and water taxis service the Gaylord National on the Potomac outside Washington DC.
Overall, The Gaylords offer a lot of bang for the buck.
Gaylord Texan Facilities Think Big
Intimacy is not part of the big picture. This Texas convention center hotel has 1,511 large guestrooms which overlook the lively courtyard where the show goes on night and day. Spacious rooms with a coffeemaker, work desk and other conveniences make for comfort. Stay indoors, however, and your balcony view will just remind you of the fun you're missing.
Choose from rooms with two queen beds that sleep four (and connect), or one of the 127 suites. Each features a different layout, but generally has a living room and optional connecting bedrooms sleeping up to eight. For a big splurge, three suites are circular and a few even have panoramic views of the atrium action.
Texas style restaurants include a fine dining steakhouse, casual Italian, the Riverwalk Cantina that will make your family feel like they've just been to San Antonio, and the fun Texas Station sports bar.
We like the Sports Bar best, with its super big screen video setup for football fans, and its lively outdoor cafe for barbecue and 100-oz. beers. Our Slider Sampler, with three sliders of different barbecued meats and a small draft beer, made the perfect, shareable meal. If no one's very hungry, there are some coffeebars and a big grab n'go Marketplace that has free seating on a balcony overlooking Mission Plaza and some waterfalls.
With so much family in tow on our trip, we never made it to the nightclub — or the spa for that matter — but there's always next time.
Also Read: Grapevine, Texas, Where Old Is New
The Gaylord Texan in Summer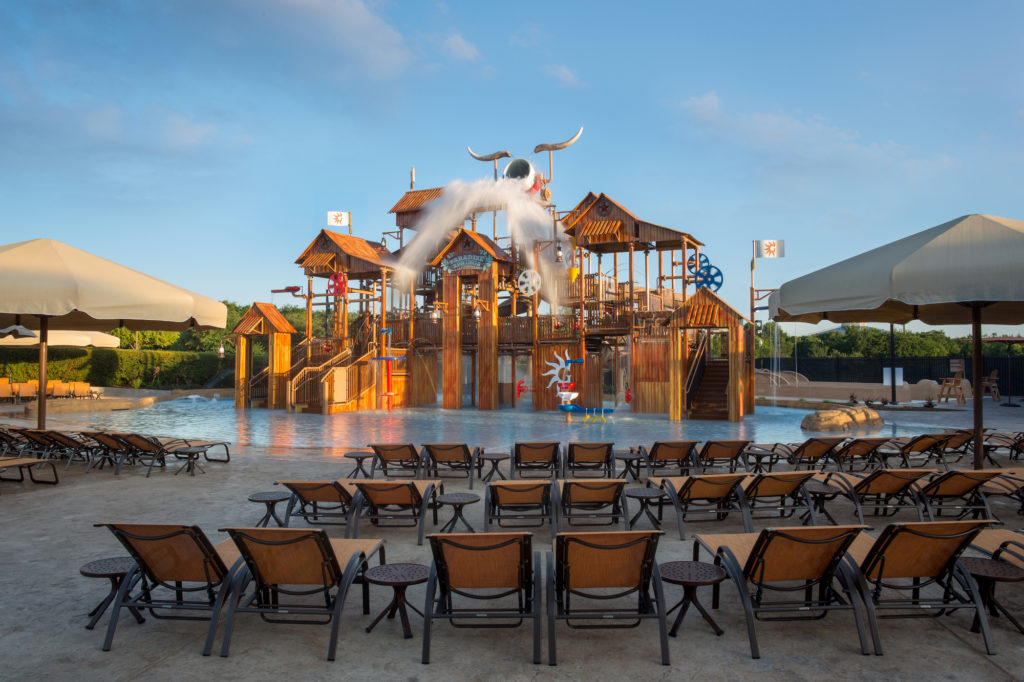 You can beat the heat at the Gaylord Texan Paradise Springs waterpark.
During the summer, the Gaylord Texan becomes a staycation playground, with families driving in from hundreds of miles, Select just a night or two of SummerFest, a schedule of free programs, waterpark fun, and special events that come to a close Labor Day weekend.
Tip: Dallas area schools are back in session by mid-August, however, so that early August week known as "Guilty Week" is mobbed with local families who are guilty they never planned a real summer vacation — call ahead to be sure you're not booking that week.
With a parade of eight nieces, nephews and grandchildren, my extended family wandered from a live country music concert in the atrium to the Gaylord Texan's outdoor waterpark, Paradise Springs. Located a five-minute walk or quick shuttle ride from the main building (with its own beautiful outdoor pool), the waterpark provides hours of water play with several big waterslides, a splash area and extra seating. Under cover there are lockers, a small fast food stand serving the usual pool fare, plus Hibiscus Margaritas, and a games arcade.
As tough as it was to find a free lounge chair, in fact the waterpark is only open to hotel guests, ensuring a clubby feel. A flock of lifeguards attends the 600-foot-long winding lazy river. Enjoy a few other kid-sized waterslides in a family lagoon, some sprinkler areas including a baby zone off-limits to big toddlers, and a small "zip line" dangling over one pool.
Gaylord Hotels Party at any Family Holiday
The Gaylord hotels know how to show their guests a good time, and each of the resorts goes out of its way during the school holidays with activities and events.
The best known seasonal event is ICE! Stretching the Christmas season from mid-November to early January, each resort's signature atrium is home to an ice structure draped in falling snow. An ice slide carved entirely out of ice is our nephew's favorite part. Whether it's the Grinch or Charlie Brown or Scrooge who add a storyline to the ice sculptures, holiday breakfasts and children's activities, it all comes down to a really fun time together. And of course, it's an easy "day out" for moms because you haven't even left the hotel lobby.
Also Read: Lajitas And Big Bend Texas
FAQs about Gaylord Resort Dallas
1. What is the exact location of Gaylord Resort Dallas?
The Gaylord Texan Hotel is located at 1501 Gaylord Trail, Grapevine, Texas 76051, very close to the Dallas-Fort Worth International Airport. Check their website for weekend and seasonal promotions. Parents and grandparents can book multi-room packages with perks such as a family portrait.
For more information and reservations, contact your travel agent or the hotel directly at 817/778-1000 (toll free 866/782-7897) or book online at Gaylord Hotels.
2. Is there a shuttle service available from the resort to nearby attractions?
Yes, Gaylord Resort Dallas offers a complimentary shuttle service to various popular attractions in the area. You can check the shuttle schedule and destinations at the concierge desk or on the resort's website.
The Viator site is great for discovering unusual attractions in advance of arrival and booking online sure saves time waiting in line.
3. Are pets allowed at Gaylord Resort Dallas?
Yes, the resort is pet-friendly. You can bring your furry friend along, but it's advisable to inform the resort in advance about your pet's stay, and there may be certain pet policies and fees.
4. Is Wi-Fi available at the resort, and is it free?
Yes, complimentary Wi-Fi is provided throughout the resort, including guest rooms and common areas, making it convenient for both business and leisure travelers.
5. Does Gaylord Resort Dallas have on-site parking, and what are the parking fees?
The resort offers on-site parking facilities, and there may be both self-parking and valet parking options. Parking fees can vary, so it's best to check with the resort for the most up-to-date information.
6. Are there special packages or deals available for families or couples?
Yes, Gaylord Resort Dallas frequently offers special packages and deals tailored for families, couples, and other types of travelers. These packages often include accommodations, dining, and recreational activities. Be sure to check the resort's official website for current promotions.
7. Can I host events or weddings at Gaylord Resort Dallas?
Absolutely! The resort has a range of event spaces and offers event planning services for weddings, corporate meetings, and special occasions. You can contact the resort's events team for more information and to discuss your specific requirements.
Trip Planning Details for a Gaylord Texan Vacation
The Gaylord Texan Hotel is located at 1501 Gaylord Trail, Grapevine, Texas 76051, very close to the Dallas-Fort Worth International Airport. Check their website for weekend and seasonal promotions. Parents and grandparents can book multi-room packages with perks such as a family portrait.
For more information and reservations, contact your travel agent or the hotel directly at 817/778-1000 (toll free 866/782-7897) or book online at Gaylord Hotels.
Join our vibrant community on social media! Whether you prefer scrolling through stunning visuals on Instagram, diving into a world of creativity and inspiration on Pinterest!, engaging in lively discussions on Facebook, staying updated with real-time news on Twitter, or exploring captivating videos on YouTube, there's something for everyone. 
Don't miss out – click those follow buttons, subscribe, and stay connected to be a part of our exciting journey!
Dear Reader: This page may contain affiliate links which may earn a commission if you click through and make a purchase. Our independent journalism is not influenced by any advertiser or commercial initiative unless it is clearly marked as sponsored content. As travel products change, please be sure to reconfirm all details and stay up to date with current events to ensure a safe and successful trip.
---